Cloud Communication Trends to Watch Out for in 2022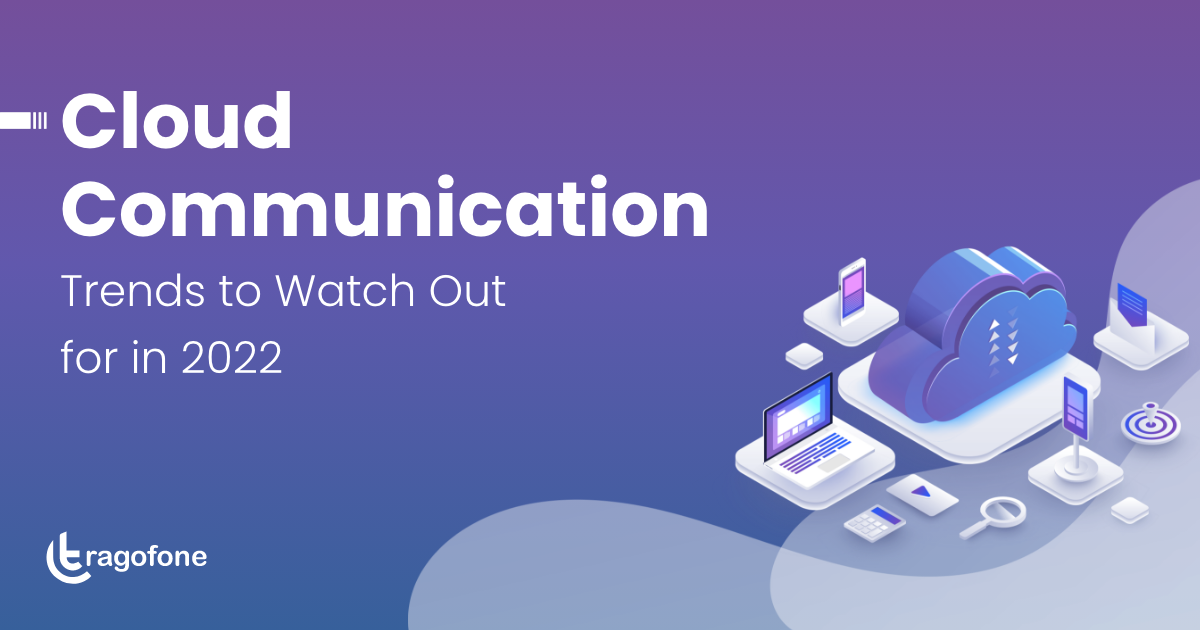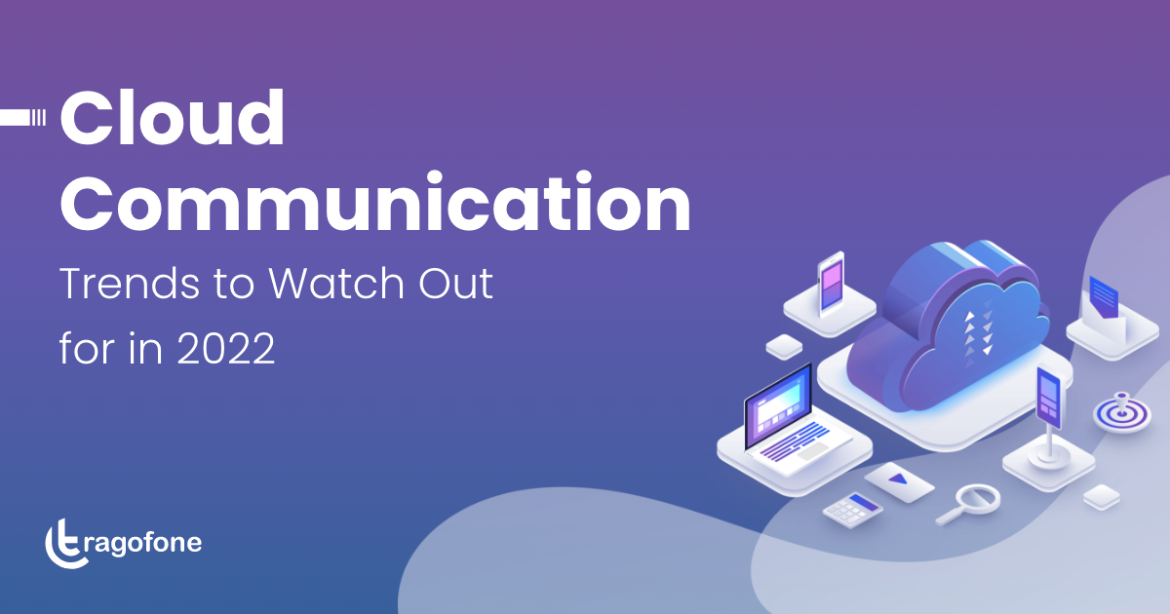 Cloud communication platform is at the heart of business communication in the modern world. The pandemic pushed the envelope for companies to embrace change, especially in the ways they communicate and collaborate. The outcome has been a more effective and efficient way of communicating and cloud communications have played a pivotal role. The year 2020 alone saw 61% of businesses migrate to the cloud and there has been no looking back.
Cloud has had an impact on all major industries such as healthcare, IT, finance, hospitality, etc. It has transformed the way people communicate in a business environment. With cloud communications taking center stage now is the time to asses what is trending. But first, let's first quickly understand what cloud communication means.
Understanding Cloud Communication and Platforms
Any internet-based data and voice communication platform hosted by a third party in the cloud that a business uses to manage its storage, applications, and communications is referred to as cloud communications. Multiple modes of communication such as video, chat, email, and voice calls are all integrated for seamless business communication across channels.
The advent of VoIP (Voice over internet protocol) led to the evolution of cloud communications from data communication technology to voice communication technology. The cloud is a flexible, easy to scale, secure, and readily available hosting environment.
Trends that led to the need for cloud communications
A fragmented and distributed workforce.
Decentralized company operations across home and branch locations.
Easy availability of smartphones and smart communication devices.
A surge in communication and data devices accessing enterprise networks.
Hosting and managing IT assets and applications.
These trends led to businesses outsourcing their IT and communications. Some of the most common cloud communication and application products that enterprises utilize are private branch exchange (PBX), interactive voice response, SIP Trunking, call center, call-tracking software, contact center telephony, fax services, text messaging, and voice broadcast.
The cloud service provider hosts and manages the business communication infrastructure. The businesses utilizing these services pay for the space on the cloud. This enables them to save on costs and the effort otherwise spent on hosting and managing data storage and communication on their own.
Trends that are defining cloud communications in 2022
We are halfway through 2022. The digitization of communication technology is happening at an unprecedented pace and we can expect a lot more innovations and breakthroughs in the future. The following trends will have a significant impact on how cloud communications evolve.
# 1. Simplified business communications
Pandemic made enterprises realize the importance of setting up communication campaigns across a variety of communication channels so as to not compromise the customer experience. However, automating a simple communication channel like an SMS seemed to be a challenge for businesses. They realized early that cutting through the complex tech and data siloes and moving to a unified cloud communication platform is the way forward. The last two years witnessed enterprises opt for a single communication platform rather than juggling between multiple channels and 2022 will witness more businesses taking this route. Simplified business communication and rationalization will be a big trend in 2022.
# 2. Re-design business communications for a hybrid work culture
Work culture changes adapted for survival in 2020-21 have left a significant impact on 2022. Hybrid work culture is all the rage and organizations need to embrace this new culture to stay in business. This also means employees must be willing and equipped to serve customers from wherever they are, tech support may have to troubleshoot from remote locations, and managers will have to get on frequent video calls to address their teams. To cater to the communication needs of this growing hybrid work population cloud communication providers have to up their game and provide platforms that are agile and can evolve with changing business communication needs.
# 3. 5G benefits will lead to high customer expectations
The much-awaited and anticipated 5G is finally here and is fast-changing our perception and expectations of mobile connectivity. It is estimated that 90% of Americans will be on 5G by the end of 2023. With people getting used to the speed and reliability of 5G, customer expectations will hit the roof.
Companies need to gear up and re-assess their business communication strategy to meet these new expectations. With faster upload, download, and streaming speeds and very low latency, 5G can finally enable enterprises to leverage augmented and virtual reality for real-time tech response. Using a single cloud communication platform businesses can now deliver an augmented-reality product experience across various communication apps.
# 4. Re-think cybersecurity in a 5G era
Technology has its benefits, but it has a dark side too. Cyber-attacks are on the rise and companies have no choice but to ramp up their efforts to combat these threats. With almost entire business data and communications being done in the cloud, 2022 will see businesses invest heavily in cybersecurity assets. It's time to migrate from simple password protection to 2FA (factor authentication) for better security. The resistance from both organizations and individuals to shift to 2FA has been quite evident over the past few years.
Businesses are reluctant to adapt to 2FA out of fear of losing the consumer due to a long authentication process, customers simply do not look at it as the most convenient way. However, new mobile identity solutions have been designed keeping 2FA in mind making the entire process easier. With most new-age smartphones built with facial recognition and fingerprint recognition, biometric authentication is much more accessible and easy. 2022 will see more businesses adopting 2FA and biometrics to further cement customer data security and eliminate cyber-crimes.
# 5. AI will be a differentiator in customer experience
AI or artificial intelligence is being aggressively used by companies to empower their sales and customer service agents. Chatbots which were earlier perceived as a threat to a customer service agent's job are now being embraced with open arms. Both organizations and employees have come to realize that chatbots empower agents and not replace them. A whopping 64% of agents with AI chatbots are able to devote time to solving more complex customer problems rather than answering generic questions.
The use of AI has enabled businesses to handle customers in a faster, more accurate, and efficient manner. Even though chatbots may not be the numero uno communication trend in 2022, they are still quite popular. People want their questions to be quickly answered without unnecessary social interaction. If you have still not invested in an AI-powered communication channel, it's high time you invest in one. Another way to integrate AI is smart IVR (interactive voice response)  to route incoming customer calls to the right agent, and even distribution of calls so that no one sits idle.
# 6. Renewed focus on omnichannel communications
Today instead of the customer reaching out to you, you need to reach out to your customer where they are. On average, an individual uses more than 2 channels of communication such as chat, social media, and emails. Any individual on an average has more than 5 social media accounts. Besides being present on multiple communication channels, people want instant reverts and convenience above everything else. For a business to ensure a stellar customer experience having an omnichannel presence is the way forward.
Customers will not accept a  communication channel that's not convenient for them. Connect with a customer who is on email through email, and those on chat through chat, and those on social media through social media. In 2022, enterprises need to continue investing in omnichannel communication technology the trend is here to stay.
# 7. Self-service solutions will continue to be popular
2020 and 2021 were all about people staying indoors, isolated, working from home, and having almost no social life. Isolation made people impatient and becoming self-sufficient to get the information one needed became the mantra. Enterprises also found self-service interactive solutions useful to better handle customer queries and reduce workloads. The exposure to self-service functionality brought about a shift in customer preferences in interacting with companies. 2022 will be a year of companies adding more self-service options for customer interactions.
Customers have embraced this new way of communication which makes them more independent. They no more wish to go back to the old ways of long wait times to speak to an agent for simple questions like their order status. 2022, will see organizations embracing self-service communication function in a big way.
# 8. Businesses will continue to invest in cloud storage
70% of businesses currently using cloud services plan to ramp up their cloud solutions budget.  Cloud storage solutions offer more storage space, easy access to employees and customers, and real-time collaboration for remote and disparate teams. More and more people are saving their files, emails, images, and any communication on the cloud both in their personal and professional life. The trend does not seem to die down and will continue.
# 9. Biteable/short video content to cater to limited attention span
Today we have very short attention spans. Short-video content is gaining popularity and emerging as a popular way to communicate with the target audience in 2022. Short videos when done creatively can pack a lot of information in a brief amount of time which consumers not only watch but share it in their offline and online social circles. Enterprises cannot afford to not acknowledge the impact of short videos It is here to stay.
# 10. People matter more than ever
The tech industry and industries across the board are facing an acute shortage of quality talent. On the other hand, every single customer interaction can make or break your company image where everything is digitized. Companies need to provide employees a work environment, and a communication infrastructure that's flexible and makes them feel valued if they want to retain and attract quality talent. The chain of customer interaction also needs to be designed keeping in mind customer convenience and experience. 2022 is all about companies re-thinking and re-designing their cloud communication strategy centered around employees and customers.
The shift from landlines to mobiles and now cloud communications has been faster than any one of us could have imagined. With the global cloud computing industry being valued at an estimated $800 billion+  by 2025, it is safe to say that 'the cloud has finally arrived. For businesses to stay relevant, keeping a tab on what's trending in this space and adopting it as per their business is the need of the hour.
We hope that a mid-year round-up of these trends in the cloud communication space will help you plan your business communication strategy better.