What is Business Communication & Why You Need It?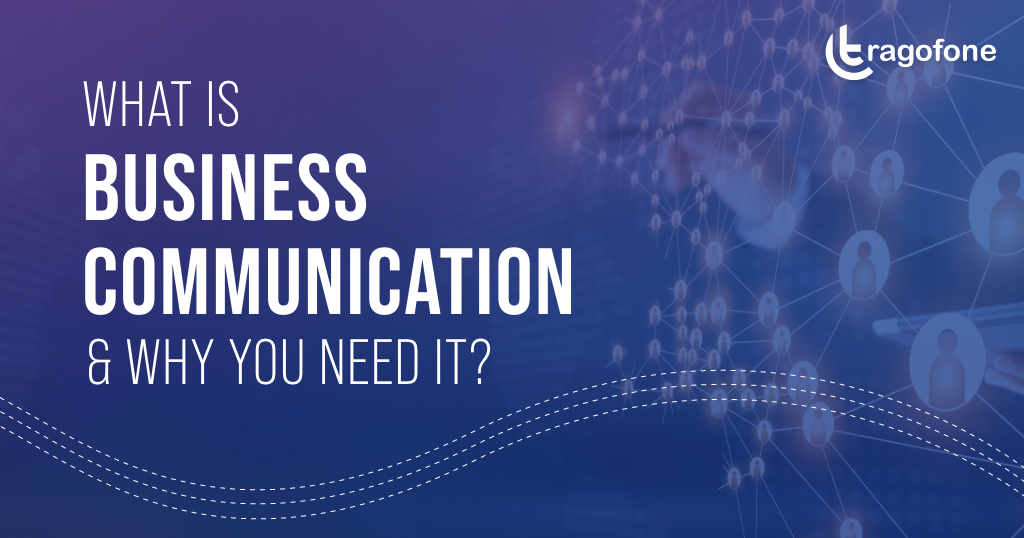 Digitization led to and accelerated many trends such as online shopping, food delivery platforms, OTT entertainment, and in recent years widespread adoption of a remote/hybrid work culture. This changed the dynamics of business communications as well. Managing teams working from disparate locations meant having robust and effective communication systems in place. In fact, 2021 witnessed 61% of people use new tools besides email for internal business communications.
You may wonder why all this hoopla around effective business communications! Well, effective communication processes have a direct impact on employee productivity, efficiency, company revenue, customer service/satisfaction, profits, and more. Why? People make an organization, and people need to be well connected and communicate with each other to be able to deliver the desired outcomes.
In this article we will discuss:
What is business communication?
Types of business communication
Methods of effective business communication
Importance of effective business communication
Leveraging technology to improve business communication
Understanding Business Communications
The exchange of information between two individuals is referred to as communication. Business communication refers to any exchange of information related to a business between two individuals. Such communication could be both internal and external. Effective business communication defines how the company management and employees interact with each other to achieve organizational goals together. The objective of effective business communication is to:
Improve organizational practices
Eliminate silos
Keep employees informed
Minimize errors
The difference between regular communication and business communication is the fact that business communication is always goal-oriented. It is imperative for an organization's success and growth.
Business Communication Types
As iterated, business communication can be broadly classified into two types:
Internal: Within the organization from team-members to managers (upwards), from managers to team members (downwards), and peer-to-peer or within team-members (lateral).
External: Any business-related correspondence whether written or verbal done with people outside (vendors, customers, media, clients) of a business organization.
Both internal and external business communications can be broadly categorized into the following: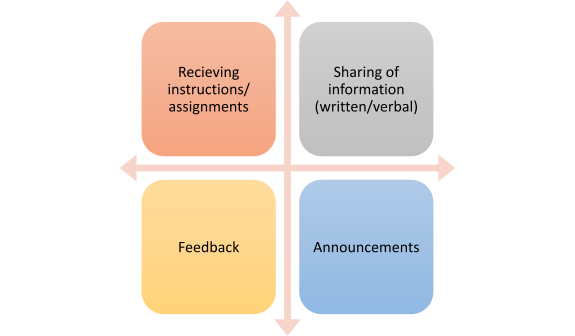 Receiving instructions/assignments: All communication involving delegation of work from one person to another falls under the purview of receiving instructions. It could be work delegated through email, in a meeting, email sent by a team member to the manager seeking approval. The starting point of miscommunication in any organization usually happens here.
Sharing information: Communication involving resources, documents, presentations, instructions given to someone to perform a task is referred to as sharing information. A wrong or ambiguous statement given to external parties such as vendors/press/clients also falls under information sharing. Incomplete or wrong information shared at this stage leads to rumors, misinformation, work not being performed properly, and more.
Feedback: Actionable and honest feedback by superiors to subordinates and vice-versa is the key to an organization's growth and success. Feedback enables employees to rectify and discipline themselves. It equips them with the tools and wisdom to deliver their best. Body language and non-verbal feedback to play a big role.
Announcements: Town Halls, company-wide strategy change announcements, change in management all of this falls under announcements. These are usually an outcome of meetings done to solve a problem, discussions done to change an existing policy or introduce a new policy, and more. In today's global business environment communication technology plays a key role here.
Methodology: Effective Business Communication
In a business environment communication happens both verbally and in writing. It could be an in-person face-to-face interaction or remote/virtual interaction. A lot of factors determine how employees within an organization communicate with each other. Key factors include:
Single location or a multi-location office
Number of remote workers
Physical or remote work culture
Diverse or same time-zones
Verbal communication: Verbal interactions are often spontaneous and facilitate new idea generation and provide an ideal setting for an open flow of thoughts.
Written communication: Ideal for keeping proof or track of decisions and actions made as well as for putting together strategies and plans in place.
Today companies operate on a fully remote work model, in different locations and time zones. Technology plays a huge role in keeping employees spread across the globe connected in a business environment. Let's look at some of the methods businesses use to stay connected in today's highly dynamic and digitized environment.
Regular day-to-day communication channels such as emails, chat, instant messaging applications (Hangout, Google chat, WhatsApp, Telegram, Tragofone) are all forms of web-based communications. These channels encourage a quick and convenient way to connect among teammates and have both private and group conversations in a busy office environment. These channels also enable to broadcast of a message to a large group at one go.
Business softphones and more so cloud-based phone systems totally revolutionized the way businesses communicate. They help eliminate physical barriers and provide a conducive setting for productive meetings. Being a verbal communication channel encourages free flow and exchange of new ideas. Today's cloud-based phones such as Tragofone, enable participants to engage in both video and audio conversations from their mobile phones. Onboarding a new employee, having one-to-one feedback sessions, collaborating with geographically dispersed teams to brainstorm is all possible through a phone meeting.
The advancement in telecom technology has made top-of-the-class video conferencing systems available to businesses. This has enabled people working in different locations and time zones to conduct meetings that are as good as  in-person meetings. What's more, people can share screens, files, and other information during the meeting itself making such meetings more impactful.
Nothing matches up to the experience of meeting in person. Offices operating out of a single location often organize face-to-face meetings. In the pre-pandemic era, it was common for people located in different cities to attend meetings involving discussions around an important strategy, annual board meetings, and so on. In-person meetings enable businesses to implement change, new ideas, decisions quickly. With a predefined clear agenda, in-person meetings always have better outcomes when compared to virtual/online meetings. 
Reports, official documents, presentations.
Having a written record of discussions in meetings that impact the organization is imperative for transparent and clear business communication. Written documents/communication is also important from a legal and compliance perspective for a business. These are proof to eliminate any confusion or disagreement. During meetings, data-backed PowerPoint presentations are the preferred way of sharing new ideas.
FAQs and Employee Welfare forums
It is a good idea to have in place a document or repository of frequently asked questions on various departmental topics for employees to refer to. Also, setting up a welfare committee within each department that employees can reach out to with their grievances, or report any challenge at the workplace is a great idea. Such forums help foster trust, and employees feel cared for.
Not only external customer surveys, but periodic employee surveys within an organization are extremely important to gather feedback and ratings on important issues. Internal employee surveys open a communication channel across levels inside an organization. They also facilitate a healthy cycle of feedback-supported improvements.
Customer communication channels
The modern customer needs an immediate response, instant gratification, and response on every channel of communication (email, message, chat, social media) available. No wonder organizations are investing in technologies that enable them to have an omnichannel presence.
Why is effective business communication important and how does technology help?
Improves employee engagement
The way leadership communicates with its employees makes a huge difference in how engaged and connected an employee feels to an organization. It is therefore important for internal communication teams to coach and remind leaders of the importance of clear and effective communication. Today with employees using many alternate channels of communication, it is important that leadership teams have an omnichannel presence so that employees can relate and reach out to them easily and vice-versa. This is where modern VoIP phone systems have an edge over traditional telephony in the modern business setting.
For the last two decades, emails have been the backbone of communication in organizations. Whether it is an information request, employee communication, feedback, status reports, assigning tasks, communications with customers/suppliers, meeting invites, document distribution, HR announcements on various team activities, birthday wishes, and more, emails have been the primary mode of communication. Reports suggest that an employee spends 25% of their time on a workday responding to emails. However, not all emails require our immediate attention and sometimes are not even meant for us. Alternate communication tools such as chat groups and instant messaging have been able to reduce the problem of email stress.
Robust and effective internal communication processes impact employee productivity in a positive way. Information overload can lead to employees spending substantial time in finding the relevant information. Effective communication saves the time and effort spent on finding the right information translating to enhanced employee productivity, better collaboration, trust, and a healthy work environment. Unified communications that enable individuals to seamlessly switch between devices and communication channels have been a key enabler in effective business communication and enhanced employee productivity.
Better inter-department communications
An effective business communications strategy facilitates seamless interdepartmental communications within an organization.  In any organization, the product team needs to be on the same page as the sales and marketing teams. Business operations have to clearly communicate workflow to the IT department for them to be able to design seamless automated processes. Modern communications technology again is a key enabler in clear inter-department communications.
Easy connectivity with a remote workforce
Remote teams are the norm these days with 40% of the global population estimated to work remotely in the near future. Communication technology such as VoIP and softphones are the way forward to enable businesses to help employees based in different locations and time zones collaborate and connect effectively. Internet-based telephony and a robust internal communication network can have a significant positive impact on the performance and emotional health of your remote workforce.
Helps in employee retention
Engaged, satisfied and employees are the secret behind an impressive employee retention ratio. Today Millennials, Gen X, and Gen Y form a substantial portion of the workforce globally. This generation is well-informed and expects transparency, to the point, and relevant communication at their workplace. They also look for a flexible and open culture work environment. Investing in a robust internal communication system that is flexible and easy to access is, therefore, a necessity for businesses today.
Enables knowledge sharing

Today's unified communication systems enable companies to share information with ease. One of the primary objectives of companies when investing in cutting-edge internal communications software is to facilitate sharing of information easily. In a world where technology is constantly evolving, learning has become a top priority for the modern workforce. It is therefore important for a business to enable easy knowledge sharing within their organizations backed by a robust internal business communications strategy.
Facilitates employee advocacy
Transparent and effective communication fosters trust and a sense of belongingness among employees. A happy, satisfied employee, who also has deep trust in the organization whole-heartedly participates in brand ambassadorship programs turning them into brand advocates. Employee advocacy helps an organization increase brand awareness, attract a high-quality workforce, boost marketing efforts, increase sales, and help achieve a lot more
Customer satisfaction and retention
Internal communications have a direct impact on external communications. Poor communications have a significant negative impact on customer satisfaction levels. Why? A crippled internal communication system means employees in customer-facing roles may have incomplete or wrong information, translating into miscommunication to customers and other external parties.  Investing in a communication system such as VoIP phone software that integrates well with your existing CRM and other systems ensures a well-informed employee who has access to the right information required to handle any external queries. Proper redressal and resolution of queries ensure high levels of customer satisfaction.
Builds a good company culture
A good business communication strategy goes a long way in building a positive work culture and environment.  Transparent and open communication facilitate a healthy work atmosphere and are key drivers of employee motivation and satisfaction. On the contrary, a poor and crippled business communication infrastructure leads to low employee engagement, high turnover, and poor customer satisfaction rates.
If you are in the process of overhauling your current business communication systems, assess your existing communication processes and invest in a system that aligns with your company goals. There is no denying the fact that moving to cloud-based communication systems is in the best interest of your business. An outdated, old-school communications system brings unimaginable risks. Invest in communication technologies that support the new business dynamics and ensure business growth.