How to Use a VoIP Softphone for Remote Work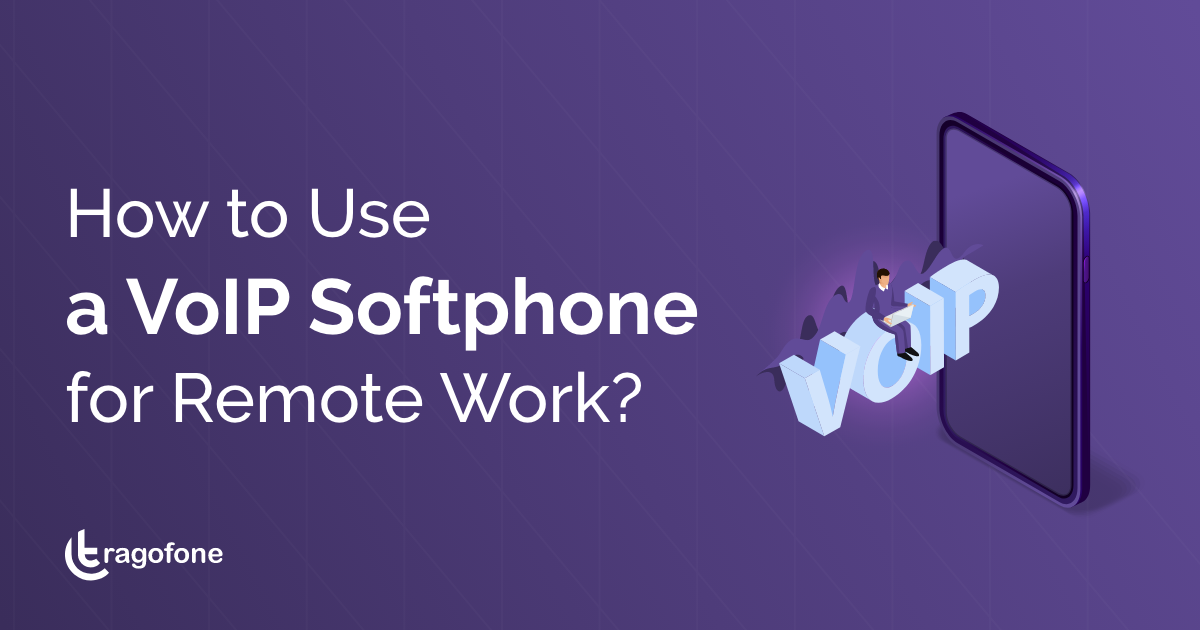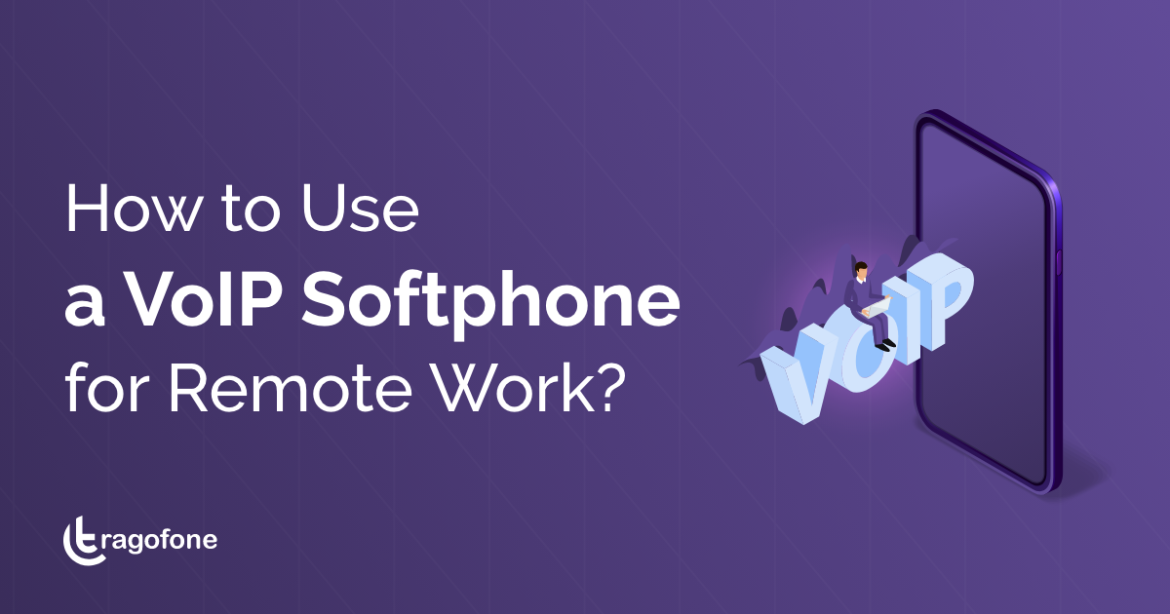 Remote work is not a new concept. About 16% of companies across the world operated in a fully-remote format back in 2018 as well. 2020 further propelled remote working, owing to the outbreak of the global pandemic. Companies who didn't believe in the power of telecommuting also joined the bandwagon for business continuity. Surprise, surprise!!! Adjusting to this new reality of work from home in a short period of time ended up being the silver lining for most, thanks to advanced VoIP (Voice Over Internet Protocol) capabilities.
In fact, 85% of managers believe that in the coming future remote teams will be the new norm. If you're an employer contemplating continuing work-from-home policies in the future, adapting technologies like VoIP softphones can usher in more benefits than you can imagine. Let's give you a walkthrough of what a softphone is, its features and benefits, and how you can use them to power your remote team.
VoIP Softphone
A VoIP softphone is a calling software or an app that can be installed on a smartphone or computer that sends voice information through the VoIP network. In simple words, a business softphone converts any device (laptop/desktop/smartphone) into a phone, by using VoIP app to transmit the conversation between the different parties. Softphones eliminate the need for a dedicated physical device. Instead, they reside on any computing solution with an internet connection. Most softphones include a digitally-based number pad as a part of the program. Remote workers can install and use a softphone on their Android or iOS smartphone and connect to the phone plan being used in their office. They can make and receive the calls using the app/software.
A softphone includes:
A platform, or interface for communication between a user and a device (computer/tablet/smartphone). There is a dial pad to dial numbers, and a keyboard to enter names for new contacts and searches. There are control buttons to manage calls and presence.
 It uses the audio input and output of the device on which it is installed to play sounds and capture audio during calls.
There is an engine for processing calls, with modules in a communication API (Application Programming Interface) that enables a user to make and receive calls in a particular protocol.
A softphone uses a set of codecs that facilitate the encoding of voice data between analog and digital formats. Codecs compress the data so it can easily be transferred over the internet.
A contact list numbers and names for the user to keep track of numbers and manage correspondents
Relevance of Softphones for Remote Teams
With a surge in remote workers, business owners were in a dilemma on how to control and centralize their communication systems. Employees back in the office could plug right into the company phone system, however, the same would not have been possible for those who work from home either full or part-time. With an intent to address these concerns, enterprises found softphones as a viable option worth considering. To equip remote workers with the tools so that they remain productive and seamlessly collaborate with each other and other business stakeholders, a VoIP softphone seemed to be a sensible and cost-effective idea.
Ways to use Softphone for Work from Home
#1. Internal company meetings
Having a distributed workforce has become common over the last few years. This means employees attend these internal company meetings from their different locations. To get your distributed workforce in the same place virtually might rather seem impossible, but not with a VoIP softphone. Most VoIP providers have an audio/video conferencing feature to accommodate as many participants as required. Managers can create a meeting space in their phone system dashboard and distribute that number to their team members. Remote workers can attend these meetings using their VoIP Softphone. All that employees need to do is dial the given conference number and enter the PIN for the meeting room. The audio quality is at par with what they would experience using an office desk phone.
#2. Reaching out to customers
Your VoIP softphone not only addresses your internal communication needs, but external communication needs as well. A softphone ensures that you are connected to your customers and they reach out to you in the same way as it would have been in your office. It functions like other full-featured VoIP phones.
Your softphone has access to your address book and calls history
You need to do a follow-up with a particular supplier, possible
You need to reply to a call you missed during the day, possible
Cold calling to the daily sheet of leads, possible
Your employees can do all this and more sitting anywhere using a VoIP softphone. What's more? Employees can reach out to customers using the company phone number as a softphone is directly connected to the company VoIP plan. Employees can make and receive calls while retaining their personal information and connecting as company employees. Customers do not have access to an employee's personal number unless they choose to share it themselves.
VoIP Softphone: Advantages for Businesses
#1. Cost-saving
Being a software application, softphones eliminate the need for any extra hardware or equipment to make them work effectively. As a business,  you will not need to invest in hardware and equipment for your remote team if switching to a VoIP softphone. Employees can use the existing device of their choice (computer, tablet, smartphone) and connect with the company's VoIP service to make and receive calls. A softphone helps a business save on hardware, equipment, and installation costs.
#2. 24×7 connectivity
VoIP softphones make sense for business communication as they enable employees to stay connected from anywhere, and on a device of their choice provided they have an internet connection.  Features like call-forwarding ensure incoming calls can be forwarded to employees on their personal number so that no call goes unanswered. For outgoing customer calls, employees can change their outgoing caller ID to flash the company's phone number instead of their own number. Softphones ensure employees are reachable anytime, anywhere, while protecting their personal contact details.
#3. Productivity, efficiency, and flexibility
A softphone enables remote workers to work at their own pace, from a place of their choice (home or local coffee shop) giving them flexibility. Employees are able to save on commuting time and costs, get the opportunity to take care of children, and strike that work-life balance. With traveling and child care stress eliminated, they are able to devote more time and focus better on office tasks which enhances their overall productivity and efficiency.
#4. Leverage advanced communication features
Softphones are more than your regular phone. It gives your employees access to a variety of advanced communication features. Most VoIP providers offer features such as the ability to make and answer calls, call transfer, call forwarding and routing, outbound calling with dynamic caller ID, call with a single click or by dialing through the dial pad, access to voicemail, ability to make notes about the call and the caller, contact management, and more.
#5. Implement BYOD Policy
BYOD (bring your own device) is fast gaining traction in the corporate world. It is a workplace policy that encourages employees to use their own devices to work, a win-win situation for both remote workers and employers. Employers no longer have to worry about expenses related to equipment such as laptops or computers, etc. and remote workers get the flexibility to use devices they are comfortable with. Softphones like Tragofone are compatible with both iOS and Android OS. They are a perfect fit for a company's BYOD policy enabling users to convert a device of their choice into business communication tools.
#6. Make remote working a reality
Softphones make the transition to remote work fairly easy and seamless. VoIP technology and softphones make it possible for a business to offer its employees the option to work from home or hire agents in different time zones and expand their global reach. Not only can a business tap the best of markets, but hire the best talent irrespective of their location.
Must-have Features in a VoIP Softphone
The market is flooded with a plethora of options when it comes to softphones for business communication. However, when investing in a softphone the below mentioned  essential features are non-negotiable:
#7. Contact directory
Having a contacts list feature is a must-have in a softphone. It should enable a user to easily import existing contacts and create new ones as and when the need arises.
#8. Extension dialing
Business softphones should function like your regular office desk phone. It should enable employees to connect with their co-workers with features such as extension dialing, joining conference calls, and more.
#9. Call Transfer
An enterprise-grade softphone should enable users to transfer calls to another extension, an outside line, or to the same line but a different device.
#10. Call Hold
A softphone should be able to manage multiple calls, display call hold time of all incoming calls so that an agent knows which call to prioritize and attend to first.
#11. Caller ID
Though an obvious must-have function, this still makes it to our list of unique softphone features. A modern phone app is not modern enough if it does not reveal the identity of the caller. A softphone caller ID must display the name and number, and the type of number.
#12. Three-Way Conferencing
A three-way conferencing means a third person can a regular call. This is particularly useful when handling a difficult situation or a complex customer query. The feature allows you to patch in an executive from the concerned department for a particular issue a customer may have and get the problem resolved there and then.
#13. Presence
A softphone app should let the employer and team members know which employees are online and who is offline.
#14. Volume control and mute
Softphones provide mobility and flexibility to your employees to make and receive calls from any time, anywhere. This also translates to employees not always being in an ideal location to take a call. However, calls have to be responded to no matter where they are. Features such as volume control and mute become a non-negotiable in a softphone to ensure employees can take calls irrespective of their surroundings.
#15. Dialpad
Softphones with a dial pad in the main interface are vital for easy access to phone menus and conference PINs.
#16. Video Calling
In an environment where everyone is working remotely in isolation, a feature like video calling brings in the visual and human aspects in day-to-day interactions and team collaborations. A softphone must allow a user to enable or disable the video feed at will during a call.
With remote and hybrid work culture gaining momentum, softphones are no more good to have but a must-have. They especially make sense for SMB's given the cost savings, ease to use, and installation. WebRTC softphones like Tragofone make it a, even more, user-friendly and viable business communication tool for remote workers. It is time for you as a business to invest in a smart VoIP softphone today.