5 Things You Didn't Know Your VoIP Softphone Could Do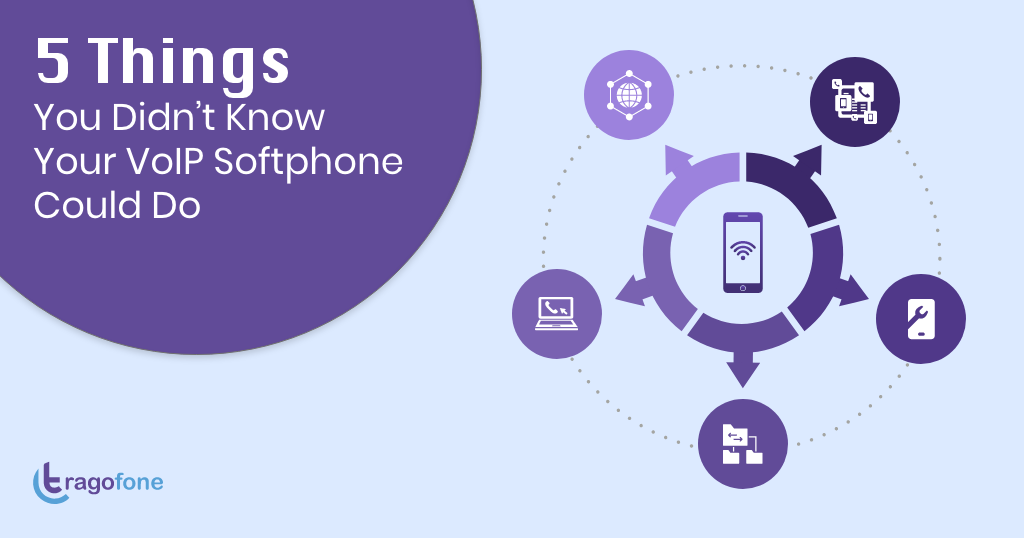 "When wireless is perfectly applied the whole world will be converted into a huge brain, which in fact it is, all things being particles of a real and rhythmic whole. We shall be able to communicate with one another instantly, irrespective of distance." 
-Nikola Tesla
Nikola Tesla predicted the invention of smartphones and internet-based telecommunications back in his days. VoIP (Voice-over-Internet Protocol) softphones are like an embodiment of what Tesla' said about telephony and communications. However, did you know your VoIP phones can do much more than just making calls? VoIP softphones come loaded with features like team messaging, file sharing, and calendar integration making them highly versatile. No wonder VoIP could step up to bridge the communications gap during the COVID-19 crisis.
By now we are very well familiarized with what a VoIP softphone is. It is a software application that duplicates the functionality of a telephone, on a PC, or any computing or mobile device. Softphone apps have become a preferred telecommunication option for most small and midsize businesses, more so in the post covid times.
 A VoIP softphone is designed to emulate a desktop handset, with a dial pad and basic phone features, like mute, transfer, and hold. Most VoIP apps are fairly easy to learn. However, being software, a softphone is loaded with features beyond making and receiving calls which are highly useful especially now when so many of us are working from home. Let's get cracking at what all can your softphone do for you other than making calls.
A business softphone is not a standalone solution. Instead, it is directly connected to your VoIP business phone system, allowing you to access your business phone on your laptop, desktop computer, tablet, or mobile phone. This removes the requirement of investing in expensive hard phone equipment. Softphones enable users to make VoIP calls over diverse web browsers, including Google Chrome, Safari, and Firefox.
Unique Softphone Features
Softphones come packed with unique features. From an easy-to-use interface to built-in caller settings, users can customize a softphone's features to fit their business needs. Most VoIP mobile dialers also include standard telephony features like mute, hold, transfer, and flash, along with other unique collaborative communication features. 
Most VoIP systems are based on Cloud or are on-premise. These can do a lot more than what most of us might expect and bring huge cost-efficiency to a business. Their mobility, functionality, and exceptional open-source nature have set a new path for the way people will communicate in the future.
#1. Global presence and mobility
Global presence with a local number:

Organizations are pushing the boundaries and expanding at a fast pace to make a global footprint. The VoIP technology enables a business to make international calls in a cost-effective manner. The 

DID (Direct Inward Dialing) feature

of a VoIP system enables a business to own a virtual local number that can be reached by callers in other countries. For example, if you are a company based in Texas, United States but a lot of your business comes from say India, you can buy a local India number that serves as your caller ID and support your Indian customers with a virtual local presence when you are in the United States. VoIP gives you the freedom to have a local presence anywhere in the world irrespective of your location.

Mobility:

VoIP only requires an internet connection to function

.

This implies

that one can practically carry their business extension anywhere. In the hybrid and remote work culture of today, it is a blessing for customer care executives

who need to keep their business identity while keeping personal numbers private.

A VoIP system/app can turn any device

(laptop, desktop, or smartphone) into offsite extensions of a business

phone system enabling employees to take advantage of office extension features,

such as making and receiving business calls via company phone line regardless of your location. 
#2. Sending and Receiving Files
A cloud-based VoIP service is designed to handle both voice and video data streams. This enables its developers/users to enhance their softphone apps to handle other data as well. VoIP users have access to features like faxing or the ability to access, share and receive files. Platforms like Microsoft Teams and Slack do offer comprehensive and instantaneous solutions for sharing files between users. But VoIP providers have stepped up their game by offering such integration as well as basic file sharing functions to help businesses conduct more work negating the need to switch between different services. 
#3. Video calls, Team messaging and collaborations, Manage Calendars
Ability to make video calls:

VoIP solutions enable users to connect over video calls. This one feature makes it an attractive proposition for small and mid-size businesses, especially now when most employees are working remotely due to the coronavirus. The ability and freedom that VoIP gives to tap your business number anytime is a blessing for quickly building a virtual business presence. Add to that the ability to enhance the call experience with video and it becomes a good substitute for social interaction, not only for customers or partners but also for internal employee-to-employee conversation.
Team messaging and collaborations:

The new-age sophisticated VoIP softphones also offer team messaging and collaboration functions along with voice, video, and data sharing. Many VoIP service providers are now integrating new functionality into their products based on what their users want and the trend is here to stay.  The new-age updated VoIP software enables users to make and receive calls, check voicemail, conduct online meetings that include support for chat, shared screen, and video conferencing.
Manage calendars:

The modern VoIP software can integrate with the users' contact lists, both a business contact as well as personal contact lists stored on PCs and mobile devices. This enables them to easily track contacts and initiate calls. A user can also access calendars for scheduling meetings and calls with VoIP.
#4. White-labelling and Customer Insights
White labeling in softphone: Enterprises strive towards providing exceptional quality at every customer touchpoint and leaving a lasting brand recall value in the mind of its customers.  One of the most common customer touchpoints is an enterprise's telephony service such as IVR, music on hold, or voice prompts. VoIP softphones come with white labeling advantages, which means one can customize the system with its own branding, logo, pre-recorded voice message with a brand name, music and the whole paraphilia. These customized greetings and voice direction helps a business in attracting and retaining guests while building brand loyalty. Today's modern VoIP system enables a business to upload and deploy their own brand voice to add depth, warmth, and personality to automated voice prompts. A clear message combined with a specific tone or background music resonates with the customers and enhances the customer satisfaction experience.
Customer Insights:

Gone are the days when a telephone system was used to merely make and receive calls. Modern telephone systems including VoIP can be integrated with key business applications to increase productivity and enhance the overall customer experience. Modern VoIP systems come equipped with VoIP CRM integration capabilities. This enables business owners with a powerful cross-channel platform to unite data, context, and conversation. With proper CRM integration, an executive can have a  holistic view of the customer during the call. Key information like basic caller information, call logs, keynotes, etc can be easily accessed by an executive interacting with the customer. This is a great tool to improve the quality of customer interactions by automatically delivering pertinent information along with each call.
#5. Enables ease of contact through your website
Most company websites have a "call us" or "talk to us" button on their contact us page. This kind of functionality enables businesses to build a customer-oriented experience. Thanks to the API (application program interface) of the VoIP allows companies to access core PBX features. It is now possible to connect a company's web page with its telephone system via specific APIs, and put a VoIP "call us" or "talk to us" button on the website and let the customer's input automatically initiate a call from your PBX system. 
Besides these features, VoIP mobile dialers also offer additional unique features to their users. Let's look at what they are: 
 

Leverages WebRTC to make seamless audio and video calls
Supported by the World Wide Web Consortium (W3C), WebRTC allows open standard browsers to communicate with each other and exchange audio, video, and data files that use a simple Javascript based API. It allows users to make audio and video calls without requiring a plugin or any additional software installation. WebRTC can be considered an extension of VoIP that brings the potential of making phone and video calls, chats, and Peer 2 Peer file transfers directly to the web browser or mobile app. WebRTC allows for more widespread adoption of VoIP, acting as an extension for VoIP into new platforms. The fact that WebRTC is open source, and has low latency and interoperability makes it an attractive technology option. 
Auto provisioning allows an enterprise to deploy its telecom services instantly through a software application, rather than doing it manually for every device. This tool is especially useful when deploying large numbers of IP phones that require advanced configuration. Users can activate their softphone service via a web interface without requiring any configuration settings. This makes the deployment and management of installation fast and easy. Also, using auto provisioning feature, organizations can remotely set up their phone systems across multiple locations. They can do so in bulk and manage the system through an intuitive cloud phone service platform. 
Softphone services like Tragofone offer multi-lingual support so that users can converse in a language of their choice.
 

Integration with other databases and directories
Some softphones implement compatibility with third-party applications like Microsoft Outlook. They also enable integration with shared LDAP (Lightweight Directory Access Protocol) directories, Microsoft Active Directory and ODBC compatible interfaces. This feature is especially useful for call centers. 
Having multiple, independent SIP accounts on a softphone allows users to consolidate their accounts and make or receive calls from a single SIP softphone. Having multiple registrations enables organizations to shift between accounts on a per-outbound call basis, depending on which VoIP provider or ISP offers the best rates for the destinations they are connecting to.
Modern organizations are very particular about the privacy and security of their communications. These security issues are very relevant for softphones, where incoming and outgoing calls are vulnerable to attacks such as wiretapping and eavesdropping.  Quality softphones support encryption using Transport Layer Security (TLS) and Secure RTP (SRTP) protocols, as it reduces these threats.
Future of VoIP softphones 
Modern-day VoIP softphones are a cost effective, all-in-one business phone solution. They have a lot more to offer over the traditional PBX system used earlier. With the hybrid and remote work culture taking center stage they are here to stay.
Today's sophisticated VoIP softphones (both "on-premises" and "cloud") are easy to use, reliable and come loaded with features to cater to the ever-evolving modern-day business and work culture. It enables mobility and is truly blurring geographical barriers. With all-inclusive features, it enables small and medium-size enterprises to take advantage of Unified Communications(UC) and enjoy easy communications irrespective of the place and time. 
Rich API, easy interoperability, CRM integration and integration with several critical business applications, and customization as per specific needs of a business VoIP brings all of this to the table along with delivering smart communications. VoIP is here to stay and evolve, we as users need to dig deeper to understand and leverage the many benefits it has to offer.