How Dialer Phone Apps Can Help Telecom Businesses?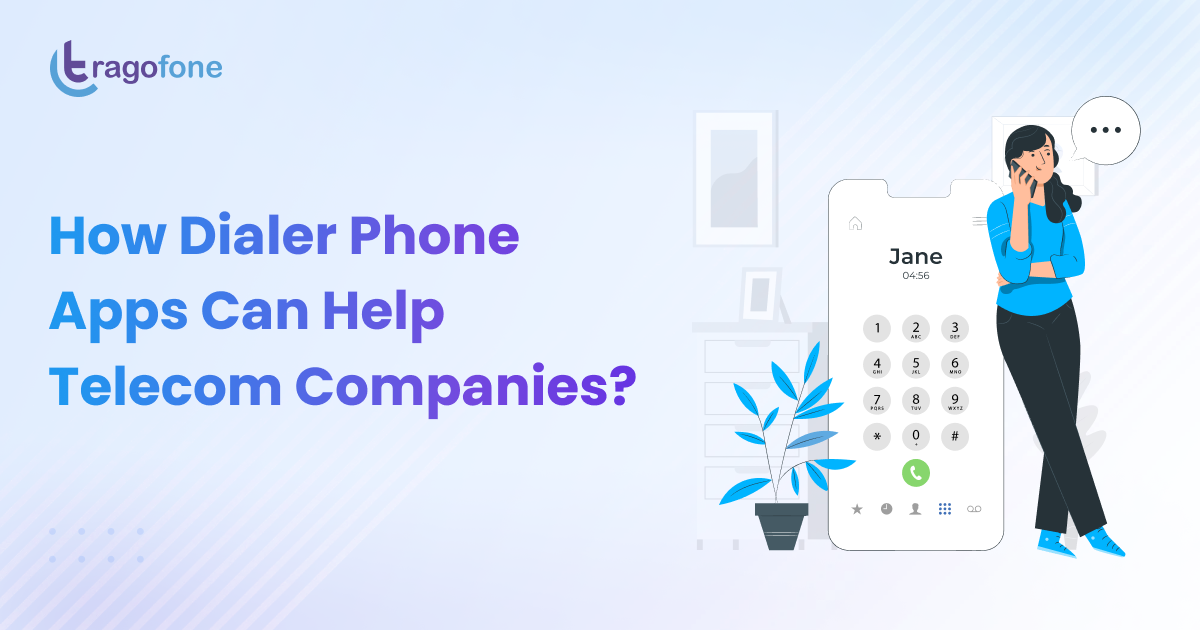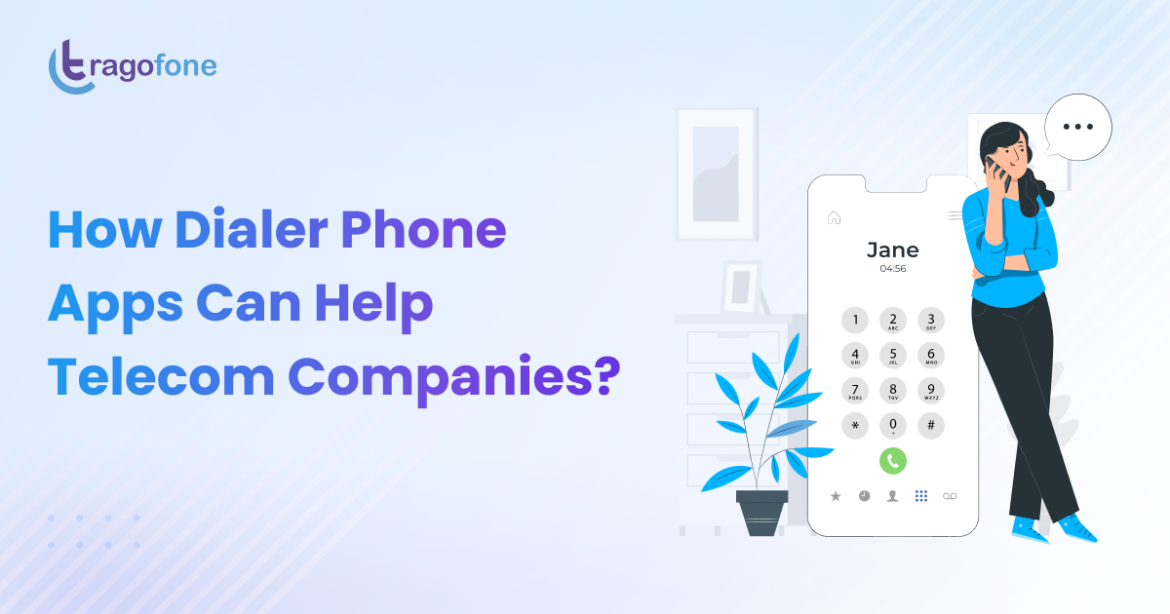 The new-age telecom companies need dynamic solutions and cutting-edge technology to meet changing customer expectations and ensure agent satisfaction. The rising popularity of simple call dialer phone apps is a testimony to the fact that telecom companies have finally bid good-bye to the age-old PSTN (public switched telephone network (PSTN)  technology or plain old telephone service (POTS) and whole-heartedly embraced VoIP technology. 
As a matter of fact the global VoIP market size is worth more than US$40 billion in 2022 and is expected to register a 10% CAGR in the next decade (2023-2032). The shift to a remote and hybrid workspace has been a key driving force in more and more companies demanding easy call dialer phone apps or softphones.
A brief introduction to VoIP
VoIP phone systems use the internet to make and receive calls instead of the old-school physical copper wires. What makes VoIP popular is the fact that unlike traditional hard-wired phones bound to a desk, VoIP is location independent. This one quality along with a plethora of other benefits makes a strong case for VoIP enabled softphones in today's highly mobile and flexible work culture. 
Understanding dialer phone app
The voice call dialer phone apps or softphones is basically an app or a software that can be installed on a computer (desktop or laptop) or a smartphone to handle calls, manage contacts, collaborate with peers and supervisors, and a lot more. Quick to deploy, no hardware installation, easy to maintain, and cost-effectiveness are a few factors that make softphones a lucrative product not just for business owners but also telecom companies. 
These feature rich phone systems powered by the internet and military grade security is what new-age enterprises need. As a telecom company not having a dialer phone app as a product offering is actually a big business opportunity loss. 
Dialer Phone Apps – Disrupting Telecom for good
The telecom sector has its roots in PSTN which demands hefty investments in physical infrastructure. Scaling your team with a PSTN communication system entails laying new network cables, acquiring new hardware, and the whole paraphilia.  Features such as call waiting, forwarding, recording also come at a premium.
Dialer software is a complete departure from this old school technology. It minimizes and to an extent eliminates the initial set-up and hardware costs as it is essentially a software powered by the internet. All data exchange be it audio, video, files, etc. are in the form of small data packets over the internet. Scalability is not an issue and an upgrade to the latest version just means a simple software upgrade.
As a telecom company you can offer a subscription based service to your clients including advanced call features as a package. The advantage and the edge dialer phone apps have over PSTN are far too many, no wonder more and more businesses are making the shift to VoIP and demanding softphones.
But it is not them alone that stand to benefit, telecom companies can benefit by offering dialer phone apps as one of the product offerings. Let's walk through them one by one. 
#1. Cost and convenience
We have clearly established how VoIP dialer software is easy to install,  doesn't need expensive hardware installation or phone lines, is easy to scale and upgrade making it a truly cost-effective and convenient technology. Since it utilizes the internet to place calls facilitating international calls is cheaper, a benefit you can pass on to your customers too.
There is a reason why telecom companies across the globe are building internet protocol (IP) based networks to provide both voice calling and broadband services. Relying on such IP-based networks is far more convenient and eliminates the need to maintain a separate PSTN for call services. 
#2. Easy to maintain infrastructure
The traditional PSTN relied on copper wire phone line networks. As these networks aged these had to be regularly repaired and in many cases replaced as well. The outcome is exponentially high maintenance costs. Not to forget these age old physical networks of phone lines were highly vulnerable to bad weather, storms, and similar situations. Maintaining VoIP infrastructure is fairly easy. 
#3. A solution which is in high demand
New age entrepreneurs are pushing the boundaries and not restricting business operations to a certain area. In order to attract the best talent they are also experimenting with new work models like remote and hybrid work. This new, bold, and mobile style of working requires communication and collaboration tools that are easy to use, flexible, and secure. A dialer software ticks all these boxes and more. Offering a dialer phone app thus means more business streams and a potential to generate more revenue.
#4. Unified communication
Dialer phone apps offer users more than just voice calls. Users can place and receive voice calls, do instant messaging, and video conferencing through one system. Softphones such as Tragofone also enable users to switch between devices seamlessly in an ongoing call. 
The unexpected turn of events over the last two years led enterprises of all sizes to transition their workforce to a remote/hybrid work model. Though people have started returning to the office, it looks remote and the office will co-exist. This sudden change in scenario posed a major challenge more so for small businesses, to make the right collaboration tools available to their remote teams. In today's highly competitive environment a business cannot afford to lose touch with its customers, which is why having a flexible and technically advanced communication tool has become a key requirement. 
The remote work scene also started the trend of BYOD (bring your own device) with a majority of work from home employees using their own devices (desktop or mobile phone). This led to a rise in demand for packaged mobile solutions and corporates adapting dialer phone apps or softphones in a big way. This is the current demand and telecom companies must make the most of this opportunity.
9 Benefits telecom companies can extend to clients
#1. Easy installation
Dialer phone apps can be downloaded on any device (Android, iOS, Mac, Windows)  eliminating the need for hardware installation, cabling requirements, or dedicated lines. In an event where a dialer app requires a software upgrade, telecom companies can give an option to upgrade to the latest version for free to existing subscribers. 
#2. Easy to scale
Expanding your team to cater to the upcoming festive season? With a dialer software adding new phone numbers is possible without adding new infrastructure. New employees simply need to install the dialer app on their smartphone/desktop, login with the credentials, and get connected to the office phone system right away. WebRTC dialer apps such as Tragofone can be launched directly on the browser as well.
#3. Privacy
Remote work means using a personal mobile, however sharing personal contact details with random customers is not the most comfortable thing to do. Making and receiving calls using a dialer phone app eliminates the need to disclose personal phone numbers to peers, supervisors, vendors, and customers.
#4. Collaborative tools
Dialer software is not just a simple phone, it enables users to do a lot more beyond audio calls. Teams can collaborate with advanced features like video conferencing, instant messaging, file-sharing, and a lot more. Video conference capabilities are particularly useful for companies that  conduct frequent virtual meetings with external clients or overseas teams.
#5. Security
End-to-end encryption and smart systems to detect and stop fraudulent callers, ensure safety of employee as well as organizations data. 
#6. Integration with existing systems
Most VoIP dialer phone apps can integrate with existing systems such as CRM, HRMS, and any other software that organizations may be using. This helps in significantly improving employees efficiency and productivity. They have all information at one place which saves a lot of time and makes day to day processes smooth.
#7. Efficient operations
Dialer apps can help automate repetitive tasks and save time. With features like IVR (interactive voice response) and ACD (automatic call distribution) call waiting times can be reduced, call queues shortened, and calls can be directed to the right agent in the first go. All of this translates to delivering better customer service and experience.
#8. Future proof
Dialer app is a software at the end of the day which means it can be easily upgraded. This way telecom companies can make the latest features and functionalities available to the end user without investing in any additional equipment.
#9. BYOD policy friendly
BYOD policy has gained traction over the last few years and is in a way a win-win for both the employer and the employee. Employers do not have to incur the cost of providing equipment and employees get to work on a device they are well-versed with. Dialer phone apps easily fit into the BYOD policy as users can convert any device into a business communication tool.
The future of Dialer Phone App
Dialer phone app is the future of remote and hybrid teamwork and is here to stay. With the changing business and work culture, the use of dialer software has become increasingly popular and rightly so. Firstly it allows for a more flexible and efficient way of working, second it helps teams to work on a project together without the need for face-to-face meetings, and last but not the least it aids effective collaboration even if team members are in different locations, time zones, or working hours. 
Collaborative tools such as video calls, screen share, and file share play a big role in keeping the team in sync and facilitates quick resolution of queries. It would be an understatement to suggest dialer phone apps are a necessity in the current business climate. With disparate workforce becoming the norm, dialer software helps to foster a sense of connection and inclusivity, regardless of the distance between team members.
Looking forward
We live in an age where people not just appreciate hard work but rather smart work. One cannot deny the way the telecommunications industry was up and running in the most unprecedented times in modern history. Services like dialer phone apps ensured business functioned as usual even when people were forced to stay in the confines of their homes. This one change revolutionized the overall business environment and fuelled the demand for VoIP technologies. 
There is no looking back now, dialer phone apps are the need of the hour and telecom companies must make the most of this opportunity by offering it as a product and setting their business on a growth path.