8 Telecom Trends 2021: Industry, Innovation, Predictions 2021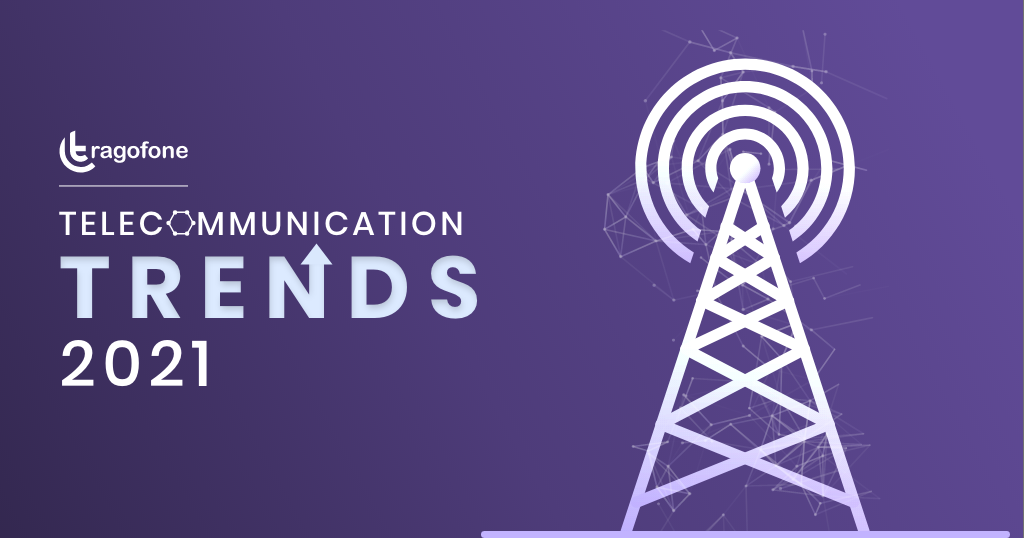 Besides going down in history as the year of the Covid-19 pandemic, 2020 will also be remembered for the transformative digital changes that took place across global organizations.
In terms of tech transformations, the telecommunications industry went to the next level. With countries in lockdown and remote working becoming a norm, mobile, fixed-line, and internet-powered communication became a lifeline for organizations. Telecom companies emerged as one of the most essential industries during the pandemic, and will likely stay that way in the future. Telecom companies built a strong foundation for future growth by enabling seamless professional communication between remotely-connected workforces, investing in UCaaS (Unified Communications as a Service), and allowing businesses to continue delivering products and services by migrating to the cloud.
Big changes are coming to the telecom industry, and it is clear that the future will involve seamless experiences that support a shift to remote work. The success of telecom operators will depend on how they respond to these new work trends.
In the coming decade, communication solutions are expected to improve customer experiences at all levels, be it through unified communication systems, transformative technologies like AI (artificial intelligence) and machine learning, or key infrastructure improvements like 5G and UCaaS implementation. As a result, what is expected is the rise of a new communication standard.
The main trends that emerged during the 2010s were VoIP, mass availability of high-quality fiber broadband, and the cloud. In this decade VoIP (Voice over Internet Protocol) began to build traction by offering high-tech communication solutions for the global telecom industry. As businesses shifted their processes to cloud services, it became easier to enable flexible and remote working.
What does the coming decade hold for the telecom industry? Let us look at the extraordinary innovations and trends that are set to transform the industry in the coming year, and decade.
The Main Telecom Trends: What will telecommunications and telephony look like in the 2020s
The telecom industry's technology transformation – which began in 2020 – is continuing into 2021. In fact, it is expanding at a rapid rate, due to the unique capabilities of these technologies, such as a faster, better, and more comprehensive tackling of market challenges. For instance, In the fight against fraud, the value of AI and ML methods will be of great benefit, as it helps detect anomalies faster. VOIP technology is slated to replace the older PSTN systems. For companies that want to cut down on expenses, VOIP will be the way to go. The spotlight will be on 5G deployments, due to the huge boost in connectivity and speed that it will bring.
Let's look at each of these telecom trends and understand how they will re-shape the industry.
#1. 5G will go mainstream
Today's fast-growing businesses need the right communication tools to stay ahead, making the adoption of 5G networks the talking point among VoIP market trends. 5G or fifth-generation wide-area wireless networks are set to become the new global standard. What makes it so special? 5G promises lightning-fast speeds, low latency, and seamless connectivity for internet devices. It has the potential to accelerate the adoption of Internet of Things (IoT) technology, improve call quality across devices, and provide businesses with an internet network they can bank on. With 5G, businesses will experience better Internet connectivity, voice and video calling, faster file sharing, and more. It will also reaffirm how important mobility in telephony solutions (like VoIP softphones) has become.
Research by Verizon has found that the perceived benefits of a 5G network include better data transfer speeds, improved connectivity of wearable tech, and reduced instances of dropped calls. These benefits will encourage more enterprises to adopt VoIP. As companies gradually roll out 5G capable devices and infrastructures, it's clear that communication solutions will take a huge leap towards the future.
#2. The rise of AI and ML
AI is everywhere. It's on Netflix, on your social media feed, and on the websites that you visit. VoIP won't be any different in the coming years. For example, VoIP based call center industry will use the power of AI to improve service delivery by providing self-help options that will lead customers to quick solutions. AI through bots will be used to predict customer behavior and provide business insights to organizations.
Telecom companies are already leaning in a big way towards machine learning and AI, as these technologies can help optimize back-end processes. They also power chatbots and speech recognition software that assist in customer service interactions and improve customer experiences.
For the telecom industry, AI can use data to predict peak traffic, provide better end-to-end service and enhance connectivity. They can also leverage these technologies for network capability improvements, provide seamless customer experiences, and boost infrastructure automation.
#3. Boost to UCaaS
As the future of communication infrastructures becomes cloud-based, cloud phone systems are emerging as the most cost-effective telephony option for businesses. The UCaaS market is predicted to reach $24.8 billion by 2024. Using UCaaS, organizations will have quick access to their data, audio, and video communication. Also, as everything is stored on the cloud, disaster recovery and business continuity will become much easier.
The pandemic was one of the market drivers for the growth of cloud-based telephony solutions, as it has forced businesses to move their in-house PBX systems to the cloud. The sudden shift to remote work pushed most companies to adopt and implement UCaaS.
In 2021, the UCaaS market is expected to grow to over $28 billion. What makes UCaaS so important? Modern UCaaS solutions make it easy for organizations to talk, text, share files, project updates, and give the leadership visibility into their teams' performance. The rise of cloud-based phone systems like softphones is also leading the way.
#4. VoIP support for IoT
IoT connects internet-enabled devices to simplify data exchange. As this technology develops, VoIP will play a crucial role in the data capture and transmission levels of IoT. VoIP devices are evolving beyond sending voice and video packets. It can now even ensure that all its endpoints such as cameras and speakers work to connect with other devices. This is where IoT and VoIP meet.
When VoIP and IoT come together, they can revolutionize the way businesses operate. For instance, companies can set up smart offices, where a network will collect data from all the office equipment so that employees can have the information they require wherever they are. Or, imagine a voice-activated workspace, where an employee can ask VoIP to record a meeting.
#5. Merger of VoIP and WebRTC
The WebRTC framework was created to run real-time communications in a browser using simple APIs, and many organizations are opting for it. WebRTC has made it seamless to use internet-based communication on the go without any setup.
As WebRTC is an open-source standard, it works well with VoIP systems as well. For instance, WebRTC improves VoIP experiences with instant calls and live video support, and enhances peer-to-peer file swapping and direct calls from the web browser.
The telecom industry is expecting to see the merger of these two communication systems. By aligning the functionalities of WebRTC and VoIP, organizations will not need extra plugins and widgets for their communication functions.
#6. Increased focus on security
The one big disadvantage of seamless internet accessibility is the risk of cyberattacks. According to Statista, some of the most common types of cyberattacks include phishing, network intrusion, and inadvertent disclosure. As the pandemic forced more people to work from home, hackers began spreading malware through portable executable formats.
As VoIP communication systems run on the internet, they are prone to such attacks. Organizations will have to prepare themselves to handle this by providing another layer of privacy and security.
#7. Advanced VoIP assistants
With advances in AI and language processing, we will see voice assistants (like Siri, Alexa, and Ok Google) turning smarter as they will be able to respond to highly complicated questions and help automate mundane processes like routing calls to agents or sending calls to voicemail. Powered by AI, they will also be able to collect customer information by recording previous interactions automatically. This will make it easier for agents to pick up calls where other agents left off and provide personalized customer service.
Advanced VoIP assistants will also be able to do new and diverse tasks like recording meetings and transcribing them as the meeting proceeds.
#8. Growth in cloud platforms
The move to the cloud is happening at a rapid pace, as organizations adopt a cloud-first approach. This is particularly important as organizations change the way they consume voice services. Enterprises are increasingly looking at removing the need for physical phone equipment and benefit from the advantages that hosted voice platforms, like softphones, provide. These advantages include cost saving, flexibility, and disaster recovery capabilities.
Why VoIP solutions like Softphones will emerge as a Game Changer for the Telecom Industry in the Coming Decade 
The global VoIP market witnessed exponential growth over the last decade, and the rise of remote working is set to boost it further. This is especially because VoIP platforms are increasingly integrating with 5G adoption, UCaaS growth, and the use of AI and ML.
Global enterprises have a growing requirement for a cost-effective communication solution that can support workforce mobility. This is where VoIP systems play an important role. This technology allows users to implement flexible communication systems that cater to voice, SMS, email, video conferencing, and other types of communication methods that modern businesses require. VoIP technology can help reduce company phone bills and teleconferencing costs by up to 30% and save 90% on international calls.
The VoIP market is projected to grow up to $55 billion by 2025. As organizations go global, they need phone systems that improve communication and collaboration between employees spread across the world. This increases the demand for VoIP products such as IP phones and softphones. Also, telecom companies and governments are investing in wireless telecommunication technologies such as 4G and the upcoming 5G network, leading to higher transfer speeds for high-quality voice and data services. This will increase the impact that VoIP has on global businesses.
In fact, VoIP is one of the big reasons why the global telecom industry is undergoing such a drastic transformation. VoIP services offer features that traditional telephony does not. It's cost-effective and does not require costly physical infrastructure. It's also gaining traction as the gig economy grows and the changing nature of business requires enterprises to communicate anywhere in the world, at any time.
Conclusion
The telecommunications industry is changing, and VOIP technology is set to replace traditional telephony. It's no longer a question of if, but when. So in the next decade, we can expect IP telephony systems like softphones to become the communication solution of choice, as businesses jump ship from ISDN systems.
In 2021, telecom companies will maintain global competitiveness and boost productivity by leveraging emerging technologies that have the potential to transform customer experiences, network expansion, and infrastructure management. Also, consistent connectivity and enhanced customer service will be the key drivers behind the growth of global telecommunication.
The future of global communications will be more interconnected than ever, and also extremely mobile and flexible. Businesses have to ensure they stay in tune with this trend, by shifting to flexible and unified communication solutions.