Understanding Virtual Phone Systems: What They Are and How They Work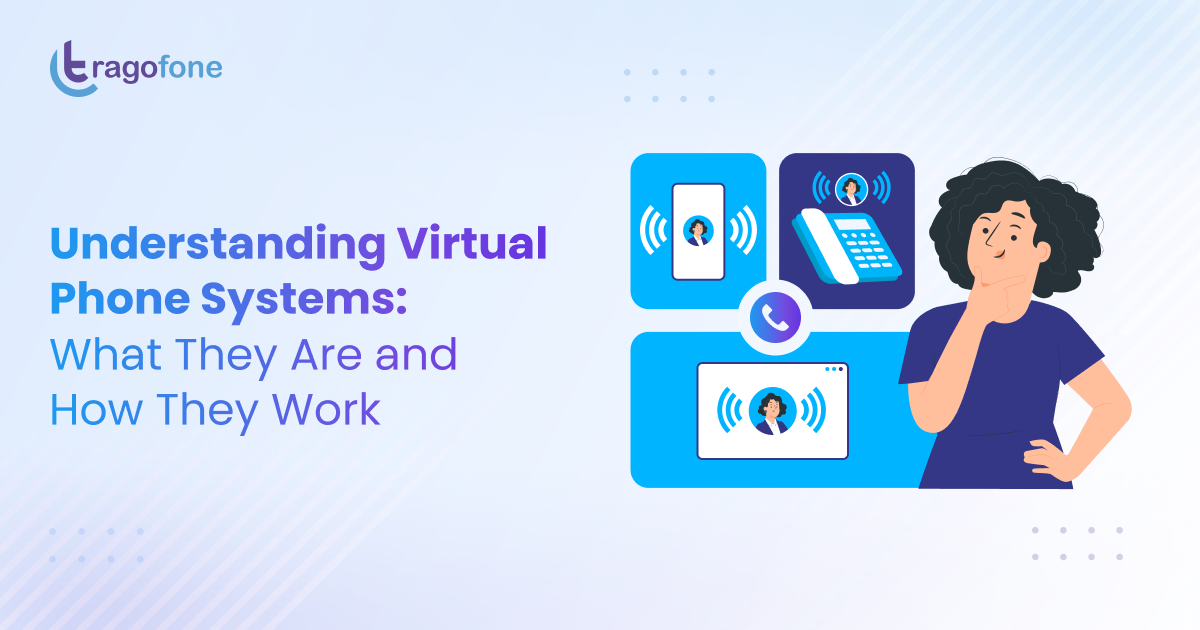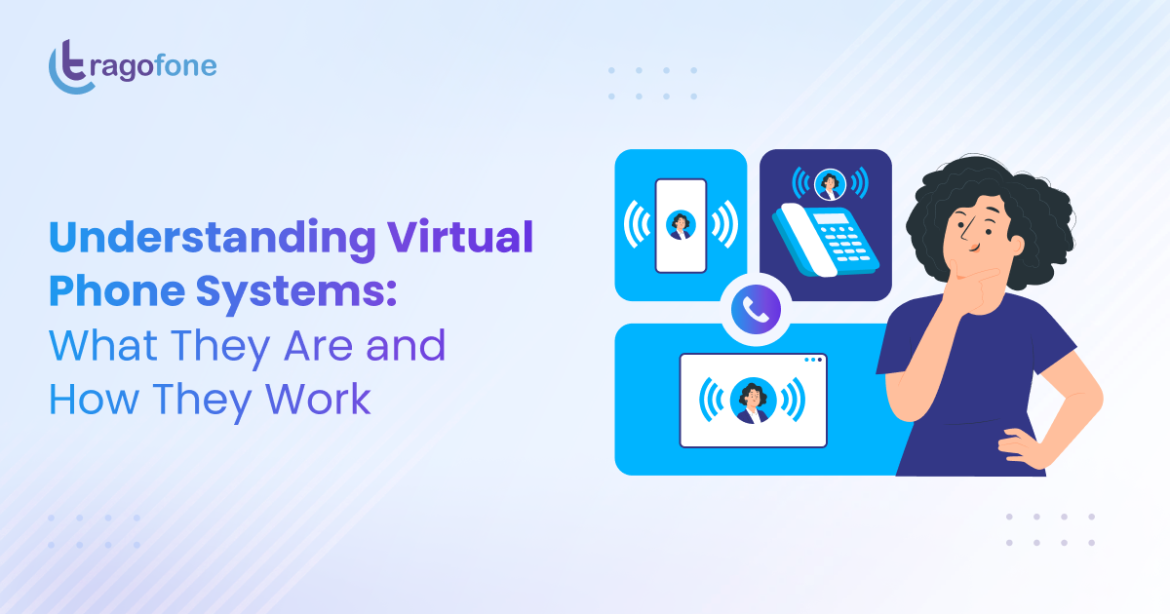 If you're like most businesses, your phone system probably hasn't changed much over the years aside from some minor upgrades. You're still relying on old-school landlines and clunky equipment taking up space in your office. But legacy systems can't keep up with today's mobile, distributed workforces. Enter the virtual phone system – a modern communication solution built for flexibility and productivity. 
In this post, we'll break down what a virtual phone system is, how it works, and key reasons you should switch from antiquated landlines to cloud-based systems. You'll see why virtual phone services are the ultimate game changer for mobility, resilience, and unified team communication in the digital age. Let's get started!
What Exactly is a Virtual Phone Number?
A virtual phone number, also known as a Direct Inward Dialing (DID) number, is essentially a digital telephone number mapped onto a Voice over IP (VoIP) network instead of a traditional Public Switched Telephone Network (PSTN). 
Unlike landline numbers tied to a physical location, virtual numbers can be called and configured to ring devices across geographies over the internet. Calls to a virtual number are routed through VoIP servers to the linked endpoints like desktop or mobile devices.
This location-agnostic nature makes virtual numbers invaluable for global enterprises and remote teams. Calls can be fielded from anywhere instead of relying on an office location. Virtual numbers connected to cloud contact centers also facilitate versatile customer engagement unhindered by geography. 
Tragofone – a WebRTC softphone for example can be installed on your smartphone or directly launched on your preferred browser on your smartphone or desktop or tablet and there you have it – a virtual phone system on your device anytime and anywhere.
Demystifying How Virtual Phone Systems Work 
Virtual phone systems may seem complex on the surface, but the technology powering them is straightforward. Here's a step-by-step look under the hood:
First, a business administrator purchases a virtual number subscription from a VoIP provider. When selecting the number, they can choose a local number to establish regional presence, a toll-free number for national reach, or international numbers to tap new markets. 

Next, the administrator configures where calls to this virtual number should be routed – typically to key personnel's desk phones, smartphones, or softphones. Sophisticated rules can be set up, for example, to route customer service calls to support agents, sales inquiries to the sales queue, or off-hours calls to an emergency on-call manager.

When a customer or partner dials the virtual number, it connects to the VoIP provider's servers in the cloud instead of a physical phone line. These servers instantly identify the incoming call and route it intelligently based on the pre-configured endpoints and rules. 

The call travels securely over the internet to ring the desired devices anywhere in the world – whether a smartphone in London, laptop in Sydney, or IP desk phone in New York. Geography becomes irrelevant.
From the caller's perspective, the interaction experience is identical to a standard phone call. However, in the background, the flexible connectivity and advanced call handling enabled by virtual numbers facilitate superior experiences. 
For example, intelligent call routing gets customers answers fast from the ideal agents. Features like voicemail and IVR self-service boost convenience. Call analytics provide insights to optimize operations. 
In essence, the virtual phone systems opens up a world of possibilities for responsive, contextual customer interactions not possible with landlines or traditional PBX systems. The technology fades into the background to enable next-generation communication capabilities.
Top Reasons Businesses Need Virtual Phone Systems 
Here are some compelling benefits virtual phone systems provide over standard landline numbers:
#1. Scalable Communications
Businesses have the flexibility to quickly and easily add new phone lines as needed to support expanding teams or locations. There's no need for expensive on-site phone system upgrades or installations. Communication infrastructure can scale up or down instantly through the cloud.
#2. Enhanced Mobility 
Virtual phone systems enable employees to use their direct business line on any device, from their cell phone to a laptop. This enables true mobile work without missing calls. Employees have one number that rings everywhere.
#3. Global Presence
Businesses can establish local numbers in new regions to expand reach and serve international audiences by integrating toll-free and local virtual numbers. This lowers barriers to global expansion. Customers see a familiar local number when calling from abroad.
#4. Improved Customer Experiences
Features like interactive voice response menus, voicemail boxes and intelligent call routing powered by virtual phone systems make it easier for customers to navigate, be routed to the right agent, and get information independently without waiting on hold.
#5. Cost Savings 
Traditional on-premise phone systems require expensive hardware purchases, maintenance contracts and per-line phone charges. Virtual phone systems eliminate these costs by providing phone service through affordable monthly subscription plans in the cloud. There's no need for costly on-site equipment upgrades either as the business grows.
The bottom line is virtual phone systems enable location-independent communication experiences that would be extremely cumbersome to implement with traditional telephony. They future-proof business interactions for continued growth and flexibility.
How Can Businesses Obtain Virtual Numbers? 
Getting set up with virtual numbers is straightforward with leading business VoIP softphones such as Tragofone. Here is a high-level overview:
Select a reliable VoIP Phone Service Provider 
Thoroughly research providers based on criteria like call quality, uptime reliability, security protocols, feature sets, pricing plans and customer support reputation. Ask for trial periods and referrals.
Choose Number Type & Features
Determine number needs such as local, toll-free, DIDs etc. Select advanced features to power IVR, call queues, faxing etc. Consider future growth by allocating extra numbers/seats.
Program detailed rules to route calls intelligently based on factors like time of day, caller location, priority levels etc. Route to specific agents, departments or IVR menus seamlessly.
Configure settings for seamless inbound/outbound calling by configuring the softphone on a device of your choice.
Begin Making & Receiving Calls
Test the setup end-to-end. Train employees on using virtual numbers. Go live! Monitor performance and make adjustments. Ongoing management frees you to focus on customers.
By partnering with established providers, activating and managing virtual numbers is a breeze. Focus your efforts where it matters most – delighting customers.
Key Advantages of Adopting Virtual Phone Systems
Now that we've covered the logistics, let's dive deeper into the specific benefits of deploying virtual numbers:
#1. Location-Agnostic Communication
With virtual phone systems, employees have the freedom and flexibility to work from anywhere without being tied to a physical office. Whether working remotely from home, at a client site, or on the road, employees can use their business phone number seamlessly on any internet-connected device. This allows businesses to have a distributed workforce without communication barriers. Teams can work collaboratively across locations in a cohesive manner.
#2. Improved Accessibility
Features like intelligent call routing, auto-attendants, interactive voice response (IVR) menus, and mobile twinning ensure customers can get in touch at their convenience 24/7. Calls will be intelligently directed to the optimal agent who can best assist. Voicemail boxes mean no calls will ever go unanswered. Customers can also self-serve using IVRs to check order statuses, make payments, or find answers to common questions without waiting on hold.
#3. Enhanced Mobility
With virtual numbers, employees truly have the freedom to work from anywhere. They are not restricted to the office or glued to their desks. Whether working remotely from home one day, in a client meeting the next, or on the road, employees can use their business phone number seamlessly across any device – laptop, desktop, mobile phone or tablet. Features like mobile twinning ensure calls are seamlessly forwarded to employees' mobile devices to avoid missed connections. This allows for maximum flexibility.
#4. Streamlined Customer Experiences
Intuitive IVR menus, voicebots, and contextual screen pops help customers navigate effortlessly and connect to the right agent or information quickly. Customers have a consistent omni-channel experience whether calling, chatting online, or messaging. Self-service options through voicebots are available 24/7 to answer common questions. This level of convenience and responsiveness builds customer satisfaction and loyalty over time.
#5. Reliable Disaster Recovery
Cloud-based virtual phone systems ensure minimal disruptions even during emergencies. Whether offices face temporary closure due to weather, fire, or other issues, or an employee needs to self-isolate, virtual numbers allow seamless transition to alternative locations or remote work with full call capability. This reliable continuity is critical for mission-critical operations.
#6. Scalability On Demand
Procuring additional phone numbers is simply a matter of purchasing more virtual numbers or seats through the provider's online portal or client interface. This allows businesses to instantly add new teams, offices, or contact centers across locations without extensive infrastructure upgrades or prolonged downtime.
#7. Cost Efficiency
Traditional on-premise phone systems require large upfront capital expenditures for hardware purchases as well as ongoing maintenance contracts. Adding new lines also involves expensive installation fees. Furthermore, long-distance calling incurs substantial charges. Virtual phone systems consolidate all legacy systems into a single cloud-based solution through affordable monthly subscription plans. There are no hardware costs to maintain, upgrade, or replace equipment as needs change. 
In essence, virtual numbers enable next-generation communication capabilities that maximize productivity and responsiveness.
Tragofone – A Reliable Virtual Phone System
With an ever-expanding remote workforce and real-time engagements becoming the norm, businesses need future-ready virtual telephony.
This is where Tragofone steps in – an advanced VoIP softphone that empowers frictionless deployment of virtual numbers globally.
Tragofone's carrier-grade network provides the highest-quality connectivity. Their virtual numbers integrate seamlessly across devices and locations over the internet.
Some standout capabilities include: 
Local/toll-free numbers in 45+ countries:

Tragofone makes it simple for businesses to establish a local presence anywhere they operate globally. Companies can procure virtual numbers that appear local to customers internationally.

Auto-provisioning:

Through its automated provisioning portal, Tragofone streamlines the process of deploying new virtual numbers across employees, branches, and devices. Numbers can be activated and registered to endpoints with a few clicks.  

CRM integration:

Its CRM integrations enable screen pops and click-to-dial functionality. Agents have customer insights at their fingertips to enhance interactions.

WebRTC support:

Tragofone's carrier-grade network delivers crystal clear call quality even over web-based applications. Remote and mobile workers stay productive.

Usage analytics:

Detailed reporting gives actionable insights into call patterns and agent performance. Issues can be addressed proactively.

Scalability:

As businesses grow, Tragofone allows easy provisioning of additional virtual numbers, extensions and seats through a centralized portal. Communication infrastructure scales on demand.

Geographic redundancy:

Their globally distributed data centers ensure continuous service even during regional outages through automatic failover. 

Omnichannel capabilities:

Features like interactive SMS, fax, voicemail and video conferencing integrate different channels for unified customer experiences.

Advanced call routing

: Businesses can set up intelligent rules to route calls based on customizable filters like caller ID, time of day, wait times etc. for optimal support.

Real-time dashboards:

Managers access actionable insights on call metrics, agent performance and system usage through easy-to-read web dashboards.

Robust security:

Tragofone utilizes bank-grade encryption, DDoS protection, firewalls and regular audits to safeguard data and privacy.

24/7 chat support:

Their dedicated support team is available around the clock to address any technical issues or onboarding requirements.
The future of global business communications is virtual. Request a demo today and say hello to future-ready telephony.
Epilogue
For organizations seeking location-agnostic customer and workforce engagement, virtual phone systems are indispensable. They break the geographical barriers that constrain legacy telephony.
With scalability across regions, reduced costs and built-in resilience, virtual phone systems deliver next-generation capabilities. Mobile and distributed teams gain greater productivity untethered to physical offices. 
Most importantly, customers enjoy consistent and contextual experiences when interacting with virtual numbers. As business environments get increasingly globalized, the need for flexible cloud communication intensifies.
Now is the time to assess your growth trajectory and adopt virtual numbers strategically. With the right telephony foundation, no business opportunity or customer interaction will be out of reach for your organization no matter where it arises. Reach new heights with virtual numbers. The possibilities are endless.