Why is VoIP Dialer Important in a Call Center?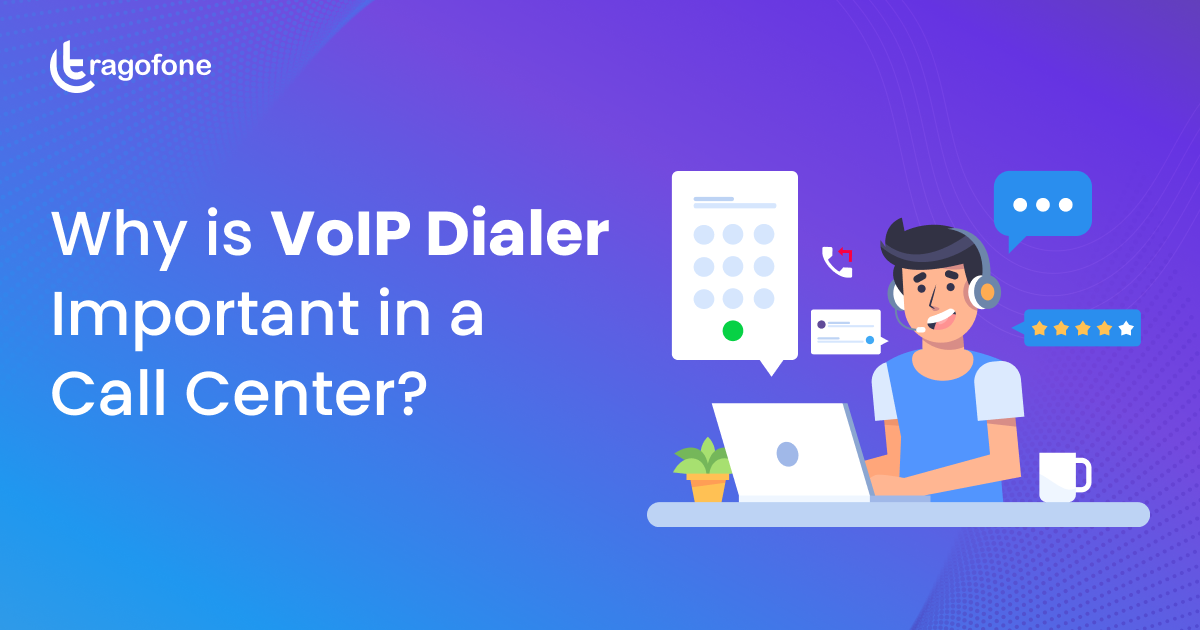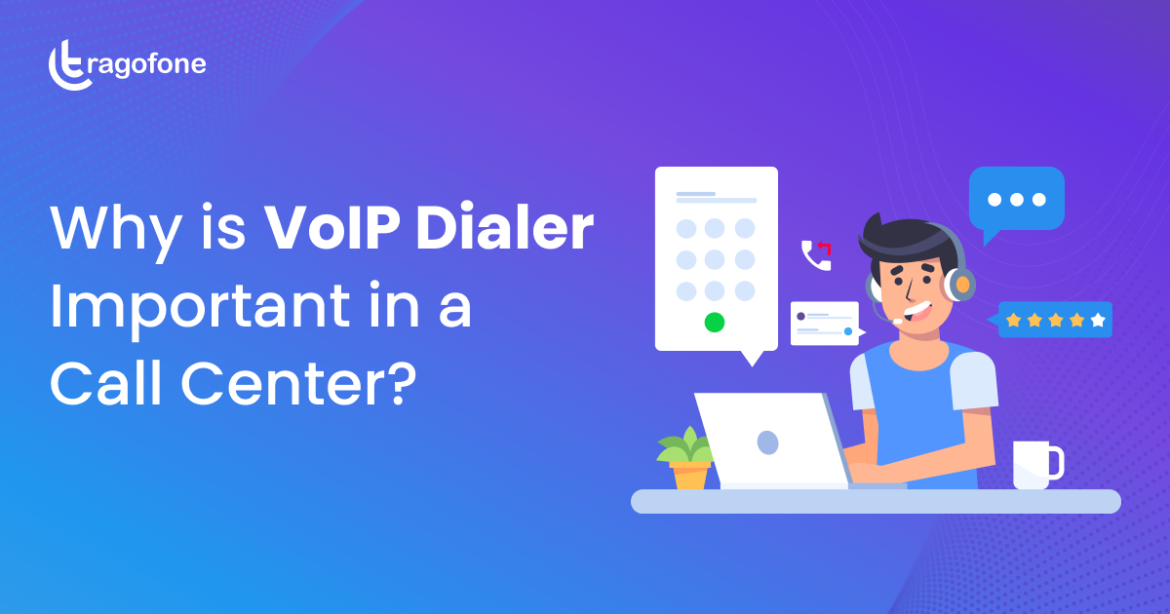 The value of the call center market globally is expected to touch a staggering $496 bn in the year 2027 and it is not surprising at all. Today, customers lie truly at the heart of everything a business does making call centers an integral part of every customer-centric business. Be it an enterprise manufacturing and selling products, a firm offering consultancy or a service, or a marketing agency every business needs to provide an easy way of communicating to its customers. VoIP dialer for call centers is helping businesses provide that easy channel of communication.
A smooth and efficient functioning call center has therefore become a non-negotiable for businesses across the spectrum. More so, after people across the globe have made a shift towards the online world in most aspects of their lives.
Rising popularity of VoIP dialer for call center
The adoption of VoIP dialers (also known as auto dialer) in call centers has been rampant. The reasons for the shift are pretty evident:
A whopping 87% call center agents report high-stress levels at their workplace.
Manual dialing slows down the calling process, impacts productivity and efficiency, and adds to the stress levels.
There are a number of limitations associated with manual dialers such as downtime, dialing a wrong number.
VoIP dialers can help automate the calling process, enhance efficiency, and significantly reduce stress levels.
In this article, we will delve deep into understanding all about VoIP dialers for call centers and why your call center needs one. Let's get started.
What is a VoIP dialer system?
VoIP dialer refers to a software that contact centers use to simplify and automate the process of outbound calling. In other words it is an automated system that places calls to customers. VoIP dialers are used by both outbound and inbound call centers. The early generation of dialers were actual physical hand held dialers but these have now evolved into a software or a calling app also known as VoIP softphone.
The new generation VoIP dialers are essentially dialer software that can be installed as an app on any mobile device such as a smartphone, tablet, laptop, or desktop. WebRTC softphones like Tragofone can also be launched directly from your favorite browser.
How does a VoIP dialer function?
The VoIP dialer application for call centers automatically dials numbers in a queue from an existing pre-fed database of contacts instead of individual agents manually dialing each number in the queue. These new-age VoIP dialers are intelligent and can identify invalid numbers, busy signals and disconnected lines. These dialers can also recognize who (a real person or an answering machine) has answered a call. Based on the system configuration and settings these dialers route calls to agents based on agent availability or connect to an IVR or play a pre-recorded message once the call has been picked up by an actual person. This way, VoIP dialers eliminate unnecessary calls and help optimize an agent's efficiency and productivity.
Types of VoIP dialer for call center
There are a variety of VoIP dialers available and each of them offers different functionality. These dialers can be configured and customized to suit the needs and requirements of your call center and the kind of outbound calling campaigns you cater to. There are typically two types of outbound dialers:
Manual dialers
Auto dialers
#1. Manual dialers
As the name suggests, manual dialers are call center dialers in their most basic form. They do not have advanced feature sets like their automatic counterparts. Agents have to manually dial each number in the queue to make calls going back to the contact list again and again. An agent gets to know whether a number is invalid, busy, or an answering machine only when a call gets connected. This makes manual dialers highly unsuitable for call centers handling high call volumes, but these are a good choice for small businesses handling limited calls with a small team in-house.
#2. Auto dialers
Auto dialers or automated dialers enable agents to automate the customer calling process by using different dialing modes based on the calling campaign requirements. Auto dialers only route calls that are picked up by a real person to a call center agent. This way agents are able to engage a prospective customer for a longer time as they save a lot of time by not attending to calls answered by a machine or manually dialing each number. Auto dialers help reduce agent idle time and improve the overall operational efficiency of an outbound call center. However, despite using advanced voice recognition technologies, there have been few instances where auto-dialers haven't been able to differentiate between human beings and answering machines.
Application of auto-dialers: Auto dialers are primarily used by outbound call centers for  lead generation, telemarketing campaigns, customer service calls, sales calling and customer support. Auto-dialers are suitable for big call centers which handle high call volumes and for multiple clients.
Auto dialers can further be classified as:
Preview dialers
Power dialers
Predictive dialers
#1. Preview dialer
Also known as a semi-automatic dialer, a preview dialer is the most widely used dialer in outbound call centers, and for good reason. As the name suggests a preview dialer sends the number to the agent for approval before placing a call. The agent previews the information which also includes any past interaction history. The agent can place the call by clicking the call button or skip and choose to call the next number in the queue.
Basically a preview dialer system only places a call once the agent has reviewed the details and is available to take the call. This minimizes call drop incidents significantly. With preview dialers agents are able to access customer information (including past interactions) before placing the call which enables them to be better prepared before every call. It helps agents deliver a  personalized experience and make customer interaction more engaging.
In instances where information about the lead is missing, preview dialers aren't helpful. In such cases, time spent on previewing the details is actually time wasted. Reviewing details before every call before calling also means less time spent actually making calls and interacting with customers which mean low agent productivity and less calls per hour. If your call center manages high volumes of outbound calls, a preview dialer may not be the best option.
Application of preview dialers: Preview dialers are an ideal choice to make calls for collection, sales follow-up, and for resolving complicated customer support queries. These dialers empower an agent with all the available information before initiating the call so that they are better prepared for resolving the issue.
#2. Power dialer
A power dialer is a type of automatic dialer. As soon as an agent finishes a call, a power dialer automatically dials the next number in the queue. In case the dialed number is a busy signal or is out of service, the dialer automatically calls the next number in the list. When a call is answered by an actual person, the power dialer connects the call to an agent. A power dialer places a new call only when an agent terminates the current call.
Power dialers ensure that a call is attended to by an agent as soon as a human picks up the call. Thus there are fewer incidents of call drops. A power dialer empowers agents to make more outbound calls without wasting time looking for numbers and calling them manually, enabling call centers to optimize agent productivity. The downside is the agent idle time as agents have to wait for each call to connect. Second, they cannot offer a personalized experience to the caller as they do not get an opportunity to preview caller information beforehand.
Application of power dialers: A call center handling a high volume of outbound calls can consider using power dialers for campaigns like debt collection and conducting polls and surveys.
#3. Predictive dialer
Predictive auto-dialers are designed to boost agent efficiency by increasing the number of outbound calls agents can handle. Typically, a predictive dialer calls a large group of numbers simultaneously. It then directs answered calls to the first available agent. A predictive dialer identifies any busy signals/answering machines/out-of-service numbers and jumps to the next number in the queue. A predictive dialer software has the ability to adjust the call rate based on a number of call metrics (number of agents available to take calls, number of dials before a person answers, answered calls ratio, call abandonment rate, and average call duration).
Predictive dialers help agents make efficient use of their working time as it immediately connects them to the next live call once the previous call terminates. Owing to their fast nature, anyone opting for a predictive dialer should have enough agents to efficiently handle calls without any delays.
Application of predictive dialers: Call centers handling high outbound call volume for campaigns like sales and telemarketing, insurance campaigns, and fundraising campaigns for nonprofits and political parties can consider using a predictive dialer.
Does your call center need an automatic VoIP dialer?
Simply put, in today's cut-throat competitive world VoIP dialer for call centers is no more good to have, but a must-have to survive and thrive. Most call centers have projects around lead generation, acquisition and sales, collections, etc. All these processes demand making many calls in a single day. With manual dialers, an agent is effectively able to achieve only 60% of their calling target in a day, which means significant losses. Not to forget time wasted because of busy signals, disconnected calls, and answering machines.
An automated VoIP dialer identifies and eliminates calls not being picked up by actual humans, automates calling, eliminates the idle time, and thus enhances the productivity and efficiency of agents. Some other benefits include:
Significant reduction in downtime
Smart call routing
Increased call connection rate
Less agent idle time
Significant reduction in errors when compared to manual dialing
Delivering more personalized service
Better customer engagement
Choosing the right VoIP dialer for your call center
It is only human to get overwhelmed when you are spoiled with so many choices. However, choosing the right kind of VoIP dialer is crucial to the success of your call center. Understanding the kind of process your call center is handling and what the client is trying to achieve through this exercise is the key to identifying the dialer best suited for your business. For example, a preview dialer may be a great fit for a customer support team, but it can be a big disaster for generating high sales volume. Predictive dialers or power dialers can be a great solution for call centers handling a high volume of outbound calls for surveys, sales, etc.
Signing off
There is no denying the fact that modern-day call centers owe their operational efficiency and high productivity to automated VoIP dialers. The surge in demand for VoIP dialer software is testimony to the fact that call centers willing to deliver that extra are more than willing to go that extra mile and invest in automated VoIP dialers. Industry experts estimate the value of the call center software market to touch $149.58 bn by 2027.
But remember investing in an automated VoIP dialer for call centers is not enough. Choosing the right dialer is the secret to your call center business success. The shift in workspaces, new models of working, changing perspectives, and evolution in telecommunication technology have carved an exciting path ahead.