Healthcare and VoIP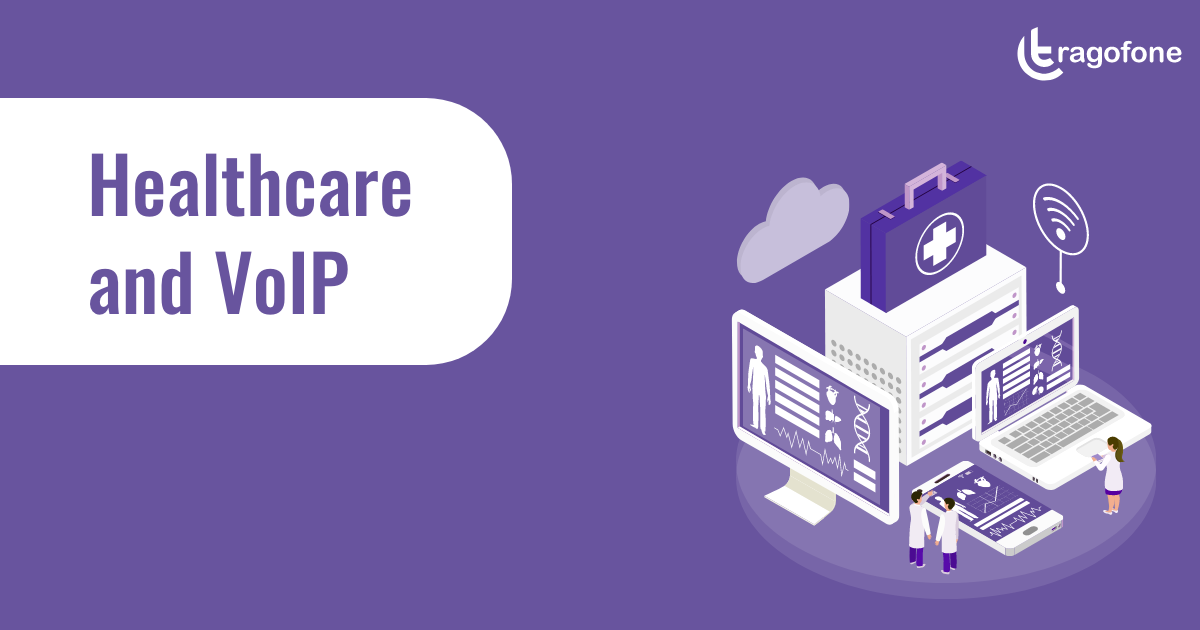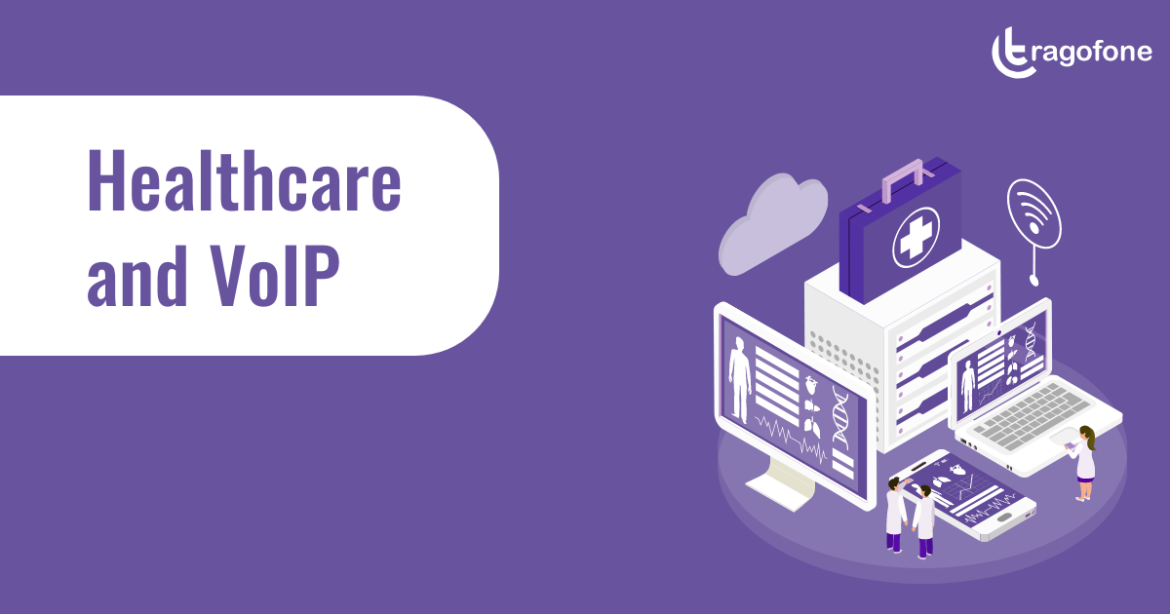 Communication is important for any business, but when it comes to the healthcare industry it turns into a critical asset. When a patient's health is on the line, it becomes imperative for every concerned medical professional to be able to communicate with each other without any glitches in order to provide the best treatment.
Ever since the pandemic rocked the world, healthcare has emerged as a high-growth industry, where instant, as well as virtual diagnosis, has become a reality. And communication systems have played a huge role in helping the industry reach patients anywhere in the world and provide them suitable and timely treatment.
Advanced telecommunication systems like VoIP (Voice over Internet Protocol) have transformed the healthcare industry. VoIP's unified communication facilities have enabled medical teams and patients to connect securely and collaborate over voice and video calls and via messaging and empowered healthcare organizations to maximize their potential and reach.
VoIP has empowered global communications to touch new heights, and medical organizations are jumping on the bandwagon. From large hospital chains to one-stop clinics, VoIP is providing the medical world with new, path-breaking ways to stay connected with their patients.
In this blog, we look at how VoIP has changed the dynamics of healthcare communication.
Why is seamless communication critical for the healthcare industry?
How VoIP phone system has revolutionized healthcare communication
Top VoIP phone system feature for the healthcare industry
Why is Seamless Communication Critical for the Healthcare Industry?
Advanced telecommunication technologies like VoIP help healthcare providers to share patient data seamlessly, access patient information with the click of a button, safeguard patient privacy and improve the outcomes of healthcare practices. It also enables medical organizations to cut down costs, eliminate complexity, and empower greater collaboration.
That's not all. VoIP-powered communication is proving to be a boon for health care settings in places that are off the healthcare map, like small villages and rural communities – where it is literally saving lives. Rural medical practitioners are able to reach the best doctors over video calls to seek their expert medical opinions, share patient records, and consult during complex operations.
VoIP app have also enabled hospitals to streamline their services, by providing them the ability to process hundreds of patient calls every day. Healthcare facilities are also able to lessen their administrative workload by sending automatic reminders to patients about their appointments and billing.
Let's look at some key ways in which VoIP has made communication seamless for the healthcare industry:
Efficiency in long-distance consultation:
VoIP systems have completely metamorphosed the long-distance communication landscape, which is making more and more hospitals subscribe to the technology. Cloud-based VoIP telephony solutions not only cut down the costs of long-distance calls, they also allow doctors to reach their patients over multiple mediums – from voice and video calls to conferencing with facilities that can bring multiple doctors into one communication window. What's more, the calling turns seamless with crystal clear audio and video that is less prone to interference and call drops.
When it comes to adopting a new communication technology, hospitals don't have the luxury of choosing solutions that take time to set up, have long onboarding processes, and require employees to go through intensive training. VoIP phone system app does not cause any of these roadblocks. The unified communication system can be installed on existing computer networks and comes with a fast and seamless installation process. This means no time-consuming installation procedures and no investment in new and expensive hardware.
How VoIP Phone System Has Revolutionized Healthcare Communication
The healthcare industry has unique communication requirements as they deal with medical emergencies where the lives of patients are in line. In such situations, seamless internal and external communication is critical, as doctors have to share vital patient information and call clarity becomes imperative. Comprehensive and advanced communication technologies like VoIP have many advantages over copper wire connections. It enhances a hospital's ability to stay connected with patients and enables doctors to reach patients from any location, using any device. Also, as call data is easy to maintain, it helps in quick call analysis and helps medical professionals share patient data with others in the fraternity. Also, ambulance services can be contacted easily at any location, if they're connected over VoIP.
Let's look at the different ways in which VoIP phone system is transforming healthcare communication.
#1. VoIP has made healthcare communication fast and easy:
VoIP solutions have made it seamless for healthcare organizations to manage multiple calls, identify patients who are calling in, extract all patient data with the click of a button, interact easily over voice and video calls, connect patients to multiple medical specialists using video conferencing, collect bill payments easily, and make hospital registration processes seamless.
#2. Healthcare organizations can boost efficiency and increase productivity with VoIP:
The healthcare industry is growing at a rapid rate, and this has made task management a challenge for medical institutions. VoIP phone system offers a wide range of features – ranging from connecting over multiple platforms, instant file sharing, and integration with other software – which helps hospitals manage their tasks easily and boost productivity. Also, other VoIP features like auto attendants can connect patients quickly with the relevant department. Call-routing systems ensure callers interact with an easy voice menu, which reduces their waiting time and helps them to access medical care faster. With VoIP, hospitals can easily transcribe voicemails to text, which can be accessed on any connected device.
#3. VoIP improves patient experience:
Doctors are often called to work even when they have an off day. That is the nature of their work. There could be an emergency or a patient might need some immediate consultation. With VoIP communication solutions, healthcare workers can provide the best experiences to their patients by being just a call away, even when they are on leave or not available in their clinic. VoIP enables them to carry their business phones with them, anywhere, anytime.
#4. Multi-office compatibility for on-the-move doctors:
It is common for doctors to work out of various hospitals and clinics. This can cause confusion in maintaining and tracking patient records and details. However, with VoIP's cloud-based and hosted telephony options, linking your communication device with any location has turned seamless. Phone data from every location can be easily integrated into the hospital's back-end systems, ensuring that doctors have a pulse on every patient's records.
Top VoIP Phone System Features for The Healthcare Industry
With the VoIP phone system, medical professionals can add various communication features to their plans. These features help them communicate better with their patients, provide the best customer services, and ease their workloads. Here are some key VoIP features that healthcare institutions must have in their VoIP kitty:
#1. VoIP mobile app
This allows doctors and nurses to install their official phone numbers into their personal mobile devices, allowing them to stay connected even when they're not at work. Using mobile applications, doctors can also access patient records and reach their colleagues easily.
#2. Third-party integrations
VoIP communication systems can be easily integrated with other platforms like CRM, billing systems, or with the hospital integration system (HIS) that is a one-stop platform where a hospital's administration, financial, legal, and medical information is stored. This makes the functioning of a health institute efficient.
#3. Video conferencing facilities
In a time like the pandemic, when face-to-face medical checkups had turned into a challenge, video conferencing facilities proved to be a boon for medical practitioners as they allow them to connect with their patients on camera and offer personalized checks. Doctors can also easily collaborate with their colleagues using this tool.
#4. Instant messaging and live chat
During a medical emergency, a patient wants to get in touch with a doctor on an immediate basis. This is easily possible with VoIP's live chat feature, which can be added at little cost onto a VoIP communication solution and is a faster alternative to adding an interactive portal to a website. Instant messaging also allows doctors to stay connected with patients and colleagues.
#5. Call routing
Medical professionals can forward office calls to their personal devices using call routing. This allows them to stay available for their patients even when they are not in their clinic and are one call away during an emergency.
#6. Web widget
Web widgets can be linked to VoIP systems and help new patients to reach out easily to doctors. When a patient is browsing through a medical institute's websites, they can click on the widget and immediately get connected with the concerned doctor.
#7. Auto-attendant
If the VoIP call center staff of a healthcare institution is busy, the auto attendant ensures that a call is not missed. It answers the call, welcomes the patient with a customized greeting, and redirects the call to the concerned department or doctor's office. This ensures that patients don't have to wait endlessly on a call and helps boost customer satisfaction.
Closing Thoughts
A strong communication system lies at the core of delivering the best medical care. Healthcare has grown to become a critical industry and needs to be equipped with the best technology so that all patients – especially those that are in critical need of medical aid – have easy access to the best services. VoIP communication solutions can play a key role in making doctor-patient interactions efficient and fast.
With the power of cloud-based services, and a multitude of features, including multi-channel communication, VoIP enables healthy and fruitful conversations between doctors and patients as well as high-quality collaboration between health professionals. Also with doctors and nurses constantly on the move, VoIP has become the go-to communication tool that allows them to stay in touch with their patients irrespective of their location. These are benefits that legacy phone systems could not provide to the healthcare industry.