What is UCaaS vs VoIP: Pros & Cons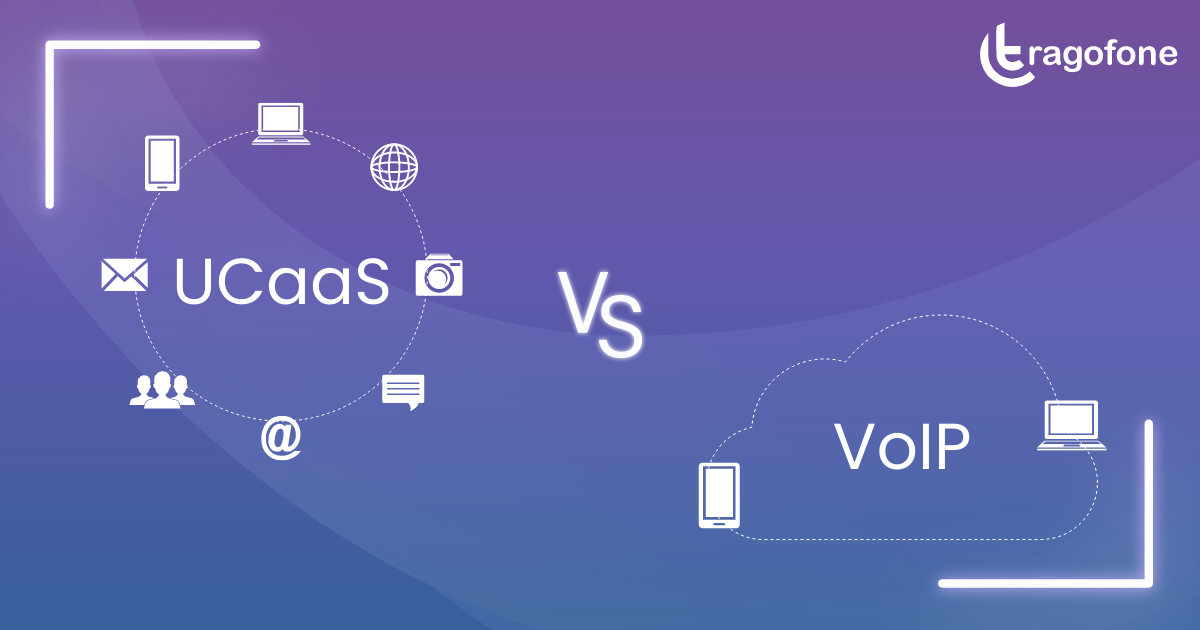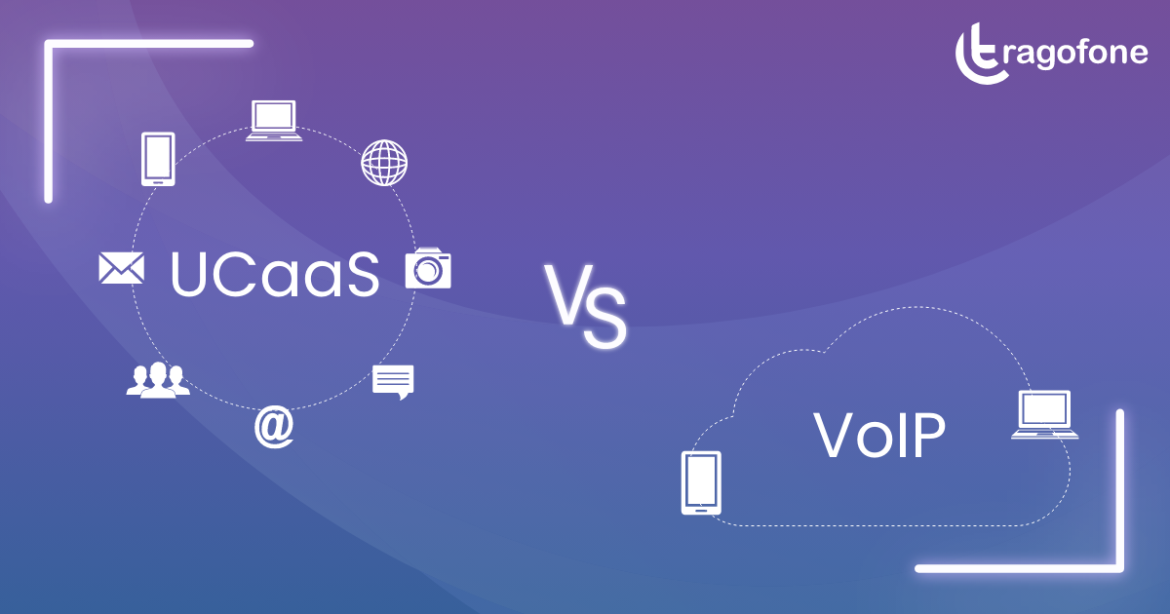 The way we live, work, and communicate both in our professional and personal lives has evolved at a lightning speed over the last two years. With a 159% growth in remote workers over the last 12 years the traditional ways of business communications no more hold relevance. UCaaS and VoIP are the buzzwords when one thinks about modern business communications. Choosing between UCaaS vs VoIP is often confusing for business owners. However, a thorough understanding of both and evaluating the pros and cons can help you choose the perfect solution for your business communication needs.
In this blog:
What is UCaaS
How UCaaS works
What is VoIP
How VoIP works
UCaaS v/s VoIP
Let's dive in!
What is UCaaS?
UCaaS (Unified Communications as a Service) is a term used to describe a cloud-based model of business communication systems. As the name suggests, UCaaS unifies a myriad of business communication tools, such as instant messaging, chat, email, video conferencing, and more on a single platform. The use and implementation of UCaaS varies from one organization to another. But primarily the following two things define UCaaS:
Service: It is a service, meaning unified communications apps are hosted and provided as-a-service by a cloud communication tools vendor.
User Experience: The end goal of UCaaS is to deliver a streamlined user experience. The end-user gets an easy to use single-user interface which is consistent across all devices (laptop, mobile, tablet) a user uses. It enables a user to send and receive messages in multiple forms (voice, text, instant message, email, etc.) through a single app on multiple platforms and across different devices.
Earlier companies used conference rooms to connect two offices via traditional phone systems. Today companies use UCaaS to communicate and collaborate internally and externally. These days service providers like RingCentral and Nextiva provide web conferencing solutions and other tools to companies enabling a seamless connection between their teams.
Features of UCaaS that Enable Collaboration 
#1. Screen share
A very useful feature especially now when teams are working out of different locations. Screen share is a conferencing tool that enables team members to show their colleagues their desktops/smartphone screens during a meeting. The feature is particularly useful when one needs to make a presentation, run-through numbers on an excel file, or train a team-mate on a new tool/software. Screen share is as good as sitting in the same office for brainstorming, presentations, and trainings.
#2. Project management tools
UCaaS providers also provide project management tools which enable managers or supervisors to track workflows, assign tasks, check on working hours, tasks completed etc, and also extend features such as video conferencing, file sharing, and instant messaging to team members.
#3. Omnichannel presence
Besides providing a plethora of hybrid and remote working tools such as web conferencing, , project management, screen sharing and more, what sets UC apart is the  ability to shift a one-on-one chat to a video conference, and seamlessly switching between different communication channels without losing track.
#4. Integration
Most UCaaS platforms can seamlessly integrate with the most widely used third-party software and existing CRM systems.
How UCaaS Works?
The company and the Unified Communications vendor get into a service agreement for the delivery of services. The service provider then implements the necessary infrastructure and a UC platform. A business may also opt for an on-premises deployment of Unified Communications tools using private cloud resources.
Pros and Cons of UCaaS
| | |
| --- | --- |
| Pros | Cons |
| UCaaS is a subscription-based and cloud-based service which means no initial set-up costs. | Some UC systems require specialized network and hardware making it quite an expensive proposition. |
| Enables a smooth and seamless transition between different communication channels. | Adapting to a new system takes time. As a result the capabilities may be under-utilized in the initial days. |
| Brings in more flexibility and agility to your day to day processes. | Not all UCaaS may have the best in class tools, in such cases communications can be severely disrupted. |
| Enables smooth collaboration between team members. | The technology is ultimately dependent on the internet. A poor connection means choppy voice and total downtime. |
| Unifies team members based out of different locations, makes remote and hybrid working possible. | Being a cloud-based service, UCaaS does have certain risks despite data being encrypted. |
| Easy to scale, and eliminates dependency thanks to features like call forwarding. | |
| Helps create more efficient and streamlined workflows. | |
What is VoIP?
VoIP (Voice Over Internet Protocol) connects with standard public switched telephone networks (PSTN) but independent of the old hardware system of old copper lines which were hardwired to desk phones providing limited or no mobility. VoIP transmits voice and other data in the form of small data packets over the internet. The data is encrypted and does not involve long-distance call charges like traditional landlines as there is absolutely no complex hardware maintenance and complex wiring involved. The icing on the cake is the versatility that VoIP brings in to the whole scheme of things. Traditional PSTN lines are strictly limited to phone communications, where VoIP enables a user to make and receive calls on desk phones and mobile devices using VoIP softphones (cloud-based software). Tragofone is one such VoIP softphone app which is compatible with Apple iOS, Windows Phone, and Google Android smartphone devices. Thus, VoIP makes communications more seamless with a quick change between VoIP endpoints with no downtime.
VoIP Phone System Features
A VoIP phone comes with all the standard landline phone features such as DND (do not disturb), caller ID, voicemail, and call forwarding. And then there are some additional features to which gives it an edge over traditional phone lines:
#1. Remote call forwarding
A feature that gives employees the freedom and flexibility to work from anywhere. Remote call forwarding enables users to forward incoming calls on their official number to a pre-defined number which could be their cell phone number or any other number while they are on the move.
#2. Virtual phone numbers
A feature that enables you to take a local number of any country, toll-free numbers, vanity numbers based in your home-country enabling you to expand your business presence at a very low cost.
#3. Smart call routing
Cloud-based, hardware free routing systems such as a hosted IVR and auto attendant connecting callers to the right department via menus and providing them with self-service options for queries like order and delivery status.
Read more softphone features.
How does a VoIP System Work?
Your VoIP service provider implements the VoIP system on-site using a special adaptor that is connected to your internet service provider. Employees can make calls on-site using IP-compatible handsets or softphones. Remote workers too can install softphones and connect to the VoIP network via cloud through an agreement with the  VoIP service provider. Enterprise-grade VoIP solutions include features like call waiting, caller ID, call forwarding, call blocking, three-way calling, voicemail, and a myriad of other advanced features.
Pros and Cons of VoIP
| | |
| --- | --- |
| Pros | Cons |
| Recent technology has significantly improved the quality of VoIP calls. | Quality of VoIP calls is dependent on the speed and quality of your internet connection. Low speed or poor connection means loss of data packets and a poor choppy call quality. |
| VoIP phones offer a variety of advanced call features as compared to traditional landlines. | Unsecure, unprotected network connection poses a security threat for VoIP calls. |
| All calls are encrypted end to end making VoIP a secure system. | Users have the option to de-activate location services, which makes tracking someone a nightmare in case of an emergency. |
| Being a cloud-based service it is a very convenient option for remote workers. | The call quality of VoIP calls is highly dependent on the processing power of the device (computer or phone) being used. |
| It offers self-service options to callers making the overall processes more productive and efficient. | |
| It enables call recording, helping managers to review calls and identify the strong and weak points. | |
| VoIP is a cost-effective option as both domestic and international calls are routed through the internet. Besides there are no additional costs involved for hardware and equipment maintenance. | |
UCaaS vs VoIP – What is Best for Small Business
Embracing both VoIP and UCaaS is the way to go keeping in mind the current business climate. However, if you have to choose one of the two, re-visit your organizational goals, communication needs, and your technology roadmap. To ascertain one among UCaaS vs VoIP ask yourself the following questions:
#1. How often do you need video conferencing?
With businesses fast moving to a hybrid or remote work culture, video conferencing has become one of the most used channels to communicate and collaborate. It enables business owners to save substantial costs, maintain a social distancing, and connect remotely while still being able to conduct interactive meetings, share screens, connect with clients, and help clients troubleshoot issues in record time. The frequency and quantum of video conference calls is therefore a critical factor when choosing between UCaaS vs VoIP.
#2. Does your business need smart integrated collaboration?
A business culture where telecommuting and remote work is the norm, integrating telecommunications with collaboration apps is no more a luxury but a necessity. If you as a business already have certain applications and CRM in place it makes sense to integrate it with your new business communication system. UCaaS platforms enable organizations to integrate apps such as document management , productivity apps, CRM, vendor management, and any other app they may already be using. If you as a business have teams spread across the globe, handle complex projects, and already use a set of tools and apps, UCaaS may better serve your business communication needs.
#3. Does your business need flexibility?
Both VoIP and UCaaS offer flexibility; the differentiating factor however is in the areas in which they can offer flexibility. VoIP enables you as a business to scale-up and scale-down as and when required with ease. UCaaS on the other hand gives you instant access to services from a massive marketplace of partner cloud vendors.
#4. Is smart troubleshooting a must have for your business?
Having multiple vendors for each function can be both a good and a bad thing. Pin-pointing a problem if something goes wrong can be a huge problem and often cumbersome when the communication network is complex with too many people managing several smaller aspects. With UCaaS there is a single vendor managing your entire business communication suite which makes identifying a problem and troubleshooting quick and easier.
Making the Right Choice
With both VoIP and UCaaS being cloud-based technologies the question is no more between UCaaS vs VoIP. The question is:
How much do you as a business want to expand your communication capabilities?
Which technology between UCaaS and VoIP aligns with your technology roadmap and growth goals?
You need not necessarily make a choice and stick permanently with VoIP or UCaaS. Choose a vendor that can fulfil your current business communication needs and has the capability to provide additional services as and when your business evolves. The key lies in choosing the right communications partner.