7 VoIP Examples: How Internet Telephony Change The Way We Communicate?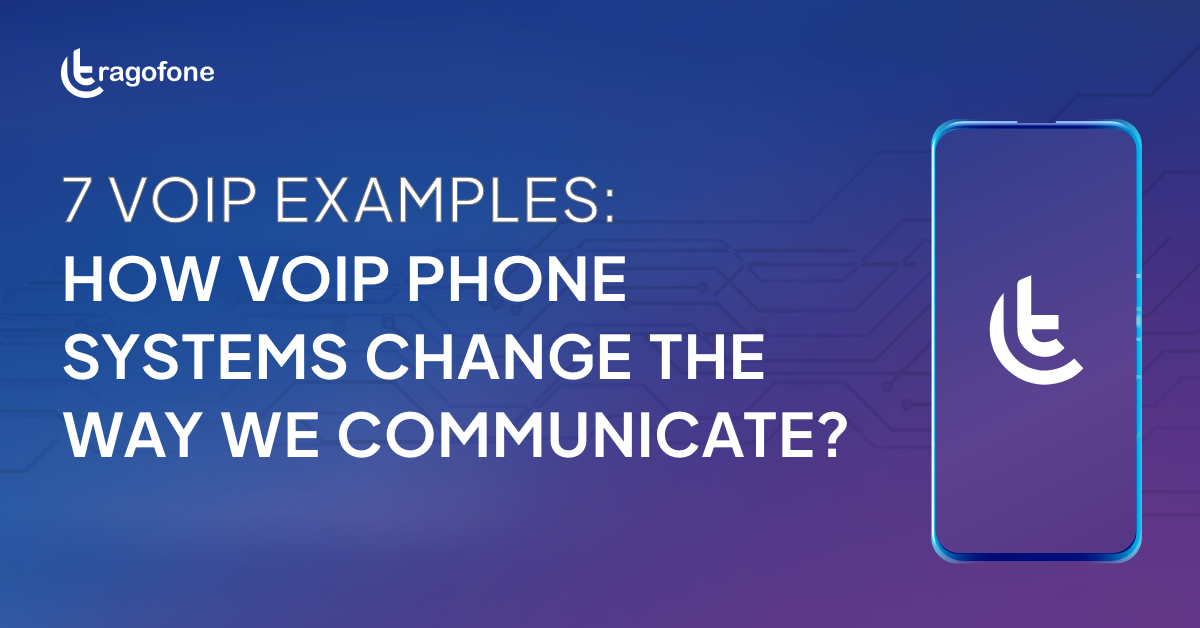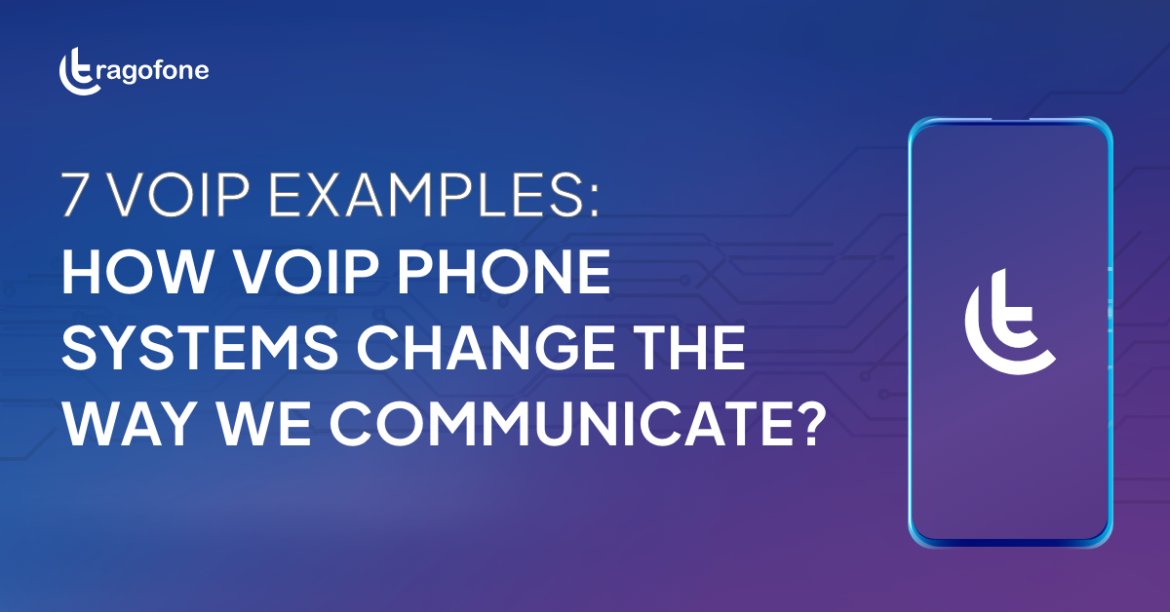 Top 7 VoIP examples, you can explore its different uses to strengthen your business communication system. VoIP, or Voice over internet protocol, is a technology that is transforming the way people connect, and it's not just for business. VoIP phones allow users to make telephone calls via the internet, rather than using a traditional landline.
Businesses who embrace this technology can reduce their expenses, and save money on phone bills.  It provides customers with a faster, more convenient way to contact them as well as schedule convenient times to speak with them.
VoIP phone systems serve as a tool to increase productivity and employee collaboration. Moreover, it enables remote staff members to communicate with headquarters and clients. The increased accessibility of internet telephony examples of voip phones is also beneficial in cases where there are no telephones in the office or in remote locations.
Before diving into the list of some internet telephony examples, let's understand some fundamental aspects of VoIP.
Functionalities of VoIP
Voice over internet protocol (VoIP) eliminates the need for phone lines, mobile towers and public switched telephone networks (PSTN). VoIP telecommuting utilize internet connection to make calls and facilitate business communication through images, text, documents etc. It can be used for communication among employees as well as for unified communication between business and customers.
A VoIP phone system comes with multiple features. It enables call routing and automatic call distribution to reduce waiting time for customers. VoIP Phones can be integrated with the CRM of a business to provide the right information at the right time to the agents.
VoIP phones enable team collaboration through tools like audio or video conferencing, screen sharing, and team chat. It also facilitates real-time conversation through instant messaging. A VoIP system is a cost-effective way to boost the productivity of remote teams.
Some VoIP solutions allow cloud integration. Hosted or cloud VoIP phone systems further strengthen the business communication system by providing flexibility and mobility to the employees. It also provides call analytics and real-time data monitoring to improve decision-making. It has the potential to transform the everyday experiences of the employees as well as customers.
VoIP Examples
There are several examples of internet telephony that have advanced business communication for businesses. Let's look into the most prominent usage of VOIP in the industry.
Establishing a Business Network
Before you look into the example of voice over internet protocol, you need to understand your business communication needs. Are you in search of a better way to manage your team? Do you need a more efficient way to conduct meetings? If so, you should consider implementing a VoIP phone system at your business.
While it's possible to use traditional landline phones at your office, the equipment is outdated and may not be compatible with the rest of your network. A VoIP phone system, on the other hand, is easy to implement and compatible with your network. You can use it to create a PBX system that allows for better call management.
VoIP phones use the cloud and internet connectivity to connect you to employees working at different locations. It is one of the greatest advantages of internet telephony examples that provides mobility and flexibility to work from anywhere.
Businesses are adapting the internet telephony as a meeting solution as well. VoIP phones facilitate audio and video conferencing. Therefore, meeting the employees working remotely has become easier with VoIP phone systems. According to Gartner's magic quadrant on meeting solutions, 65% of businesses have switched to internet telephony solutions for conducting meetings utilizing the audio conferencing features.
VoIP phones have enabled uninterrupted business communication, different means of content sharing and strong collaboration features for business. This has helped several businesses strengthen their unified communication network, especially for employees working remotely or at different branches.
Avail long distance phone calls affordably
If you conduct business with clients or customers who live in other cities, you know it can be expensive to arrange face-to-face meetings. You'll also have to factor in travel costs, such as gas and time off from work. Moreover, the traditional telephony systems levy higher charges for long-distance or international calls.
A internet telephony will make long-distance calling affordable. You can enjoy lower rates than those if you call a regular phone number — or even use an online phone service. Alternatively, you can create your own custom phone number that directs calls to your internet telephony system.
When catering to long-distance clients, internet telephony can cut down your phone bills dramatically. Moreover, there is no limitation on the number of calls and the distance of calls.
Strengthen team collaboration 
Most people don't like talking on the phone, which is why technology has come up with ways to make us feel less uneasy. You can use a VoIP phone system to make voice calls and send instant messages over the internet. This option enables you to reach out to remote team members without having to stare at a screen.
The instant messaging feature of VoIP phones enables real-time conversation. On the other hand, a team leader can communicate instructions to all the team members through team chat.
Content sharing has never been so convenient before. The VoIP office phone system enables teams to collaborate through screen sharing from any device. VoIP phones come with other collaborative features such as audio conferencing and video conferring to aid business communication within the organization. With real-time monitoring through VoIP phones, leaders can easily track the performance of the employees.
Business Analytics to strengthen strategic decisions
If you track calls and other data related to the business, you can get insights that help you strengthen your decision-making process. You can improve your customer service and make sure that your agents are displaying the best attitude. It is one of the advantages of internet telephony solutions that most businesses are utilizing.
VoIP phones enable real-time data analytics to keep your business ahead of the curve. Using the collected data, it prepares charts and reports that help business strategists derive actionable insights and make informed decisions.
VoIP call analytics helps in gaining transparency in business operations and resolving issues quickly. It may also help you in strengthening your marketing strategies to serve your customers better.
Unifying multiple business communication channels
The same person may need to communicate with different people. For example, someone who handles marketing and sales operations may need to contact multiple departments within your business. You can use a office telephony system to link all unified communication channels, and this includes email, voicemail, chat, and social media. Similarly, customers may choose their preferred channel to contact your business.
It can become hard for employees to track every communication channel by opening different apps. The easiest way to adapt omnichannel communication is by implementing internet telephony system. It simplifies business communication by unifying all the communication channels on a single platform. Your employees do not need to switch apps to reply to customer queries anymore.
Integrations to empower agent performance
You may want to use VoIP for your agents. They can access the technology from a computer or a mobile device, which means they don't have to be in the office to answer calls. This can benefit your agents, as they can answer calls while completing other tasks, such as taking appointments. You can also use VoIP to track calls and manage agents' schedules.
Third-party integration such as CRM to your VoIP office phone system can boost agent productivity. It provides agents with customer information before receiving a call. This not only reduces waiting time for customers but also cuts down handling time as the agent is prepared. Backed with customer history and previous conversation details, an agent can resolve customer queries faster and effectively.
Self-service capabilities to improve customer service
Self-service features enable you to receive customer requests, such as making appointments or complaints, without having to hire additional staff members. You and your agents can use self-service options, like receiving email requests and managing online requests. This allows you to spend less time answering inquiries and taking care of customers more quickly.
Moreover, interactive voice response (IVR) in VoIP phones helps businesses respond to queries when the agents are busy. It creates a virtual waiting room for callers preventing negative customer experience. Additionally, IVR understands the nature of customer queries to direct the call to the right department. Therefore, it saves the time wasted on transferring calls into different departments. IVR helps in improving the overall customer service experience.
Chatbots are the latest additions to VoIP phones. It enhances the self-service capabilities of customer service by guiding customers to resolve simple problems themselves. It interacts with the customer and helps them resolve simple issues by following instructions. This enables customers to take required actions to resolve their issues without staying on hold to talk to a live agent. Some chatbots also have a 'call live agent' option to directly connect the customer to a live agent in case of complex problems.
Who are the top users of VoIP?
The top users of VoIP phones are organizations that rely on the internet to conduct business. If you are in this industry, then VoIP is a must. This includes:
Government agencies: It is essential for inter and intra-departmental communication. Moreover, it helps in bridging unified communication gaps between different divisions of the government agency.
Legal firms: VoIP phones help in scheduling appointments and tracking progress on different cases. It can also help in the seamless tracking of information that can be retrieved anytime with a specific case number.
E-commerce companies: The internet telephony system helps e-commerce companies to improve their customer service experience, maintain inventory and track order updates.
Hotel industry: The hotel industry has been a dominant player when it comes to VoIP phones. Hotels use VoIP phones to connect with the employees in different departments such as housekeeping, cleaning, administration etc. Moreover, VoIP phones enhance the customer experience as they can connect with the right department of the hotel just by pressing a single digit on VoIP phones.
Many large companies are making the transition to VoIP because it's more efficient and cost-effective.
Businesses that must adapt VoIP phones:
Businesses having remote and hybrid work models
Multi-location branches across the state or country
Businesses looking to cut down their phone bills
The VoIP industry is rapidly growing and the VoIP phones are rapidly evolving to meet the market demands. The market share of the VoIP industry is expected to be worth more than $183 billion worldwide by 2027.
The Bottom Line
Internet telephoney is very cost-effective, and it can provide your business with an edge by saving on expenses. With a VoIP app, you can conduct business without relying on the traditional phone system, which can be expensive. It's important to take advantage of all benefits of voice-over internet protocol mentioned above.
VoIP technology has been around for a long time, and it's slowly becoming the go-to way to make phone calls. You don't want to be left behind when the industry shifts and VoIP phones become the norm for unified communication.
VoIP is becoming more popular and accessible as time goes by. It's also a convenient way to communicate, especially if you have employees who work remotely. Hope these VoIP examples enabled you to understand the significance of VoIP phones. You can also implement VoIP solutions to transform your business communication and achieve growth in revenue.