What is VCaaS (Video Conferencing as a Service)? Big Features and Big Benefits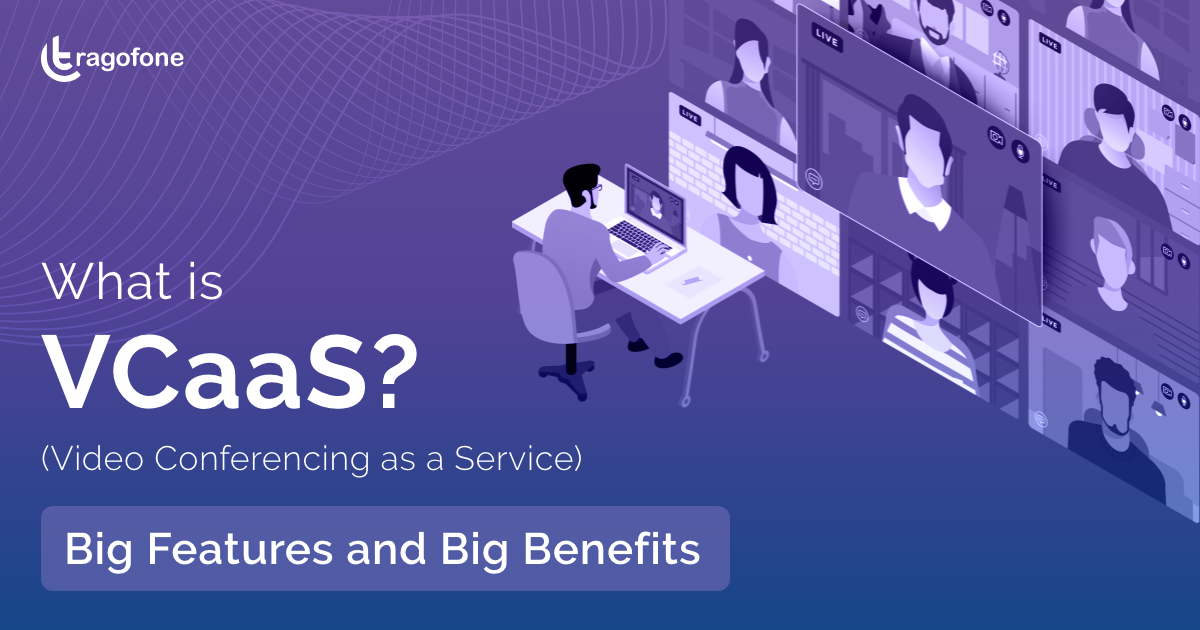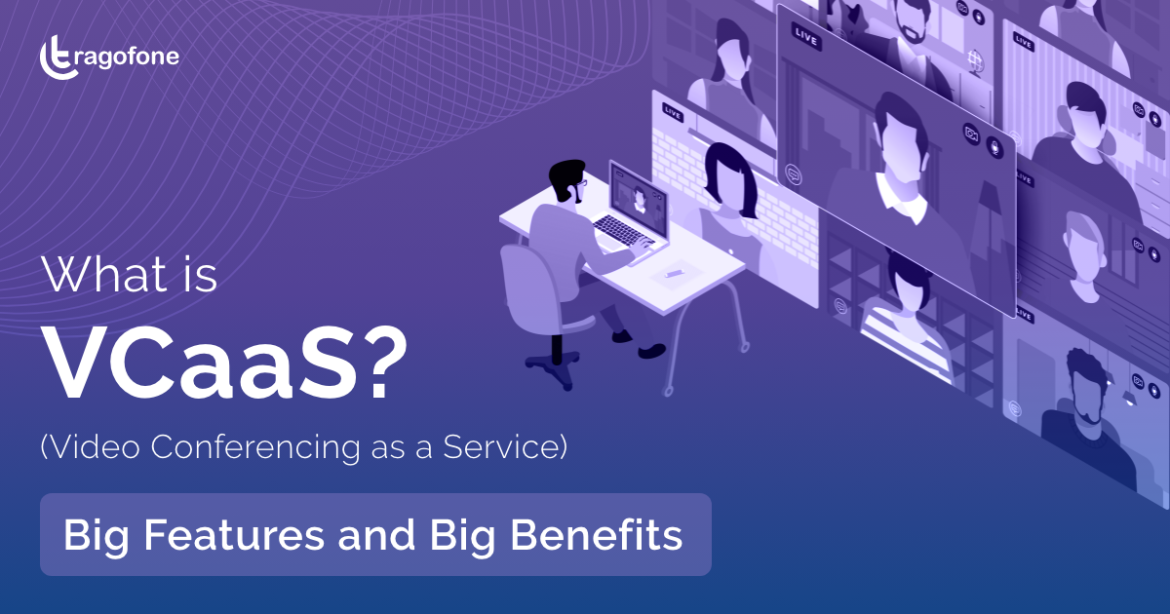 2020 was a year of change. Though remote work and video meetings in place of in-person meetings were a trend even before the pandemic hit, 2020 accelerated a remote work culture and demand for video conferencing. The growing need for video conferencing apps for business use led to the popularity of VCaaS (Video Conferencing as a Service).
VCaaS enabled companies to access video technology with all the features they need through the cloud and eliminate the complexities of setting up the infrastructure and technology to do video conferencing in their office premises. No wonder VCaaS has now become an integral part of business communications today. Whether you are a seasoned pro who has been using video conferencing for years, or new to using the services for business, it is important to familiarize yourself with what VCaaS is and educate yourself on how video conferencing can support your business. Let's deep dive into the world of VCaaS.
What is VCaaS?
Video conferencing as a service works on cloud technology which means, a business can buy video conferencing services on a subscription basis from a VCaaS service provider. Being an as a service offering, VCaaS gives users a lot of flexibility and mobility. Your employees can access and use the video conferencing apps anytime, anywhere provided they have an internet connection. What's more,  VCaaS apps are compatible with not only computers but also smartphones and tablets, multimedia desk phones, and plug-and-play meeting room kits.
This flexibility and mobility of VCaaS make the technology accessible for small and mid-sized business owners as well. By simply subscribing to the service and not investing a hefty amount in the technology any business can access all the frills and cutting-edge video technology. Say bye to complex installations and cumbersome equipment and software maintenance. With remote and hybrid work on the rise, VCaaS is the future.
Fun fact: Did you know Americans host a whopping 11 million meetings every day, guess what makes it possible and convenient, video conferencing.
Components of video conferencing
Software: Modern-day video conferencing apps is essentially a software that enables online communication for conferences, meetings, and seminars with smart video meeting features such as screen sharing, multiple webcam capabilities, HD video, recording, and more.
Video input/output: Video input devices like a web camera are attached to the computer to relay images to the online audience. A video output device on the other hand is a piece of equipment that displays the images from the online conference to the attendees. Desktop monitors, laptop screens, television, video projector, and LCD display are all examples of video output devices.
Audio input/output: Devices such as a microphone enable attendees to send audio signals to a computer for processing, recording, or carrying out commands. The microphone could be a built-in microphone on a laptop or a standalone one. An audio output drives a signal into another device's audio input like audio-generating devices such as speakers, an audio system, or a pair of headphones.
Acoustic Echo Cancellation Equipment: These devices recognize and eliminate the echo as quickly as possible to deliver the best audio quality.
Why are more and more enterprises switching to VCaaS?
The entire business communication systems are slowly and systematically moving to the cloud over the last few years with companies making a switch to VoIP services and UCaaS. The impact is clearly visible on legacy video infrastructure, with them fast losing relevance in this new digitized communication landscape. With service providers offering communication apps as a service businesses are fast embracing the change and providing their teams with flexibility and mobility like never before. With so much already happening COVID-19 only accelerated the pace of change in the ways businesses function.
Pandemic led to an exponential growth of video meetings over in-person meetings given the convenience, efficiency, cost-effective collaboration, and continuity of business in the face of an international crisis. Video conferencing apps such as Tragofone, Zoom, Microsoft Teams, and Cisco Webex made seamless business operations and collaborations possible at a better price point and under unusual circumstances. The features that VCaaS apps brought to the table were the icing on the cake.
Features of VCaaS
Easy access to innovation: VCaaS enabled businesses easy access to interesting custom backgrounds, HD conferencing, chat, file sharing, and more all at their fingertips.
Device-independent: As mentioned earlier, modern-day VCaaS apps are designed to work on computers, smartphones, and tablets. Being a subscription-based software service there are no one-time hardware investments.
Simple and user-friendly: These video conferencing tools have been designed such that one can schedule a meeting, or attend a conference simply by clicking a meeting link that directly opens in your browser. No hassle of downloading apps.
Low maintenance: Hardware maintenance, updates, security, and everything else related to the apps is your service provider's prerogative.
Ease of integration: Most modern VCaaS solutions can be easily integrated with your current tech stack.
Benefits of VCaaS
Effective Communication: In-person meetings are always more effective than telephone meetings, why? We tend to register what we see (actual events, imagery, movies, etc) more than what we hear. Video-conferencing is the next best thing to in-person meetings when physical travel is not possible. Besides, adding a video element to an audio-only conference makes it easy for participants to remember and understand the meeting's key takeaways, making the meeting more effective.
Cost-effective: The last few years were all about survival and every penny mattered. However, what businesses switched to out of compulsion proved to be a more cost-effective and more productive alternative to doing work. Enterprises realized significant savings on building and maintenance costs by using video conferencing to engage with employees and clients remotely instead of in-person meetings. Employees saved on travel time and costs and were still able to communicate face-to-face with their peers, subordinates, and superiors.
Increases efficiency: Video conferencing connects people virtually and enables easy collaboration among remote teams. Features like screen share, file-share, and chat enable team members to get on a call and collaborate on issues and reports in real-time, not to mention the time saved on travel and utilized towards work. In a nutshell, video conferencing drives efficiency and growth.
Improves productivity: Team members despite being located in different locations are able to collaborate and work together as a team thereby yielding better productivity.
Better attendance in meetings: With no travel involved, more people are likely to attend a video conference instead of an in-person meeting. Scheduling a meeting is way easier as one does not have to account for people traveling and reaching the venue at different times.
Accurate records to solve disputes: Most video conferencing apps such as Tragofone, Zoom, Google Meet, etc. enable users to record their meetings. In case of a dispute or confusion, one can revisit these recordings to verify what was discussed and agreed upon.
Host live and virtual events: Modern-day video conferencing apps technology lets users broadcast their company's video and meeting content simultaneously to the audience of a virtual event, more like webinars. It is more like a one-to-many communication where the event host leads the conference and shares the presentation with other attendees. Microsoft 365 live events let Companies can also host interactive and engaging live video streaming experiences to employees and customers.
Foster meaningful relationships: Interacting face-to-face on video calls enables teams to know each other better, people feel less isolated, can collaborate and share more which is the basis of good and healthy relationships at work. The room for misunderstandings is less when one interacts face-to-face on a regular basis.
Enables a diverse and strong team: With people working remotely and collaborating through video conferencing, getting the best people to work for you is a lot easier. You can hire the best minds and skills from any part of the world to work for you. Building a diverse team with high-performing individuals and scaling your remote teams is now possible, thanks to VCaaS.
Fruitful outcomes from meetings: When sending a meeting invite, the host can send the agenda and objectives before the online meeting, so participants already know what to expect. It also enables participants to do their own research and keep their questions if any ready beforehand. This helps in avoiding unsolicited lengthy discussions during the meeting, and often reaching a conclusion is easier.
Better work-life balance: We are a generation that's overworked and stressed with no boundaries between our work and personal lives. Video-conferencing has made remote work a reality, affording people the freedom to work from wherever they want. The ability to work and deliver tasks remotely with video conferencing has enabled enterprises to create a culture that supports work-life balance.
Better team management: Video conferencing was thriving even before the pandemic hit as it enabled business leaders to employ remote workers from around the globe. Managers and leaders could establish a direct line of communication with their remote employees and preserve face-to-face interactions. During the pandemic, video conferencing emerged as an effective tool to effectively monitor and manage remote teams.
Learning from the comfort of homes: Enterprises have been able to conduct effective remote training sessions with the help of video conferencing. Industries such as travel and tourism that were severely impacted during the lockdowns could fruitfully utilize the downtime by organizing training and upskilling employees. All of this at a fraction of a cost of a regular classroom training session. Employees got to learn something new and expand their skill set all from the comfort of their homes.
Record and playback: As iterated earlier video meetings can be recorded. This means if the intended participants were unable to attend the meeting, they could always watch the recording at their own pace later. Especially videos on training can be paused, slowed down, or replayed.
The way forward
The video conferencing market is projected to grow at a CAGR of 11.45% from 2020 to 2026 with its market value being a whopping $9 billion by 2026. COVID-19 led to a 70% increase in video conferencing users over the last few years.
Today, video conferencing is being used as a communication tool across industries such as education, manufacturing, healthcare, legal, banking and finance, travel and tourism, politics, and more. The drivers behind video conferencing can be anything from internal team collaboration to delivering lectures and everything in between. Though physical/in-person meetings will always be preferred, video conferencing is changing the business communication landscape at an unprecedented rate in this digitally connected world. The future is VCaaS!