What is WiFi Calling & How Does It Affect Your Phone Calls?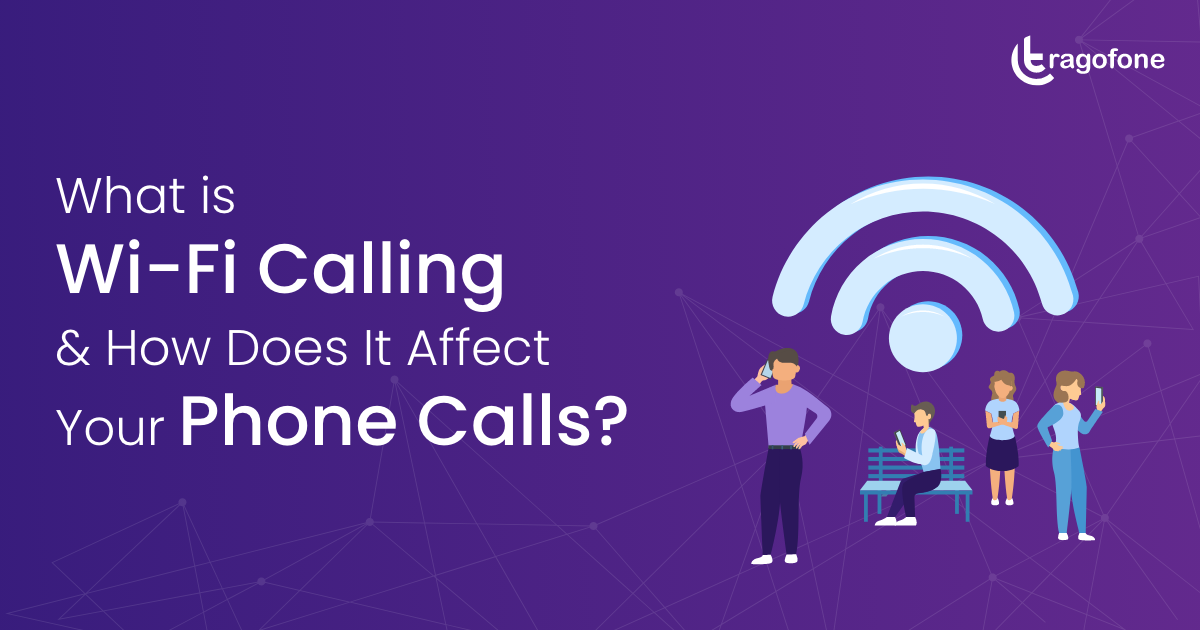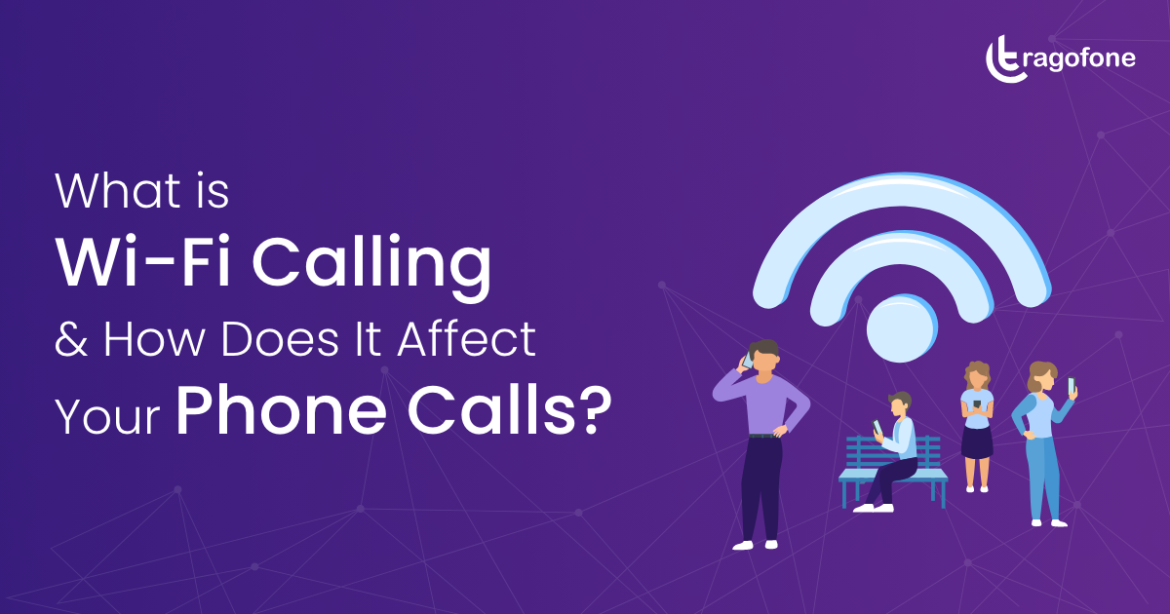 Remember the last time you went to a quiet mountain retreat to spend some time in the lap of nature? Chances are that you must have encountered a poor or no network at all. Even in your day-to-day life, you will encounter many situations where cell phone signals are weak – like in a basement office. The good news is one can always depend on WiFi calling in such cases. It is understandable though that most of you may not understand the concept of WiFi calling. But we have you covered. In this guide we will discuss:
What is WiFi calling?
How do WiFi calls work?
How to enable WiFi calls on your phone?
Difference between cellular and WiFi calling
WiFi vs VoIP calling
Pros and cons of WiFi calling
What is WiFi Calling?
For a user, WiFi calling is just like any regular phone call. A caller dials a phone number like they normally would from a regular phone. The feature sets are similar too. The difference however lies in how the calls are delivered. WiFi calls are routed through a WiFi network instead of a phone service provider's network. In the past, all of us have been in situations where the phone service provider's coverage was distorted. The reasons could be umpteen, bad signal, no tower, and many more. WiFi calling is a great alternative in such situations.
The only pre-requisite is a stable and high-speed broadband connection with a router capable of wireless coverage. WiFi operates on a series of standards as defined by the IEEE (Institute of Electrical and Electronics Engineers) and the WiFi Alliance. Wireless routers provide coverage in approx. 150 feet of range from its location. The calls are not routed via traditional telecommunications providers like AT&T and other players. Moreover, Android and iOS devices work on universal standards (APIs) for VoIP calls optimizing the battery life and the user experience.
How does WiFi Calling Work?
Once a user enables WiFi calling on his device, the phone automatically identifies the strongest network available after a number is dialed. The call is then routed via a cellular or WiFi network (whichever of the two is stronger at the time of calling). Enabling WiFi calling doesn't mean that calls will solely be routed through WiFi. The call routing will happen through a WiFi network only if it is stronger than the cellular network. In most cases, cell phone carriers treat WiFi calls like regular calls, which means there is no additional charge added to your monthly phone bill.
Technically speaking WiFi calls use a VoIP (Voice over Internet Protocol) system to reach a carrier over the internet connection to establish a phone line. Popular apps such as WhatsApp, Skype, and Facebook Messenger route calls using VoIP technology. Softphones such as Tragofone enable a user to make calls using WiFi even if the user does not have a SIM Card.
Enabling WiFi Calling on Your Phone
Step 1: Open your phone's Settings Menu
Step 2: Look for connectivity options. The usually available options will be Connections, Cellular, Internet (name of your wifi connection).
Step 3: Select WiFi name and enter the password
Step 4: Turn WiFi calling on
Note: There will be a slight variation in the terminologies and way to enable WiFi depending on whether you are using an Apple or an Android device.
Cellular vs Wi-fi calling
Wi-Fi calling enables the user to connect over a call from remote locations even if there is no cell phone tower in the vicinity. Some cellular service providers do supply mobile data for Wi-Fi calling as long as there is a tower in the vicinity. However, if too many people are simultaneously using Wi-Fi simultaneously it may impact the voice quality during the call. This explains why Wi-Fi calls are not clear in crowded places like shopping malls, railway stations, etc. Any disruption in the network will also impact your Wi-Fi call quality such as voice echo, lags, distorted image or slow video. A person sitting at a crowded airport or shopping mall should rather make calls over cellular coverage rather than a Wi-Fi connection. What makes Wi-Fi calling better though is that it extends the battery life of your device/smartphone. Searching for a strong cellular network quickly drains your phone's battery, but the same is not true for Wi-Fi. Your phone connects to one network and stays connected until you disconnect.
VoIP vs WiFi calling
WiFi calling has gained popularity over the last few years. The settings menu on all modern mobile devices displays WiFi calling prominently. If your mobile is connected to your WiFi at home, most likely already used WiFi calling. As iterated earlier WiFi calling is powered by VoIP technology which has been around for years.
The term may sound technical and complex but knowingly, unknowingly a majority of us use VoIP technology on multiple occasions, both in our personal space and workspace. The mobile applications we use on a day-to-day basis such as Google Meet, Viber, Skype, WhatsApp, Facebook Messenger, and many others run on VoIP. Major VoIP platforms for business are Tragofone, RingCentral, Vonage, Avaya, Ooma to name a few.
The many benefits of VoIP like its cost-effectiveness, reliability, and ease of use have been the key drivers behind using VoIP technology to develop WiFi calling. The feature works automatically on a user's smartphone when a user is connected to a wireless network. However, one must understand that when we say VoIP, it refers to a standalone application or platform that requires installation of WiFi calling, on the other hand, implies carrier-branded calling that is available by default on a user's phone. A user need not download an application like in the case of VoIP to use WiFi calling. One just needs to go and enable WiFi in the settings of their phone.
Pros and Cons of WiFi calling
Pros of WiFi Telephony
WiFi calling comes with a plethora of benefits, more so for people staying in areas where cellular network is still not available or signals are weak due to factors like construction, weather, altitude, etc.
#1. Superior Voice Quality
WiFi technology has evolved over the years. Gone are the days when video calls and audio quality was jittery and poor. Today both sound and picture quality is crystal clear, and one can connect with a group of people on a single call. People residing in areas with poor cellular networks can always rely on WiFi calls for superior call quality.
#2. Free Calls using WiFi Network
WiFi calls are free. Even if you have not paid for your phone service to make calls, you can make phone calls with your WiFi connection.  Be it international or domestic calls, all you pay is for your data usage.
#3. Ideal alternative for weak Cellular Service
Individuals or families residing in areas with weak or no cellular reception can always rely on WiFi calling.
#4. No additional subscriptions
Making calls using your WiFi does not entail any special service or subscription. Only if you have exhausted your data, you may need to upgrade to a higher tier of data plan.
#5. No hassle of downloading an additional app on your device
The new-gen smartphones and the basic ones too come with a  built-in WiFi calling feature. Unlike VoIP apps or other calling apps, you need not download a separate app on your mobile device.
#6. No hassle of registering on an app
As iterated earlier, WiFi calling is an in-built feature and not an app. Calls are made via your existing cell phone number. No stress of registering on yet another app and memorizing your login credentials.
#7. Minimal bandwidth consumption
WiFi calling consumes one megabyte per minute, video calls consume 6 to 8 megabytes per minute which is quite minimal.
Cons of WiFi Telephony
Every technology has a flip side too. Despite the number of benefits that WiFi calling brings to the table, there are some challenges too. The strength of the WiFi signal, device compatibility are a few of them.
#1. Variation in signal strength
You must have often encountered a lag in the WiFi network in high-traffic areas such as hotels, schools, hospitals, airports, and many such crowded places. The lag in speed is because of the shared bandwidth between so many people.  In such a scenario the call quality is extremely poor, the drop rate is high, the voice choppy, and there is an overall inconsistent user experience.
#2. Absence of in-built WiFi calling feature
The new generation iPhones and Android OS phones come with in-built WiFi calling. However, many of its predecessors do not support or are not compatible with WiFi calling.
#3. Delay in data transfer
Depending on the signal strength there may be a delay in the transfer of data by 2-5 seconds in calls made through WiFi. As a result, there may be a lapse in your communication.
#4. Inability to make calls during international travel
All major carriers support WiFi calling anywhere within the country. However, in the case of international travel, the WiFi calling service will not work. Even if you get your international roaming activated, the charges levied are often high. Many carriers do not even provide international roaming.
#5. Additional charge data usage
There may be instances where your WiFi connection is down on a given day or unknowingly your phone may get disconnected from your WiFi network. Since WiFi calling is activated on your phone you may end up exhausting your mobile's data plan. You may also end up using additional data which will attract extra charges.
The way forward
If you are someone living in an area with poor cellular connectivity or travels often then moving to WiFi calling can make a huge difference. The set-up is pretty straightforward, more so in the new generation of smartphones. It is therefore fairly easy to use for a non-tech savvy person too. WiFi calling is secure, and the quality of voice calls is crystal clear. From a business use perspective too, WiFi calling is a great option. One does not need a separate device or a SIM card to make WiFi phone calls making it a cost-effective and practical option for companies with remote teams. Your teams can be connected 24×7 with each other at no additional cost. The sheer convenience WiFi calling offers makes it a win-win alternative for both business and personal use. The future is indeed bright and exciting in the world of WiFi calls.