What is a VoIP Caller? Reasons to Use VoIP Phone System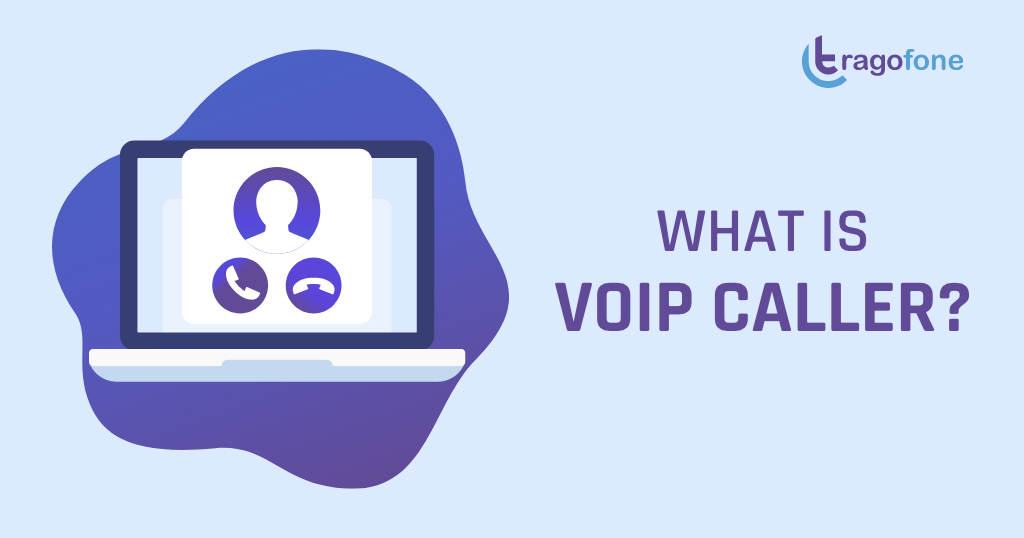 You must have often received calls with "VoIP Caller" flashing across the screen and wondered what it meant. This blog answers all your questions about VoIP callers. So let's get started.
Modern enterprises today need a cost-effective, professional, reliable, and flexible mobile business communication system. No wonder then, VoIP (Voice Over Internet Protocol) is fast becoming the preferred business communication solution. Look at these numbers and you will know what we are referring to here.
A report by

IBIS world

suggests that 1519 businesses in the US were using VoIP services in 2019.

A report by

Statista

reveals that the US has 34 million, Japan has 31 million and, France has 22 million VoIP users.

Persistence Market Research

suggests that the global VoIP revenue will be $194.5 billion by 2024.
What does VoIP Caller mean?
A VoIP caller uses software instead of a cellular network or traditional landline network and routes calls through an internet connection in the form of small data packets as opposed to a cell tower or fiber-optic cables or copper wires. A VoIP caller enables a business to connect its business softphone without using any hardware. This simple yet inexpensive cloud software offers a plethora of additional features over traditional dialers. Unlike legacy phone systems, VoIP callers enable users to send and receive videos, voicemail, share screen, and a lot more. 
It also allows users to connect easily across the globe enabling enterprises to break the geographic growth barrier and make remote working a reality. VoIP callers enable businesses to add and remove new members easily based on the business requirement.
You must have queries galore by now, about VoIP, how it works, its safety protocols, and many other issues. In this blog, we will explain:
What is a VoIP phone system?

Who uses VoIP phone?

Reasons to use VoIP

Identifying a VoIP caller

Blocking VoIP calls
What is a VoIP phone system?
The VoIP phone system enables a user to make calls over a broadband internet connection. When the user makes a call using a VoIP phone, the VoIP system converts voice into a digital signal that gets transferred over the internet through a router. VoIP converts analog signals like a voice into digital data packets for transmission over the IP network. IP networks allow these packets to be sent from one location to another without having to go through a traditional telephone system.
VoIP better known as 'internet phone' or VoIP softphones digitizes voice signals, and sends the digitized voice information through an IP network in the form of small data packets. This is done by encoding the analog voice information with the help of software known as codec. The digital signal is also converted to analog using another codec. 
Who uses a VoIP phone?
VoIP technology has garnered popularity both for business and personal usage. Skype, Zoom, GoogleMeet are all examples of VoIP technology. Similarly, RingCentral, Nextiva, Tragofone are some popular names in the B2B space.
A report by Forbes suggests that 35% of business enterprises use VoIP, and the VoIP industry has the potential to consistently grow from now until 2027. Features such as call forwarding, auto-attendant, and call encryption have made VoIP app services increasingly popular for business use, especially for small and medium-sized enterprises. VoIP callers not only save costs, but it also enables a business to streamline their business communication systems, which translates into better customer service.
Benefits of Using VoIP Callers
Cost-effective Alternative

 A switch to VoIP callers means saving costs of hardware infrastructure and hefty tariffs on international calls. The software can be installed on existing computers and users' personal devices such as mobile phones by simply downloading the app.

Mobility

The modern VoIP technology is cloud-based, enabling users to make and receive calls from anywhere, so long as the app is installed on their device and they have access to the internet. Being tied to an office desk is no longer mandatory.

Easy to Port

VoIP numbers are portable, which means shifting to a new office is a breeze. You need not change your contact information and customer care numbers. 

Enhanced Security

Encryption ensures calls, data exchange, etc. are secure and security threats can be identified beforehand.

Scalability

Most VoIP providers have a subscription-based service, besides VoIP systems do not require specialized hardware. Hence, it is easy to add or remove phone lines as per your business requirement. However, scaling a legacy phone system can be a nightmare as it means buying additional telephones and lines, and all the infrastructure set-up hassle.

White Label Softphone


VoIP providers like Tragofone come with

white labeling softphone capabilities.

This means a business can customize the look and feel of the softphone by adding its own logo. So better brand visibility without investing in technology.
Difference between legacy systems and VoIP
VoIP has proven to be cost-effective for small and medium-sized businesses. However, the reason for VoIP to become popular is not the cost factor alone. There are a whole lot of differences between how VoIP works and traditional phone systems work. Let's find out.
#1. Technology:
Legacy phone systems use copper wires to transmit voice signals, VoIP on the other hand transmits voice over the internet in the form of data packets. VoIP business phone systems need a live broadband connection to make and receive calls. 
#2. Flexibility and Mobility
Legacy phone systems do not have geographical flexibility and mobility. However, switching over to a VoIP service translates to:
Geographical Flexibility:

  As iterated earlier VoIP routes calls through the internet and comes with virtual number capabilities. Enterprises can choose to get a "Global-Local Number" of a country of their choice and use VoIP service to make it work. This enables them to have a virtual local presence practically anywhere across the globe.

Extension Mobility:

 Modern VoIP systems like Tragofone come with a mobile app (softphone) that legacy phone systems lack giving making

desk phones

accessible on employees' personal devices such as, smartphones or computers anywhere, anytime, which means uninterrupted business. 
#3. Features
Both legacy phone systems and  VoIP calls offer basic call features, enabling a user to send, receive, and route calls. VoIP app deliver features beyond basic telephony such as, find me/follow me and video conferencing that analog phone systems lack. VoIP PBX also offers integration of voice, messaging, presence, and cloud sharing on a single platform (Unified communications) enabling employees to communicate better and increase productivity. 
#4. Cost
The cost-effectiveness that VoIP callers bring to the table is clearly unparalleled. A report by PC World suggests that businesses that use VoIP callers save approx $1200 a month, now that's substantial money for a small business. Legacy phone systems may appear cheaper but have hidden long-term recurring costs such as additional costs incurred on additional hardware for expansion, relocation costs, and so on. Lack of flexibility, mobility, and features to meet modern business communication costs businesses revenue loss. VoIP on the other hand requires no initial set-up costs, making it flexible, mobile, easy to use, and easily scaleless. 
#5. Reliability – VoIP vs Legacy Phone System  
When it comes to reliability, security, and call voice quality VoIP phone systems again take the lead. Legacy phone systems are fast becoming obsolete and many industry bigwigs have already announced the discontinuation of line-based telephony. As the world continues to transition towards broadband and IP services, the use of VoIP callers continues to rise and the global pandemic followed by lockdowns has been a key factor in its growth. Call and data encryption, and new technological advancements in VoIP have been able to address concerns regarding data security.
Identifying VoIP Callers
Since VoIP callers use the internet, many people are hesitant to receive these calls. How does one know whether a particular incoming call is a regular call or a VoIP call? The following tools can be used to identify the origin of a call:
Activating the caller ID on a phone

Using reverse phone lookup: Download a phone look-up service like 'True caller'.

CNAM lookup: CNAM or Caller ID Name lookup will display the name assigned against the VoIP number

IP address lookup

Check the domain: Some VoIP calls display the domain associated with them, you can check more about the caller basis the domain name.
Blocking VoIP Calls
Most VoIP call centers, customer care teams, and sales teams can do cold calling using voip phone system. Receiving such unwarranted calls can be quite bothering for most people. So is there a way to block VoIP calls? The simple answer is yes.
You can block incoming calls from a VoIP caller, using the Do Not Call (DNC) feature. Most VoIP systems come with a DNC feature, where a user can choose to register his/her phone number with the national Do Not Call registry. However, getting unwanted incoming calls from some government agencies and parties, charities, or businesses with whom a user has had an old association may still continue. However, the number of such unwanted calls can be considerably reduced using the DNC feature.
Phone users may also choose to complain against the companies that are doing spam calls; however, it is a very lengthy legal process. Users can also block certain numbers using the built-in call blocking features on their devices.
Final Thoughts
Looking at the industry trends one can safely assume that VoIP is here to stay. As more and more businesses make the shift to this new communication technology, users can expect VoIP calls to gain more traction. It is only a matter of time before companies realize its many benefits and cost-savings. In fact, a survey conducted by TechCo suggests that small businesses using VoIP callers have been able to save approximately 40% of costs on local calls and 90% on international calls. Not just this, businesses have managed to save about 30% costs on teleconferencing as well. 
However, every technology has certain limitations as well. With all processes including communications moving to the cloud, security threats are something that needs to be addressed. The good news is that 2022 will be all about enhancing data security and making the cloud a safe and secure place. Another problem with more and more businesses moving to VoIP callers means access to phone systems 24×7. Though good from a business perspective, receiving unwanted calls can be harrowing for customers. However, today's sophisticated handsets and evolved VoIP technology give users an option to block such unwarranted calls. 
Today the market has plenty of VoIP service providers available. Evaluate your business needs carefully and choose the one that best fits your needs.  To survive in the modern business world, switching to VoIP callers is no more a choice but a necessity. Customers today want to be heard and attended to immediately. Losing time can be a costly business in this fast-paced digital world. To ensure seamless customer service, Forbes predicts that by 2025, 95% of customers' interactions on phones will be done by AI chatbots. This is only possible with a VoIP system though. VoIP is the future of business communications and here to stay.