Sure-shot Signs That Your VoIP Security is Compromised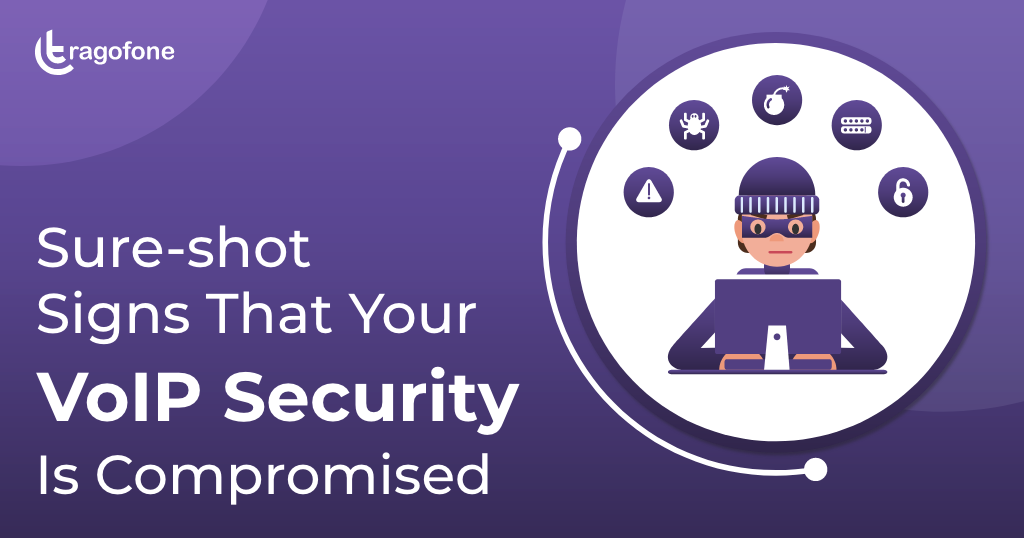 Despite making a shift to VoIP for business communications your telephone bills are high! Your staff is getting frequent fake anti-virus pop-ups… What could possibly be wrong?
VoIP, a reliable business communication tool despite its many benefits, is not immune to cyber-attacks. If you experience the above-described scenarios, chances are rife that your VoIP security has been compromised.
Like other devices such as laptops, desktops, phones, CCTV cameras that are connected to the internet, your VoIP phones are connected to the internet too. Cybercriminals can hack and exploit your VoIP phone lines for financial gain. 
Instances, where a VoIP phone development is not implemented in a proper manner, are more vulnerable and can become an easy target for hackers. Your VoIP phone security getting compromised can result in fairly negative implications for your business, such as:
Hackers can access valuable business data and customer information and misuse the same or pass on such details to competitors. 

Hackers can also use VoIP for extortion and fraud.

They might also be able to access and eavesdrop on confidential boardroom conference calls.
So, what are the vulnerabilities associated with VoIP?
Remote eavesdropping: Unencrypted connections can result in communication and security breaches. A compromised VoIP line means a hacker can eavesdrop and record important and confidential conversations. He/she might sell these data points and records to competitors. They may also use such information to blackmail victims for personal gains which may be financial or something else. 
Network attacks: VOIP technology is dependent on the internet to function properly. A direct attack on the internet connection is an effective way to disrupt or completely interrupt VoIP services. However, such attacks are often done on traditional office telephones as mobile and internet are harder to interrupt. One must also not forget that most mobile applications do not rely on an internet connection to make VOIP calls, they are dependent on their cellular network service provider. Such users are immune to such attacks.
Default security settings: The new generation VoIP phones are smart devices and more of a computer than a phone. This is why they need to be well configured. However, there have been instances where Chinese manufacturers have used default passwords for devices manufactured by them. These default device security settings make the VoIP system more vulnerable. 
VOIP over WiFi: Despite being relatively secure, VoIP still needs a source of internet, which in most cases is a WIFI network. Here again, a  home or office WIFI can be relatively secure. However, using public or shared networks often compromises the connection.
Exploits Associated with VoIP
VoIP spam: VoIP spam is better known as SPIT (Spam over Internet Telephony). A spammer can constantly harass its target from different numbers, using the unlimited extensions provided by VOIP PBX capabilities. Easy to automate, a spammer can easily fill the target's voice mail with notifications. This way, a spammer makes enough calls and ensures the target line is occupied enough to miss out on important incoming calls. However, the process is overall costly and rarely used except in marketing wars. 
VoIP phishing: VoIP technology allows a user to change their caller ID. This way the caller may represent a false ID of a person known to the receiver in order to extract information, money, or benefits from the target.
Over the years VoIP has been considered a reliable communication solution by small, mid-size, and large businesses. Not to forget its many benefits such as scalability, mobility, cost savings, and overall efficiency. 
VoIP truly enables businesses to collaborate and stay connected with their employees, associates, and customers in an easier, more convenient, and less expensive way when compared to traditional phone services.
However, being a communication solution backed by the internet it is prone to get hacked and various other cybercrimes and frauds. Hence, it is imperative for a business to take all necessary precautions to protect its VoIP phone system security from getting compromised.
But the big question is how does an enterprise know whether or not their VoIP phone system has been hacked. There are certain signs to look out for, what are those? Let's find out.
Internet search re-directs to unsolicited websites
While surfing through the internet if the website you searched gets redirected to unwanted sites over and over again, this is a clear-cut sign that your VoIP security has been compromised. Other indicators of compromised security could be extensions and toolbars being added or installed in your browser without your approval. To prevent such attacks, you must ensure that the VoIP phone system has been powered down and logged out of the admin portal when not in use.
Irregular call history
Keeping a regular track of your VoIP call history is a good practice. Doing so will ensure that you pick up any signs of your VoIP system being under attack leaked early. When tracking call history identifies and marks any unusual or unknown numbers in the call history. Also, check if the numbers appearing on your call list are from a known or unknown location. An interesting feature of VoIP is that one can geo-limit the calls making it easier to monitor frauds. However, there may be instances where you may not find any irregularities in the call history but you may still feel that your VoIP security is compromised. Look for other signs such as fake antivirus messages, irregular pattern of camera function, unusual telephone bills, etc. We will discuss these points also in detail.
Fake antivirus message pop-ups
VoIP is an IP-based technology. It uses the Internet to send and receive messages whether voice, text, or video to and from different locations around the world. If your employees or you notice fake antivirus messaging pop-ups every time the VoIP system is turned on, it is highly likely that your VoIP security has been compromised. Your VoIP service provider must be immediately notified of such fake antivirus messages. The service provider's system administrator can check the source of messages to find the troublesome malware. If your VoIP system has been compromised, it is best to shut down the system. The technical team will do the needful to remedy the situation rather than addressing the situation yourself.
Irregular and automatic activation of microphones and webcams 
One of the best features of a business VoIP phone system is its ability to let users use microphones and webcams to get on voice and video calls. Though it is attractive, convenient, and advantageous for businesses (especially during online conferences or meetings), microphones and webcams are also easy targets for hackers. Hacking the use of microphones and webcams to spy on an organization is a common modus operandi hackers retort to. The intention is mainly to collect private and confidential business data and customer information often for financial gain. 
When microphones and webcams get activated without permission or show an irregular pattern during calls such as, coming on and going off or recording conversations automatically the possibility of your VoIP system being hacked is fairly high. Such instances must be immediately notified to your service provider or system admin. 
A surge in telephone bills
VoIP besides many other features appealed to businesses both large and small for its cost-effectiveness. However, if no new business line or new subscribers have been added and your telephone bill skyrockets for no apparent reason the possibility of your VoIP system getting compromised is a possibility.
Unauthorized usage of communication systems is a primary concern for most VoIP users. By gaining access to someone's office VoIP phone system, hackers can easily use your VoIP infrastructure to make long-distance calls and you may not even realize it. Some hackers may also use an auto-dialing tool to access multiple premium rate phone links. Such unwanted calls from your VoIP connection will result in exorbitant telephone bills. This explains the importance of monitoring the call history of your system on a daily or weekly basis. This activity will help identify call irregularities and catch hacking activities early and your service provider and the system administrator can be sounded off in time.
Ways to Prevent Hacking of your VoIP system
There are no second thoughts about the fact that VoIP when implemented and configured properly is indeed a reliable technology. The very first step any organization should therefore take is to enroll with a reliable and reputed VoIP provider. The other things one can do to prevent their VoIP systems from getting hacked is:
Keep a log of who is accessing VoIP: It is a good practice and preventive measure to keep a track of the log-in and log-out time of authorized users. Regular review of the logs will immediately flag any unauthorized access and attempts of infiltration.
Frequently change passwords: Changing the passwords once every 15 days or once a month is also a good way to protect your VoIP system's security.
Access through VPN in case of remote working: Data exchange through free and open-source internet is more vulnerable. Having a VPN environment in case of remote access negates any sort of vulnerabilities as it is a secure connection.
A few other measures could be a two-way authentication process, having an ethical hacker on board to test the sanctity of your network and systems from time to time, and most importantly having a reliable VoIP service provider. 
Final Thoughts
Modern VoIP technology has come a long way since its initial days. Over the years VoIP has been the preferred choice for business communication and for good reason. The benefits gained from using the best VoIP phone system are many. However, its dependency on the internet makes VoIP vulnerable to hackers like other communication solutions. This can cause huge losses to a business and can sometimes even result in a shutdown.
A business must protect its business communication systems from hackers and cybercriminals, by following proper and secure protocols at the time of VoIP installation and configuration. By doing so and having a clear discussion with the service provider about what security software should be installed in the system, one can protect their VoIP phone system from getting hacked. 
Investing in managed IT services that can protect you against hacking of all types is a good idea and will ensure that your employees and your company data stay secure. Investing in a good VoIP security solution and educating your employees on cybersecurity best practices is an effective way to minimize and keep your VoIP network safe from cybercriminals.
VoIP successfully established itself as an optimum communication suite and ensured business continues as usual even in the face of a global crisis. What's more interesting is the fact that its popularity continues to rise by leaps and bounds, clearly indicating it is not to be a pandemic-driven fad.
As the world of technology continues to evolve, so will VoIP technology. In fact, it has come a long way since its initial days. We can expect some major breakthroughs in the coming years with regards to VoIP security and the way it functions. Until then, let's make the best use of the current technology with appropriate precautionary measures of course!