Everything You Need to Know About VoIP Hacking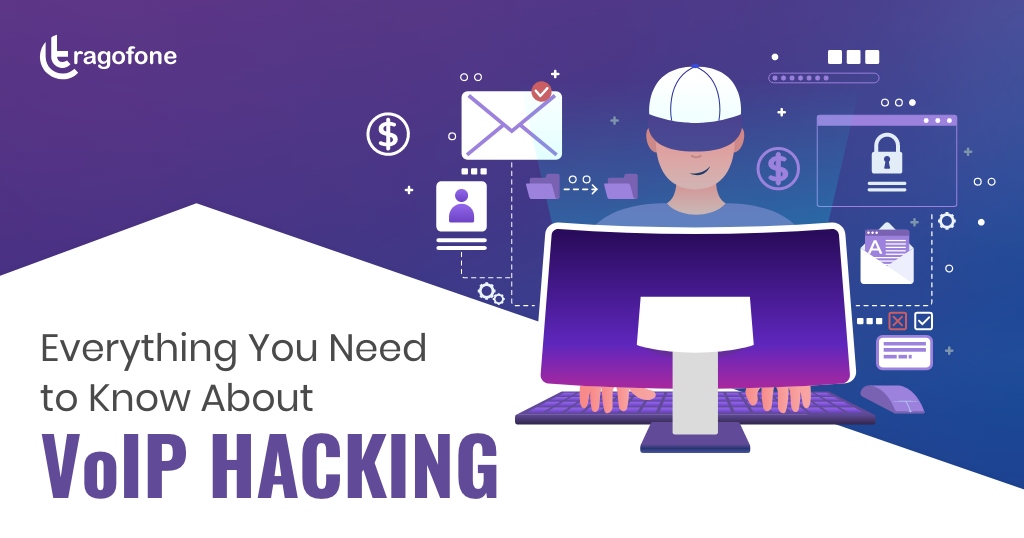 A report by Cybersecurityventures suggests that there will be a whopping 3.5 million job openings for cyber security specialists by the end of 2021 in the US alone. Hacking is becoming a major concern in today's digitized world. Another report by Statista suggests that nearly 71% of Americans' biggest fear is about their credit card and financial information getting hacked.
Technology is a double-edged sword. It has its benefits and drawbacks. VoIP which has become the preferred business suite over the last two decades is prone to get hacked too despite so many benefits and in-built security features.
In this article we will understand:
What exactly is VoIP hacking?

Types of VoIP hacking

Measures to prevent your VoIP system from getting hacked
But first, let us understand the term "hacking". In the pre-internet world, bank and showroom robberies were considered a major security threat plotted by hooded criminals. Cut to the present times when everything like money transfer, file storing, e-signatures are done online to seal deals. In this world, hacking has emerged as a crime of the modern digitally connected world.
When we think about hacking, we imagine masked men sitting in dark rooms on a computer in some underground cell illegally accessing people's bank account and confidential business documents stored online to steal money and confidential data for their personal gain. 
However, as more and more companies started implementing and using software for their day-to-day functions, they soon recognized the importance of getting their software tested for any possible security vulnerabilities. "Ethical hacking and cybersecurity" came on the scene to address this pressing need. Ethical hackers essentially did tests and simulated hacking to make sure that all systems are safe and protected from any vulnerabilities. But individuals or groups of hackers still pose a potential threat to the online and digital world as they continue to hack for personal gains.
What is VoIP hacking?
Business VoIP systems work on the internet which makes them suspectable to hacking. VoIP hacking refers to an event where unauthorized personnel infiltrates your business phone system. By doing so the hacker can cause significant damage to the business as they are able to:
Listen to your calls

Make calls using your VoIP system resulting in a surge in telephone bills

Steal confidential and sensitive information from you and your business partners.

Steal customer data like email, phone details, and other personal information.
How do these hacks take place?
Hackers mainly target customer service centers (VoIP call centers) and Network Operations Centers. They pose as a customer or as someone seeking assistance. They then ask the attending executive several questions and they may, without their knowledge, give unauthorized access to the hacker during a long call and take control of your business VoIP phone system. 
Implications of VoIP hacking on the business
Once hackers get access to your VoIP phone system, it is easy for them to launch other attacks and compromise the overall integrity of your systems. At times the attacks can be severe enough to make an organization bankrupt. With the help of sophisticated technology, hackers can disguise themselves as members of your organization and end up doing frauds and phishing.
It is therefore important for any business to be cognizant of these severe threats and keep themselves updated about the latest business phone system hacking techniques. They should conduct periodic reviews of all the systems and in consultation with their VoIP service provider take appropriate measures to secure communications. 
Types of misuse due to VoIP hacking
Since VoIP phone systems primarily work on the internet, the threat and network security issues they are exposed to are relatively different from the traditional phone systems businesses used earlier. So, what are the possible ways for your VoIP systems to get hacked and their potential misuse?
#1. Unauthorized access and usage
This essentially implies that hackers have access to your phone system and they can use the system for malicious activities such as fraudulent phone calls, robocalling and auto-dialing software. A few examples of fraudulent activities by hackers could be:
Fake calls to commit financial frauds: Hackers may call your customers using your caller ID and play a pre-recorded message asking them to punch in their 'date of birth' or other personal information to "establish customers' identity." This way they can access the complete information of the customer/customers in question.

Impersonate: Hackers for their own selfish gains can impersonate your company to scam customers out of their private information.
The pain point though is that many times this unauthorized access to the system goes unnoticed for a long time. By the time a business becomes aware of the problem, the damage is already done.
#2. Toll fraud
By hacking into the phone systems, hackers may make short and long international calls to other devices. Such calls are referred to as 'toll frauds'. More often than not, the toll charges for long-distance phone calls are expensive even in VoIP subscriptions. Since the calls have been done using a company's VoIP account, it is the company whose VoIP has been attacked who gets billed. 
#3. Caller ID spoofing:
As per Wikipedia, "Caller ID spoofing refers to the practice of causing a telephone network to indicate to the receiver of a call that the originator of the call is a different station rather than the originating station. This leads to a caller ID display showing a phone number different from that of the telephone from which the call was placed." We all trust the caller ID that appears on a phone when we receive a call. Looking at the caller ID we gauge whether or not a call is genuine. However, using fake caller IDs along with social engineering is a common modus-operandi used by hackers. If an employee gets a call from someone with the VoIP phone development provider's caller ID, they may get scammed into divulging some important and confidential information. 
#4. Eavesdropping
Eavesdropping refers to someone overhearing your conversation without your knowledge. When someone uses the VoIP phone system from an unencrypted connection or the local network is breached, a hacker can eavesdrop. By eavesdropping, hackers can get access to confidential business and customer information. Hackers can misuse such information in multiple ways, such as
Selling customer data in the open market

Selling business and trade secrets to  competitors
#5. Social engineering
VoIP hacking is mostly done by targeting the people using the system rather than the technology itself. This makes 'social engineering' a common way of hacking VoIP systems. Hackers make calls to the target impersonating someone else and trick them into divulging sensitive information. Social engineering breeds the fact that people genuinely want to be nice and there exists a dearth of awareness around social engineering. Organizations do not do enough to educate employees about the risks associated with fraudulent phone calls from attackers disguising a caller ID. 
Measures to prevent your VoIP system from getting hacked
#1. Partner with a reliable VoIP service provider
A reliable VoIP provider with robust systems in place is the foundation for a secure VoIP phone system. Make sure to onboard someone who has enough credibility, reputation, good feedback, and is transparent when laying out terms and conditions.
#2. Keep the administrator access in your control
A person having administrative access to VoIP infrastructure has the power to control everything related to a business phone system. Even if you are taking third-party VoIP services, make sure the administrative access is with an internal employee of the organization, preferably someone reliable and old in the system. 
#3. VPN or a proxy server for remote access
The world is fast moving to remote work culture, a major factor in the growth of the VoIP market. In the interest of the security of your network ask your remote team to install a VPN (virtual phone network) on their work devices (VoIP softphone). VPN ensures a strong connection between the remote device and office business phone system and calls get launched from a secure network. 
#4. Periodic testing of your network
Periodic testing of the network helps identify any red flags in the VoIP system. A regular evaluation is key to avoiding any security breach. Annual 'breach tests' simulate a hacker and identify any potential weakness and the overall integrity of the network. 
#5. Have a mobile device management policy
An average employee uses three devices at a time such as a laptop, desktop, and a smartphone or mobile phone. Your staff's personal devices may put your VoIP phone system at risk, more so if the devices are being used to make business VoIP calls. Have a mobile device management policy in place such as:
Personal devices to be connected to the office network for encrypted voice conversations

The software that is to be used for business purposes must be the latest updated version.

Any incidence of device theft must be reported immediately
#6. Have a response plan ready in case of a breach
Hacking is becoming a major pain point and more sophisticated ways of hacking are being devised. It is a smart idea to have a data breach response plan ready no matter how strong your security measures are. A hacked VoIP system has led to a few businesses to doom forever. It is wise to take precautionary measures and be ready with a backup plan.
Some other measures could be monitoring call and access logs, keeping a limit on the calls that can be made per day by a single user, and using two-factor authentication.
Final Thoughts
VoIP has stood the test of time and unprecedented situations and emerged as a reliable business communication solution. However, all good things have certain weak points and VoIP is no different.
But the good news is that with proper caution and following protocols VoIP hacks can be prevented. Industry insiders are also working day-in-day-out to make one of the most preferred communication systems more secure and robust. 
With most businesses migrating to VoIP, the timing could not be better to invest not just in a VoIP softphone solution but also in making it more secure. The key ultimately is having a stellar service provider who has credibility, keeps a tab on intrusions and provides preventive solutions, calls encryption, and ensures the system is updated to combat any potential threats.
Through this article, we have made an attempt to educate the reader on all about VoIP hacking methodology that can be used to attack your network. We have also listed the measures to prevent such attacks.