From Mobile to Mobile First: How the Telecom Industry Has Shifted Paradigms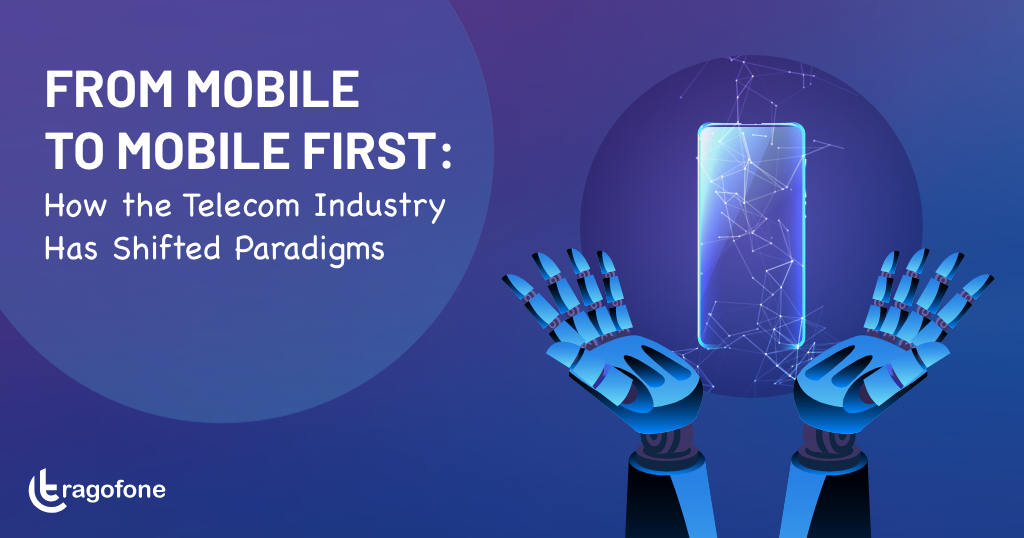 The shifting paradigm in the telecom industry is evident from how mobile devices have become an indispensable part of everyday life for millions of people. Web-enabled devices such as smartphones and tablets have evolved from basic telephony to an all-in-one smart communication, information, and entertainment device. A glance through these numbers tells the true story.
The writing is on the wall, smartphones have become the new-age necessity for communication and all other needs. Gone are the days when it was considered a luxury. The role of mobile phones is beyond basic telephony, especially so for millennials. 
Evolution of The "New-Age Mobile" 
Mobile phones entered the telecommunication world in the 1990s. North America and Western Europe were the pioneers in the rapid adoption of mobile phones. By 2003, most of the Western European population was using mobile phones. 
Cut to 2013, and mobile phones had penetrated to more than 100% of the market globally. Today, a significant portion of the global population owns more than one mobile device. 
Along the way, mobile phones have undergone a huge change in terms of their look and feel, functionality, and connectivity. The smartphones of today do much more than making simple voice calls. Powered by the internet, one can watch movies, videos, access email, and connect with people across the globe on social media using their mobile devices.
Essential work like banking, financial transactions, retail purchases, health tracking, office meetings are all possible by swiping your fingers on your mobile.
Intense research and development in the telecommunications industry have led to the shift from disconnected legacy services to a more integrated experience that reflects the endless functionality of our mobile devices.
The Stimulus that Triggered the Shift in Telecommunications
It is important to understand what led to this change in telecommunications. There are certain elements that redefine consumer expectations and demands. The ever-evolving technology in areas like telecom, computers, and television totally changed the consumer's mindset.
The biggest breakthrough was the internet, which created a total disruption in the communication world. Then came softphones, VoIP powered by the internet for business use. Social media channels like Orkut, Facebook, Snapchat, WhatsApp, etc for the B2C segment. 
This further led to the need for people to be constantly connected. Add to it the sudden change in work and social culture triggered by the pandemic in 2020. One can attribute the notable paradigm shift in telecommunications to the following factors:
Consumer-driven industry:

Telecommunications is largely driven by consumer demand. The demand for easy-to-access content and supportive technologies that enable the use of audio-visual material in innovative ways by consumers led to the evolution of mobiles as we see it today.
Ingenious infrastructure technologies:

The surge in demand for different content formats (audio, video, and text), better connectivity, and internet speed, triggered the development of protocols and routes that are most supportive of these kinds of data. Routes like terrestrial, satellite, Global System for Mobile Communications (GSM), undersea cable systems, and Internet communications protocols have been developed over the years to achieve this. The technology to deliver information of different nature will continue to evolve in the future as demand for speed and accuracy of information continues to rise. 
Ingenious consumer technologies:

The way we consume information as consumers have gone through a sea-change. The shift from print media to electronic media (e-books, e-newspapers), videos, music, images, etc. led to the demand for devices that support these content formats. As a result, mobile phones that can sustain more 'multimedia' performances came into existence. These new-age phones enabled consumers to interact with one another beyond regular voice calls (through video, chats)  using their personal mobile device. It also enabled consumers to store a larger quantity of data on their devices. 
Compatible technologies:

The availability of different devices means more and more people own them. Today, an average person owns one mobile, laptop, tablet, and smartwatch. Compatibility of these devices is essential for a seamless user experience, appreciation for technologies, and consumption of desirable information.
Ways to Create a Seamless 'Mobile Experience'
With an ever-evolving technology at their disposal, consumer expectations are at an all-time high. In a research performed by Google, consumers rated usability and speed as the two most important factors for a seamless mobile experience.
The change in mobile technology and consumer demand has led to a boom in-app developments. Customers do not want to compromise on the convenience and mobility quotient. Mobile apps enable a business whether small, medium or large to engage one-on-one with customers, widen their reach, create more demand ultimately leading to high sales. 
White labelling in VoIP
Developing a mobile app in-house is no child's play. It is cumbersome, challenging, expensive, time-consuming, and requires technical expertise. Partnering with a UCaaS (Unified communications as services) provider offering white-labeling in VoIP is a smart and cost-effective way to have an app with your branding.
It will cost you almost a fraction of the cost you would have otherwise incurred on developing it in-house. It will also give you the flexibility to add and remove features as your business and customer base evolve.
There is more than one good reason to choose a white label softphone app to ensure a seamless digital experience for both your internal and external customers:
Helps you create a platform fully customized as per your business needs:

You only pay for the features that are relevant for your business, no extra overheads. Providers like Tragofone come with business-essential features like push notifications,

auto-provisioning

, API functionality, WebRTC, and more.
Stay ahead of your competition: 

A

white label softphone app

like Tragofone not only is cost-effective. It enables you to stay at par and in some cases stay ahead of competitors and established companies by making state-of-the-art technology accessible.
Helps save time: Good tech resources are often expensive and few in number. Even if you find a good team, building a real-time communications app from scratch can take months and at times years. It may so happen that by the time you are ready with the app it is already outdated or your competition may have already taken the lead. A white label softphone app gives you a head start with a ready-to-use solution.
No support and maintenance costs:

Ongoing support and maintenance often surpass development costs making it a costly proposition. Your white-label softphone app provider helps you to ease this recurring additional cost. It is your provider's responsibility to take care of things such as server hosting, license renewals, and monitoring for viruses and exploits.
Enables you to create a brand identity and presence:

White label solutions enable you to fully rebrand and customize their entire bouquet of services under your own brand. This allows you to create a brand identity and visibility. It is like you have your cake and get to eat it too.
Cloud-based VoIP Technology
Mobility is more important than ever today. With a shift to the hybrid work culture, the demand for cloud-based technology has been on the rise. A seamless mobile experience can truly make or break your brand. The telecom companies and business owners operating in any domain have been quick to realize that mobility and seamless mobile connectivity are important.
When the pandemic hit us with a full-throttle and we were forced to stay in the confines of our homes, cloud softphones became our savior. The distinction between workspace and the home space became more and more blur, despite lockdown business had to continue as usual.
As offices shut overnight, there was no way for companies to get all the office paraphilia like telephones, desktops, etc. to employees. But teams had to stay connected and work. Thanks to cloud-based softphones which were easily compatible with most smartphone devices in the market, work continued as usual with minor initial teething problems.
 Let's look at how cloud softphones can benefit your business:
Flexibility:

Most cloud softphones are 100% customizable. You can pick and choose a set of features specific to your unique business needs. Easy to install and configure, cloud phones are compatible with both Android and iOS phones.
Mobility:

Cloud-based softphones are location-independent. All you need is access to the internet and a personal mobile phone. A cloud-based softphone gives you access to all the tools of your office no matter where you are in the world. It gives you the freedom to work from an office, a hotel room, at home, or even a coffee shop. A cloud-based softphone is the ideal communication solution for modern business needs such as a mobile workforce, multiple locations, and remote employees.
Workforce connected 24×7:

 

Having one unique communication platform for all employees makes it a breeze for them to stay connected with each other. It also simplifies the way they connect with clients, providing both a seamless communication and customer experience. The additional features that one gets with cloud-based softphones mean contact with colleagues is never more than a few clicks away.
Minimal equipment use:

The USP of cloud-based softphones is that they require virtually no additional space or equipment. The paraphilia of traditional phone systems like copper wiring and the costly PBX server installation is no longer required for using softphones. 
Collaboration:

The new age cloud-based softphones enable your employees to easily share a presentation on screen, work together on documents and transfer files within a chat. It enables one-to-one or multiple-participants video conferencing to instantly brainstorm and allow collaboration without any additional cost.  
Bridging Technology Gap
The last two decades have witnessed unprecedented growth in telecommunications technologies both in the developed and developing world. Politicians, leaders, business owners, and people from all walks of life have realized how technological innovation aims to make the most efficient use of resources. 
No wonder then, using newer technologies that make use of convergent engineering have been welcomed and adapted with open arms. World leaders are cognizant of the fact that new technologies can revolutionize the efficiency of the use of available technological and natural resources to create a world that is more sustainable. 
One can expect more evolved communication devices in the mobile telephony arena in the near future. These modern devices will be the foundation to connect consumers with the know-how to provide e-health, e-education, banking services, and remote communication. The telecommunication sector is yet to see many changes and hopes it will be welcomed by the elite and masses as it has been so far.