A Guide to choose the Right Hosted Phone System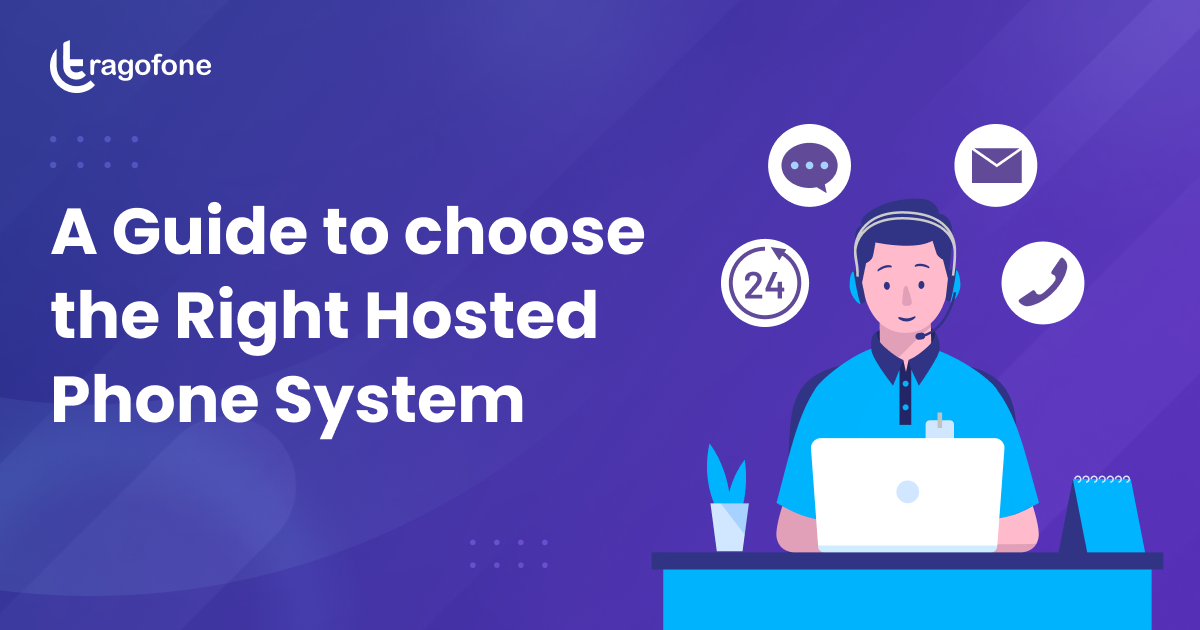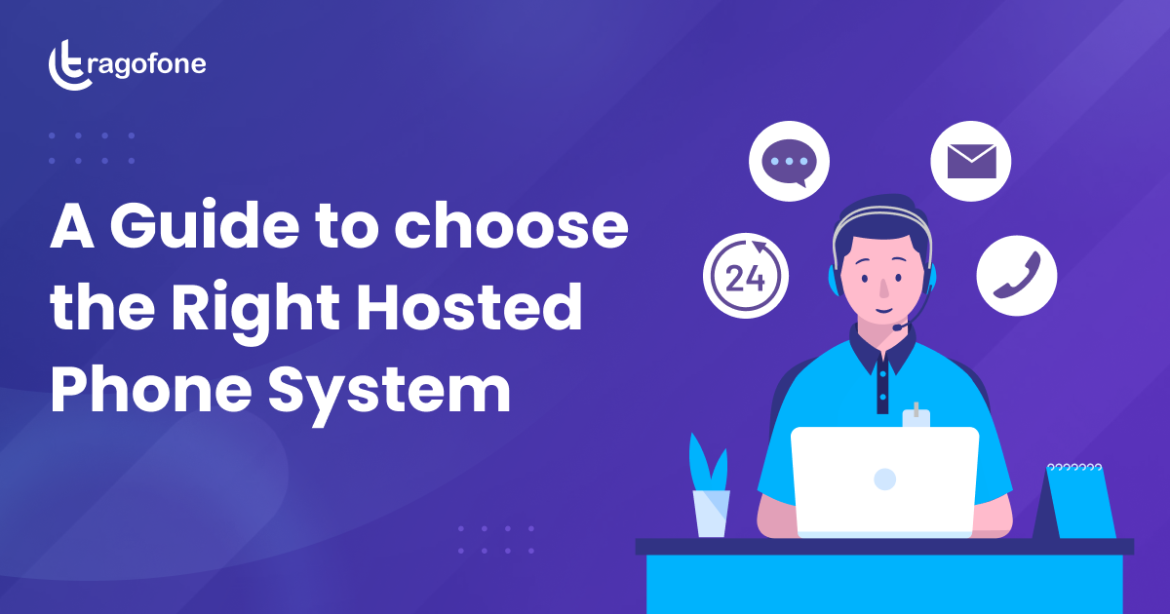 The era of bulky, traditional telephone systems is finally over paving the way for newer forms of phone communications that are agile, technically sophisticated, and pack a punch. The change is also in part driven by the changing workplace. With more and more companies having remote employees, a telephony solution must now support flexibility and mobility. The outdated hardware-based telephone system simply cannot meet these demands. 
Hosted phone systems offer a solution that goes beyond just making phone calls. It brings in a wide range of features such as video conferencing, texting, and instant messaging, to meet the diverse communication needs of businesses today. 61% of businesses have already switched to UCaaS (Unified Communications as a Service) systems, as they offer comprehensive and cost-effective solutions for managing all forms of communication. It serves as a centralized platform for managing voice, video, and messaging services, reducing complexity and streamlining operations. 
If you are considering a hosted phone system, you must weigh the benefits of the system to find the best fit for your company. In this blog, we delve deeper into the concept of hosted telephony and put in place a checklist for choosing the right service provider when you finally decide to take the plunge or switch to a new service provider.
What is a hosted phone system?
A hosted phone system, also known as a VoIP (Voice over Internet Protocol) phone system, is a phone system that is hosted by a third-party service provider and accessed via the internet. The VoIP phone system and its servers are located off-site, in a data center, and are not stored on the company's premises. Businesses connect to the system through their service provider and make calls using an internet connection instead of physical phone lines.
5 Reasons hosted phone system are preferred over on-premise PBX systems
You might question the value of upgrading to a hosted phone system or a UCaaS (Unified Communications as a Service) platform. So, here are five key benefits that these solutions offer that can throw down the use cases of  traditional on-premises PBX systems:
#1. Greater cost-saving opportunities
Hosted phone systems offer cost-effective solutions as they are compatible with various types of hardware such as handsets and software like softphones, allowing employees to continue using their familiar devices. Furthermore, it eliminates the need for expensive hardware installations, expenses on phone system maintenance, and recurring costs of in-house IT teams resulting in significant cost savings compared to traditional copper wire-based PBX systems.
#2. Cater to future communication needs
Your company's telecommunications system must be future-proof so that it is compatible with both modern hardware and software. Hosted telephony efficiently meets this need. UCaaS solution is a dynamic product that evolves over time, providing new features, improvements to existing ones, faster integration with new tools, and the ability to customize through APIs, as opposed to traditional phone systems that are fixed assets.

#3. Ease of scalability
Hosted phone solutions are not based on hardware, which allows them to be highly flexible and adaptable to the growth of your business. This is particularly beneficial for businesses that are planning to expand in the near future or have temporary spikes in demand, such as startups, rapidly growing small businesses, and enterprises.
The scalability of these systems also means that you only pay for what you use, eliminating the need to purchase a fixed-capacity system as with traditional PBX. UCaaS operates on a pay-as-you-go basis, providing the necessary flexibility to meet the changing needs of your business.
#4. Suitable for remote and hybrid workforce
The trend of remote and hybrid work is on the rise, and it is no longer a luxury but a necessity for businesses. Hosted, cloud-based solutions support this flexibility by centering the telephone network around internet access rather than physical hardware, allowing remote teams the same level of access to the phone system as on-site colleagues. UCaaS goes a step further by providing additional features such as video meetings and instant messaging, which are essential for remote teams but not offered by traditional phone systems.
#5. All-in-one solution
Even if your team is not fully remote, a unified communication solution that integrates all your communication channels into one platform is essential for businesses whose communications go beyond just phone calls. This not only streamlines workflows and increases productivity but also offers compatibility with regular office phones. Cloud-based phone system, in almost all cases, is a better alternative as it includes a business phone system and a wide range of additional functionality and flexibility.
5 point checklist for switching to hosted phone system
When switching to a hosted phone system, there are a few things that every business owner must keep in mind. Always tick down these points to ensure a choice of a reliable service provider for your business communication system.
#1. Evaluation of network and internet connection
UCaaS solutions require a robust and stable internet connection to function effectively. Unlike on-premises PBX systems, which rely on traditional voice lines, UCaaS solutions are hosted in the cloud and rely on internet connectivity. It's important to remember that a poor internet connection can negatively impact the performance of your hosted phone system. Additionally, as UCaaS systems can be used on various devices such as tablets, phones, and laptops, it's important to ensure that your company's internal network has enough capacity to support multiple users.
This is particularly important for larger businesses that have not yet invested in these areas. It's not uncommon to have a good internet experience while having poor voice quality due to the real-time nature of voice communication which requires more data flow than other internet-based activities. Thus, it is crucial to secure a reliable and stable connection before committing to a hosted phone solution.
#2. Check for Security Compliance 
Security is a paramount concern for all businesses, particularly when it comes to handling sensitive data. Hosted phone providers should have certifications that demonstrate their compliance with standards such as IP-SEC, GDPR, and HIPAA. This ensures that your hosted phone provider can be trusted to keep your data and that of your customers secure.
#3. Feature selection
Every business has unique needs when it comes to business communication. Therefore, it is essential to chalk out the must-have features of the phone system and match it with the offerings of the service provider. Read on to know which features your phone system must have to meet the standard communication needs of your business.
#4. Go through the contract
When considering a switch to hosted telephony, it's important to take into account any existing POTS or PRI contracts that may not be due for renewal in the near future. However, some providers may allow you to keep your hardware and phone number, so it's important to check with them. Also consider the terms of any new contract, such as the length of the contract and the payment structure (monthly or annually) as they can have a significant impact on the overall cost. It's essential to have a clear understanding of what you are looking for in a new contract, whether it be a long-term commitment or a monthly payment model, to make the transition to hosted telephony as smooth as possible.
#5. Finalize payment terms
Most UCaaS solutions operate on a fixed monthly cost model. However, it's important to understand if this fixed price includes all the necessary services. Extra fees for specific calls or upgrades can add up and it's best to be aware of them upfront. These additional costs can include storage, transcription, call recording, integrations, and more. While subscription costs can be factored into a budget, surprise extra fees can be harder to plan for and manage. It's essential to be aware of any potential additional costs to ensure that your budget is accurate and you're getting the best value for your investment.
7 mandatory features for your hosted phone system
All hosted phone systems offer different features, but a business must know which features are essential for their business. Here is a list of 7 features that your phone system should provide to help your company reduce costs and improve return on investment:
#1. Auto provisioning
Auto provisioning facilitates the automatic setup and configuration of new devices on the network. It simplifies the process of adding new users or devices to the network, eliminating the need for manual configuration and reducing administrative tasks. Moreover, it ensures that all devices are configured consistently and in compliance with the network's security policies, reducing the risk of security breaches. 
This feature is particularly useful for businesses with high employee turnover or that frequently add new devices to their network. It helps to increase efficiency, reduce costs and improve the overall user experience.
#2. VoIP video conferencing
Video conferencing allows users to see each other's faces and computer screens during a call. This feature is particularly useful for uniting teams with members in different locations and enhancing remote meetings. It enables speakers to convey their ideas using visuals, gestures, and body language, while listeners can indicate their engagement through non-verbal cues such as nodding or a thumbs-up. It is a powerful tool that can improve communication, productivity, and collaboration.
#3. Call Recording
Call recording is a critical feature of a hosted phone system that allows you to store audio recordings of all calls for future reference. This feature is valuable for training new call agents and evaluating the quality of customer service provided by the company. By providing the ability to record calls, a hosted phone system gives you the tools to improve your business operations and grow your company. Additionally, the ability to record calls on various devices including cell phones, desk phones, and softphones ensures that you have a record of all calls regardless of the device used.
#4. Third party integration
A good unified communications platform should offer a variety of options for integrating with the software and tools you are already using. Common examples include Microsoft 365, Google Workspace, Salesforce, Zoho CRM, etc. Integrating these tools seamlessly combines the functionality of these apps with your hosted phone system and other communication channels. As a result, it provides a unified interface that can handle all your needs. The number of integrations available is a good indicator of the platform's usefulness. 
#5. WebRTC
WebRTC (Web Real-Time Communication) is a technology that enables real-time communication such as voice and video calls, chat, and file sharing directly from a web browser without the need for additional software or plugins. It allows users to make and receive calls, join video conferences, and collaborate with other team members without having to install or configure any additional software.
This feature makes it easy for users to join and participate in communications from any device with a web browser. Additionally, WebRTC also increases the level of security and privacy by eliminating the need for third-party plugins, reducing the risk of vulnerabilities. Moreover, WebRTC enhances the sound quality and clarity of communication.
#6. Omnichannel communication
Omnichannel communication allows customers to communicate with a business through multiple channels, such as phone, email, chat, and social media, using a single interface. It helps businesses provide a seamless and consistent customer experience across different channels. Customers can easily switch between channels without losing context. Moreover, businesses can collect data and track customer interactions across multiple channels. It enables agents to respond to customer inquiries and complaints in a timely manner and improve customer satisfaction. Omnichannel communication can help businesses to increase their efficiency by reducing the number of customer service agents needed to handle customer interactions.
#7. Data analytics and reporting
Data analytics and reporting feature facilitates the evaluation of employee performance and gathers valuable customer insights such as behavior, demands, and preferences. By leveraging this data, businesses can identify areas of improvement in their customer service and work towards providing better customer experiences. It is important to research and compare different VOIP software systems to find those that offer robust and accurate analytics and reporting tools for your business needs.
The Bottom Line
Upgrading to a hosted phone system or UCaaS (Unified Communications as a Service) solution can bring significant benefits to your business, regardless of whether you currently use a traditional PBX system or a modern VoIP solution. It offers a comprehensive suite of communication tools in one place, providing better scalability and a fixed monthly fee-based payment plan, often with no upfront installation costs. By consolidating all your business communication tools in one platform, you can optimize and streamline your operations. Tragofone serves as a reliable hosted phone system service provider that has designed solutions for businesses of all sizes.