Softphones: A Complete Guide on all you need to know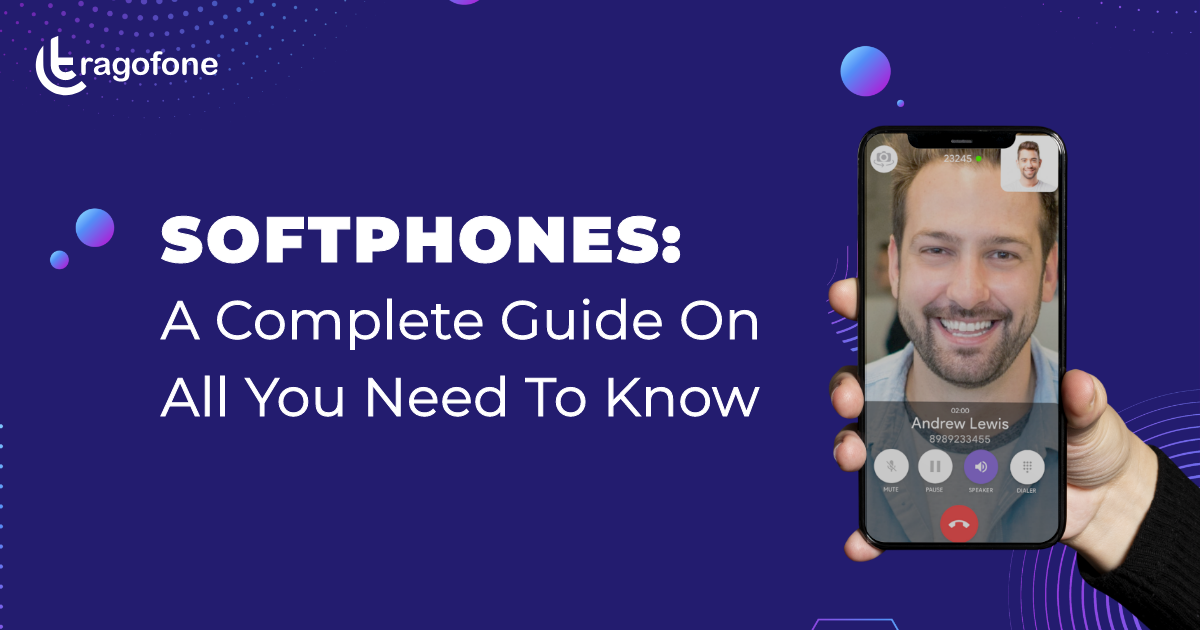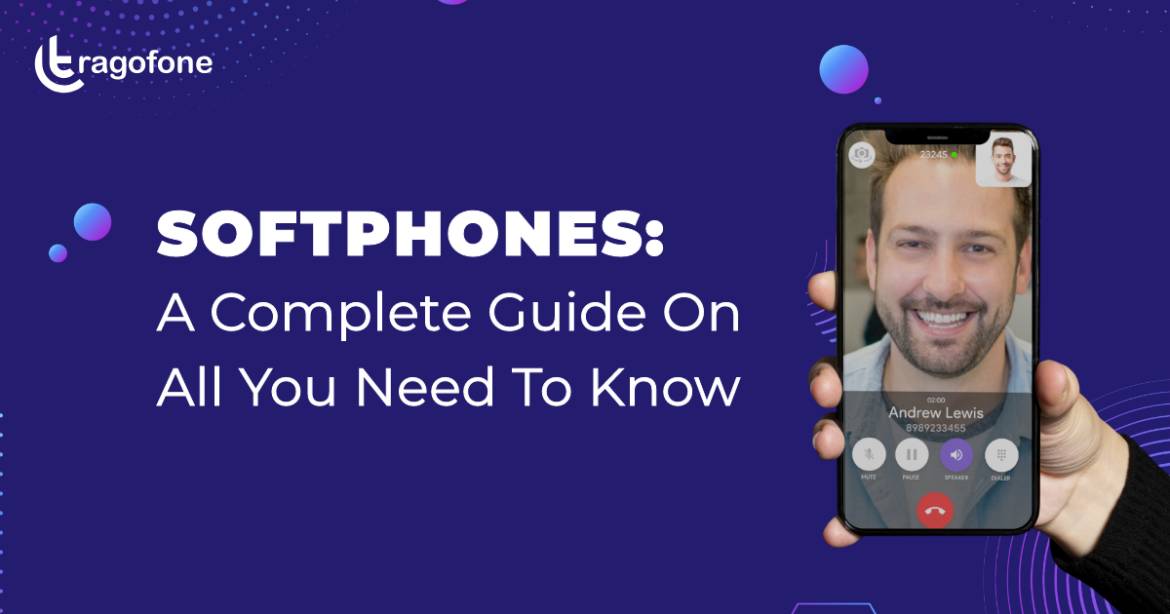 Unified Communications or UCaaS are the bedrock of modern business communications. One of the key technologies that have made unified communications so accessible and easy to use is 'softphone'. Though the idea of another phone inside your smartphone may seem strange, VoIP softphones have totally transformed the way employees stay connected and have made remote and hybrid work a reality for call center workers too. Let's delve deeper into business softphones to better understand how they can totally transform the business communication landscape.
Understanding Softphone and What it Does?
A VoIP softphone defined as a essentially software that creates a virtual phone on any internet-enabled device (mobile phone/desktop/laptop/tablet) enabling users to make and receive calls. A VoIP softphone, designed for business does much more than just make calls. A feature-rich phone software, the VoIP softphone is designed to foster seamless communication and collaboration for enterprises. Technologies such as a cloud softphone have made enterprise-level communication services accessible to SMBs at an affordable price point and meet modern business communication needs.
A business softphone is the most used component of any business unified communication system in the modern business landscape given the rise in remote and hybrid work cultures. They function just like a physical phone, but without any hardware or dedicated infrastructure. Business softphones use the internet to access the business VoIP phone system enabling a user to make and receive audio-video calls, instant messaging, file-sharing, and a lot more.
WhatsApp, Telegram, and other similar communication apps are some of the most widely used softphone apps used globally to stay connected with friends and family. Business softphones work like these popular apps, with some more advanced features making them perfect for business use. Tragofone, Nextiva, RingCentral are some of the popular business softphone apps.
Business Softphone
There are a host of features that differentiate business softphones from consumer softphones. Let's dig deeper to understand those.
Employees can install the softphone software on their smartphones and sync it with other devices such as their desktop/laptop and tablet to receive and place calls. They can control their availability by logging in to the softphone app only during office hours. They can also set the status to available or away. When away, the call will be directed to a voicemail or another available agent. If a team member is on vacation or sick leave, all the incoming calls to their number can be captured and directed to another team member who's available.
Business softphones enable your employees to keep their cell phone numbers private. They no longer have to share their personal cell phone numbers or use their mobile data plan for work.
When placing outgoing calls using a softphone, the number that is displayed to a customer or a client is that of an office landline. It is a win-win for the team as they get convenience using a device of their choice, and the security and professionalism of a work phone.
Softphones work on a central cloud-based server system, making tracking and compliance an easy job for employers. Cloud softphones enable employers to track and manage calls from a single dashboard.
Call centers often have regulations and compliances to maintain logs, using a softphone in such scenarios can simplify the task of maintaining call logs. In a cloud softphone set-up the details are tracked from the server, automatically logging when calls are placed, tracking duration, numbers called, and getting relevant data.
Key Features to Look for in a Business Softphone
A softphone empowers any business and its employees with all the communication tools of a modern workplace. The rapidly changing technology has created an entire generation of people who want to access everything at their fingertips from the convenience of their smartphones. It is expected that by 2025 gen Z will comprise 27% of the global working population. Employers need to have a communication solution that gives this new breed of employees the mobility and flexibility to communicate with each other and with clients seamlessly. Softphones seem to be the perfect solution to cater to all of this. However, make sure that the softphone you are investing in has the following key features:
Call transfers
Caller ID
Calling line information
Call logs
Call monitoring
Call waiting
Call routing
One-click calling
Full volume control
Text messaging
3-way calling
Incoming call and voicemail notifications (push notifications)
Presence
Video calls and conferences
Switch from music to calls effortlessly
CRM integration
Voicemail
File sharing
Softphones empower teams to collaborate with ease and optimize their efficiency by giving them easy and instant access to all their office communication tools.
How to Use Softphones
Having discussed in length what a softphone is, and why it makes sense for businesses to invest in softphones, let's look at how one can start using a softphone. There are two parts to this, prerequisites of using a softphone and configuring your softphone app on your device.
Prerequisites for using Softphones
Anyone having a device with an internet connection can use a softphone, the requirement is that simple. Most VoIP softphones are compatible with both Android and iOS devices. To start using a softphone a user needs:
A desktop/laptop or mobile device
A headset or a device with an in-built speaker and microphone
High-speed and secure internet connectivity
Softphone technology has evolved over the years. Earlier, softphones were compatible with desktop computers, however, technology evolved and softphones today work with any internet-enabled device. The ability to use a softphone on a mobile device has made it possible for people who travel extensively or work remotely to stay connected with their teams back in the office.
A softphone is like any other app you have on your mobile phone. WebRTC softphone such as Tragofone can directly be launched from the browser itself. Configuring a softphone is as simple as installing an app on your mobile. The  user needs to log in using the credentials provided, set up the password, customize as per preference and they are good to go.
Auto provisioning makes configuring a  VoIP Softphone easy by automating the time-consuming process of manually provisioning VoIP phone systems. Many softphone players such as Tragofone deploy this plug-and-play, one-click login to enable enterprises to set up their phone systems remotely, across multiple locations.
Why Softphones for Business?
Enterprises across the globe are embracing the remote and hybrid work culture. They also want to keep their operating expenses in control and make their processes agile. Sticking around with the traditional, in-house telephonic system will not help businesses achieve any of these above-mentioned goals. Softphones, on the other hand, have no in-house infrastructure and they are in most cases a monthly subscription-based service. All these factors empower a business to achieve its goals of keeping expenses under control, developing agile processes, and embracing remote and hybrid work culture.  Besides, businesses evolve with time and so do their needs. Scalability is never a challenge with softphones, however the same does not hold true for traditional phones. Still, thinking about making a switch to softphones from your legacy systems? Let's deep dive into some advantages VoIP softphones offer especially for enterprises.
Among the many other benefits that softphones offer, significant cost savings is one of the primary benefits. With no in-house infrastructure costs involved, start-ups and SMBs save significantly on their business communication costs. As the service is subscription-based, businesses know the communication-related expenses they would be incurring month on month. Besides, the billing is done based on the number of users, meaning you pay exactly for what you use.
Promotes a healthy work-life balance

A softphone is an app like any other app on an employee's mobile device or desktop which enables them to make and receive calls on their personal devices without having any overlap with their personal phone numbers or private data. It empowers employees to handle important calls, receive messages from teammates, and video conference with their clients without revealing their personal contact details. They can log out of the softphone app once their work shift for the day is over, which means no more work/client calls after office hours. Employees are thus able to clearly enjoy their personal time. Softphones thus enable individuals to maintain a healthy work-life balance which translates to higher productivity and efficiency at an organizational level.
Eliminate the need for a dedicated phone line and hardware
Traditional phone systems required a dedicated phone line and a desk phone to function effectively. Not to mention the complex wiring system which gets easily disrupted in harsh weather conditions. Softphones on the other hand are software that works on an internet-enabled device and consumes significantly less bandwidth than other communication systems. Handsets become redundant after a while and one has to upgrade to a new one. Softphones on the other hand just need a software update to include the latest features without replacing the device on which It is installed.
In-built video conferencing and calling capabilities
In this era of hybrid and remote working, video conferencing and calling is no more good to have, it is a must-have. Softphones have in-built video calling capabilities which means as a business you need not invest large amounts in setting up a separate video conferencing communications system.
A decade ago, when a new employee joined an office it took a minimum of 3-4 days to get a new extension number set up for the employee. This made their connectivity limited in the initial few days, but not anymore with softphones. Your VoIP service provider or system administrator can simply create a new line for that new joinee on the day he joins your organization. The holiday season is around the corner and you don't need as many agents. Remove the extra phone lines that are no longer needed and save on costs. Scaling phone lines up or down is that simple with a softphone.
Feature-rich enhancing efficiency and productivity
Softphones not only offer the features of a standard desk phone, but they also offer much more above and beyond that enhances employees' efficiency and productivity. Features like the drag and drop interface to transfer calls are easy to use and save time. Going through voicemail messages can be really boring, but visual voicemail is a true game-changer. Instead of staying on the phone and taking notes of one voicemail at a time, visual voicemail presents a text readout of the voicemail. This makes the entire process easy and less time-consuming. There are many other features like call switching, forwarding, etc which help enhance employee productivity and efficiency.
It helps teams stay connected effortlessly
Softphones facilitate easy communication both inside and outside the organization. It makes collaboration among team members working in disparate locations effortlessly. Collaborating and staying connected is now more important than ever with more and more people making a shift to remote and hybrid work cultures. Softphones seem to be the ideal way of keeping employees operating out of different locations connected effortlessly.
The way forward
In an era where flexibility, convenience, and instant gratification reign supreme, technologies like softphones are the future of effective business communications. With remote and hybrid work gaining momentum investing in a cloud based softphone app is the smart thing to do for enterprises.