10 Ways to Improve VoIP Call Quality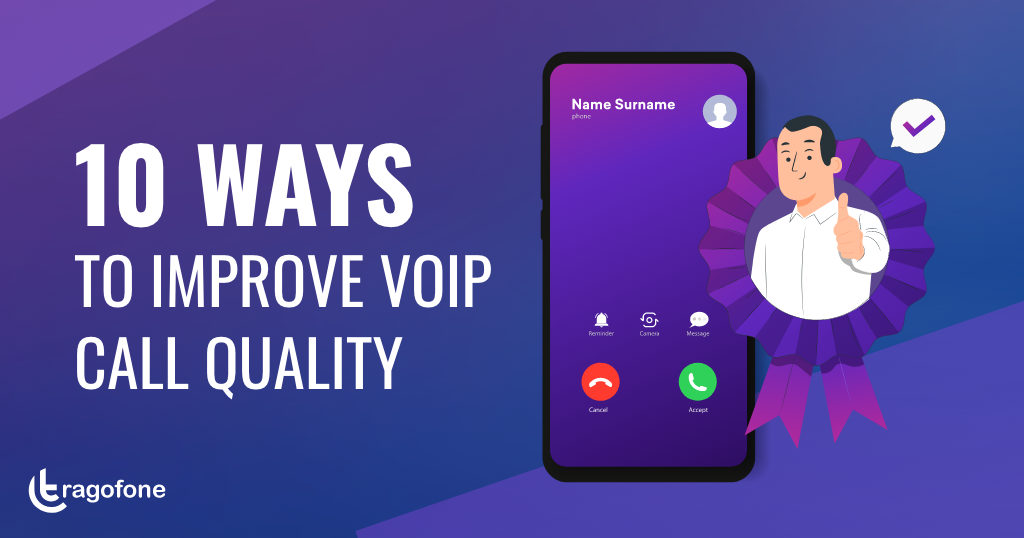 Millions of corporate employees moved to remote work environments during the pandemic. Making business calls from home became the new reality – and VoIP phone services made this task easier for both enterprises and employees. Office extensions could be assigned to laptops and smartphone devices, resulting in unhindered business communication.
What's more, VoIP phone systems also came with collaboration capabilities like video conferencing and whiteboarding, and these goodies facilitated seamless workflows as employees stayed confined to their homes. The cost savings that VoIP phones brought also made them a smart investment for businesses.
However, the core metric by which any audio communication device is measured is voice quality. And VoIP raised some questions on this front. Was the call quality of VoIP telephony as good as it was before phones were digitized?
The switch to internet-based calls can pose some roadblocks on the call quality front. And if conversations are garbled and calls drop frequently, it undermines all the other benefits that VoIP phones bring to the table.
Switching to a cloud-based VoIP phone system comes with a long line-up of advantages for your business, as they have proven to be efficient, cost-effective, and more secure than PBX phone systems. However, it faces challenges like call latency, network congestion, and jitter that enterprises need to address in order to enjoy uninterrupted call quality.
Also, as the pandemic rolled across the world, IT departments were faced with an uphill task of maintaining VoIP call quality on thousands of home networks that they could not access directly.
A strong internet connection can fix most VoIP problems. But it doesn't always guarantee a glitch-free calling experience. In this blog, we will look at how you can keep your conversations clear and get back on the road to reliable call quality.
Causes of Poor VoIP Call Quality
Before we begin fixing our digital call quality, let us understand what causes this issue on VoIP phones. There are a few standard culprits that are the cause of call quality glitches on your internet phone:
#1. Jitter
Jitter happens when data packets that transfer sound over the internet arrive in random order or when there are intermittent time intervals between the arrivals of different data packets. Such delay in arrivals can cause high levels of jitter – which sounds like a stuttering or garbled speech quality – as all packets must be delivered in a prescribed order in order to transfer coherent data to the recipient. Likewise, if too many data packets get delayed then it results in breaks in the transfer of data.
#2. Packet loss
If a data packet is lost, takes time to reach its destination, or contains errors, then the network can drop or discard it before it reaches the recipient. Since every piece of a packet is needed to transfer data, if one piece does not arrive on time then it causes the whole packet to get lost. This usually occurs due to bandwidth restrictions, network congestion, overloaded devices, old hardware, or broken internet connections which cause big chunks of audio packets to go missing.
#3. Audio latency
You must have observed during some calls that the recipient's response reaches a few seconds late. This is caused due to high latency. Latency is the time taken for data to take a complete trip – from the sender to the receiver. While latency does not affect the sound quality on a call, it can throw the delivery time into disarray. In cases of high latency, call participants often end up speaking over one another, as the audio arrives on the recipient's device at inconsistent intervals.
#4. Network congestion
Network congestion occurs when too many requests are made in one go, causing all data packets to get backed up. A common instance where this happens is when an enterprise does not update its hardware or network capabilities to keep pace with its growth.
Top 10 Ways to Improve VoIP Call Quality
Now that you know of the primary reasons that cause poor VoIP experiences, let's look at the actionable steps and common fix-it measures we can take to improve VoIP call quality.  
#1.
Use a DECT phone
If you're using a VoIP phone service, then Ethernet cords are a more preferable option to a Wifi connection. This is primarily because Wifi can face interference issues from other devices which results in inconsistent connections, especially inside buildings, where innumerable devices can interfere with your wifi connection. However, Ethernet may not be a conducive option if you are using a mobile phone device to access your VoIP phone network. In such a case, install a Digital Enhanced Cordless Telecommunications, or DECT, phone. Since these phones have their own radio frequency spectrum, they almost negate any chances of interference from outside sources. Plug the DECT base station into the USB port of your computer in order to gain secure access to the network.
#2.
Quieten the Jitters
Since VoIP delivers audio files in packets, the delivery process must happen in a constant and evenly spaced out stream. Inconsistent delivery of packets can cause the call quality to get garbled. However, jitter issues can be dealt with by replacing the Ethernet cable with a Category 6 one. This cable delivers information faster and reduces the chances of data arriving in an order-less stream.
However, if you are facing severe jitter issues, a Jitter Buffer will work best. It stores audio packets for brief periods and organizes them systematically so that they play in proper order when they reach the recipient.
#3.
Go for Contention
If you want to measure the difference between the available bandwidth and the maximum possible demand for a service, you use the contention ratio. Like every internet-powered service, VoIP phone services have to compete with other services like Netflix, or even photo downloads. The more the users on a network, the lower the quality of your VoIP call. The best way to ride over this hurdle is to purchase an assured contention ratio from your internet network provider. This may cost you more than your regular network charges, but in the long run, fewer call interruptions will add delight to your customer experiences.
#4.
Shop for a new headset
This is the simplest, yet the most overlooked solution to improving VoIP call quality.  As headphones become more savvy and sophisticated, they also become more complex. For instance, some headphones have been built to disconnect from phone apps if the speaker stays silent for an extended period. Low-cost and outdated headsets often come with badly insulated cables which have a direct impact on the clarity of internet calls. To stay away from such hardware glitches, it is best to invest in professional-grade headsets that come with short, insulated chords. And when you see wear and tear on the chords, make sure you replace them.
#5.
If you're taking calls from a mobile phone, disable data for other apps
One of the biggest advantages of VoIP-powered softphones is that they can be installed on mobile devices and add greater mobility, flexibility, and efficiency to your employee workflows. VoIP calls made from a smartphone have the same call quality as any other voice-only IP service like FaceTime audio calls.
However, to enjoy top-notch call quality, it is advisable that you disable cellular data for apps that you are currently not using. Usually, a strong LTE connection provides enough bandwidth to talk seamlessly on a VoIP call. If you are in a public place, it is best to avoid the common internet service, as there will be a lot of network congestion on it.
#6.
Go for separate network bandwidth for VoIP calls
The call quality of your VoIP calls requires a certain internet bandwidth, as voice packets travel through different stages – like access points, routers, and switches – before reaching the recipient. Calls can get stuck at any of these points and the best way to ride over these points smoothly is network prioritization. If people on your network are running several applications on their devices, it will naturally use up a high amount of bandwidth and choke the network.
Imagine a city highway during rush hour traffic. How does one control the congestion? Network prioritization is the best way to control user traffic on congested internet highways. It's akin to reserving space for high-priority usage like VoIP calls. This will ensure that there is enough bandwidth for seamless communication and that the voice packets have a higher bandwidth priority than other data packets.
#7.
Go for the right-fit compression software
VoIP calls work by sending and receiving digital signals, and these signals are compressed before they are sent out. This compression happens in two primary ways: lossless compression, which minimizes the data size without any quality loss and without removing any metadata, and lossy compression, which removes data from the original file. Lossy compression is considered better suited for voice calls, as it removes background noise from VoIP calls. Your compression software comes into play here and if it is not the right fit it may compress too much data and make the data signals unintelligible. To overcome this issue, opt for compression software that is better suited for voice calls and you'll find an immediate improvement in the quality of your VoIP calls.
#8.
Try out a VoIP accelerator
If your internet connection is working well and you still face issues in the quality of your VoIP calls, then go for a VoIP accelerator. With this device – which can be easily purchased online – you can greatly improve the quality of your VoIP communication.
#9.
Adjust your network's Quality of Service feature
If your organization receives large numbers of inbound calls, then limiting VoIP calls to times of low bandwidth usage will not work. By adjusting your network's quality of service feature to prioritize VoIP calls, you can make sure that there is enough bandwidth available for your phone system at any time of the day. Enabling this feature is easy – open your router's setup application, instruct it to prioritize VoIP traffic and you are good to go. Your router will ensure that VoIP is allotted sufficient bandwidth, even though several other applications may be using the network at the same time.
#10.
Put a halt to feedback
Feedback happens when your voice travels back to you, creating an echo sound that overpowers your conversations. If this phenomenon is left unchecked, it can make your VoIP calls incomprehensible. Feedback can be completely stopped by using a phone with a low frequency. This is because high-frequency phones have the ability to pick up more sounds from the surrounding, which increases the chances of feedback. Lower frequency phones, on the other hand, ensure that only the caller's voice is transmitted.
To sum up
VoIP calls may sometimes be plagued by stuttering, echoes, or missing lines in a conversation. But these issues can be easily overcome by adopting these simple tips to improve the quality of your internet-powered communication. While troubleshooting your VoIP calls ensure that you keep an ear out for the voice quality of the calls, so that you can identify the cause of the problem, and then take the right remedial steps to correct the glitches.