The Beginner's Guide to Multi-phone Line Phone Systems & Top Phone Picks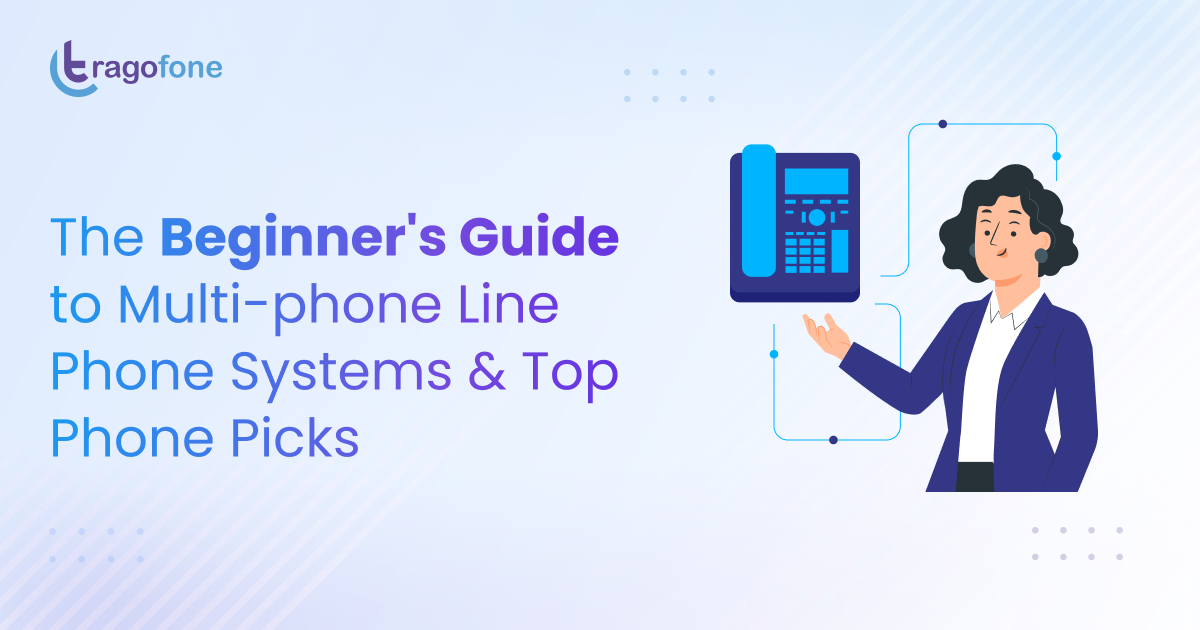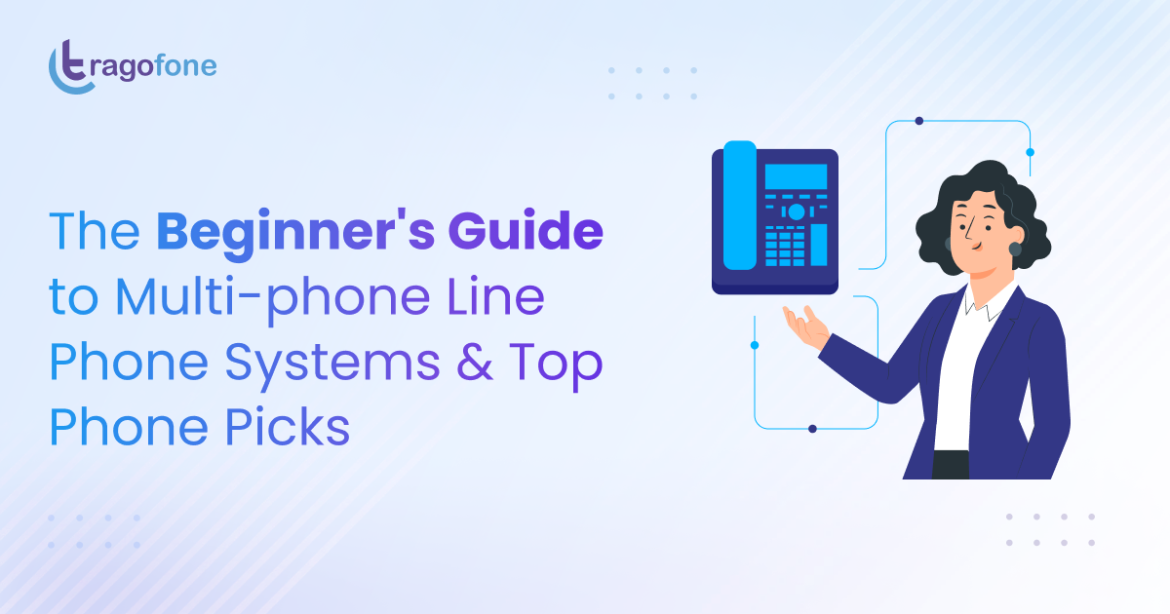 Businesses today need to be more responsive, agile, and proactive. McKinsey indicates a 50% operational enhancement for those prioritizing these areas. Given the current dynamic business landscape business owners must leverage innovative technologies for optimizing ROI, improve quality, and transparency, and build value. A salient example is using a multi-line phone system to streamline communication operations and deliver a seamless experience. 
Traditional phone systems have limitations with a single line, resulting in busy signals, missed calls, and inefficiencies in handling customer inquiries. Whereas a multi-line phone system simultaneously handles multiple calls, ensuring the right messages reach the right people at the right time. 
In this blog, we demystify the complexities of the multi-line phone system, highlighting its features and benefits and introducing the top providers in the market.
What is a multi-line phone system?
Imagine a busy healthcare clinic receiving multiple phone calls throughout the day for various reasons such as patients seeking to make or reschedule appointments, pharmacies confirming prescriptions, medical labs delivering test results, insurance companies seeking patient information, and more. Additionally, there are internal calls between the front desk, doctors, nurses, and administrative staff.
With a multi-line phone system, each of these different types of calls can be assigned a specific line. For instance, line 1 for patient inquiries, line 2 for pharmacies, and so on. This optimizes operations, minimizes confusion, and boosts service quality.
In simple words, a multi-line phone system is a communication device that allows multiple phone lines to be routed through a single or several devices. It enables businesses to manage multiple simultaneous incoming and outgoing calls, offering greater communication efficiency, particularly for enterprises with high call volumes.
Types of multi-line phone systems
Choosing the right multi-line phone system for a business shouldn't be a game of chance. Instead, it should be a systematic, carefully considered decision based on clear needs, objectives, and resources. Here are a few types to consider.
#1. Two-line phone systems
As the name suggests, these systems offer two separate telephone lines. One line can handle business-related calls, while the second line can serve personal needs or act as a backup, ensuring uninterrupted connectivity and enhanced productivity.
Best for:
Single-person enterprises,

utilizing one line for sales and another for service tasks.

Compact offices

, accommodating two employees, assigning a unique line to each. 

Small retail businesses

, allocating one line for customer inquiries and a second for managerial communication.
Examples:
Panasonic KX-TG9582B 2-Line Corded/Cordless Phone System

AT&T ML17929 2-Line Corded Phone with Caller ID
#2. Four-line phone systems
Slightly more advanced, four-line systems are suited for businesses that need to handle more simultaneous calls. They can support up to four separate telephone lines on one device.
Best for:
Small to medium-sized offices

with multiple departments or teams that frequently handle incoming and outgoing calls. 

Professional service providers

like law firms, accounting firms, or consulting agencies often deal with a high volume of client calls.

Retail stores

, such as boutiques, shops, or restaurants, often require multiple phone lines to handle customer inquiries, reservations, and delivery orders.   

Small call centers,

such as telemarketing firms or customer support centers, can benefit from the increased call capacity provided by a 4-line phone system. 
Examples:
AT&T SB35025 Syn248 4-Line Corded Deskset Phone System

RCA 25424RE1 4-Line Expandable Phone System
#3. Six to Twelve line phone systems 
These phone systems cater to businesses with higher call volumes. This next tier of multi-line phones surpasses VoIP phones in terms of performance. They boast enhanced speed, greater memory capacity, and increased customization options compared to standard telephones. Their advanced features like line presence and softkeys further elevate their functionality and user experience. 
Best for:
Executive assistants,

as they can efficiently screen calls and monitor the line status of their executives

Team supervisors

to easily handle multiple calls simultaneously.

Senior account executives

to check inventory and pricing by directly connecting with management.
Example:
Grandstream GXP2170 High-End IP Phone with 12 Lines

Polycom VVX 601 IP Phone with 12 Lines
How can businesses set up multi-line phone systems?
Businesses have two primary options for setting up a multi-line telephone system:
#1. On-premises multi-line phone system
Assess requirements:

Evaluate the communication needs of the organization and accordingly determine the type of system, such as PBX or KSU, based on the business's specific needs.

Install telecom equipment:

This may involve physical wiring, connecting extensions, and configuring the system according to the organization's requirements.

Connect phone lines:

Assign specific lines to departments or individuals within the organization.

Configure call handling:

Customize the system based on the organization's preferences and communication requirements.
#2. Cloud-based multi-line phone system
Choose a provider:

Select a cloud-based phone system provider based on the organization's requirements and preferences. 

Establish internet connectivity:

 Ensure a stable and reliable internet connection that can support the bandwidth requirements of the cloud-based system. 

Configure user accounts:

Set up user accounts and assign extensions to employees within the organization.

Deploy softphones:

Connect

softphones

to users' devices. These devices connect to the cloud-based system via the internet, enabling communication without the need for physical phone lines.  

Integrate and customize features:

Integrate additional features as needed, such as call recording, conferencing, or CRM integration.
Note- Tragofone a softphone includes these built-in additional features, eliminating the need for businesses to go through the hassle of adding them separately.
The working of a multi-line phone system
Multi-line phone system establishes an internal telephone network featuring individual extensions. This capability empowers operators to place incoming calls on hold and enables them to view the real-time presence status of other extensions within the network. 
There are two main categories of phone systems that facilitate multiple telephone lines. Let's discuss their mechanisms in detail.
These systems require technical expertise to manage and maintain. However, they have limitations in terms of scalability and remote accessibility. The traditional analog multi-line phone systems be further categorized into two types: 
This type utilizes a single landline and existing wires to provide two-line functionality. To set it up, yellow and black wires are connected to phone jacks. However, an additional line from the phone company is required, which incurs an extra cost. 
Private Branch Exchange (PBX)
A PBX is another type of analog multi-line system that accepts multiple phone lines through basic landlines or trunks. PBX systems offer advanced features like voicemail, call forwarding, and speakerphone. Callers may encounter a busy signal when all incoming lines are in use, which can be a limitation for businesses seeking growth.
Note: Traditional phone systems typically require desk phones capable of handling multiple lines. These phones often come with additional features like headsets or cordless phone (DECT) capabilities.
2. Cloud-based multi-line phone systems
This modern solution operates in the cloud, offering unlimited phone lines that can be accessed from anywhere with an internet connection. Cloud phone systems utilize Voice over Internet Protocol (VoIP) technology, eliminating the need for separate lines. 
These systems are highly scalable, cost-effective, and provide advanced functionality suitable for remote work.
How does it work?
Incoming calls are directed to the iCloud-based phone system using the assigned phone numbers or extensions.

                   

 

The system routes the calls based on predefined rules and configurations.

                                                 

.

VoIP technology is used to convert voice signals into digital data packets for transmission over the Internet.

                                                  

The voice data packets are transmitted to secure and geographically distributed data centers maintained by the service provider. 

                                                   

These data centers handle the processing and routing of calls.
What are the features of multi-line phone systems?
Multi-line phone systems come with a range of features designed to enhance communication and streamline call management. 
Allows users to put calls on hold, enabling them to handle other calls or attend to different tasks.
Enables users to transfer calls to another extension or colleague within the organization.
Notifies users of incoming calls while they are already on a call, allowing them to switch between them.
Multiple participants can join a call simultaneously using this feature, facilitating collaboration and group discussions.
Utilizing this feature, callers can leave recorded messages when the intended recipient is unavailable to answer the call. 
Provides a pre-recorded menu system that directs callers to different departments or extensions within the organization.
Displays the incoming caller's phone number or name, allowing users to identify the caller before answering the call.
Lets users forward incoming calls to another extension, external number, or voicemail when they are unavailable or away from their desk.
Users can assign specific numbers or extensions to speed dial buttons for quick and convenient dialing. 
Assists with making announcements or communicating with colleagues through the speakerphone feature on the phone system. 
Displays the status (busy, available, or ringing) of other extensions within the system, providing users with real-time information about their colleagues' availability.
Temporarily holds a call and retrieves it from another phone or extension within the system. 
Records information about incoming and outgoing calls, including date, time, duration, and caller ID.
Plays recorded music or messages to callers while they are on hold, enhancing the caller experience.
Collects and analyzes data related to call volume, duration, response times, and other relevant metrics.  
Benefits of adopting multi-line phone systems
Adopting multi-line phone systems offers several benefits to businesses. Here are some key advantages:
VoIP multi-line phone systems are typically more affordable than traditional landline systems. The lower monthly per-line cost, coupled with no installation fees or toll charges leads to significant savings. 
Multi-line phone systems ensure uninterrupted communication even during power or network outages, as they leverage multiple data centers for redundancy. Also, these systems comply with several security standards, including PCI, SOC 2, and HIPAA, providing enhanced data protection.
Multi-line phone systems can adapt to various work models, whether it's traditional office-based work, remote work, or a hybrid approach. With just an internet connection, employees can communicate effectively from anywhere.
Cloud VoIP systems are scalable, allowing businesses to add phone lines or locations with ease, without requiring any technical skills. These systems are designed to grow with the company, whether there's a spike in demand or an increase in headcount.
Top multi-line phone system providers
Tragofone offers a comprehensive suite of communication features, providing limitless opportunities for both audio and video calls. The company's business phone system is designed to cater to organizations of all sizes. Their packages aim to meet varying business needs, from startups seeking affordable solutions to large enterprises needing extensive features. 
Nextiva X-835 model is highlighted as their best desk phone, ideal for businesses requiring more than four lines and seeking additional customization options. 
The company's offerings are structured into three packages: Essential, Professional, and Enterprise. The Enterprise package is the most expensive starting at $32.95 per month.
Ringblaze offers an impressive range of services, focusing on affordability while maintaining top-quality performance. They are particularly renowned for their small business-friendly solutions. Their business phone system is highly efficient and can handle multiple lines effortlessly. Ringblaze's pricing begins at a modest $15 per month.
RingCentral is a comprehensive communication solution that provides unlimited video and conference calling capabilities. Their services are organized into three tiers: Core, Advanced, and Ultra. Pricing begins at $20 per month and can rise up to $35 per month.
Ooma serves the market with a unique approach that integrates VoIP services with traditional multi-line phones. The flagship models such as Ooma-6867 or 6869, stand out with their intuitive interface and seamless integration with digital platforms. Packages offered by Ooma start at $19.95/month.
Cloud-based multi-line systems are the future of business communication
Traditional multi-line phone systems are increasingly considered obsolete due to high costs, limited scalability, and lack of flexibility. They're often tied to physical locations, hindering remote operations. Modern businesses require dynamic, cost-effective solutions. As such, they're pivoting to cloud-based multi-line systems for enhanced accessibility, integration, and global reach.
To boost these operations and facilitate seamless communication, Tragofone's white-label softphone app delivers superior call quality and features such as CRM integration, call routing, and virtual meetings. It's a potent tool for enhancing productivity and customer experience.