Softphones: Types and their Perks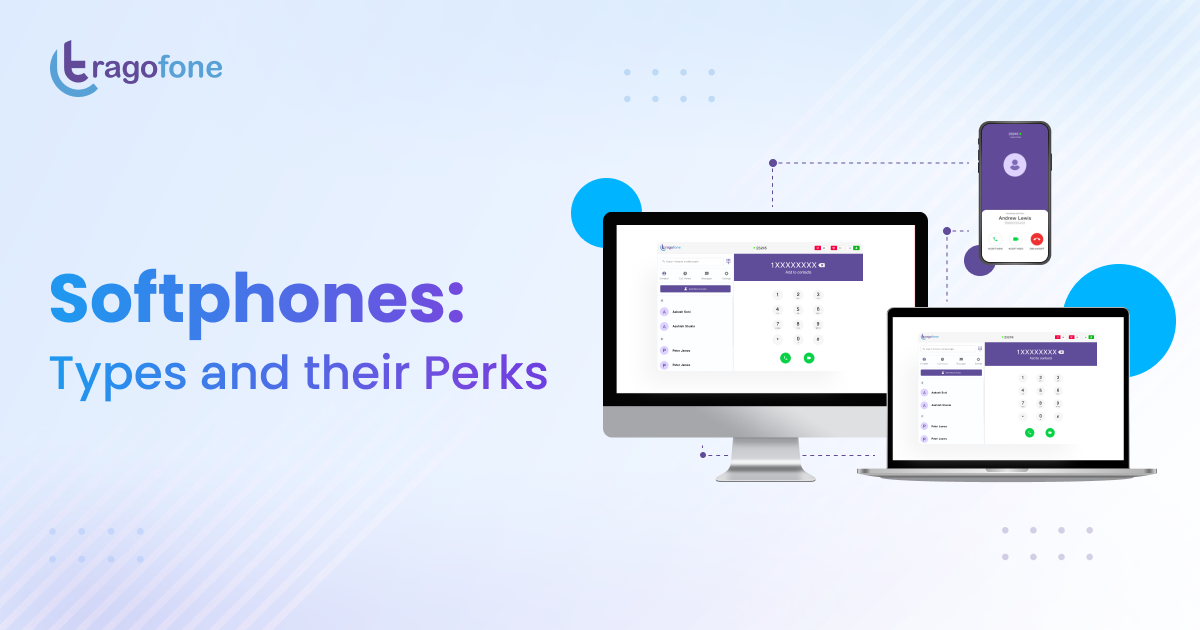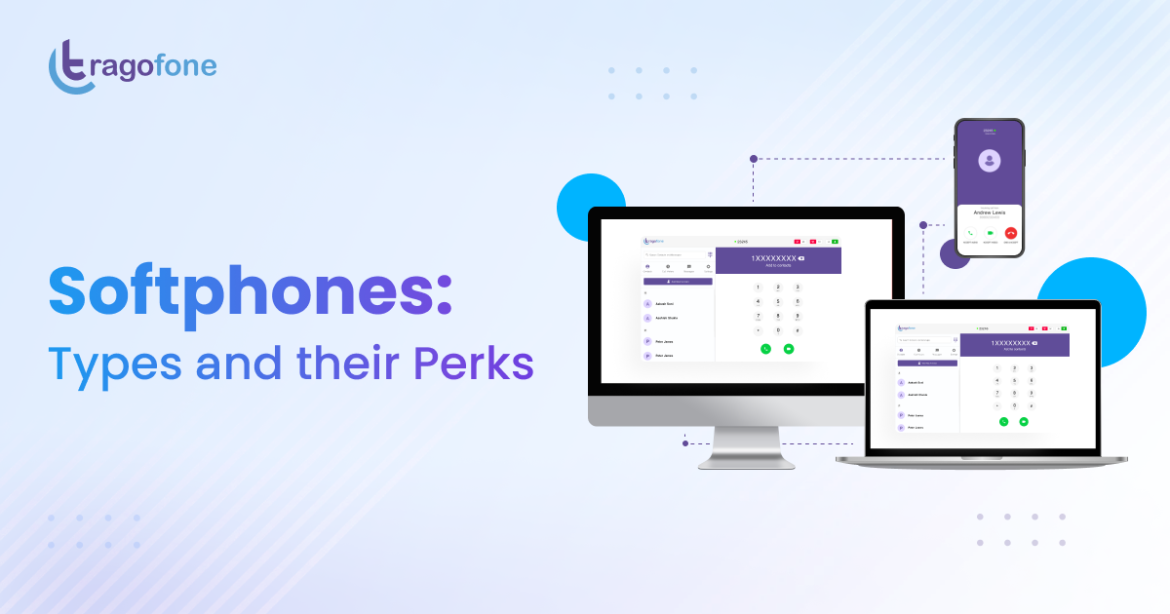 In the highly competitive business world, organizations are in search of a communication solution that is flexible, secure, consistent, reliable, and scalable. The traditional desk phone has become outdated and fails to meet the demands of today's fast-paced environment. To improve collaboration among employees, clients, customers, and partners, businesses are turning towards more advanced solutions such as softphones, also known as SIP clients, which offer a range of features including video calls, instant messaging, presence, and cloud-based auto provisioning.
By adopting softphones, businesses are able to streamline their communication processes, optimize their communication network, secure their data and ensure effective communication throughout the organization. This modern approach to communication not only meets the demands of the digital era, but also minimizes communication costs by approximately 75%. In short, all types of softphones are the future of business communication, offering versatility and effectiveness that traditional desk phones cannot match.
Softphones unfolded
Experience seamless communication like never before with the power of a Softphone. A Softphone is a software that can be installed on your computer, laptop, tablet, or mobile device to make and receive phone calls over the internet through the use of Voice Over Internet Protocol (VoIP) technology. Not only does a Softphone provide the same functionality as a traditional phone, but it also boasts additional features such as integration with external applications, such as support desks and CRM systems, and even eCommerce platforms. As a result, communication becomes not only more convenient, but also more streamlined and efficient.
The term "softphone" refers to the software that enhances the functionality of VoIP, call servers, and PBX systems. Many contemporary business phone systems already include both the VoIP service and the softphone, but some solutions like Tragofone offer the VoIP softphone tool alone, providing businesses with a way to improve their current telecommunications setup.
Detailed analysis of the types of softphones
In the world of VoIP, the decision of which softphone platform to use as a substitute for a traditional desk phone can often be a matter of personal preference or convenience. The three main options available are a mobile phone app, a desktop app, or a webphone. Regardless of the platform selected, one can expect similar features and functionalities to be offered across all softphone options. 
#1. Mobile Softphone App 
A Mobile App Softphone is a type of softphone that operates on mobile devices, such as smartphones and tablets. Unlike traditional desk phones, a mobile softphone app utilizes internet connectivity, or Voice over Internet Protocol (VoIP), to transmit voice and multimedia communications.
Advantages of a Mobile Softphone App
Anywhere accessibility:

The mobile app softphone is a fantastic solution for individuals who are always on the move. With a mobile softphone app, you can make and receive calls from anywhere, as long as you have an internet connection.

Improved productivity:

Having a softphone on your mobile device eliminates the need to transfer calls or miss important business calls when you're away from your desk. This increased connectivity and mobility can result in improved productivity and faster response times.

Cost-effective:

A mobile app softphone eliminates the need for a physical desk phone, which can save you money on equipment and maintenance costs. Additionally, making calls through the internet typically costs less than making traditional phone calls.

User-friendly Interface:

Most mobile app softphones have a user-friendly interface that is easy to navigate and use. With just a few clicks, you can make and receive calls, send instant messages, and access your contacts list.
#2. Desktop Softphone App 
A desktop softphone app is a software-based phone that allows users to make phone calls over the internet from a computer. It functions like a traditional phone, but instead of relying on hardware, it relies on software. Softphones can be used for voice, video, and instant messaging and can be installed on a variety of devices, including desktop computers, laptops, tablets, and smartphones.
This makes it ideal for remote workers, businesses with multiple locations, and teams that need to stay connected on the go. Additionally, softphones can be integrated with other software tools, such as email, chat, and file sharing, to create a seamless communication and collaboration experience.
One of the best features of a desktop app softphone is the ability to make and receive calls directly from a computer. This is especially helpful for businesses that require employees to be on the phone for extended periods of time as it allows them to use a comfortable headset and microphone to make and receive calls, rather than holding a traditional phone handset for hours on end.
Moreover, desktop app softphones often come with a range of additional features that can improve productivity, such as call forwarding, voicemail, call waiting, and caller ID. They can also be customized to suit the unique needs of a business, and may even be white labeled to feature a business's branding.
#3. Web Browser Softphone App
A Web Browser Softphone App is a type of softphone that operates within a web browser. It allows users to make and receive calls, send messages, and access other communication features directly from their browser, without the need for additional hardware or software.
They are becoming increasingly popular due to their convenience and ease of use. A web browser softphone app can be accessed from any device with an internet connection, making it easy for users to stay connected while on the go. Loaded with a variety of features, such as call recording, call forwarding, and video conferencing, they are a versatile communication tool for individuals and businesses alike.
One of the key benefits of web sip client is their scalability. They can be easily deployed across an organization without the need for additional hardware, which can save businesses both time and money. Additionally, many Web Browser Softphone Apps such as Tragofone are customizable, allowing businesses to brand them with their own logos and colors.
Another benefit of Web Browser Softphone Apps is their compatibility with other communication systems. Many Web Browser Softphone Apps can be integrated with email, chat, and other communication tools, allowing for a seamless and unified communication experience.
Overall, web based sip client offer a range of benefits and are a valuable tool for businesses and individuals looking to stay connected and communicate more efficiently.
Features that put softphones in the spotlight
Softphone technology brings the traditional telephone experience to the next level, offering a range of innovative features that complement the standard capabilities. Some of the most notable features of Softphone include:
#1. Acquire a Secondary Telephone Line Without a SIM Card
Acquiring a virtual telephone line through a softphone offers numerous benefits. This allows you to receive calls from anywhere in the world and on any device, simply by dialing your virtual number. Once installed on a phone, this secondary line operates just like a regular phone number and can be easily redirected globally. This feature makes it effortless for business professionals and entrepreneurs to distinguish between their commercial and personal calls, all from the same device.
#2. Flexibility and Accessibility
The portability of a softphone allows you to answer calls on-the-go, freeing you from being tethered to your desk. Whether you're in a meeting or simply moving about the building, you can stay connected and be available to customers at all times. 
#3. Flexible Call Forwarding
With a softphone, you have the ability to forward incoming calls to an alternate number, making it possible to stay connected no matter where you are. This feature is particularly useful for businesses as it ensures that customers can always reach someone at the same number, providing a more streamlined and efficient communication experience.
#4. Call Hold
With a softphone, you have the ability to temporarily pause a call during a conversation and put it on hold. This feature can come in handy when handling customer calls, for instance, when you need to gather information and do not want the caller to overhear any confidential information. It ensures that only relevant information is shared and helps maintain the privacy of your business dealings.
#5. Routing calls
With call routing, softphone systems provide the ability to streamline the flow of incoming calls. Instead of having customers wait for their calls to be transferred between departments, the system can be programmed to automatically direct calls through an Interactive Voice Response (IVR). This allows for quick and efficient routing of calls, such as directing a customer's inquiry about an order to the appropriate order fulfillment team.
#6. Effortless tracking of call logs
A softphone system offers detailed call logs that provide insight into all incoming and outgoing calls. The log information includes the caller's information, date and time of the call, and the duration of the call, among other details. This feature is essential for monitoring productivity and keeping track of customer interactions, making it easier to return calls if needed.
#7. Integration of third-party tools 
With a softphone system, integration with third-party tools is possible, allowing for improved efficiency and effectiveness. The integration of CRM tools with softphone systems is particularly popular, as it can enhance productivity for sales teams through features such as click-to-call, automated call logging, and synchronized contact lists. 
#8. Pause and Resume Functionality
The softphone app offers a pause and resume feature, allowing you to temporarily halt incoming calls. This reduces interruptions and allows you to focus on completing one call before moving on to the next. This is especially helpful when you're already engaged in a call on your desk phone.
#9. Ease of Use with Click-to-Call
Softphone technology allows you to place and receive calls from your laptop or desktop computer with just a click of a button. The click-to-call feature can be accessed directly from a web browser, eliminating the need for dedicated hardware and reducing the cost of operating a call center. 
#10. High-quality microphone and speaker settings
With a softphone, users can customize the audio settings for their calls. This includes selecting the microphone and speaker to be used during a call, as well as adjusting volume levels and minimizing background noise. This ability to fine-tune audio settings enhances the clarity and audibility of your voice, eliminating any frustration caused by background noise interrupting the call.
#11. Receiving voicemails
Softphones offer the convenience of being reachable from virtually any location, but there may be times when you're unable to answer a call. In such cases, you can opt to have the call go to voicemail. The audio file will be sent to your mailbox and a transcript of the file is also available for your convenience. This way, you can quickly review the message and determine whether to respond promptly if it's an urgent matter or follow up at a later time.
#12. Caller ID
A softphone solution offers both incoming and outgoing caller identification. This allows the caller to be identified by their virtual number and name, enhancing the trust of clients. Incoming calls display the caller's information, enabling you to make informed decisions about answering or placing the call on hold.
This feature is particularly beneficial for businesses looking to increase call answer rates and reach a wider audience. By presenting a recognizable number and name, the likelihood of calls being answered increases, fostering a sense of trust with clients.
#13. Live chat messaging
With live chat, softphone systems allow for seamless, real-time communication and collaboration between team members. No more emailing back and forth to resolve issues, simply participate in a chat. Teams can organize into private or public chat channels based on projects, departments, skill sets, or any other criteria. The ability to switch from a chat message to an audio or video call, or vice versa, with just one click, adds an extra layer of convenience and efficiency.
Additionally, advanced softphone apps, such as Tragofone, offer additional collaboration features like file sharing, whiteboarding, user tagging, real-time push notifications, and more, to enhance the overall chat experience.
#14. Team status/presence
With a softphone system, your team will always be available for communication, but there may be times when someone wants to avoid interruptions. In such instances, they can adjust their status to reflect being offline, in a meeting, or away, eliminating the need to send a message and wait for a response.
This simple feature improves productivity and communication. For example, if you see that someone you want to reach is in a meeting, you can send an instant message instead of placing a call.
Endgame
In conclusion, softphones have become an essential communication tool in today's digital world. They provide flexibility, mobility, cost-effectiveness, and an array of features that make them a popular choice for businesses of all sizes. Web browser softphone apps and desktop softphone apps are two types of softphones that offer similar benefits, but they differ in terms of accessibility, compatibility, and features. Both types of softphones have their unique advantages and disadvantages, and businesses can choose one based on their specific needs.
When it comes to choosing the best softphone app in the market, Tragofone stands out as an excellent option. It offers a comprehensive set of features, including HD audio and video calls, call recording, voicemail, call forwarding, auto-provisioning, and white-labeling, among others.
Tragofone's web browser and desktop app softphones are user-friendly, reliable, and provide businesses with a flexible and scalable solution that can be customized to meet their communication needs. Its advanced security features, push notifications, and seamless integration with third-party applications make it an all-in-one solution for businesses seeking a robust softphone app. With Tragofone, businesses can enhance their communication and collaboration, improve their customer service, and achieve their goals efficiently.