Desktop Softphone App: How to Call a Phone from Computer?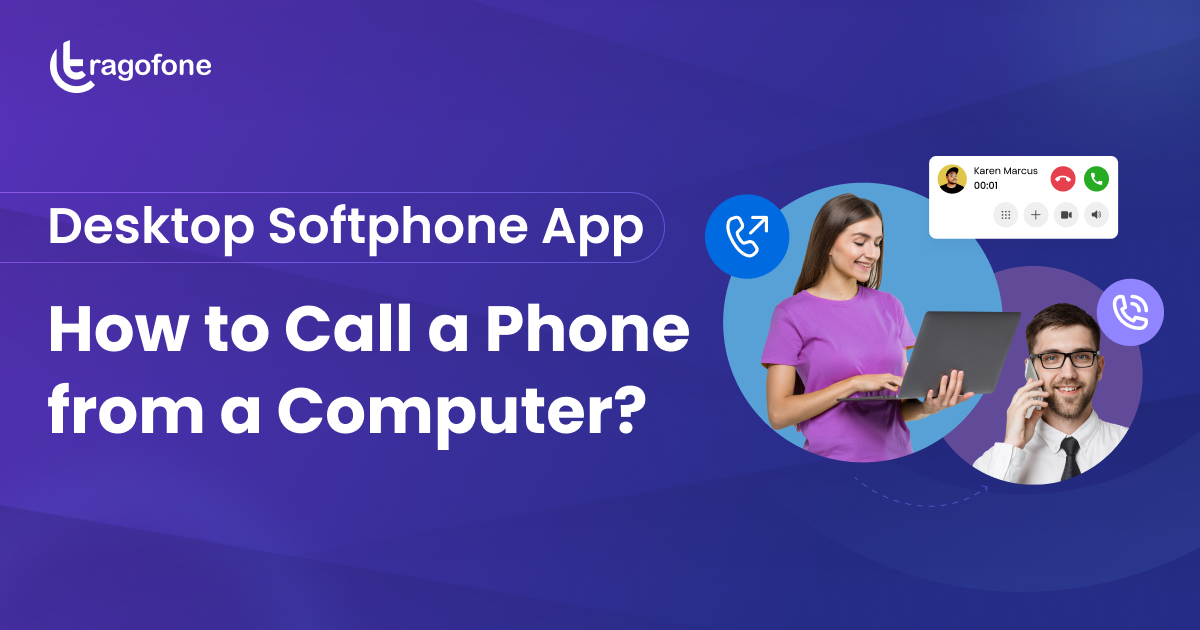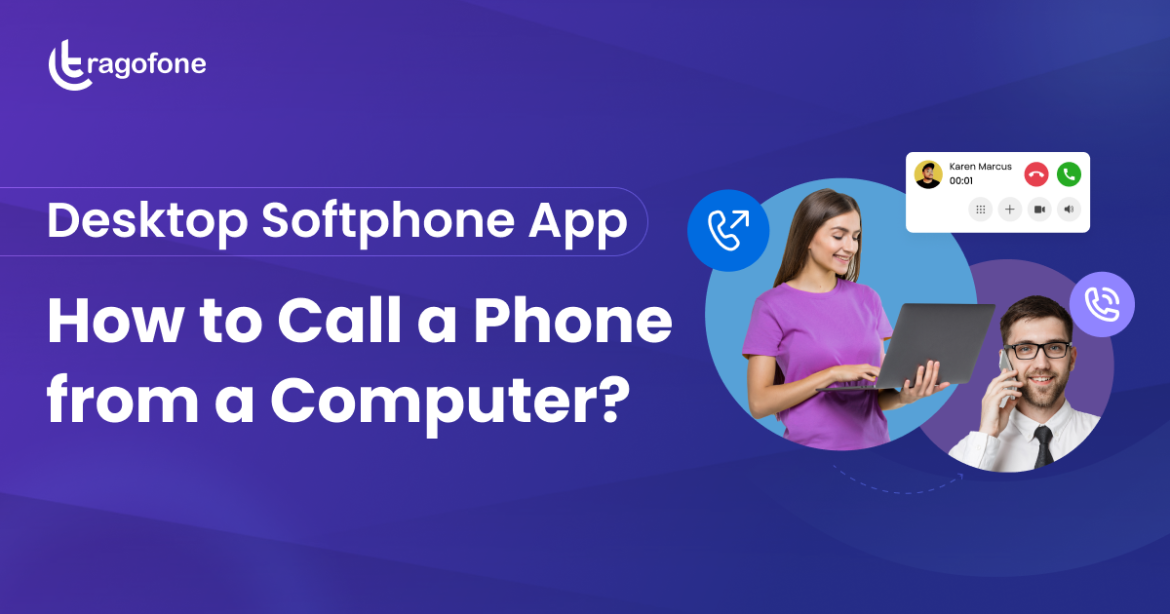 Business phone calls are no longer restricted to the desk. The importance of flexible communications solutions is growing as the world becomes increasingly virtual. VoIP (Voice over Internet Protocol) enabled desktop softphones apps are becoming an incredibly popular unified communication solution because of their versatility and affordability.  VoIP softphone apps can save businesses $ 1,727 per month on mobile and long-distance calls.
Besides, team members who work remotely and in blended environments do not want to be tied to a single location all day waiting for that important call. They want access to VoIP calling features like IVR, call routing, and automated outbound dialers wherever they are. These preference shifts and an Increasingly mobile and flexible working environment have led to a greater acceptance of computer softphones apps by businesses.
What is a Desktop Softphone?
A softphone is a software application that businesses use to make phone calls over the internet via their computer or smartphone. PC softphones refer to the computers that are configured for calling.
The Softphone has all the features of a desk phone, plus advanced features such as call transfer and call whispering. Besides allowing you to make calls from your computer, they also allow you to travel with your work phone. 
You can use your business phone on a laptop, tablet, or smartphone to take advantage of its robust features and seamless connection. It simplifies mobile work because you can continue working on your portable device.
How softphone allows call from a computer?
A softphone system uses VoIP technology. To be able to use them, you will need:
Wireless or high-speed broadband Internet connection

Router or modem

A device that has access to the Internet

Speaker and microphone
 Just download your VoIP provider's softphone app onto the devices of your choice, and sign in with your account credentials. Credentials for the account are provided by the business. You will need to follow the basic instructions for setup. When the installation and configuration have been completed, you can make the call from computer using Softphone.
The top 15 features of softphones
Softphones empower businesses with all the technical tools required for supporting modern workplaces. Here is a quick sneak peek into the key features that are usually offered by a softphone application.
Call transfer

Hold

Drag & drop files

Desktop softphone

& mobile sync

Call performance analytics & reporting

Real-time call log

Directory dialing

Quick search

Pop-up incoming call push notification

Real-time status of user's presence

Caller ID
Additionally, softphones offer enhanced security features such as end-to-end encryption, user authentication, etc. to guarantee secure business communication.
It is important to keep in mind that softphones can only connect to other devices if both the caller and the receiver have a minimum of one codec in common and both have the same Voice over IP protocols.
7 Organizational benefits of using desktop softphones 
Desktop softphones not only enhance the professional image of a company but also serve as a useful tool for employees. In addition to offering flexibility and convenience to your employees, it also offers a plethora of benefits to your employees.
Simplifies making calls from a computer  
With a computer, you can make and receive business calls with just a click. Using a computer to make a phone call eliminates the hassle of managing multiple devices for business communication. The intuitive interface of computer softphones makes managing calls easier for employees.
Multiple features support control of calls
Softphones provide advanced features such as call switching, call transfer, voicemail, and more to enhance your business communication. Employees have more control over certain call features such as muting, holding, and calling parking. Moreover, employees can switch between devices seamlessly during the call, from computer to phone. 
Softphone utilizes VoIP technology to execute calls. As a result, superior audio quality is maintained even if calls are made through computer softphones.
Facilitates call recording
Call recording serves as a valuable resource for businesses. It not only helps in keeping track of conversations but also can be used as training materials. Automated recording of phone conversations is made possible by desktop softphones, which can be stored and listened to whenever needed. Employees can also look back at the recordings when they need to revise or review any important pointers from a meeting.
Introduces real-time text-to-speech improving communication
Text-to-speech allows employees to communicate without ever picking up their handsets or softphones. The technology offers employees the possibility of receiving both personalized and default messages. This can be extremely helpful if someone needs to communicate while taking part in another meeting or a call. 
Offers the option of intervening a real-time voice messages 
If an employee is busy taking a call, the caller may leave a voice message that the employee can listen to later. But what happens if the employee becomes available during the recording of the voice message?  Softphones allow users to listen to the caller's voice message and accept the call in real time.
Boosts information and collaboration
PC softphones offer comprehensive collaboration aids for businesses. It can be used to send, receive, forward or print faxes. It also provides the option of SMS texting from computers to individuals as well as groups. One-click online meetings and video conferencing are essential collaboration features for businesses. A desktop softphone also allows sharing information through file sharing and group discussions.
Why do enterprises need softphones?
Using a softphone for business is not just about facilitating calls through a computer. It supports remote and hybrid work models with flexibility, mobility, and technological enhancements. 
Business communication has evolved beyond the capabilities of desktop phones, and they are no longer suitable for today's business needs. To upgrade their communication system, businesses are increasingly switching to softphones.
Below are a few examples of how PC softphones outperform desktop phones.
Easier contact management
Using a softphone, multiple users can access the same contact list. If you need someone's number, you can use the shared contact directory to quickly search for it.
Shows availability status
The softphone application displays the availability status of each member in real-time on its dashboard. Thus, it becomes easier to tell whether someone is online, busy, or away. This clarity of presence boosts productivity as well as helps employees to maintain a good work-life balance.
Facilitates instant messaging
Messaging is a great way to communicate when someone is already busy on a call or in an online meeting. The desktop softphone allows both personal and group instant text messaging. Some softphones may also offer media, documents, and voice messaging in real time.
When it comes to upgrading from desktop phones to PC softphones, video calling has become an integral part of the modern workplace. Not only does it reduce guesswork in communication, but it also gives users the flexibility to interact in the right way through the right medium. By using body language as well as voice, employees can communicate more effectively. For businesses to communicate effectively internally, video calling and conferencing have become a necessity.
With softphones, business communication no longer has to be limited to the office. A major advantage of softphones is their portability, which enables employees to work from anywhere and be mobile.
One of the best upgrades to softphones is voice mail. There is no need to worry about employees missing important calls. The system allows you to record an audio message that will be sent to a directed employee via a push notification on their mobile phone or via email on their PC softphone. 
Here are some more upgrades to softphones over desktop phones
Interactive interface 

Ease of adding/ removing users in a few clicks

Seamless integration with other business tools, especially CRM software

Option of further upgrading the system through SIP trunking or cloud integration

Centralized knowledge base
Future-proof your business with desktop softphones
Softphones can be a great solution in a BYOD (Bring your own device) work environment. With the help of softphone technology, users can place calls from their desktop or laptop using their PC or laptop, eliminating the need to carry around additional equipment with them. Thus, it leads to cost savings and other productivity benefits.  VoIP services will be superseded by desktop softphones in the near future, allowing seamless communication as well as increased flexibility. Tragofone is the ideal choice if you are interested in a reliable softphone application for your business. It comes with numerous features that give you leverage when updating your communication system. Furthermore, Tragofone offers the option to white label softphones, opening the door to new revenue streams.