The Ultimate Guide and Benefits of Network Handoff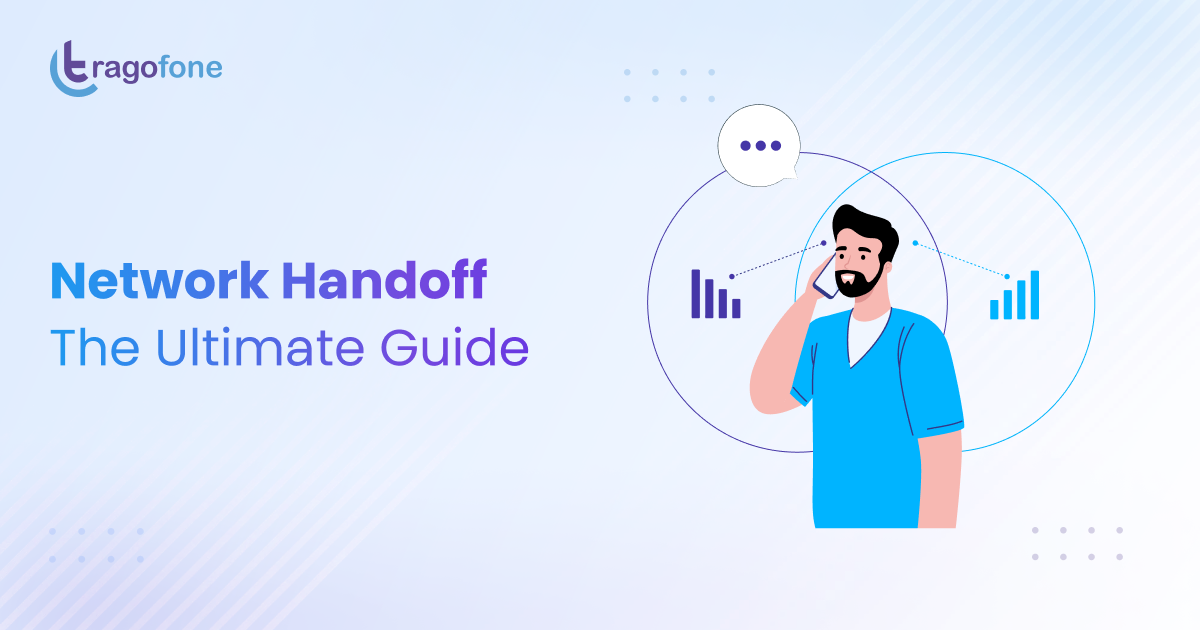 Network handoff is a critical feature offered by modern VoIP softphones that enables seamless transition of calls between different networks like WiFi and cellular data. It allows softphone users to start a call on WiFi in the office and continue the same call on a cellular network as they step out, without any call drops. 
This powerful capability brings true mobility and continuity to voice calls delivered through softphones. Users can freely move between locations without worrying about losing their active calls when the network switches. The handoff happens automatically in the background without user intervention.
From a technical standpoint, network handoff is made possible by advanced signaling protocols like SIP that can maintain and transition the call state as the user moves across networks. Softphones leverage intelligent handover mechanisms to transfer active media sessions from one network to another in a quick and smooth fashion. 
Sales representatives can start their daily standup on office WiFi and continue taking orders from clients as they drive around the city. Healthcare workers can consult with doctors at the hospital and then follow up with discharged patients at home without call drops. Field technicians can rely on softphones to always be available for customers needing urgent support. 
In a nutshell, for businesses it translates into improved productivity and customer satisfaction through persistent voice connectivity for their mobile employees. That's why this feature is considered so vital for VoIP softphones supporting a remote or field-based workforce.
How Network Handoff Works?
Network handoff in softphones is powered by advanced VoIP signaling protocols like SIP that can maintain and transition call state between different networks. Here's a quick primer on how this technology enables seamless handovers:
When a softphone initiates a call on WiFi, it sends an SIP INVITE message to the SIP proxy server to begin a session. This server maintains call state and other session details throughout the call. As the user moves out of WiFi range and cellular data kicks in, the softphone detects the change in network connectivity and sends a SIP REFER message to the server. 
This REFER indicates that the call must be transferred to the new cellular network. The SIP server uses the REFER to consult the handover server which manages the media handoff process. The handover server then provides information to migrate the media stream from WiFi to cellular network. With SIP signaling ensuring call continuity and servers coordinating the media transfer, the network switch happens smoothly without any glitches.
To make the handover process robust, the tragofone softphone is designed to monitor network quality metrics like packet loss, jitter, latency, etc. continuously. Based on predefined threshold values, the SIP stack triggers a handoff well before the existing network starts deteriorating. This ensures the transition occurs seamlessly without impairing call quality.
The handover mechanisms are also optimized to minimize the migration time when switching networks. Techniques like overlapping media flows are used wherein the new network's media flow starts before the old flow stops. This drastically reduces any perceived audio cutouts during the transition. The software is intelligent enough to choose the ideal time and approach for handoff depending on call type, network conditions, etc.
Benefits of Network Handoff
The ability to transition calls seamlessly between different networks and maintain persistent voice connectivity unlocks several important benefits for businesses using softphones:
#1. Enables True Mobility 
Network handoff enables real mobility by allowing users to make and receive calls anywhere anytime. Sales reps can take customer calls as they go from office to the field. Whether they are on WiFi or LTE, the call sticks with them. This makes staff continuously available and improves customer satisfaction.
#2. Ensures Call Continuity
Voice calls can continue uninterrupted even if one network fails or drops out of range. The handoff mechanisms kick in automatically to switch to an alternate network with no disruption. This capability is invaluable for mission-critical use cases. 
#3. Reduces Costs
Enterprises can reduce telecom costs by routing calls over WiFi whenever available. Network handoff automatically leverages the free WiFi data instead of relying on cellular networks when on office premises. This saves on expensive cellular data charges.
#4. Better User Experience
By preventing call failures during network transitions, handoff delivers more reliable connectivity. Users no longer have to worry about losing long conversations if they move away from a WiFi network. This peace of mind improves overall experience.
#5. Higher Productivity
Employees can be continuously productive on calls irrespective of location changes. A salesperson can start discussing deals on the road without stopping earlier conversations before leaving office. This drives higher productivity.
#6. Competitive Differentiation
For telecom companies, handoff is a value-adding feature that gives their softphones an edge over competitors. It shows leadership in mobility and enterprise-grade capabilities.
In summary, network handoff turbocharges the mobility promise of softphones. It allows unhindered calling capabilities for users on the move while reducing costs and improving business continuity. That's why this handoff feature is now considered a must-have for any advanced voice platform.
Challenges in Implementation
While network handoff delivers immense value, integrating this capability in softphones poses some key technical and operational challenges:
Maintaining Call State:

One major complexity is keeping call state and session data intact as the user moves across heterogeneous networks. The software needs to seamlessly transition SIP signaling and RTP media streams between the networks. 
Potential Quality Issues:

If not implemented properly, handoffs can result in choppy audio, lag, echoes or even call drops during network switch. Extensive testing is required to ensure optimal voice quality.
Signaling Complexity:

Sophisticated SIP signaling capabilities are needed to orchestrate the handovers and coordinate between endpoints, SIP servers, and media handover components.
Media Handling Complexity:

Seamlessly transitioning the media stream between different networks with no perceptible gaps is difficult.
Troubleshooting Difficulty:

Diagnosing handoff issues requires correlating signaling, media, and network layer logs across different components. This makes troubleshooting tricky.
Battery Drain:

Constantly monitoring network conditions and re-registering with SIP servers during handoffs can consume extra battery on mobile devices.
Operational Overhead

: Additional components like media handover servers and SIP proxies need to be deployed and managed by IT teams.
As vendors address these technology and operational challenges, the handoff experience keeps improving. However, overcoming these hurdles requires substantial design and testing investments. The complexity is worth it given the immense benefits this feature unlocks for enterprises and users.
Use Cases and Applications
Seamless network handoff enabled by softphones provides significant value in various mobility-centric business use cases:
#1. Healthcare
Doctors can consult with patients in the hospital on WiFi and follow up with them at home later using cellular data without interrupting the call. Nurses can coordinate patient care on the move.
#2. Sales
Sales reps can take customer calls on office WiFi and continue the conversation on cellular while driving to the client's office for a meeting.  
#3. Field Services
Technicians can start troubleshooting on a video call using the customer's WiFi and stay connected via cellular as they move around the premises.
#4. Retail
Store managers can use softphones to securely communicate with staff and HQ as they walk around different sections of the premises.
#5. Events
Event organizers can use softphones to coordinate with on-ground staff seamlessly from any location.
#6. Transportation
Cab drivers can rely on softphone apps to always be available for customer bookings and support calls on the go.
#7. Offices
Employees can take calls on their smartphones as they move between conference rooms, cafeterias, and other locations in the office building.
#8. Outdoor Work
Reporters, surveyors, and other outdoor workers can make calls from any environment without worrying about network changes.
Any workforce that's mobile or field-based can benefit enormously from the seamless connectivity enabled by softphones with robust network handoff features. Admins can better manage costs by policy-based preferences for WiFi usage over cellular when possible. 
Implementation best practices
Here are some key recommendations for administrators looking to deliver optimal network handoff capabilities through softphones:
Handoff Algorithm Selection:

Choose handover mechanisms like SIP REFER or re-INVITE depending on whether you need terminal-assisted or network-assisted handoffs. Also, consider mobility and call types.
Redundancy Planning:

Have redundant SIP proxy servers and media handover servers to avoid single points of failure. Perform regular failover testing.
Network Profiling:

Create network profiles reflecting different mobility scenarios like office-to-outdoor, indoor-to-indoor, etc., and configure handoff rules accordingly. 
Threshold Configuration:

Fine-tune metrics like RSSI signal strength, jitter buffer latency, etc. that trigger handoffs to minimize premature or delayed transitions.
Transition Testing:

Rigorously test handoffs between WiFi, cellular, and wired networks. Verify call quality and parameter continuity.
User Training:

Train users on any motion constraints during handoffs e.g. stopping carts momentarily to avoid Doppler effects.
Monitoring & Diagnostics:

Track handoff metrics like the number of successful transitions, failure reasons, audio quality, etc. to continuously improve.
With robust implementation best practices, the network transitions become smooth and transparent.
Tragofone's network handoff features
Tragofone offers industry-leading network handoff capabilities that deliver seamless mobility and call continuity across WiFi and cellular data networks. Their mobile and desktop softphones are engineered to provide robust, high-performance handoffs across heterogeneous networks. Here's an overview:
SIP Signaling:

Tragofone leverages standard SIP protocol interfaces like SIP REFER to maintain an active call state and orchestrate handoffs between networks.

Media Handover Server:

A dedicated media handover server manages the migration of RTP media streams from one interface to another during network transitions.

Configurable Rules:

Administrators can define rules mapping network conditions like signal strength to handoff behaviors providing granular control.

Optimized Handoff:

The solution is optimized to choose ideal handoff moments based on network QoS metrics to prevent call quality degradation. 

Mobility:

Users can seamlessly move across any environment without ever losing connectivity and productivity.

High Availability:

Redundant components eliminate single points of failure during handoffs.
Tragofone also provides mobile SDKs to embed these same robust handoff capabilities into enterprise mobile apps. Their technology powers reliable handoffs across networks ranging from congested 3G to high-speed 5G networks. This provides a key competitive edge.
Epilogue
The ability to smoothly transition calls across different networks unlocks tremendous value for softphones. Network handoff enables true mobility by allowing users to move across locations without any communication disruption. Calls initiated on WiFi can seamlessly switch to cellular networks as the user steps out of office. 
By preventing call failures during network changes, handoff delivers more reliable and persistent voice connectivity. This boosts productivity for mobile workers like field technicians, reporters, salespeople etc. who need on-the-go collaboration. It also improves customer satisfaction by keeping staff continuously available.
However, building robust handoff capabilities requires addressing complex challenges related to signaling, media handling and quality monitoring during network transitions. Advanced softphones like Tragofone utilize cutting-edge techniques like SIP REFER, redundant media servers, configurable handoff rules etc. to deliver seamless handoffs matching carrier-grade networks.
Tragofone incorporates industry-leading SIP signaling, media handling and network monitoring capabilities to enable transparent handoffs across heterogeneous networks. Purpose-built solutions like Tragofone allow building a truly mobile voice platform that can maximize the value of mobility and availability for business communication. Avail a free trial or request a demo today and discover how Tragofone can evolve your SIP capabilities.