WiFi VoIP Phones: Simplifying Business Communication System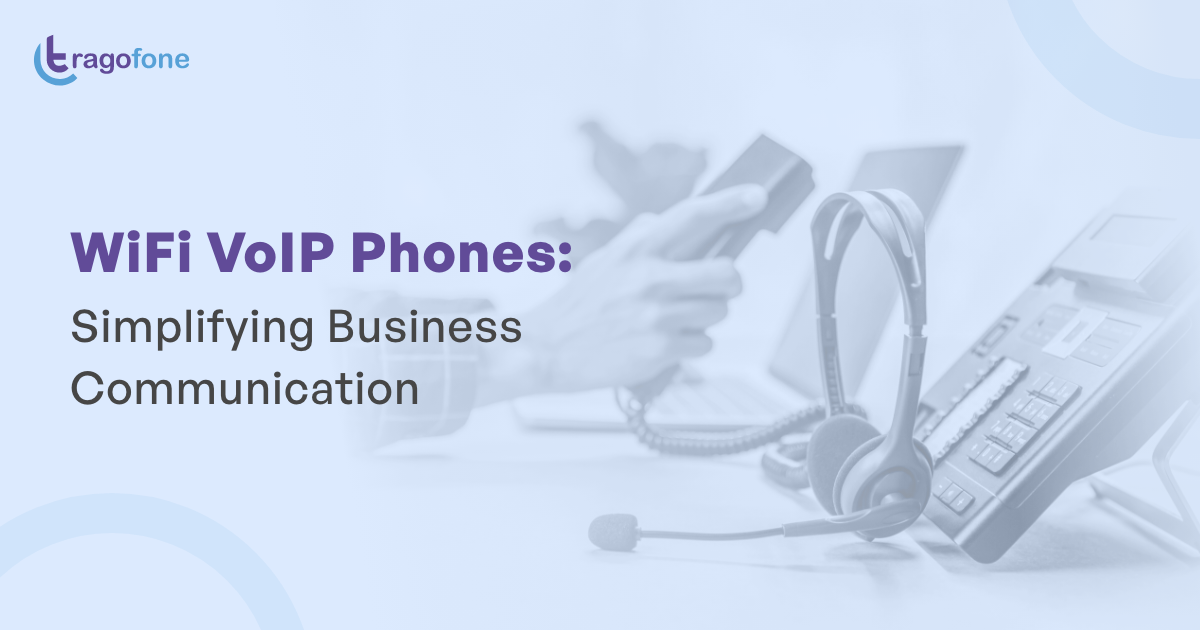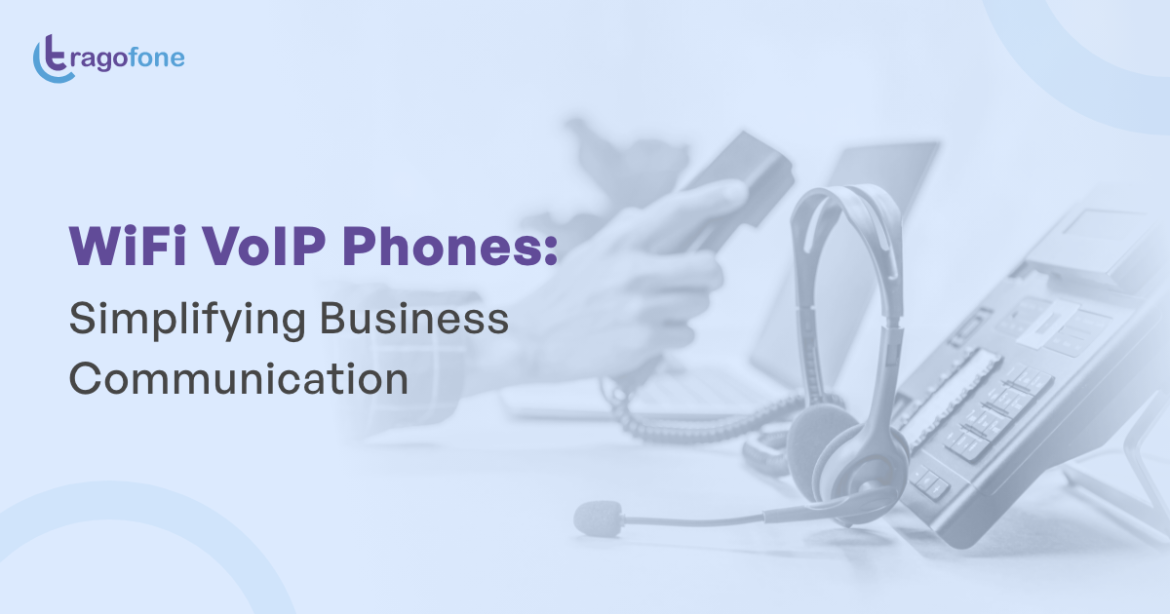 The future of technology is fascinating, and currently, we're in the midst of a technological revolution. In response to changing customer expectations, radically fluctuating demands, and the ongoing remote working transformation, business operations are rapidly evolving. According to Gartner, remote work and shifting workforce demographics will cause in-person meetings to account for just 25% of workplace meetings by 2024, down from 60% before the pandemic. It makes sense for businesses to carefully examine how they operate and how to continue to provide their customers with the best service possible. In the middle of all the turmoil, wifi VoIP phones are ecstatically rising in popularity.
On-premises phones have been the standard option for company business phone systems for many years. You can probably visualize a traditional deskphone with a tangle of wires and cables on a desk.
How PBX Phone Systems are Being Displaced by WiFi VoIP Business Phones
On-premises phones typically function via a Private Branch Exchange (PBX). It is simply a small telephone exchange designed just for your company's needs, equipped with complicated installation requirements such as central server systems, network carrier connections, and copper cables before even getting to the desk phones themselves. As you might expect, setting one up takes significant expenditures in hardware and infrastructure, as well as ongoing maintenance and direct involvement for any updates or expansions. In actuality, they can present a myriad of challenges for managing telephonic operations, particularly for an organization with limited resources.
So, how do wireless VoIP phones give you a competitive edge over conventional on-premise phones to address your operational issues more efficiently and decisively?
Softphones, like any other technological breakthrough, are intended to outperform the capabilities of conventional on-premises systems while simultaneously resolving many of the drawbacks of a physical PBX. With the aid of a VoIP provider, softphones for business use enable all of this online. VoIP codecs are used by the VoIP service provider to send audio signals to their intended recipient over the internet.
What are Softphones and how do they operate?
Instead of utilizing a traditional dial pad, calls are placed using desktop software, mobile apps, or with a WebRTC softphone application like Tragofone. Softphone technology sends voice packets to the desired recipient via the speaker and microphone capabilities of your device. Tragofone can assist businesses in enabling mobile communication for their workforce, assuring broad mobility, improved interoperability, and strong connectivity.
Softphones are intended to provide an alternative to your typical smartphone dialer. In principle, softphones are phone applications that transfer all the functionality of a deskphone for the office. They connect voice operations with your employees' daily workflow and processes because they operate via the Internet. Tragofone can seamlessly connect voice operations with your employees' daily workflow and processes because they operate via the Internet.
You can use your mobile phone to answer business calls without physically being present by using wifi and your mobile device to transform it into a wireless VoIP phone. New users may initially find this software-centric solution strange, but these wireless VoIP phone systems offer all the capabilities of a hard phone in addition to numerous time-saving features. Most VoIP phone systems will be more affordable—in the long and short terms—and they're also more flexible in terms of setup and updates.
Setting up a Wireless VoIP Phone System (Softphone)
Setting up a business phone system can be a time-consuming and overly painful process. The installation could be challenging, requiring engineers to enter your office and preventing your employees from calling throughout a protracted, disruptive procedure. With a wireless VoIP phone system, the entire procedure is seamless because it can be set up instantly and resides on your phone or desktop.
Following are the steps to set up a Softphone application on your device:
With your smartphone in hand, you're ready to begin.
Installing your VoIP app from your business phone service on your desktop or a mobile phone comes next. For instance, Tragofone offers the Tragofone App, which can be downloaded right to your desktop or smartphone.
The software is ready to use in a matter of minutes after you complete the setup process on your phone, so you can resume working almost immediately. With Tragofone's auto provisioning feature, you can set up the app and get to work in a matter of seconds.
Your phone and WiFi, or an internet connection are all you need to make your first business call. Also, check out the Tragofone app for Android and iOS.
Key features of business softphones like Tragofone 
A mobile softphone is already a well-known term in the corporate vocabulary thanks to the continual development of VoIP technology. Wireless VoIP phone systems enable organizations to simply and conveniently use VoIP and aid business' in terms of key commercial functionality. A mobile softphone is an ideal solution if you want to give your team additional mobility options or equip your workforce with collaboration capabilities that will help your business grow. Here are 5 key features of softphones that will elevate your business growth:
Carry your Business Extension in your Pocket
Wifi VoIP phones are intended to provide an alternative to your smartphone's normal dialer with a plethora of business VoIP capabilities. A mobile softphone that has access to the company phone system can convert your smartphone into a completely operational office extension and provide you the freedom to operate from any location.
For instance, all the functions of your office extension will be at your disposal if you have the Tragofone softphone application installed on your smartphone.  You can check voicemail, browse the company directory, dial extensions, switch to a business call and much more by touching the screen of your phone. Being away from the workplace no longer impacts your productivity.
Unified Communications with Consolidated Collaboration
Effective team collaboration depends on a variety of communication tools, yet having too many apps available for collaboration can lead to fragmented communications and subpar teamwork. Particularly for your remote team that has restricted access to company resources back at home, you need a unified communications platform. Voice capabilities, geographic adaptability, and a range of tools that enhance team communication can all be found in a reliable mobile softphone.
Ideal VoIP mobile phones function more than just making and receiving calls; they operate as a mobile central hub for communication and collaboration for your team. One platform like for all of your employees makes it simpler for them to connect with your customers and simplifies how they can communicate with one another. Conference call scheduling on the go, instant messaging during important conversations, and voicemail-to-email possibilities bring up a completely new realm of communication that conventional phones can not even begin to match. If you are looking for a product that could provide unified communications to a distributed workforce, Tragofone does the job effortlessly for you.
Personal Number Private, Business Number In-Use
Giving out your personal phone number for business purposes and making your home and mobile phone numbers available to customers may not be how you'd like to do business. A VoIP mobile softphone can eliminate all your concerns. Remote workers can use such an app to place and receive business calls on their smartphones without having to disclose their phone numbers.
Tragofone understands how cautious businesses are with regard to the security and privacy of their communications. Therefore, Tragofone's softphone application supports encryption that uses the Secure RTP (SRTP) and Transport Layer Security (TLS) protocols to make sure security threats can be identified beforehand. 
Flexibility, Management, and Ease of Use
The interactive user interface of wireless VoIP phones, which streamlines work and is simple enough for a new user to grasp in a matter of minutes, is one of their great attributes.
Wireless VoIP cell phones can effectively utilize the available internet bandwidth or WiFI, eliminating the requirement for a separate connection just for voice communications. For your business, not having a dedicated line constitutes significant cost savings. Additionally, without any complex touches, your employees can easily identify how to hold calls, transfer calls, send calls to voicemail, and more.
You also have the freedom and adaptability to leave the app after office hours thanks to Tragofone's push notifications feature. Even when they are not using the application, Tragofone makes sure they do not miss any crucial calls or messages.
Softphone applications can be swiftly updated via an internet connection. Additionally, you can integrate enterprise-level Wireless VoIP business phones with your CRM to create comprehensive customer profiles, enhance customer service, and boost workforce productivity.
Economical & Cost-Effective
Softphones offer significant cost savings. They have lower installation costs than on-premises systems, and rolling monthly fees are clearly stated. A softphone eliminates the need for pricey hardware and installation expenses. Additionally, you don't have to spend any money on upkeep or updates since a simple software update takes care of everything.
With Tragofone, you can use the Internet to route your free office calls to smartphones, which means no more phone bills or workstation setup fees. This implies that you can substantially decrease your monthly communication costs by a huge margin!
When you add up everything mentioned above, you can see that softphone applications like Tragofone can save your business a considerable sum of money and time.
VoIP's Increasing Adoption and Upcoming Market Trends
Over the past 20 years, the global VoIP market has grown at an exponential rate. The industry is showing no signs of slowing down thanks to ongoing technological innovations and commercial usage. The growth of remote working will drive the VoIP market over the next several years. In fact, in terms of usage, market share, and revenue, it appears to be progressing faster than ever.
Additional advancements in allied technologies, like 5G, AI, UC, WebRTC, and other technologies, are expected to spur significant growth in the VoIP industry.
5G: The New Norm
The VoIP market will expand as a result of the significant increase in bandwidth speed that 5G will provide. Mobile phone users will have access to what is akin to a fiber-optic internet connection thanks to the integration of 5G and VoIP. This will guarantee that VoIP is commercially feasible on a large scale.
AI & ML join forces for VoIP
Machine learning and artificial intelligence are gathering steam in the world of wifi VoIP softphones. Businesses will be able to study how their customers act thanks to AI pattern recognition. With the aid of machine learning, AI will assist in understanding customer behavior and giving them quality service.
IoT meets VoIP
VoIP will be essential to the levels of IoT data collection and transmission as this technology develops. VoIP and IoT have the potential to completely alter how businesses operate. All endpoints will be met by wifi VoIP systems with IoT capabilities, eliminating compatibility and connectivity problems.
VoIP and WebRTC fused 
Having a WebRTC platform alongside your VoIP platform can help you run things more efficiently. You can quickly change the way you manage communications in your business. It becomes an even more viable and user-friendly business communication solution for remote workers with the help of webRTC softphones like Tragofone.
UC and VoIP speak volumes
VoIP will be used by Unified Communications (UC) to deliver premium integrated communication solutions. This covers data sharing, screen sharing, web and video conferencing, and content sharing. The rise of Mobile UC is irrevocable.
Softphones, decoded
Fluid communication and seamless connectivity are essential in a society where time is money. There is no doubt that softphones are a fantastic addition to any VoIP phone system. The use of a softphone in conjunction with your VoIP solution is certain to fulfill the needs of any organization, whether you're interested in the benefits and features or the cost savings. Therefore, adopting contemporary communication techniques, such as wifi mobile VoIP softphones, over conventional communication systems is in the best interests of businesses, employees, and customers. Learn how Tragofone is expanding the realm of horizons for business communications. Request a demo or sign up for a free trial to explore and experience Tragofone now.