How to Ace Virtual Team Communication by VoIP Softphone App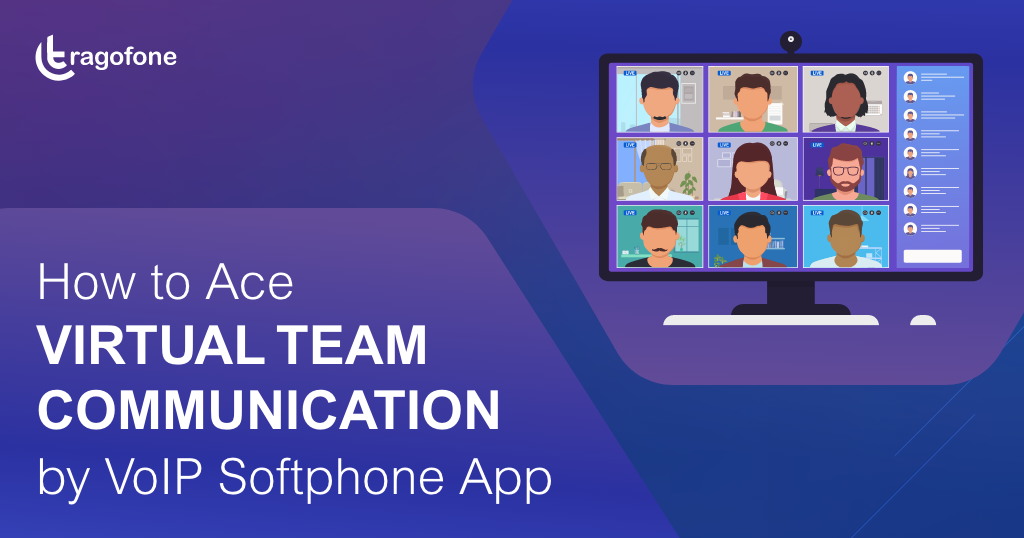 Trello for example had 70% of its global staff working remotely back in 2018, and so did 100% of employees of Buffer. However, though a sizable global population of workers believes they can accomplish their jobs more efficiently, team communication between these virtual teams can often be a challenge.
Taking cognizance of the events that unfolded nearly 64% of organizations globally made a shift to virtual teamwork permanently. Though the pandemic may have accelerated the remote work and virtual team culture, many companies had already adapted to the virtual team and remote work policy way before.
Some of the most common virtual team communication challenges are:
Juggling between multiple channels of team communication
Lack of in-person interaction
Inability to walk up to a peer's desk to resolve a doubt
No collaboration on a project
Staying connected in a virtual environment often means juggling between various apps, delays in team communication, missed deadlines, and more. So, what can an organization do to ensure seamless team communication among the members of its virtual team? Let's begin with understanding:
Meaning of virtual team communication
Virtual team
Challenges of virtual teams
Ways to improve virtual team communication through VoIP app
Understanding Virtual Team Communication
When people located in different locations communicate with each other over an audio or video call, chat, message, or email is referred to as virtual team communication. Today most organizations have remote teams and communicate with each other with the help of various team communication apps or tools.
#1. Video conference tools
One of the most sought after and a valuable virtual team communication tools, video conference enables organizations to conduct live meetings by sending audio and video between two endpoints. This is the closest one can get to an in-person meeting experience.
#2. Team chat apps
All of us use chat apps like WhatsApp or Telegram both in our personal as well as professional life. These apps have become an indispensable part of our day-to-day life. One can send an instant message to a colleague using these apps, a fitting option to ask questions and engage in friendly office banter.
#3. Project management platforms
Software such as Trello, Google drive, team workspace, and many others help organize, delegate, and manage all tasks related to any ongoing projects.
#4. Business VoIP Softphones
VoIP phone system and especially softphones are a boon for virtual teams and organizations alike. These are software that enables employees to make and receive calls, exchange messages, video conference, and share files and data over the internet.
The icing on the cake, it does not require additional hardware employees can connect to the office phone system using their computer or mobile. Employees do not need to use their personal numbers for business matters and organizations don't have to invest in physical infrastructure.
#5. Email
A time-tested and most reliable tool in the virtual communication tech stack.
Effective virtual communication becomes even more important among virtual team members as it directly impacts productivity. When team members are able to communicate well, the response time is quick, which translates to meeting timelines, efficient utilization of time and resources, better customer relations, and higher productivity. Ineffective communication on the other hand leads to missed deadlines, and in many cases loss of business too.
Understanding Virtual Teams
The term "virtual team" refers to a group of people working on a specific project within the same organization or in some cases may belong to different organizations.  Members of the same team may report to different managers or the same manager as well. However, what makes any team virtual is the fact that they do not work at the same physical location or office.
They may be spread out across different offices, different cities, or countries, and in different time zones. More and more organizations are moving to remote work with virtual teams (employees working from home), despite having a central office space.
Challenges in 'Virtual Team Communication'
#1. Employees working in different time zones
Team members working in different time zones can be one of the biggest challenges when it comes to virtual team communication and lead to a lot of confusion. The problem can worsen if your employees are operating in disparate time zones like America and India leaving them with a small-time window for team communication.
#2. Inability to assess body language
Virtual communication channels also involve many non-verbal modes of communication such as instant messaging, emails, voicemail, etc. Even in verbal communication like audio calls you can't physically see the person on the other side of the call.
When two or more people interact with each other in person they get an opportunity to analyze each other's body language. This very important factor gets totally lost in virtual team communication.  It is difficult to assess the urgency or the curiosity behind the sender's message. At times this absence of emotion when communicating can translate to a total loss of interest among employees.
#3. A diluted and dull work culture
When peers meet each other on a day-to-day basis they connect on many levels. It fosters a friendly work environment that positively impacts employee engagement, productivity, and ultimately overall performance. Regular pep talks, motivational talks, and constructive feedback are a given. Problems can be resolved in real-time.
However, none of this is possible in a virtual setting or at least the frequency is reduced. The friendly work culture somehow gets diluted as all employees are working in isolation. There is a famous saying, 'out of sight is out of mind'. With virtual teams not meeting daily, employees fail to connect with each other freely even for work.
#4. Too many distractions
One may experience many distractions in offices such as background noise of someone chatting, discussions and meetings, coffee breaks, and more. However, most discussions are work-related and one does not tend to lose focus. Remote work requires a lot of discipline.
A home is full of distractions such as kids, pets, answering the door for your domestic help, Amazon, and other online deliveries. These small breaks break the continuity of work, and it takes substantial time to get back on track. Since, the boundary between home and office blurs, employees are unable to define their personal and office time, working at irregular timings and delivering at odd hours.
#5. Misleading and confusing
As an organization, you have identified an array of communication tools, one for video calls, another app for instant messaging, a tool for emails, and whatnot. You asked your employees to set up all these communication tools on their devices. However, all these apps might not be compatible on everyone's device, adding to it the hassle of juggling between multiple app platforms of team communication. With everyone not having all the tools, and the absence of proper guidelines messages are going haywire. They are not being communicated to the right person at the right time leading to a lot of confusion.
#6. Feeling of being left out
Humans by nature are social animals. They crave human interaction, in-person meetings, and building relationships with colleagues. A lot of good work and collaboration at work is often an outcome of the personal rapport co-workers and teammates share. Working from home does not give an opportunity to people to interact with each other. It is natural for employees to feel isolated, lonely, and left out.
Any communication is strictly related to work, giving employees no room to engage in friendly coffee break chats. With nothing else to connect on except work can seem overwhelming resulting in reduced effort and loss of interest. This somewhere impacts team productivity.
Measures to Improve Virtual Team Communication
The evolvement and advancement of telecommunications technology have paved the way for a seamless and effective way of virtual team communication. However, one must understand that technology if not implemented and used properly can miserably fail. The performance of an organization is not just solely dependent on technology, the way people use this technology makes all the difference. So, what is it that organizations must do to improve virtual team communication? Let's find out.
#1. Identify and clearly define channels of communication
Today technology has afforded enterprises a plethora of tech tools/platforms for collaborating with both internal and external parties. However, too many options to choose from can be overwhelming. Narrowing down your options and choosing an appropriate tool for each communication channel and clearly communicating the same to your virtual team are extremely important.
A messaging tool like WhatsApp may be ideal for a team to stay connected throughout the day. However, a video calling tool that allows file and information sharing will be more suitable when a group of people is say working on a client presentation.
#2. Take into account different time zones
If you are an organization with employees or clients based in different time zones, you have to be sensitive towards the timing of sending any email or message or even scheduling calls.
Ideally, all communication exchanges should happen to keep in mind the working hours of all the people in the team. Even extreme time zones like the U.S and India have some hours of overlap. Schedule video or audio calls using your business VoIP phones such that it works for you and your colleague in a different time zone.
#3. Crystal clear communication
The lack of in-person meetings can only be compensated by keeping your team communication crystal clear. In-person meetings enable the parties involved to gauge what a person is trying to say by observing with their body language which is not the case in virtual team communication. Therefore, communicating your message be it by email or instant message should include every little detail. For example, if you are sharing an email regarding the deadlines for a project make sure to mention the time zone as well.
Dear Xyz,
The balance sheet analysis has to be shared by you and ABC on my email ID (mno@gmail.com) by 25th April 2022 12:00 pm IST
Regards,
#4. A well-defined and friendly work culture
More and more employees today are looking to work with companies that have an open and friendly culture, and one that nurtures an employee's individual growth and development. A well-defined and friendly culture has become important enough for job seekers to even let go of a higher salary package. While maintaining a friendly and cohesive culture may seem impossible in a remote work environment, technology and a little extra effort can truly make it happen.
Frequently plan fun@work activities, virtual games, lunches, and festival celebrations by leveraging video conferencing tools. With features such as screen and file sharing, hosting interactive events is now easy. Messaging platforms and chat groups can also be leveraged to encourage light and friendly conversations among teammates.
#5. Engage in video calls as much as possible
Video calls are the nearest tool to replace in-person meetings. Remote work leads to negative emotions like loneliness, isolation, and demotivation all of which can wreak havoc on quality and productivity. Using video conferencing instead of phone calls can be a good measure to avoid such a situation.
A good practice could be a daily team morning call on the video to start the day and plan who will work on what. Seeing your peers every day on a call helps you feel connected with them as it would in a normal working scenario.
#6. Frequency of communication cannot be a measure of performance
Most people are active online these days, however, most people have different behaviors online and offline. Some people are more comfortable communicating online and some are not.
There may be team members who do not participate actively in virtual meetings or activities, they prefer to silently observe. Some are prompt in replying to messages on chat groups others are not. Online communication behavior cannot be a measure of performance, it always should be the quality of work.
#7. Clearly communicate how your team can reach you
In an office setting subordinates can walk up to their supervisors or managers' desks in case they need to get some document signed, seek approval or clarify doubts if stuck somewhere. Sadly, this is not possible with a virtual team. All managers and team members should clearly list their contact details (phone number and email-id), times when they can be contacted, and their preferred channel of communication.
Enterprises must ensure every team has this contact details list of its team members and that the same is made available to each and every team member.  Another way is to make it compulsory for team members to leave their contact details in the status of the team communication app being used for an office.
Empower Your Team with the Best Team Communication App
A team that communicates well performs well. Today sophisticated business communication systems have afforded seamless communication between remote team members. It is time that organizations equip their teams with the right communication tech stack like VoIP business softphone for effective and productive virtual team communication.