What is Video Telephony and How it Helps Businesses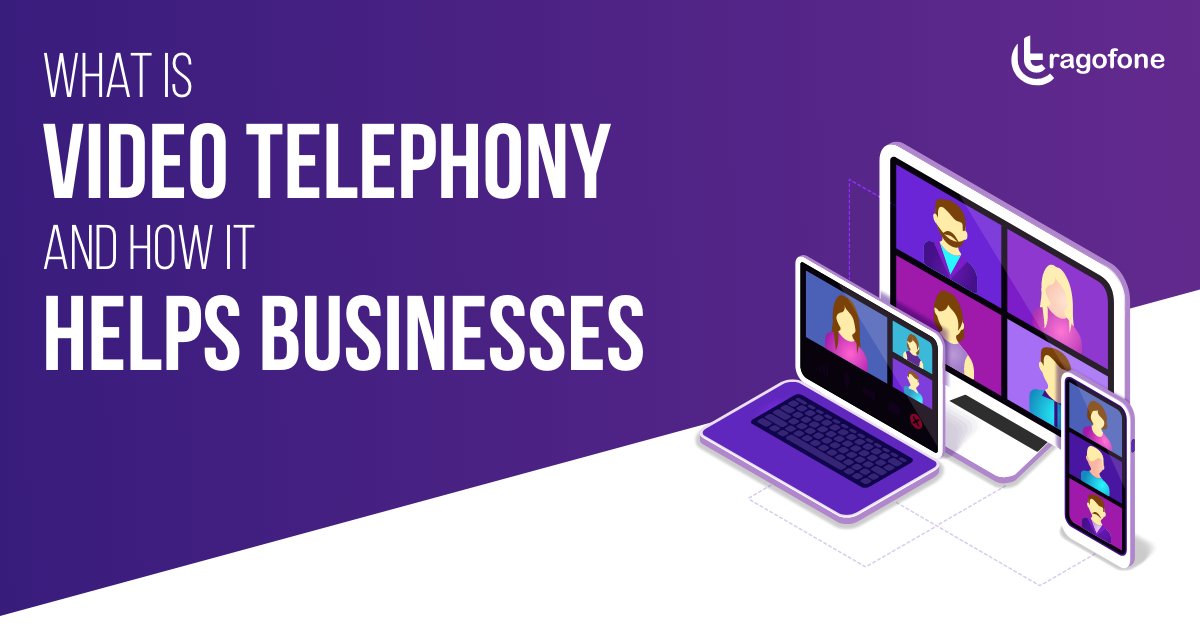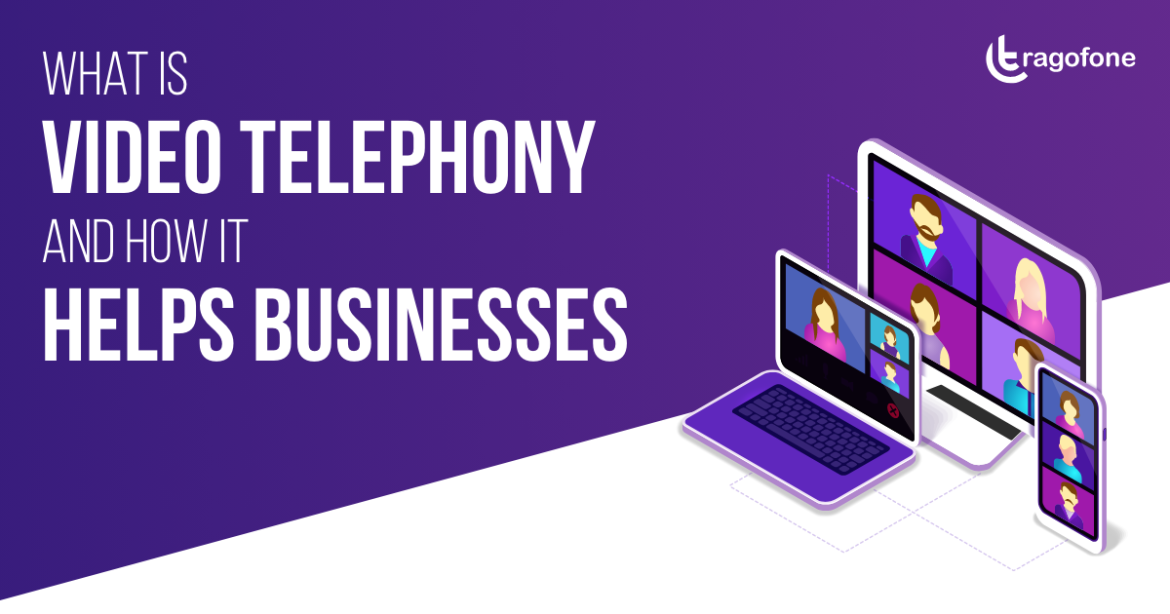 The future of work is leaning more towards a 'remote' and 'hybrid' format thanks to a more digitized and connected world. The demand for next-gen collaboration tools that cater to the changing communication needs of businesses has sky-rocketed. The global video conferencing market is growing at a phenomenal pace. Reports suggest a CAGR of 12.1% from 2018 to 2023. The video conferencing market is estimated to be valued at a whopping $13.82 billion by 2023.
Access to technically advanced and highly sophisticated mobile devices, shorter attention spans, visually engaging content, and an unending appetite to consume video in any format have been the key drivers behind this trend. Videotelephony emerged as a clear winner to connect when sitting with your co-workers in the same room was no longer an option during the pandemic. All these factors came together and led to exploding demand for hassle-free video conferencing that enables users to connect from any device with the click of a button. These trends have set the bar high for technology providers to match user expectations of easy-to-use, lightweight software, and cloud-enabled applications.
Video Conferencing vs Video Telephony
The way enterprises operate today requires solutions that are user-friendly, available at the click of a button, multi-device (laptop/desktop/tablet/smartphone) friendly, and one that can be easily integrated with the day-to-day workflow. This is where video telephony comes in, what differentiates video telephony from group videoconferencing is the way it works. Let's understand both the technologies and how they differ. 
You would have often heard of corporate events where they book a hotel room that has video-conferencing infrastructure. Offices have dedicated meeting rooms, with a complete set-up in place with cameras and other high-end equipment to conduct video conferences. When we use the term 'video conferencing' it implies a scenario where participants congregate in a specially equipped video conference room at a time scheduled well in advance. There is a huge expense involved in building a group video conferencing environment, with special attention on the microphone and speaker placement, lighting, camera locations, etc., precisely the reason why not all conference rooms are outfitted with video conferencing infrastructure.
A majority of video conferences are still done using ISDN which is billed per-minute basis, which means the more an organization uses ISDN video conferencing, the more it costs. Video conferencing is not a financially viable option, neither does it offer the flexibility and ease of use benefits that are important more so in today's hybrid and remote work environment. 
The delivery and functioning of video telephony is a complete departure from the way video conferencing works. It is user-friendly, available on-demand, cost-effective when compared to video conferencing, and is as easy as placing a phone call. The video devices are tied to the hosted PBX like a telephone handset is. Videotelephony revolves around a user's  individual workspace. The video is displayed on an individual's computer screen, or on a video-enabled mobile phone or tablet. The technology is designed in a way that people can use it without any assistance from technicians to place video calls.
How Video Telephony works
The users need to dial an extension, just like dialing any office telephone. The SIP servers in the network cloud translate the digits dialed to an IP address and the audio and video are routed to the called party's video device.
Videotelephony works on a hosted PBX, providing desktop video device users access to all the call control features they are familiar with for audio calls including video hold, video transfer, video mute, and multiparty conference.
Being integrated into the voice telephony infrastructure and network, placing a video call using video telephony is as easy and reliable as making a phone call.
Equipment Required for  Video Telephony 
As we said, video telephony does not require an elaborate infrastructure or technical assistance, or expertise, it runs on a user's personal device. But in order to do a video call, you do need a basic setup. You will need a device (computer or smartphone or tablet) on which you can install the software to make and receive video calls, a computer with an in-built camera or a web-cam, video conferencing software/app,  operating system, and browser to support the software, and high-speed internet connection with good bandwidth.  Accessories such as a microphone, headphones or earphones, etc.
#1. Device for calling
A smartphone both iOS and Android is compatible with videotelephony. A computer with a built-in webcam or an add-on webcam also works. Both Windows and Mac OS are compatible with video telephony.
#2. Browsers
Most browsers such as Google Chrome, Mozilla Firefox, Safari, and Microsoft Edge work for video telephony systems.
#3. Bandwidth
A high-speed internet connection with good bandwidth is the most important ingredient for good quality video telephony. Unstable data stream and connection speed may result in the call getting dropped again and again. It can also impact video quality and deter the user from file sharing, screen sharing, etc. during the call. Make sure you have a stable, smooth, and predictable data stream during video calls to ensure good video quality.
The Evolution of Video Telephony
The 1980s and early 1990s
1980s: Video conferencing gained popularity with the introduction of Compression Labs systems.
1990s:  The 90s saw major breakthroughs and advancements in IP (internet protocol) based technology field. The internet with high bandwidth, and video compression enabled people to collaborate using desktop machines. The imagery on video calls was at par with the television image quality of the time. Today, when we look back at the 90's image quality they look quite blurred, but back then they made quite a mark.
Late 1990s and early 2000s
1996: NetMeeting by Microsoft was launched,  the first online conference application by the company, which was later replaced by Office Live Meetings. Then came powerful video codecs, high-speed internet broadband, and ISDN, making video telephony a viable and practical solution for businesses to collaborate with employees and clients spread across the globe.
2003 to 2006:  LifeSize Communications introduced HD (high-definition) video systems in the Interop trade show in Las Vegas, with a frame rate of 30 frames per second. Skype entered the market with a free video calling software, making free video calling worldwide a reality. In 2004, Cisco introduced 'Call Manager', followed by the first 'telepresence system' in 2006.
2007 till date: In 2007 Apple released its first iPhone followed by iPhone 4 in 2010. It was the first video-enabled mobile phone, which completely changed the world of telephony and the mobile handset market of course.  Video communications changed for the good and there has been no looking back since. High-definition video calls are the norm these days, with popular video telephony platforms running on the internet rather than a traditional landline phone network. WhatsApp, Teams, Google Meet, the list is endless. Enterprise-grade video conferencing software like Tragofone that runs on smartphones is an obvious choice for enterprises.
Relevance of Video Telephony in Business Communications
Higher engagement than audio telephony
Video calls bring in a human aspect, people can see the face behind the voice which makes participants feel more connected. This is more relevant now when most of us are working in isolation. A lot can be conveyed through the eye, physical gesture, body language which is missing when talking on an audio call.
Better efficiency and productivity
With most teams working remotely, companies have daily video calls to start the day and discuss the plan for the day. All other client meetings and internal team meetings happen on video calls too. This eliminates the travel time of daily commute to the office or suppliers or clients. Think of it otherwise, you may end up wasting hours on the road traveling just for a one or two-hour meeting.  By connecting on a video call, one can utilize the travel time saved on more important tasks and be more efficient.
Better communication medium
Visuals always make a better impact and we as humans better recall what we see rather than what we hear.  It is highly likely for participants to remember points and agendas discussed over a video call rather than those discussed over a regular phone call. Besides modern video telephony, it also enables users to share screens, files, and go through documents one by one which is not possible on an audio call. All of these factors make video communication a better medium over audio calls.
Better participation in meetings
At times, matching the schedule of all stakeholders and getting them together in one room for a face-to-face meeting can be tricky. A video call gives participants better flexibility, people sitting in different time zones too can attend the meeting. Most software enables recording the meeting, to make it available for people who could not make it to the meeting to catch up on the discussion.
Optimum utilization of time
Most video meetings, especially those which involve people calling in from various locations, have a pre-defined start and end time. People are cognizant of the fact that time is limited, which leads to less idle conversation and more productive work during the allocated time. Attendees stick to the main agenda because of time limitations.
Helps foster customer relationships 
Connecting face-to-face always helps form deeper and meaningful connections. Video calls bring in the human aspect and add a personal touch to one-to-one interactions, which people are craving most enabling businesses to foster closer relationships with clients and customers.
Enables collaboration among internal teams
Workplaces have changed. Most companies have a mix of full-time employees, freelancers, contract workers, consultants, etc. Working with a team that is geographically dispersed is the norm these days. The ability to attend video calls on a device of choice, anytime, anywhere, regularly, or as and when needed is now possible, thanks to video telephony. It has made seamless collaboration with a mixed workforce a reality.
Video Telephony and the Digital World
Videotelephony has become a lifeline in today's digital environment. The benefits for  employees are beyond just boosting their productivity. Regardless of the distance they can work on projects together in real-time, participate in discussions using the messaging/chat features without interrupting the speaker, record calls for future reference, and a lot more.  The modern multi-device compatible video telephony tools enable users to switch devices during a call without disconnecting, help cancel out any background noise, and make sure there is no disruption whatsoever during a meeting. And, this is just the beginning, there is still a lot to be explored and innovate in the world of video telephony.
Closing thoughts
Videotelephony solutions are fundamentally changing the face of business in areas such as customer engagement, the education sector, BFSI (Banking and Financial Services and Insurance), talent acquisition, healthcare, hospitality, and more. However, there is a huge potential that largely remains untapped. With hybrid and remote work culture being ingrained in our day-to-day life video telephony is the best way forward to collaborate and effectively communicate.