5 Things You Should Be Mindful Of When Choosing A Business Phone System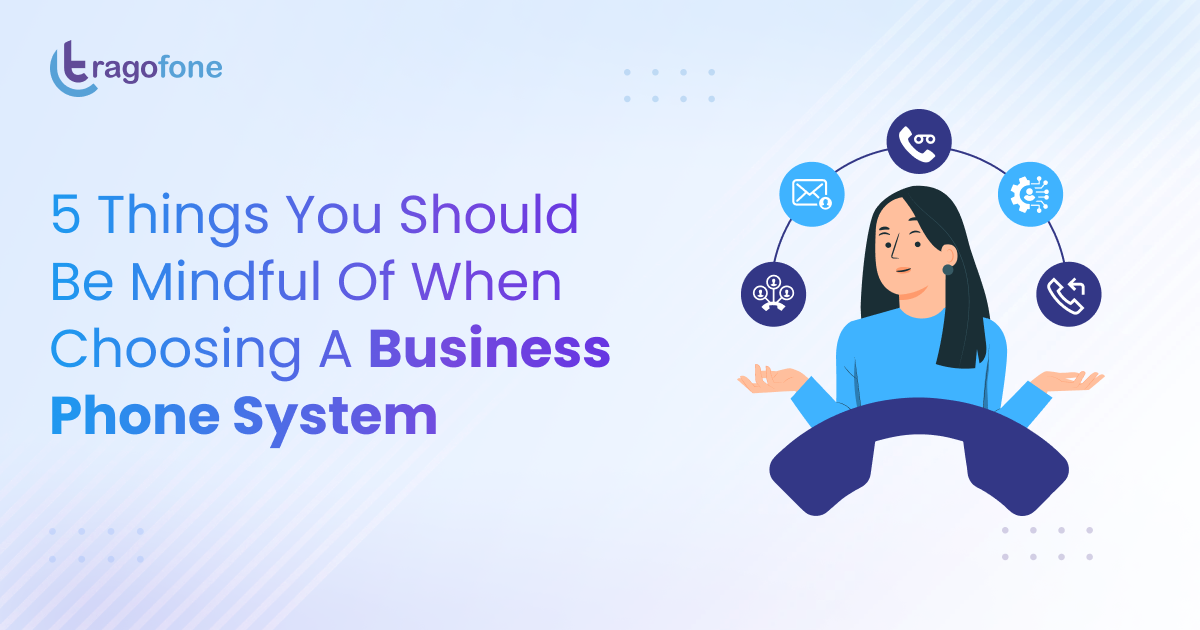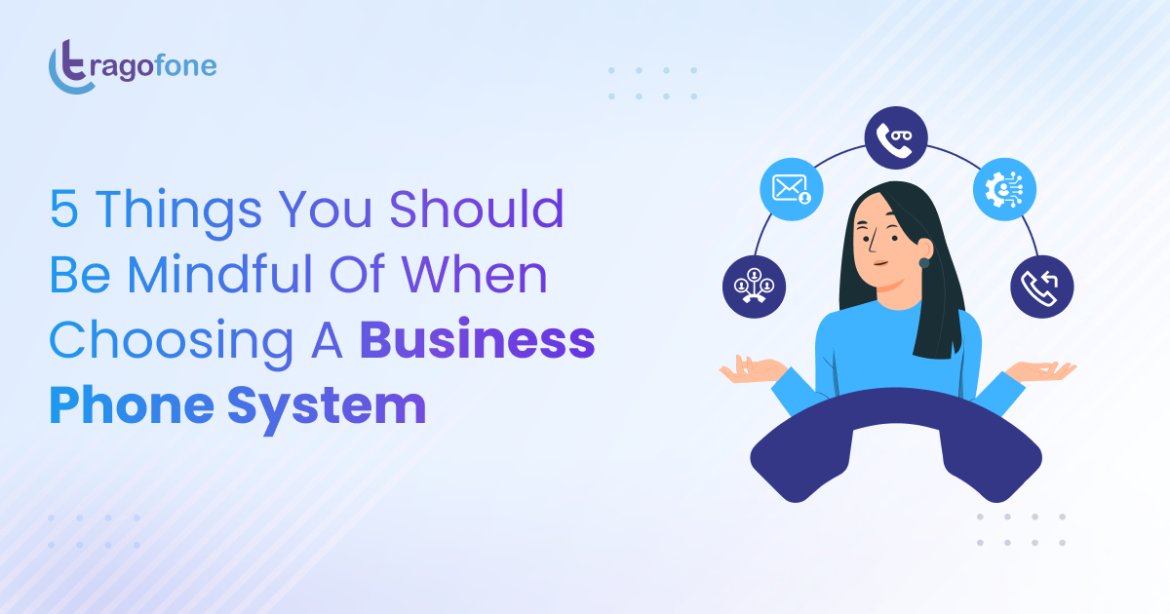 Phones are the most fundamental tools used to grow businesses of any size,hence it's important to know about the different types of phone systems and their features to make an informed decision before deploying one. In the past, individuals had limited options and were required to purchase a bundled package from a traditional telecommunications provider since Voice over Internet Protocol (VoIP) was not yet available. These bundles necessitated a contract that stated the minimum number of lines, phones, and other resources that the individual must have. Additional features like voicemail, international calling, and caller ID were available at an additional cost.
Today, with the invention of the VoIP business phone system, users can access many features at no cost, even with the most basic business plan. The user has the option to pay as they go or purchase a predetermined number of minutes in advance. The company only pays for the calls made on the service, and there is no requirement to purchase hardware or sign a contract. Customers are free to switch providers at any moment, so it's not surprising that most small business owners prefer cloud-based business phone systems to deliver best-in-class user and employee experience.  
In this blog, learn about business phone systems and some of the most important things one should look for when choosing the right business phone system for a particular business.  
What is a business phone system?   
A business phone system is a network of interconnected telephones used by companies to facilitate their communication needs. Business phone systems come with a range of features that include call handling, call transfer, conference calling, call accounting and metering, private and shared voice messaging, and more.
With a business phone system, a company can manage a large volume of incoming, outgoing, and internal calls through a unified platform. Business phone systems can be traditional landline systems or modern VoIP systems that use the internet to transmit voice calls.  
Types of Business Phone Systems
When it comes to picking the right business phone system for any business, note that one size doesn't fit all. A communication system for one company or business function may not yield the same results for another organization. Each type of phone system offers different features and understanding the pros and cons of each system is crucial to the decision making process. 
#1. Traditional/Landline-Based phone systems
Transmit voice signals over copper wires that connect the phone to a local exchange, which in turn connects to a long-distance carrier to enable long-distance calls.
Advantages:

Time-tested and reliable.
Disadvantages:

Huge upfront costs, staffing requirements, not scalable.
#2. On-Premise VoIP phone systems
Use Voice Over Internet Protocol for handling calls. Equipment maintained on company premises.
Advantages:

Cheaper than landline systems, responsible for regular phone communications.
Disadvantages:

Huge upfront costs, infrastructure requirements.
#3. Cloud-Based VoIP systems
Communication software and equipment hosted and maintained by third-party organizations.
Advantages:

No upfront hardware costs, easy setup, flexible pricing plans, premium features, data security and privacy maintained.
Disadvantages:

Dependence on internet connection for communication. 
A private telephone network that is used to connect internal telephone lines and to route external calls through the company's switchboard. 
Advantages:

Cost-effective, easily scalable, and enhanced accessibility. 
Disadvantages:

Extensive reliance on the internet, voice quality issues, risk of security breaches. 
What are the benefits of using a business phone system? 
From streamlining communications to regulating the cost of international teleconferencing, here are a few ways in which companies can benefit from using business phone systems:  
#1. Improved communication
A business phone system provides advanced features that facilitate communication, such as call forwarding, voicemail, and conferencing, among others. This helps to ensure that employees can communicate with each other, customers, and suppliers efficiently and effectively.
#2. Increased productivity
Business phone systems come with features that help to streamline communication, which saves time and increases productivity. For example, automated call routing ensures that calls are directed to the appropriate person or department, reducing wait times and improving efficiency.
#3. Enhanced customer service
A business phone system provides tools that can improve customer service, such as call queuing and call recording. Call queuing allows customers to wait on hold until their call is answered, while call recording can help managers monitor and train employees to provide better customer service. 
Here's an example of how Zappos.com, an online retailer of shoes and clothing headquartered in Las Vegas, Nevada, in the United States, implemented a cloud-based business phone system to handle customer inquiries and improve their overall customer experience: 
#4. Personalized greetings
Customers are greeted by a representative who provides their name and a friendly welcome, creating a more personalized experience.
#5. Call routing
Calls are routed to the appropriate representative based on the customer's needs, ensuring that their questions are answered efficiently.
#6. Call recording
Zappos records all customer calls, allowing them to monitor their representatives' performance and provide feedback for improvement.
#7. Customer data integration
The system integrates with Zappos' customer data platform, providing representatives with information about the customer's order history and preferences.
#8. Callback feature
If a customer's call cannot be immediately answered, the system provides a callback option, allowing the customer to be contacted at a more convenient time.
#9. Cost savings
According to a Global Market Insights report, the hosted IP PBX sector is poised to be the most rapidly expanding segment of the VoIP industry, with an anticipated growth rate of 15% between 2019 and 2025. Business phone systems can be more cost-effective than traditional landlines, especially if you choose a VoIP system. VoIP systems transmit calls over the internet, which can be cheaper than using traditional telephone lines. Additionally, a business phone system can reduce the need for multiple phone lines, which can save money on phone bills. 
5 Essential Factors for Choosing a Business Phone System
Airbnb, a popular online marketplace for vacation rentals and experiences, uses a cloud-based PBX system for small businesses to accelerate customer communication and increase customer traffic to their site. Choosing a PBX system has enabled them to handle high call volumes efficiently, reduce wait times, and respond to customer inquiries more quickly. This goes to show that selecting the right type of business phone system centers around determining which system can offer the best features and tools to accommodate specific business needs. 
Here are five things you should consider when buying a business phone system: 
Scalability:

As your business grows and changes, you'll want a

phone system that can easily grow and adapt to your needs

. This means selecting a system that offers additional lines, extensions, and features that can be added as needed.

Features:

Typically, you'll want to select a system that offers features essential to your business, such as call forwarding, voicemail, and conference calling. Make sure the features you need are included in the base price of the system or available as add-ons that won't break the bank.
Cost:

Ideally

,

you'll want to find a system that fits within your budget while still meeting your business's needs. Consider the ongoing costs of using the system, such as monthly fees, and any additional costs for add-ons or upgrades.
Reliability:

You don't want a business phone system that experiences frequent downtime or connectivity issues, as this can significantly impact your business's operations. Look for a system that offers high uptime and reliability, and ask for references or reviews from other businesses that have used the system.
Support:

You'll want to select a provider that offers accessible and reliable technical support, as issues with your

VoIP business phone system can be incredibly disruptive to your business's operations. Make sure the provider offers quick and effective solutions to any issues that arise, and that support is available when you need it.
Top 5 trending FAQs about business phone systems 
Can I keep my existing phone numbers when switching to a new business phone system?
Yes, most business phone systems allow you to port your existing phone numbers to the new system.
Can I use my business phone system to send text messages?
Yes, many modern business phone systems offer the ability to send and receive text messages.
What happens if there is a power outage? Will my business phone system still work?
The functionality of your phone system will depend on the type of phone system you have chosen. Traditional landline systems will usually continue to work during a power outage, whereas cloud-based systems will not unless you have a backup power source.
How much does a business phone system cost?
The cost of a business phone system can vary greatly depending on the type of system and the features you need. Some systems require upfront hardware costs, while others are subscription-based with a monthly fee.
Can I use a business phone system for video conferencing?
Yes, many modern small business phone systems include video conferencing capabilities as part of their features.
The Takeaway
A report on business communications claims that by the end of this year, the number of VoIP users will reach one billion. This highlights the fact that choosing the right business phone system is crucial for ensuring effective communication within your organization and with your customers. 
When buying a small business phone system, make sure to consider factors such as scalability, reliability, pricing, features, and customer support. By doing so, you can ensure that your type of business phone system you've chosen not only meets your current needs but also provides a foundation for growth and success in the future. Keep these key considerations in mind and select a business phone system that suits your business' collaborative needs and budget.