Asynchronous Communication: The Key to Successful Remote Collaboration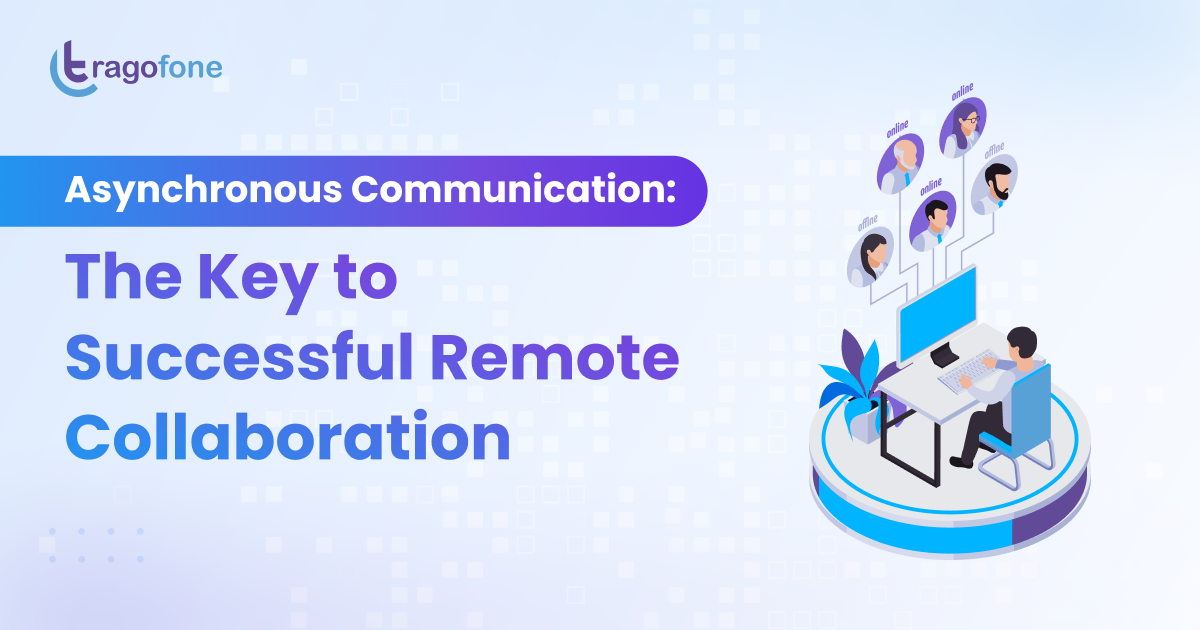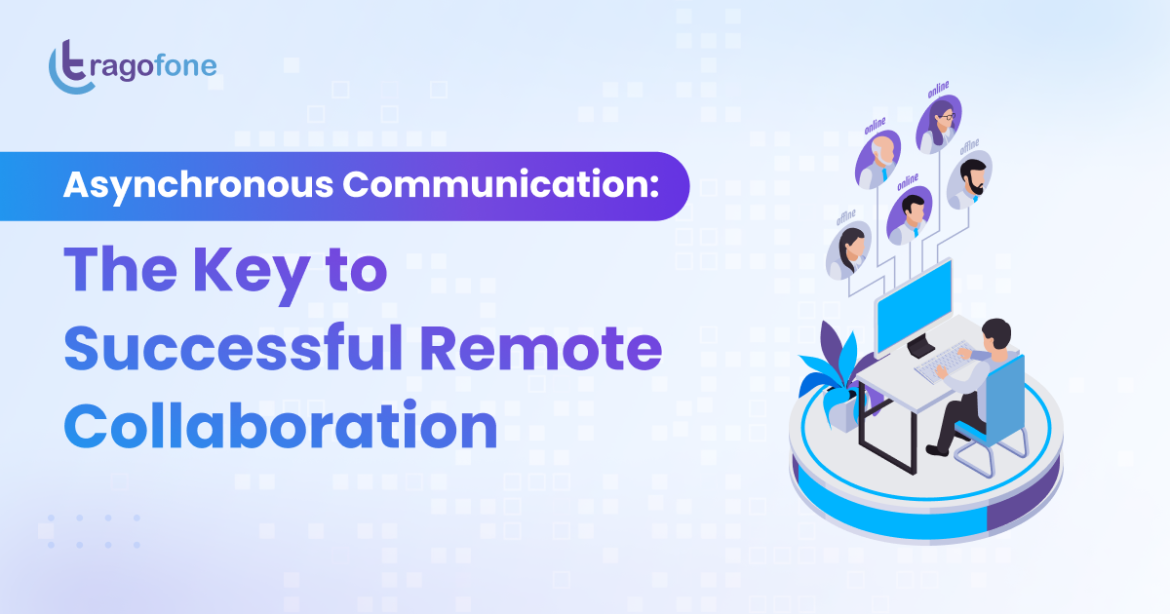 Asynchronous communication tools allow remote teams to collaborate and share information without having to be in the same place at the same time. The beauty lies in the fact that these tools allow team members to send and receive information at their own pace, without being held to the constraints of real-time interactions. This is especially useful for remote teams, where members may be in different time zones or have conflicting schedules. Team members can work on their own schedule, responding to messages and completing tasks when it's convenient for them. 
Some examples of asynchronous communication tools include email, instant messaging, and project management software that allow team members to collaborate and share information at their own pace. By incorporating it into your remote team collaboration efforts, you can increase productivity and efficiency while also boosting teamwork among your team members.
The asynchronous spectrum
Asynchronous communication is a spectrum of collaboration that allows for the sending and receiving of information over a network without the need for immediate response or interaction. It has been around for years, but it's only recently that companies have started incorporating it into their workflows. It can be either synchronous or asynchronous, depending on the participants' preferred method of communication.
Synchronous means that you are talking at the same time; this type of communication is often found in phone calls, emails, and text messages. This approach is ideal for quick problem-solving, clarifying doubts, and having real-time conversations. Synchronous communication is more suitable for short-term projects, where time is of the essence and the outcome is urgent.
Ultimately, there's no right way to do anything, both synchronous and asynchronous communication tools have their advantages and disadvantages. It is important to understand the needs of your project and your team and decide which approach to use. With the right combination of these tools, you can optimize your remote team collaboration efforts and achieve your goals.
Asynchronous communication: Remote team edition
Asynchronous communication is a way to communicate that does not require an immediate response. Various tasks can be accomplished using this, such as:
Keeping on top of your inbox:

You don't have to feel pressured to constantly check and respond to your email. Instead, you can check your inbox at scheduled times throughout the day and respond to important messages as needed. This can help you better manage your time and stay on top of important communication.

Making sure everyone knows what's going on:

Regular updates on projects and deadlines can help keep everyone on the same page and ensure that everyone is aware of the progress being made. This can be done through email, instant messaging, or other forms of communication.

Keeping up with ongoing discussions:

It

can also be used to keep up with ongoing discussions within the company. This can include discussions about new projects, upcoming events, or other important topics. This allows everyone to stay informed and contribute to the conversation at their own pace, without feeling pressured to respond immediately.
Overall, it can help increase productivity and efficiency by providing team members with the flexibility to communicate and respond on their schedule, while still keeping everyone informed and on the same page. With these approaches, teams can work together effectively even if they're not in the same place or time zone, and avoid the risk of delays and missed messages.
Assigning tasks asynchronously
There are many benefits to assigning tasks asynchronously. The first and most obvious benefit is that it's much easier for your team members to work in parallel without having to wait on each other, which is especially useful if you're working with a large number of people or across multiple locations. You can also assign tasks more efficiently by breaking them down into smaller chunks that can be completed independently and then reunited at the end of the day or week (or month). This process allows us greater flexibility in how we use our time, which makes it easier for us all—especially newbies!
An example would be something like this: You have 100 employees who need access to certain data stored on their computers every day at 8 AM Pacific Standard Time (PST). They're not required; they just want access so they can do their job effectively and efficiently. However because there isn't enough bandwidth available within your network right now due to other tasks being performed, you decide to implement an asynchronous communication system. This allows your employees to access the data at their convenience within a certain time frame, instead of all trying to access it at the same time and overwhelming the network. This way, they can access the data they need when it is most convenient for them, without having to wait for the network to be available. This can lead to increased productivity and efficiency and can be a cost-effective solution for businesses with limited network resources.
Benefits of asynchronous communication
The benefits of asynchronous collaboration tools are numerous, and they are:
Reduces stress:

With email and other forms of instant messaging, you can't see how many messages are waiting for you at any given time, making it difficult to know if your inbox is getting full or not. This can lead to anxiety about whether or not something needs attention right away and stress over whether someone will get back to you before leaving for lunch or after their shift ends.
Improves productivity:

If a task is done asynchronously (for example, through chat), then there's no need for follow-up meetings because they've already been conducted—you can just move on with other work instead! Moreover, remote teams often work together more than ever before due to technology trends like video conferencing tools that allow them all access at once via screen-sharing platforms.
Gives a better understanding of the task:

By providing more time to process, more time to prepare a response, and more time to edit a response, everyone involved in a task has a better understanding of the assignment. This can help reduce misunderstandings and increase the overall quality of the project.
Provides documented information:

By providing documented information, everyone involved in a task can look back on the conversation and understand what was said, agreed upon, and expected. This information can help when planning for future tasks and can provide a reference for any misunderstandings that may arise. 
Allows for creativity:

By providing more time to process, more time to prepare a response and more time to edit a response, people can think more critically about their tasks and come up with more creative solutions. This can lead to better results and more successful projects. 
Reduces misunderstandings:

With more time to process and prepare a response, it is often easier to convey the desired message. This can help prevent misunderstandings, which can lead to fewer arguments and a better working relationship.
Use the right asynchronous tools for the right task
Asynchronous collaboration tools for remote teams allow for a more structured and deliberate approach to completing tasks. It can be particularly useful for tasks that require more time and focus, such as writing code or designing a product. This also allows for better time management, as team members can respond and complete tasks on their own time without feeling pressured to respond immediately.
However, it's important to note that it is not a one-size-fits-all solution. For ongoing work or discussions, using tools such as email may be more appropriate. This allows for a more continuous conversation and allows for other team members to be brought in as needed. Additionally, using email instead of chat for external communication can prevent other team members from feeling excluded from the conversation, who may not have access to or understanding of the conversation. When used strategically, asynchronous communication tools can be a strong arsenal for remote teams, helping to improve productivity and streamline collaboration.
Remember that not all asynchronous communication is created equal
Asynchronous communication is a flexible approach that allows participants to send and receive information at their convenience, rather than in real time. This approach can be beneficial in many scenarios, such as when team members are working remotely or when the work being done requires a structured process. However, it's important to consider the specific needs and preferences of your team when choosing the right tools or methods of collaboration.
For example, some team members may prefer to communicate via email or text messages, as they allow for more thoughtful and detailed responses. Others may prefer video calls or group hangouts, as they allow for more real-time interaction and provide an opportunity for visual cues and facial expressions. Understanding how your team prefers to communicate can help you make informed decisions about the tools and methods you use to support collaboration.
Additionally, you need to take into account the nature of your project and its requirements when selecting a communication tool or method. A project that needs quick response and real-time communication may not be best suited for asynchronous communication, for instance. On the other hand, a project that requires structured steps and careful planning could benefit from it.
Ultimately, you should use whatever works best for your particular project and its specific needs—but remember that not all asynchronous communication is created equal!
Asynchronous collaboration software is designed to help people work together effectively
Asynchronous collaboration software is designed to help people work together effectively. It's a way for you to stay in touch with your team members, even when they're on different schedules or working at different times of the day. Asynchronous collaborative tools offer an interface that lets the whole team view and comment on content as it's created, without having to wait for any one person to get back around again—the only limit is the bandwidth available between them (which can be quite limited). The result is more efficient collaboration between everyone involved in creating content: no matter how complicated or technical it might be, everyone will have access to all necessary information at once so they don't miss out on anything important while waiting around unnecessarily!
What the future of asynchronous communication holds for remote work collaboration
Asynchronous communication is here to stay. It's the future of remote teamwork collaboration, and it's only going to get better from here.
With the rise of remote work, the use of asynchronous communication has become increasingly popular as it allows for a more flexible and efficient way of working. By using tools such as Slack, WhatsApp, or email, teams can communicate and share information in real time without the need for physical presence or coordination. It helps teams to work on a project together without the need for face-to-face meetings, this means, they can collaborate effectively even if they are in different locations, time zones, or working hours. The use of tools like video calls and screen sharing also helps in keeping the team in sync and facilitates quick resolution of queries. Asynchronous communication tools are essential for the success of any remote team as it helps to foster a sense of connection and inclusivity, regardless of the distance between team members.
Epilogue
As the modern workplace evolves, so do the methods of communication and software used by teams. Finding the appropriate ways to support the constant changes in teamwork communication within a virtual environment can be challenging. The implementation of asynchronous collaboration tools has emerged as a potential solution for the difficulties faced by remote teams. However, relying on one type of communication exclusively can also present limitations. The key to successful team communication is finding a balance between different approaches. Rethinking your virtual collaboration tools and finding one that is customizable to your team's preferences can go a long way in ensuring smooth collaboration in a virtual dimension. The era of trying to fit into one mold is over, now that the future of work has transcended physical boundaries, and embracing the comfort of our own space is the new norm.