How Softphones Can be Used for Contact Centres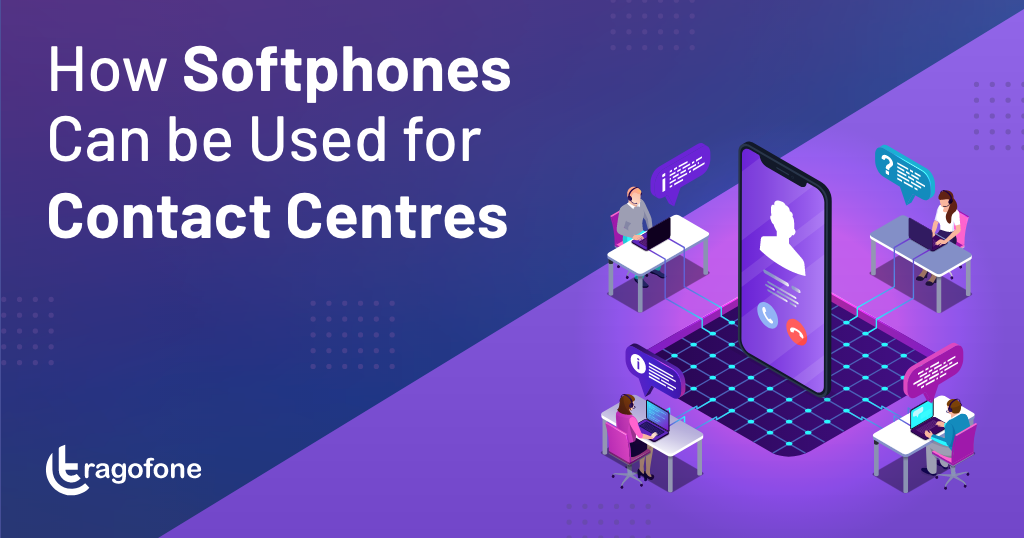 In a rapidly changing telecommunication industry, innovation is the key to staying afloat. With daily advancements in the way we communicate – be it one on one, group, or customer service, advanced features offering end-users the most convenient way to problem-solving is the need of the hour. 
A large number of customer-facing centers like call and contact centers are adopting the system of BYOD – Bring Your Own Device leading to an ever-increasing demand for mobile-based VoIP and softphone services. The last two years have seen exponential growth in the demand for VoIP softphones. Pandemic-led lockdowns have been a major driving factor for this growth.
Before we get into discussing the relevance of VoIP softphones in the new normal of a 'remote' and 'hybrid' working environment, let's briefly discuss what is VoIP and what is softphones.
What is VoIP
Voice over Internet Protocol (VoIP) is a technology that allows you to place phone calls over an internet connection. It offers many more capabilities than analog phones, for half the cost.
Advancement in this technology has added new powerful features such as auto-attendants, call recording, custom caller ID, voicemail to email, and flexibility of location. 
According to a report by Persistence Market Research, the global VoIP services market is expected to be worth $194.5 billion by 2024.
What is Softphone
A softphone is simply VoIP technology in a software format installed on an internet-connected device. It has a user-friendly interface with features added to that of a regular phone. While the software is available for traditional phones and mobile devices, the latter is becoming more popular due to its flexibility.
Relevance of VoIP Softphones for Contact Centers
So far, we have harped on how softphones for business come with serious savings advantages. However, the cost is not the only driving factor behind its popularity. Businesses like 'contact centers' be it customer support, sales, marketing, etc. stand to gain far more by switching to softphones from traditional telephony. With more and more employees prioritizing flexibility and freedom to work from anywhere, softphones have suddenly become relevant in the modern business landscape. Not to mention, the costs that are saved on building, infra, handsets, and all other paraphilias. Let's delve into identifying reasons behind the popularity of softphones in the 'contact center' industry.
#1. Business Unified Communications  
Contact centers can use the same provider for phone and data transmission. For example, given the right equipment and connectivity, it is easy to enable an at-home agent model using softphones.
Also, by incorporating a unified communication (UC) system into contact center workflows, organizations can streamline business communication, improve agent productivity and customer experience. Besides offering customized user experiences, increasing the efficiency of remote call centers, and enabling digital transformation are the few other advantages.
#2. Smooth Integration
Contact centers have evolved in the past few years. For example, CRM applications can easily be integrated with computer telephony.  Setting up an environment where a sales agent can initiate a call just by clicking on a phone number on a CRM screen is easier than ever with softphones.
#3. Managing Higher Call Volumes
Contact centers have to be ready to handle higher call volumes and manage growing customer expectations with short or no notice. Having strong softphone software will make it easier for such organizations to become multi-channel business communication hubs. Apart from call volumes, this system will also help respond to customers through forums, live chats, and other non-voice mediums. 
#4. Customer Details at Fingertips
Customer service agents often juggle multiple tasks at the same time. An agent, while responding to an angry customer, is also troubleshooting and chatting with his manager to provide the customer with the best solution. This is almost impossible to do without a softphone system in place. 
The system ensures all data is in one place and easily available to the agent with the least navigation clicks. With the client's background, past queries, and detailed past discussions in one place, it becomes easier for other agents to handle subsequent calls.
Softphone Features that Make Contact Center Operations Seamless
#1. Easy Monitoring
Contact center managers can monitor both – customer history and agent performance through this system. Statistics and call recordings (that can be built into the software) help in identifying problem areas and areas of opportunity. The data can eventually be used to develop a better response system.
#2. Flexibility
VoIP Softphones enable business owners the flexibility to hire agents anywhere in the world and easily connect with each other using internet-powered VoIP phone systems. Having agents in different time zones ensures there is someone always online to take customer calls.
#3. Cost-effective
Having a virtual PBX system does not require high-tech equipment or spending on maintenance, which effectively reduces investment costs. Also, since calls are placed via the Internet, there are no geographical boundaries making it cheaper to place long-distance and international calls.
#4. Multiple Uses
With VoIP, one can use a softphone that works through desktops, laptops, and mobile devices. With a virtual phone system and no hardware requirement, resources can be diverted to get the software, which pays off in the longer run. 
#5. One for All
With all features and multiple platforms unified in a single space and the ability to make calls with your mobile phone, it becomes easier to reach customers or team members anywhere on any platform over one system.
Softphones Tailored to Meet Contact Center Requirements
VoIP softphone systems come with features far superior to your run-of-the-mill business phone setup. It not only helps you deliver a good customer experience; the analytics also help you locate breakdown points in your workflow. VoIP integration is actually what the doctor prescribed for the better health of your contact center. Here's why:
#1. Supporting Remote Teams
Given how it is beneficial to have a contact center in tier 2 cities with lower overheads, it makes sense to say that the whole VoIP softphone concept was tailor-made for remote workers. Softphones offer the ultimate mobility compared to traditional desk phones making them ideal for remote teams.
#2. Time-Saving
The fact that VoIP softphone systems can track the presence and status of agents – who is online, who is busy etc. – one can avoid wasting time trying to find an agent that is free to respond to customer queries. Other features such as video chat and instant messaging ensure double the productivity in half the time. 
#3. Clutter-free
Traditional phone systems, by default, need a lot of hardware and more wires and power adapters alongside every agent's workspace. VoIP Softphones, specifically the ones for mobile devices, require only a charging cable and adapter. No mess, no muss, no fuss!
#4. Future-proof
Hardphones need to be upgraded at regular intervals because, of course, hardware comes and goes. But the VoIP softphone technology is here to stay. Even if it does get outdated, a quick update of the app and it is as good as new. Moreover, the scalability of softphones is far cheaper and easier in case you intend to expand your contact center.
#5. Better Backups
Is backing up a conversation even a possibility with hardphones? With VoIP integration, contact centers can breathe easily. VoIP providers help contact centers develop customized backup plans, automatic transfers to alternate locations in case of an incident, helping achieve near-zero downtime.  
Let us better understand how VoIP softphones enable a small business to become easily scalable.
Use Case 1
Anna Thomas, 24, lives in small-town Kerala and is passionate about fabrics and the right fit. She loved it when she could design an outfit that would make others look beautiful. Being an industrious and enterprising woman, she started a small business from the comfort of her home. 
It started small, with a neighbor asking her to stitch a kurta or a western dress. She would happily oblige and the neighbor was elated with her service. Word of mouth traveled fast and soon prospective clients lined up outside her home. 
She sought help from friends and family and soon it turned into a full-blown apparel business. It became unmanageable when she took her business online. In the next six months, inquiries crossed over a lakh (100,000 – hundred thousand). 
And what did she expect? With millions of people finding it convenient to shop online, this was bound to happen. The influx of calls for order status, product inquiries, refunds, and cancellations kept piling up. 
She had a lot of help, but managing it still became difficult. Her phone rang off the hook and she thought of scaling it down for better. Luckily a friend in IT hooked her up with VoIP softphone software. With a tiny investment, Anna had it installed on the mobile devices of 11 of her friends and family members. All of them took turns and responded to calls, texts, and online queries in shifts. The system also enabled her business to send mass texts with the latest deals, making it an effective promotional tool for her business.
Just as her tech-savvy friend explained, Anna realized the sky is the limit. She not only used it to enhance her business but also took a lecture at a local business school on how softphones are a boon for small businesses. 
Use Case 2
Kalpana TK managed a 500-agent contact center, a dream come true for someone who started her career as a call center employee 20 years ago. However, after climbing up to the coveted position, she realized that the contact center ran on obsolete technology. Most hard phones were broken and the EPABX systems barely helped in the fast-paced need for quick responses. 
But having had the acumen to quickly fix the problem for good, she convinced the 500 odd agents to move to their mobile devices for better handling of customer problems and higher productivity. 
It took only 20 days to rehaul the entire system thanks to a good IT team who were clued in and recognized the need for a VoIP softphone system. The business could take on more work because the new system helped save thousands of man-hours and resolved customer queries in half the time. Even during the pandemic-induced lockdown, Kalpana managed to keep the customer care teams up and running thanks to the flexibility of connecting through personal devices from the comfort of their homes. 
In the next six months, in spite of the pandemic hurting several businesses, Kalpana was able to upgrade mobile devices for her entire team for an even better work experience, not to mention making a tidy profit for the contact center that barely broke even before she took over.
Final thoughts
Seeing the forecasted growth trends for VoIP phones in 2022, one has to admit that the technology makes sense especially for SMB's even beyond the pandemic. It is not just costs that are the driving force behind this growth, the evolving business communication needs of enterprises and change in customer expectations make VoIP softphones an ideal choice.