WebRTC or No-WebRTC Softphones: Which is Better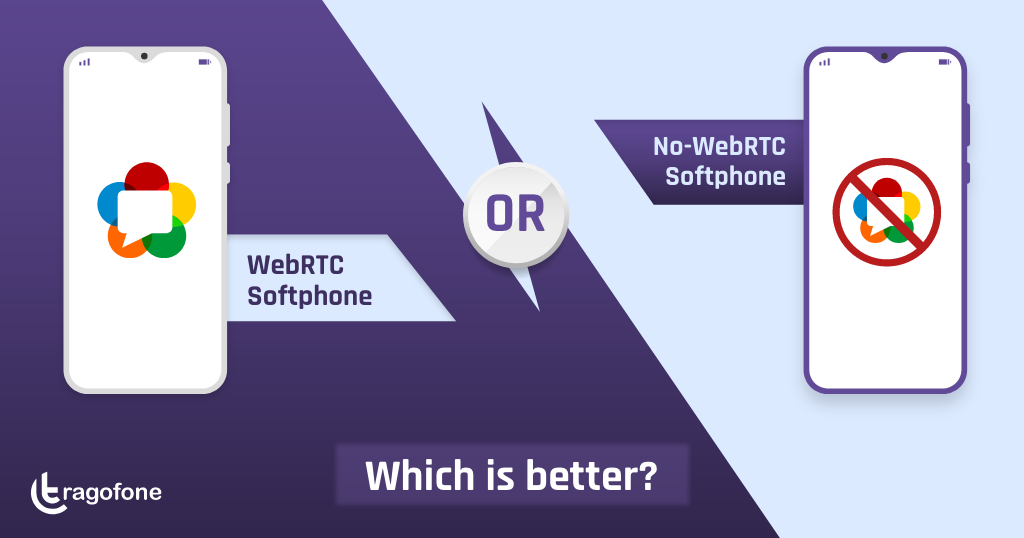 Companies across the world are completely overhauling their communication system, as they gravitate towards using softphones.
Softphones are a software program based on Voice over Internet Protocol (VoIP) and Session Initiation Protocol (SIP) and are used for making and receiving phone calls. Instead of using the actual fixed or IP phone, you can just install it on your desktop, tablet, or mobile. Softphones come with several advantages for users, including lower calling costs, no hardware installation requirement, and no additional investment.
With time, and as technology evolved, the world of softphones got split into two: WebRTC softphones and regular VoIP, softphones that ran without WebRTC.
Commercialized over 25 years ago, VoIP communication technology consists of using an internet connection to transmit voices, to call one or more correspondents. VoIP usually requires dedicated equipment or software, and sometimes both.
This dependence on equipment and software led to the creation of a new, pathbreaking technology – WebRTC. The underlying principle of WebRTC was simple: to use computers and phone line equipment that is already available. This included a microphone and browsers like Chrome, Firefox, and Internet Explorer. Using this, WebRTC made it possible to transmit voice and video over an IP network without any additional software or dedicated equipment.
Like WebRTC, a parallel calling technology that has also gained traction in the softphone market is Linphone, which was developed by Linux. Linphone is an on-premise and web-based VoIP system, which helps businesses connect with their clients or team members using audio calls and text messages. Its features include audio conferencing, group calling, contact list management, user authentication, and file sharing.
In this age of abundance of technology, which one should your enterprise pick to enjoy seamless communication and collaboration? In this blog, we will look at how WebRTC softphones compare with those that don't tap into this technology, and how WebRTC is enabling softphones to go beyond the limitations of old-school VoIP.  
What is WebRTC?
Web Real-Time Communications (WebRTC) is an open-source solution that was built by Google in 2011. It allows peer-to-peer communication in web browsers and mobile applications through the use of application programming interfaces (APIs). This includes audio, video, and data transfers.
To define broadly, WebRTC reduces barriers in communication. This disruptive technology leverages plugin-free APIs and can be used in both desktop and mobile browsers. Today, WebRTC is supported by almost all major browser vendors. Before the birth of WebRTC, external plugins were needed to achieve the same functions.
In the last decade, WebRTC has seen steady growth in popularity and adoption. By 2016 there were an estimated 2 billion browsers enabled to work with WebRTC. It has also logged over a billion minutes and 500 terabytes of data transmission per week from browser communications.
WebRTC's main function is to allow access to devices. Users can access the microphone or camera on their phone or laptop, or even the entire screen. They can capture displays and even have that screen shared or recorded remotely.
WebRTC isn't limited to voice and video. It allows sending and receiving any type of data. It's also becoming a go-to choice for real-time communications as it is an open-source project, is free for commercial or private use, is available in all modern browsers, and since the source code is portable it can be used in mobile apps as well. WebRTC has created a vibrant ecosystem of different vendors and companies, which, in turn, has enabled the creation of new use cases and business models. Also, read more about WebRTC benefits.
What is a Linphone?
Linphone is an on-premise and web-based VoIP system, which helps businesses streamline communication with clients using audio calls and text messages. The solution enables members to chat with multiple participants in a group, receive group updates, and track message delivery status to members. It also allows agents to handle multiple calls simultaneously through pause, resume, transfer and merge call features. Operators using Linphone can receive notifications of incoming calls or messages and answer, decline or mark calls read as per suitability. 
Linphone helps users send group invites to members, access chat during calls, and track call history. It comes with mobile applications for iOS and Android. Linphone has gained traction among softphone users as it is simple to use and free of cost. 
WebRTC Vs Linphone: A Quick Comparison
While WebRTC supports both audio and video calls, Linphone, which comes with different types of versions depending on the Linux version, is an audio-only engine. Let's look at the difference in features that these two technologies offer:
All standard browsers support WebRTC

. Linphone, on the other hand, is not supported by the Safari browser. This makes WebRTC a more holistic tech solution for softphones.

Linphone does not support push notifications as seamlessly as WebRTC-powered softphones

. Using push notifications softphone apps don't need to run in the foreground, or even background, at all times. Whenever a push notification is received, the app displays an alert, providing an option to accept or reject the call.

Applications that run with WebRTC in the backend do not drain your smartphone's battery life

as the application works in the phone's background. The Linphone app, on the other hand, is always in the foreground. If you kill the application you will not be able to receive any calls. But if you have a WebRTC backed application, you will continue to receive incoming calls.

WebRTC and Linphone come with a

huge variation in application size

. WebRTC applications are usually under 100 MB for iOS and less than 29 MB for Android systems. Unlike this low space usage, Linphone libraries take up a lot of space on your phone.
Why WebRTC's Push Notification support is a game-changer for Softphones
Push notifications are a server-to-client message delivery mechanism where a message is sent to an Android application, an iOS application, or a browser-based web application in order to wake up sleeping or closed applications on incoming SIP calls or messages. They enable SIP users to stay available in an energy-efficient way, without the app running constantly in the background.
How are Push Notifications making softphone usage seamless? Let's look at their key advantages.
 

Battery saving:

There is no need to run the softphone app constantly in the background anymore to be able to receive calls.

 

Availability: Push notifications ensure your softphone for business is always available to receive calls and messages.

 

New App store requirements:

New Apple and Android mobile phone versions

are becoming particular about closing background applications and disconnecting network connections if an app is not in the foreground. This makes push notifications mandatory.
It isn't a good idea for your softphone app to run constantly in your phone's background. Why?
 

When apps run in the background on a mobile phone, they consume processing power and battery energy. With SIP softphones, this translates into a huge battery drain, as the app needs to listen to its network for new events, like incoming calls, all the time.

 

Push notifications reduce this energy drain by shifting the continuous listening function from the mobile device to the server-side of the network. When a call or message comes in, the server sends a notification to the user's device – the user activates the app and accepts the call.

 

The main purpose for push notifications is to wake up sleeping or closed SIP applications when a new call or message is received – thus reducing battery usage and boosting availability.
WebRTC Vs Old-School VoIP Softphones
You can have VoIP without WebRTC, but you cannot have WebRTC without VoIP, as WebRTC is an evolution of VoIP.
Questions have been raised in the telecommunication industry whether WebRTC is compatible with or runs against VoIP? Are they friends or foes? Can the two systems coexist, do they overlap, and how do organizations benefit from them?
VoIP has been in the telecom arena for a while and has grown to become a formidable communication replacement. Many businesses now rely on the cloud power of business VoIP to take care of their business communications.
So where does WebRTC fit into this? The short answer is that the two work well together. With the addition of WebRTC, VoIP not only thrives but gets a boost as well. The WebRTC standard makes VoIP more robust, user-friendly, and flexible. We now commonly find VoIP coming directly onto websites. It also has started popping up in mobile apps to allow for simpler, powerful, and accessible unified communication platforms.
WebRTC can be considered an extension of VoIP that brings the potential of making phone and video calls, chats, and Peer 2 Peer file transfers directly to the web browser or mobile app. WebRTC allows for more widespread adoption of VoIP, acting as an extension for VoIP into new platforms. 
Drawbacks of Traditional VoIP Softphones
VoIP softphones are emerging as the fastest way for organizations to start making and receiving calls. You can download apps made by vendors, or even third-party ones that work with your service. However, not all softphones are the same and some may pose glitches in your communication experience.
 

While some softphones are free of cost, some are payment-based, while others may not be compatible with

all the features

offered by your service provider.

 

Some vendors provide VoIP softphones only for a few platforms like Windows laptops and iOS phones. So if an employee is using a different device, he doesn't have the software option to use a VoIP softphone.

 

Softphones need to be regularly updated. Providers often release new versions that come with more features and better security. If a business does not update its softphones, it can lead to security lapses.

 

If you want to start using softphones you will have to look for a provider who can offer you the one compatible with your operating system. Depending on if you are using Windows, Linux, Android, iOS or any other, you will have to choose one provider or another. It means you have less choice of providers, and less flexibility to choose the best offer.

 

Softphones can only be used from the device on which it is installed. This reduces mobility as you cannot use it from any device you want.

 

Even though softphones do not require any hardware, the configuration can be difficult. It might require opening the router ports or changing the local network.
Browser-based solutions that use WebRTC are the best answer to counter all these shortcomings. How does this happen?
 

With web-based calling, the hardware or operating system is not of importance. The solution works on any WebRTC-supported browser.

 

Organizations don't have to worry about updates. Most companies apply security patches to operating systems and software applications like web browsers by default.

 WebRTC based calling has benefits over hardware VoIP devices as well. Businesses don't have to buy separate equipment for calls. Most employees already have laptops, desktops, or mobile devices with a browser. In that case, they don't require physical equipment at all. This eliminates the costs associated with VoIP calling. You don't have to plug phones into the network, provision them for VoIP or fix them when something malfunctions.

 

Browser-based calling reduces security risks for enterprises. Every new piece of hardware or software application that you bring into your business poses a security risk, as it can be an avenue for hackers to exploit. However, no modern enterprise can do business today without using a web browser. And if you can make calls using the same browser, you close several security loopholes.
Closing Thoughts
After looking at the benefits and drawbacks of various VoIP technologies, it is apparent that WebRTC has emerged as a disruptive and innovative communication solution that is driving the growth of business unified communication. This free technology that seamlessly enables P2P connections is likely to power ahead in the world of internet-enabled communication, with its efficient voice and video calling, and data transfer features. It's time enterprises embraced WebRTC.