How White Label SIP Softphone Can Boost Your VoIP Business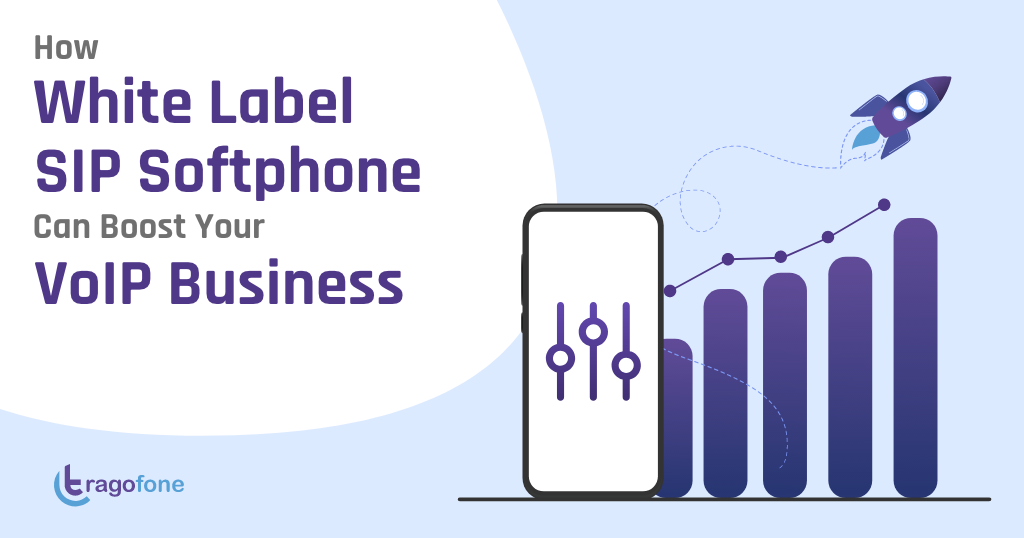 In today's digital age, having a mobile SIP softphone app is no longer a choice for VoIP businesses, as it's become an integral part of the communication systems used by most organizations. However, the cost of development of VoIP app, along with the long hours of development and support can be prohibitive for most small and medium enterprises. So, what can they do to level the playing field? The short answer: use a white label SIP Softphone app.  
In a virtualized business world – where new terms like BYOD (Bring Your Own Device), mobile VoIP, and unified communication have gone viral and mobility has become the crux of seamless communication – white label SIP softphone apps are emerging as one of the easiest ways to improve user experiences and maintain feature parity while staying on budget. A white label UCaaS solution offers all the functionality and personal touches of an app that's been built from scratch. 
The practice of white labeling and customizing SIP softphones is on the rise among VoIP businesses as it allows Internet Telephony Service Providers (ITSPs) to serve their customers by deploying self-branded softphone for business. White labeling allows ITSPs to maintain complete total control over their brand, from designing to managing the SIP softphones. It also helps them create their own identity in the market, save time and effort, enhance customer loyalty, and make their brand more visible. 
White label SIP softphones also provide complete privacy to customers as they keep company data secure. The app is owned by the company that uses it, which means that all information stays confidential. 
In this blog, we will look at what white label branding is, how companies can re-brand a white label platform as their own, and how they boost VoIP businesses. 
What is White Label VoIP?
The term `white label' refers to an organization selling a product or a service with its own brand and logo – although the product is actually owned by a third party. White label VoIP is a solution designed for resellers and provides a platform for enterprises to manage and brand a softphone as their own for their end customers. 
Using white labeling, service providers can customize the look and feel or the theme of a SIP softphone solution as per their business needs. They can also brand the product or solution with their own brand name and logo for a fixed cost. The rebranded version of the SIP softphone solutions can be used by the service providers to penetrate deeper into markets. 
How Businesses can Re-brand White Label SIP Softphones as their own
White Label VoIP app provides businesses with the opportunity to offer all the benefits of VoIP to their customers. Your VoIP partner would have built a generic VoIP app solution that your company can brand as its own. What are the steps that customers follow to complete the softphone white labeling process? 
 

Customize and brand as your own:
When a business is ready to move forward with a VoIP app platform that meets its expectations, it can sign up to deploy the package and rebrand it with its own name, label and logo. They can now sell the SIP softphone to customers as their own product, market it under their brand umbrella, and include it as a part of their product portfolio in their marketing communication. 
 

Manage accounts seamlessly:
White label VoIP app solutions have integrated billing. This allows enterprises to manage invoices, billing, and credit processing for all their clients under their own brand. It also gives them one centralized system where they can manage all their client accounts and billing. 
As a White Label VoIP app reseller, businesses can enjoy complete control over their white labeled VoIP app system.  Besides marketing and selling the service, they also maintain full control over all their customer information and determine every aspect of the SIP softphone – from advertising, pricing, billing, credit processing, to support. The business becomes the single point of contact for its customers. 
Advantages of White label Softphones Apps for VoIP Businesses
A white label softphone app can help a VoIP business carve its own unique identity in the market by delivering exceptional user experiences to customers. Let's look at the reasons why a white label communications app is the secret to seamless digital experiences. 
 

White labeled softphone provide fully customizable interfaces
No two businesses are similar. White label SIP softphones help VoIP businesses boost their brand image with fully customizable interfaces. They can build their own unique interface, select the features their business needs, and deliver a customized, branded experience. 
 

Configure and modify PBX features
Businesses don't need to rely on using a handful of apps to serve their communication needs. White label SIP softphones app can streamline all features that an enterprise needs in one convenient location. VoIP app technology is easy to configure and modify with standard PBX features like CRM integration, internal messaging, voice and video calls, visual voicemail, and more. 
 

Gain complete control and functionality
With white label softphones, VoIP businesses can pick and pay for the features that they need. Also, they no longer have to provide their customers with an app that's passably functional. Instead, they can build a real-time communication platform that is fully customized to their business needs. 
When opting for a SIP softphone provider, VoIP businesses should go for one that provides the richest feature set, including push notifications, rich messaging, file transfer, call forward and transfers, video conferencing, API functionality, smart contacts, and more. Also, it's important to check for security and compatibility across devices and other formats. 
 

Benefit from improved time to market
Building a SIP softphone app from scratch requires time, effort, and resources, as a mobile communication app is one of the most complex solutions to create. But with a white label solution, you can have a softphone in an instant, completely eliminating the intensive and long-drawn process of app development. 
With a white label UCaaS softphone solution, VoIP businesses can have a completely customized mobile communications system solution up and running in as little as an hour. They can also provide their users with end-to-end encryption, clear audio and video capabilities, and cross-platform compatibility – all in quick time. And if you work with a reliable provider, they can even list your VoIP app for you, freeing you from worrying about complex rules.   
 

Create your own brand identity
Today, all VoIP businesses want to establish their brand image in the market. Using white labeling and customization, ITSPs can set up their branded SIP softphones easily and cost-effectively. 
Usually, most service providers source their SIP softphone applications from third-party companies, which can cause confusion among customers. How with white labeling this issue stands nullified as they can customize the solution under their brand name. It's like writing your brand name on a ready-to-use product, to earn customer loyalty and boost brand visibility. White label SIP softphone apps are designed to integrate seamlessly with your business as soon as possible. 
 

Enjoy feature parity with bigger competitors
Small and medium VoIP businesses can keep up with their bigger competitors and match the advanced features that these companies offer without needing to hire their own team of developers and UX designers. What's more, they don't have to dig deep into their pockets to create a niche for themselves by offering excellent customer experiences. VoIP companies should pick a service provider that lets them grow at their own pace, stay on top of the latest SIP softphone trends, and remain competitive in the market. 
 

Get rid of the support costs that come with building an app
The cost of creating a SIP softphone application does not end when it gets listed on the App Store. The application requires ongoing support and maintenance that can balloon over the years to surpass the development costs. These post-development costs include server hosting, creating a stable experience across all supported devices, bug surveillance, license renewals, and tech support for customers. 
With a white label SIP softphone provider, all these cost worries can be laid to rest, as you can avail the services of a team of software developers and designers without hiring any. 
 

Meet your customer satisfaction goals
Customer satisfaction is the end goal for any business. With white labeling, VoIP businesses can design tailor-made SIP softphones keeping the needs of their users in mind. In the long run, this helps build better customer loyalty and a sense of attachment towards the brand. 
 

With while label SIP softphones, businesses can scale and improvise meet changing market dynamics
The world of modern unified communication is changing constantly. In fact, mobile SIP softphones applications themselves are an up-gradation of traditional phone systems and have turned communication into a highly agile platform with advanced functionalities. For example, during the Covid pandemic, many SIP softphone providers add new collaborative communication features to their solutions. 
Opting for white label SIP softphone solutions helps VoIP businesses stay abreast with technological changes and trends and builds a positive impact on the mind of the end-user. 
 

Reduce your dependence on too many apps
With white label SIP softphones VoIP businesses can eliminate the number of communication apps that their customers have to rely on to meet their communication needs by offering all the features on a single platform. VoIP businesses can even opt to add additional features at a later date to meet changing communication demands. This way, their customers can run lean and agile businesses that are not bogged down by dozens of unnecessary apps. 
Developing a white label SIP softphone from scratch requires huge financial and human capital resources and time. The time it takes for research, designing, developing, and testing any new white label VoIP mobile dialers can create gaps in an organization's business goals. On the other hand, with ready-to-use white label SIP softphones, VoIP businesses can worry less about solution development and concentrate more on planning, marketing, and growing their business. In a world where time is money, and being speedy is imperative for success, investing in a professionally-built SIP softphone solution is cost and time-effective. 
Conclusion 
Smart business owners always look for ready solutions rather than investing their time and money in building a product from scratch. So, when it comes to VoIP business owners, it is best to go for white label SIP softphones rather than invest in development. 
Also, a strong brand can help VoIP organizations boost their business image and lead to more conversions. By using a white labeled mobile SIP dialer, VoIP service providers can make a name for themselves as a customer-centric business that clients will be interested in partnering with. This will lead to an expanded market share and an increase in revenue generation. 
Whether a VoIP business is looking at building a brand or providing enterprise-level functionality, white label SIP softphones make it seamless for them to create effective B2B solutions that are feature-rich and customized to cater to their end-users needs.