What are Push Notifications? Game Changer for Softphone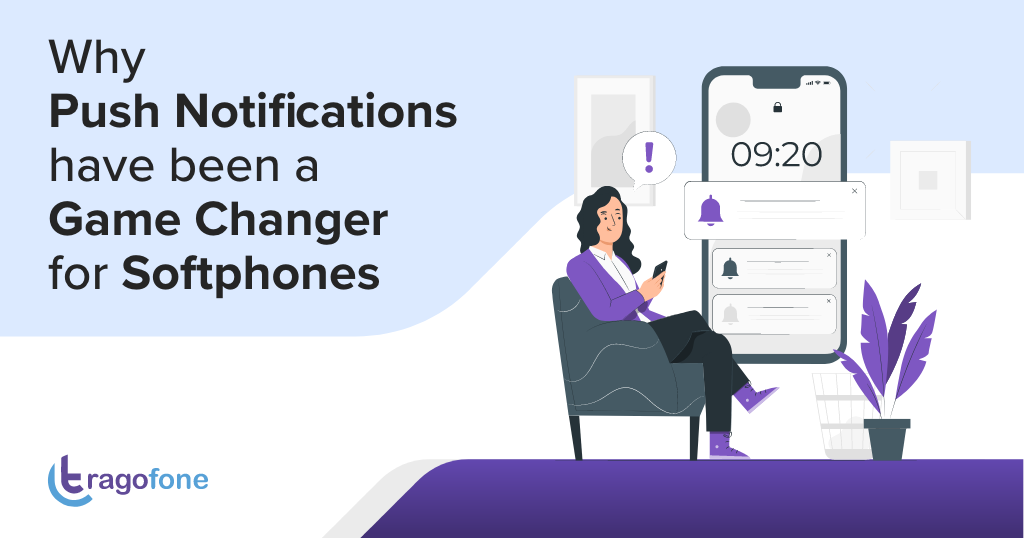 Since 2004 there has been a steady decline in landline usage with most businesses making a shift to 'softphones'. These numbers will give you a fair idea of how SIP softphones have become popular over the years.
Softphones, as we know them today first, came around in 1995, but the technology has changed multiple folds and for the better. In fact of the path-breaking changes that have happened in softphone technology include features like WebRTC, auto-provisioning, white-labeling, and push notifications for the B2B segment that were introduced for the first time for the B2B segment by select softphone brands like Tragofone.
Among the many good features that modern softphones for business come with 'push notifications' has truly been a game-changer. Wondering how? Let's find out.
What are Push Notifications?
Defined in lay terms, "A push notification is a message that pops as an alert on a mobile device. An app service provider can send the notification to a user anytime, even if the app or device on which the app is installed is not in use."
Though push notifications look similar to SMS or text messages or mobile alerts, they can only be sent to users who have the app installed on their device. For example, Amazon can send push notifications only to users who have the Amazon app installed on their mobile.
Push Notifications v/s Text Notification
Push notifications

appear as a pop-up on a user's screen. These are dependent on a user's internet connectivity

Text notifications

appear in messages inbox on a mobile device. These are dependent on the service of a user's cellular network.
A Brief History of Push Notifications
Apple launched Apple Push Notification Service (APNs), the first push service back in June 2009. Google followed soon and released its own service, Google Cloud to Device Messaging (C2DM) in May 2010. In May 2013 Google introduced "rich notifications". This meant that push notifications now contained images, as well as action buttons. Action buttons enabled users to take immediate action from a notification. Apple added interactive buttons the following year in September 2014. This enabled users to send a response right away to the app publisher. 
Push Notifications in the Context of Softphones
Push notifications are a server-to-client message delivery mechanism where a message is sent to an Android application, an iOS application, or a browser-based web application in order to wake up sleeping or closed applications on incoming SIP calls or messages.

They enable SIP users to stay available in an energy-efficient way, without the app running constantly in the background. The two primary cloud providers for push notification are Apple (Apple Push Notification Service) and Google (Firebase Cloud Messaging). 
How have Push Notifications changed the way Softphones work?
When softphones first appeared in the market, they had to maintain a steady network connection with a server in order to receive calls and data. This resulted in frequent device wakes and wasted energy. Using push notifications softphone apps don't need to run in the foreground, or even background, at all times. Whenever a push notification is received, the app displays an alert, providing an option to accept or reject the call.
Why should your Softphone App not run in the Background 24×7?
When apps run in the background on a mobile phone, they consume processing power and the battery's energy. When it comes to a VoIP softphone app, this can translate into a huge battery drain, as the app needs to listen to its network for new events, like incoming calls, all the time.
Push notifications help reduce this energy drain by shifting the continuous listening function from the mobile device to the server-side of the network. This allows the VoIP softphone app to run with a minimum of required resources. When a voice call or a text message comes in, the server on the VoIP side of the service sends a notification to the user's device. The user can then activate the app to accept the voice call or text message. 
The main purpose for push notifications in VoIP-enabled mobile dialer apps is to wake up the sleeping or closed SIP applications when a new call or message is received. This boosts availability and reduces battery usage for the device.
As cloud push messaging notifications gain traction in the softphone world, it is becoming a highly recommended tool and will soon become mandatory for mobile operating systems – especially as the latest versions of iOS and Android devices are becoming particular about closing background applications and disconnecting network connections if an app is not in the foreground. 
Understanding Push Notifications better
Push notifications are a combination of various elements such as:
When designing push notifications, choose an image that is relevant, visually appealing, and keep the message crisp and to the point.
What do Push Notifications look like?
Most push notifications appear as a banner or pop-up alert on a user's phone screen. This alert pops no matter what the user is doing. The mobile operating systems show all push notifications a user gets together in a single view. 
In iOS, the notification center is organized in chronological order, and users can access the notification center by swiping down from the top of the screen. iOS enables its users to customize push notifications at an individual app level. They can turn sounds on or off, pick the style for notification display and also control the red "badge" showing the number of unread notifications on an app's home screen icon. 
Android devices show unread messages on the lock screen mode as well. Android does not provide any customization at an OS level and uses a standard banner approach that users cannot change.
Types of Push Notifications in Softphones
Most softphone app push notifications appear in the following format:
A message box (alert) that contains a text message, like `XYZ calling', with buttons to accept or reject the call.
A sound alert, like a phone ringtone. 
A message is displayed with the app's icon that announces the type of event – like an incoming call or text message. 
How do Push Notifications work in Softphones?
Most softphone apps like Tragofone use Firebase Cloud Messaging (FCM) on Android devices and APNS (Access Point Name Service) on iOS smartphones to relay incoming call alerts.
Given below is the step-by-step process of sending push notifications: 
Your softphone app uses APNS to send push notifications to iOS devices and Google FCM for Android phones.
The app then requests a device token from APNS or FCM.
The app receives the token, which functions as the address to which the push notification has to be sent.
The app registers to the IP PBX with a SIP `REGISTER' message. 
The user terminates the app.
When your softphone app receives a call, the PBX sends an `INVITE' message to the contact address and sends a push notification with a device token to the APNS or FCM.
Since the softphone app is in a terminated state, it will not receive the `INVITE' message. The APNS/FCM will send a push notification to the device.
The mobile device receives the push notification and alerts the user about the incoming call. The user accepts the call.
Why Push Notifications have been a game-changer for Softphones
Enterprises are increasingly using mobile softphones – instead of traditional phone systems – to meet their employees' communication needs. While softphones emerged as a complete unified communication solution, one of the major challenges that developers faced in mobile SIP client development is receiving incoming calls while the softphone application is not running.
Until recently many developers resorted to simple tricks to work around the issue – like continuously playing a blank sound stream, or sending keep-alive packets, in order to keep the sockets open while the application running in the background.
However, with newer versions of mobile operating systems, and growing demand for optimized battery utilization, it became critical for developers to integrate push notification services into softphones. As they researched the possibility they found that building a push notification service for applications like softphones was relatively seamless.
VoIP (Voice over Internet Protocol) enabled softphone apps to allow users to make and receive calls by using an internet connection instead of a cellular service. Since the app relies on a data network, making calls usually results in high power consumption. 
Softphones need a steady network connection with a server in order to receive calls and other data. This means developers need to write complex code that sends periodic messages back and forth between the app and server to keep the connection alive, even when the app is not in use. This technique resulted in frequent device wakes that resulted in wasted energy. Also, if the user exited the app, they could no longer receive calls from the server.
Push notifications changed the entire dynamics of how softphones, like Tragofone, receive and make calls. Using these notifications the app does not require to be running in the foreground or even in the background at all times. Whenever a push notification is received, the Tragofone app displays an alert, providing an option to the user to accept or reject the call.
Closing thoughts
2020 made us realize how much we can do on the go. With the changing remote and hybrid work culture, organizations will eventually need a solution that allows their distributed employees to communicate with customers and collaborate with their teams via smartphone apps on iOS and Android. No wonder the softphone market is growing fast.
However, this also means constant pressure on employees to stay connected 24×7. With push notifications, employees get the freedom and flexibility to exit from the app once their office hours are over. Push notifications ensure they do not miss out on important calls and messages even when not using the app. It also ensures extended battery life ensuring that the phone is available to receive calls.