How to Build an Award-Winning Customer Service Strategy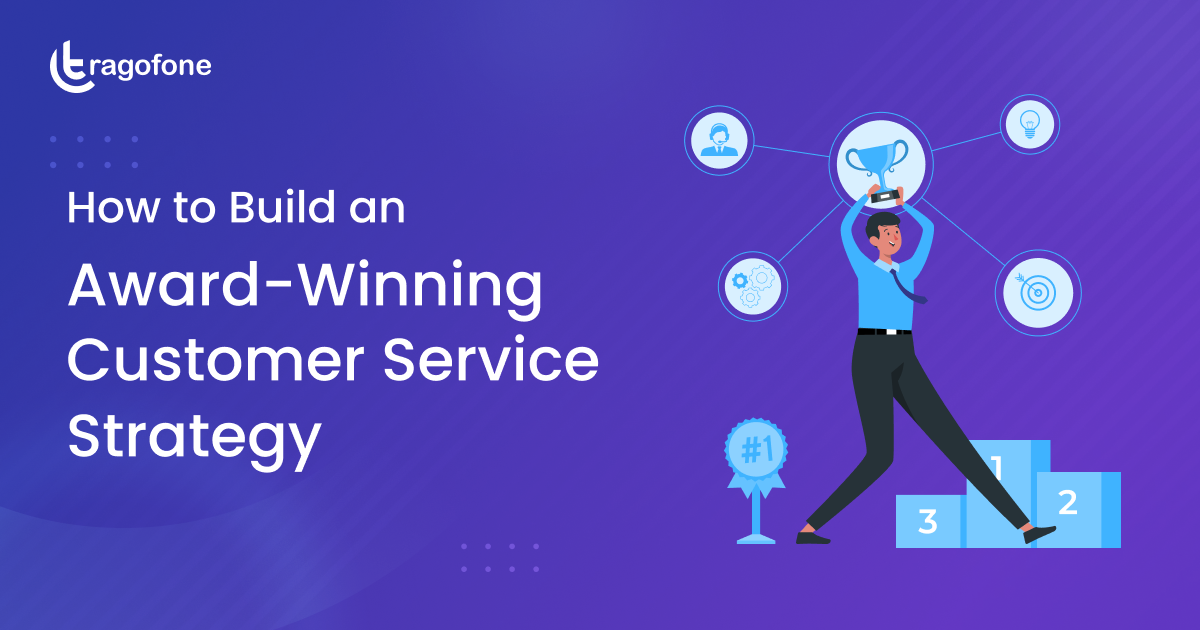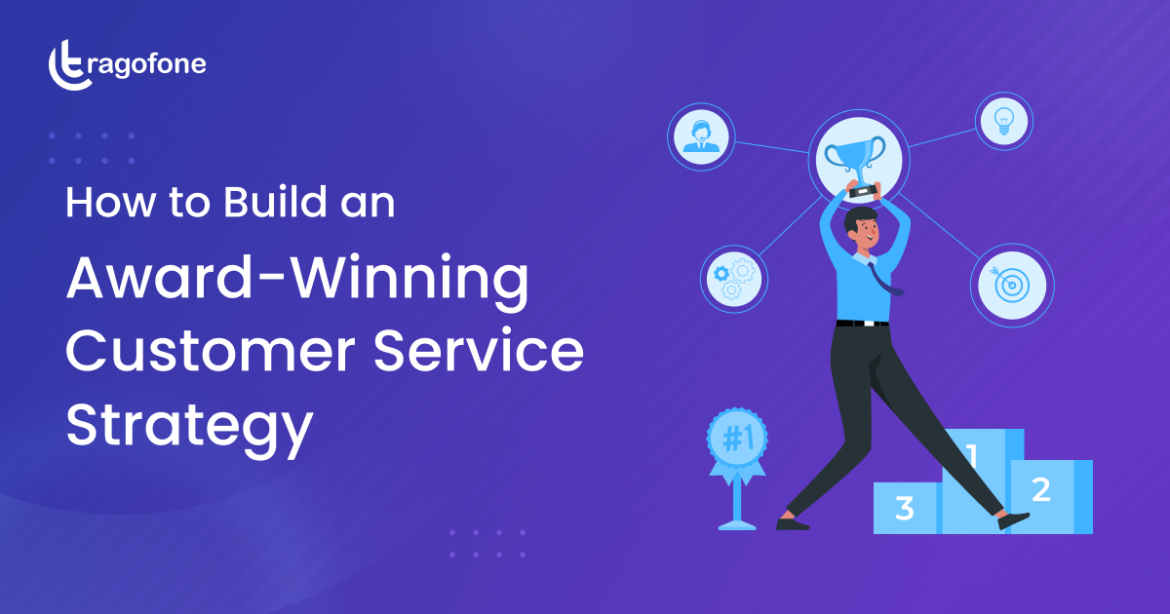 Building a customer-centric culture within your organization is the backbone of an outstanding customer support strategy. And crafting a well-defined customer service strategy plan involves meticulous analysis of your target audience, setting specific goals, and establishing measurable objectives. 
By following the principles and strategies presented in this guide, you will be equipped with the knowledge and tools to build an award-winning customer service strategy that drives customer satisfaction, loyalty, and ultimately, business success.In this comprehensive guide, we will take you through the essential steps to develop a customer service strategy with practical examples of successful customer service strategies implemented by industry leaders that will set your business apart and propel it towards success.
Understanding customer service strategy
Customer service strategy encompasses the framework and guidelines that govern how your business interacts with customers, handles their inquiries and concerns, and strives to meet their needs and expectations. It involves aligning your approach with your organization's overarching goals and values, ensuring a consistent and cohesive customer experience across all touchpoints.
By understanding the key principles and objectives of customer service strategy, you can tailor your approach to address specific customer needs, enhance satisfaction levels, and drive long-term loyalty. This includes elements such as responsiveness, personalization, efficiency, and empathy.
An effective customer service management strategy takes into account market trends, customer preferences, and feedback to continuously evolve and improve. It involves analyzing customer data, tracking metrics, and staying updated with industry best practices to remain competitive and meet changing customer expectations.
Key principles and objectives of customer service strategy
The success of a customer service support strategy relies on understanding and implementing key principles and objectives that guide its development and execution. Here are the fundamental principles to consider:
Customer-centricity:

Prioritize the customer, understanding their needs and preferences to deliver tailored service.

Consistency:

Provide a consistent experience across all touchpoints to build trust and reliability.

Proactive engagement:

Anticipate customer needs and offer assistance before they ask for it.

Empathy and Personalization:

Treat customers with empathy, offering personalized solutions based on their circumstances.

Continuous Improvement:

Regularly evaluate performance, gather customer feedback, and adapt to exceed expectations.
By incorporating these principles and objectives, your customer service strategy will create a strong foundation for exceptional service and customer satisfaction.
Steps to craft an impeccable customer service strategy
Putting customer happiness at the heart of your organization
To develop an effective customer service strategy, it is crucial to prioritize customer happiness as the ultimate objective throughout your organization. A customer-centric approach serves as a guiding principle for decision-making and shapes the overall direction of your customer service strategy. By intertwining the capabilities of softphones into your approach, you can enhance customer experiences and create a customer-centric culture across all departments.
Example: Let's consider a software company dedicated to improving customer happiness. By utilizing softphones, they can establish a system where every employee, ranging from developers to sales representatives, regularly engages with customers to understand their pain points and gather valuable feedback. This practice not only enables a deeper understanding of customer needs but also instills a shared responsibility for customer happiness throughout the company.
Organizations can also implement key performance indicators (KPIs) related to customer satisfaction metrics such as Net Promoter Score (NPS) or Customer Satisfaction Score (CSAT). These metrics provide measurable goals that inspire the entire team to work collectively towards enhancing customer happiness.
Mapping customer touchpoints for a seamless experience
To deliver a seamless customer experience, it is vital to map out the various touchpoints through which customers engage with your brand, products, and services. By incorporating softphones into this process, you can enhance communication channels and ensure a cohesive experience across all customer interactions.
Begin by mapping the customer journey and identifying key touchpoints from initial awareness to post-purchase support. These touchpoints may include your website, social media platforms, customer service hotlines (including softphone capabilities), physical stores (if applicable), email communications, and more.
By comprehensively identifying these touchpoints, you gain a holistic view of the customer experience and can strive for consistency and seamlessness at each stage. Evaluate the quality of each touchpoint and leverage softphones to optimize communication channels, ensuring efficient and effective customer interactions.
Example: Let's consider an online retail company. They identify touchpoints such as the website browsing experience, product selection and purchase process, delivery and shipping notifications (through softphone notifications), post-purchase customer support (including softphone conversations), and even the packaging and unboxing experience. By understanding and optimizing each of these touchpoints, the company can provide a smooth, convenient, and delightful experience for their customers.
Setting customer service goals for success
Establishing clear and effective goals for customer service is essential to provide your team with a framework for success and measure progress. By incorporating softphones into this process, you can optimize communication channels and elevate the overall customer service experience.
When setting goals, ensure they are specific, measurable, achievable, relevant, and time-bound (SMART). This approach allows you to create actionable objectives that align with your business goals and contribute to delivering exceptional customer service.
Example: A goal could be to reduce the average response time for customer inquiries by 20% within the next three months, leveraging the capabilities of softphones for efficient and prompt communication. This goal is specific (response time reduction), measurable (20% improvement), achievable (within a reasonable timeframe), relevant (enhancing customer satisfaction), and time-bound (three months).
It is also beneficial to consider both quantitative and qualitative goals. Quantitative goals may include metrics such as customer satisfaction scores, Net Promoter Score (NPS), customer retention rates, or average resolution time. Qualitative goals may focus on enhancing the customer experience through personalization, empathy, or proactive communication facilitated by softphones.
Regularly monitor and evaluate progress towards these goals, utilizing the data and insights gathered through softphone interactions. This data-driven approach enables you to make informed decisions, identify areas for improvement, and adjust strategies as needed. Celebrate milestones and achievements along the way to foster team morale and maintain a focus on continuous improvement.
Monitoring key customer service metrics for success
To assess the effectiveness of your customer service strategy and optimize performance, it is crucial to monitor key performance indicators (KPIs) that provide measurable insights. By using softphones into your monitoring process, you can enhance communication efficiency and gather valuable data to improve customer service outcomes.
Consider the following common KPIs:
Customer Satisfaction Score (CSAT):

Measure customer satisfaction through surveys or feedback ratings, leveraging softphones to gather feedback and assess customer sentiment.
Net Promoter Score (NPS):

Evaluate customer loyalty and the likelihood of customers recommending your business, utilizing softphones to engage with customers and gauge their overall experience.
First Response Time:

Track the speed of initial responses to customer inquiries, leveraging the capabilities of softphones to ensure prompt and timely communication.
Resolution Time:

Monitor the time taken to resolve customer issues or inquiries, utilizing softphones to streamline communication channels and expedite issue resolution.
Customer Retention Rate:

Measure the percentage of customers who continue using your products or services, leveraging softphones to gather insights and address customer concerns effectively.
Customer Effort Score (CES):

Evaluate the ease of the customer service experience, leveraging softphones to streamline interactions and minimize customer effort.
Example: A telecommunications company can use softphones to track CSAT, NPS, First Response Time, and Resolution Time to ensure customer satisfaction and optimize their support team's efficiency.
Regularly monitor these selected KPIs, leveraging the data and insights collected through softphone interactions. Analyze trends, identify areas for improvement, and make data-driven enhancements to enhance the overall customer service experience.
Cultivating a high-performing customer service team 
Building a driven customer service team and fostering a customer-centric culture are crucial for delivering exceptional service. Here's how you can achieve this:
Hire Customer-Focused Individuals:

Recruit team members with strong communication skills and empathy, emphasizing their ability to leverage softphones effectively.
Foster a Customer-Centric Mindset:

Encourage active listening and personalized experiences using softphone-enabled communication channels.
Empower Your Team:

Provide tools and autonomy to resolve issues promptly with advanced softphone features like call routing and transfer.
Support Continuous Learning:

Offer ongoing training on industry trends and softphone usage to enhance team skills.
Recognize Exceptional Performance:

Implement recognition programs and incentives to motivate and create a positive work environment.
Example: A retail company could hire experienced customer service professionals and provide comprehensive product knowledge training, specifically emphasizing the integration of softphones into their customer interactions. They could also foster a culture of continuous learning by offering regular workshops and certifications on softphone utilization. Recognizing outstanding performance through incentives and appreciation will further motivate the team to consistently deliver exceptional service.
Create a foundation for delivering exceptional service by building a motivated and customer-centric team. A culture that prioritizes customer satisfaction and empowers team members will result in satisfied customers and long-term loyalty.
Crafting an effective customer service toolkit
Crafting a powerful customer service toolkit is essential to equip your team with the resources they need to deliver exceptional service. Here's how to create an effective toolkit:
Use Customer Service Software:

Streamline interactions and track customer history with softphone-integrated ticketing systems or live chat platforms.
Develop a Knowledge Base

: Create a resource of FAQs, troubleshooting guides, and best practices accessible through softphone-enabled channels.
Provide Standardized Templates:

Save time and ensure consistent communication with softphone-supported email templates, canned responses, and scripts.
Offer Self-Service Options:

Empower customers with softphone-enabled FAQs, tutorials, and online forums for independent problem-solving.
Enable Multichannel Support:

Utilize softphones to provide support via phone, email, live chat, and social media, meeting customers on their preferred channels.
Integrate Feedback Mechanisms:

Gather customer feedback through softphone-enabled surveys and reviews to identify areas for improvement.
Example: A software company might utilize a customer service software that integrates with their CRM system, providing a seamless customer support experience. They could also develop a knowledge base with step-by-step guides and video tutorials, enabling customers to find answers independently. Additionally, they might implement customer satisfaction surveys to gather feedback and continuously improve their service.
By crafting a powerful customer service toolkit, you empower your team to deliver efficient, consistent, and personalized support. This leads to enhanced customer satisfaction and loyalty, setting your business apart from the competition.
Empower your customer service representatives
Empowering your customer service representatives is important for delivering exceptional service. Here's how to give them the power they need:
Grant Decision-Making Authority: Provide your representatives with the authority to make decisions that resolve customer issues promptly. This enables them to take ownership and deliver efficient solutions.

Foster Autonomy: Encourage your representatives to use their judgment and creativity when interacting with customers. Empower them to think outside the box and personalize the support they provide.

Provide Continuous Training: Offer ongoing training and development programs to enhance your representatives' skills and knowledge. This ensures they stay updated on product updates, industry trends, and customer service best practices.

Set Clear Guidelines: Establish clear guidelines and policies to provide a framework for decision-making. This ensures consistency while still allowing flexibility for unique customer situations.

Encourage Collaboration: Foster a collaborative environment where representatives can share insights, strategies, and best practices. This promotes a culture of learning and enables representatives to support each other in providing exceptional service.

Recognize and Appreciate: Recognize and appreciate the efforts and achievements of your customer service representatives. Celebrate their successes and provide feedback to motivate and inspire them.
Example: A hospitality company may empower their customer service representatives to resolve guest complaints by offering immediate compensation up to a certain limit. This demonstrates trust in their decision-making and allows for swift issue resolution, leading to guest satisfaction.
Establishing a continuous feedback loop for customer satisfaction
Establishing a consistent feedback loop is a must for continuously improving your customer service strategy. Here's how to create an effective feedback loop:
Gather Customer Feedback: Actively collect feedback from customers through surveys, feedback forms, or online reviews. 

Analyze and Act on Feedback: Regularly analyze the feedback received to identify trends, patterns, and areas for improvement.

Share Feedback with Your Team: Share customer feedback with your customer service representatives to keep them informed about customer experiences and areas of improvement. 

Conduct Team Feedback Sessions: Schedule regular team feedback sessions to discuss customer feedback, share best practices, and brainstorm innovative solutions. 

Implement Changes and Monitor Results: Based on customer feedback and team discussions, implement changes to address identified issues or enhance customer experiences. 

Engage in Customer Follow-Ups: Reach out to customers who provided feedback to express appreciation, address their concerns, and inform them about the improvements made.
Example: An e-commerce company could gather customer feedback through post-purchase surveys and online reviews. They could analyze this feedback to identify common pain points and prioritize enhancements to their website's checkout process. The changes implemented based on this feedback would be monitored closely, and customers who highlighted the checkout issues would receive follow-up communication to inform them about the improvements made.
Endgame
Developing an award-winning customer service strategy is paramount for the long-term success and customer loyalty of any business. By prioritizing exceptional customer service, aligning it with organizational goals, and fostering a customer-centric culture, you can cultivate positive customer experiences and drive sustainable growth.
At Tragofone, we believe that exceptional customer service is the cornerstone of our success. Throughout our journey, we have witnessed firsthand how Tragofone has consistently demonstrated its unwavering commitment to customer satisfaction. We have diligently cultivated a customer-centric culture, ensuring that every interaction with our customers leaves a positive and lasting impression.
Our unwavering dedication to customer satisfaction has been the driving force behind our success. We strive to set the bar high for customer service in the telecommunications industry. By putting our customers at the heart of everything we do, we aim to create remarkable experiences that foster loyalty and trust. Exceptional customer service is not just a goal for us—it is a fundamental part of our DNA. We are committed to continually raising the bar and delivering exceptional support that goes above and beyond.