Virtual Phone Systems: Top 5 Virtual Phone System Apps for Seamless Cloud Integration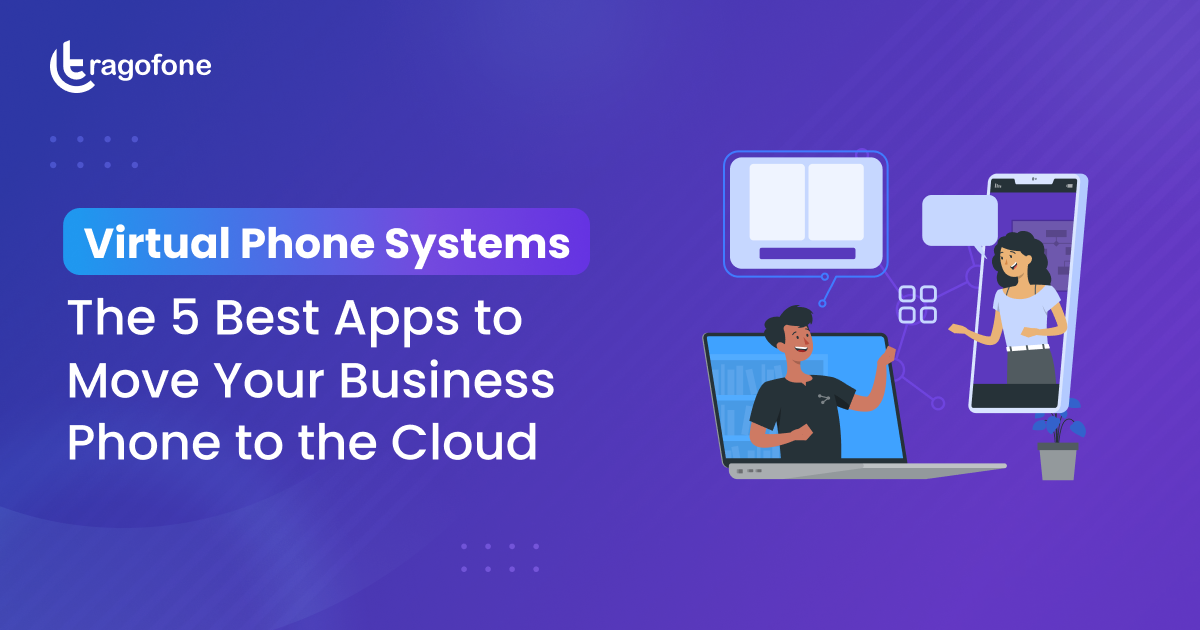 Virtual phone systems have been instrumental in modernizing business communication operations. These systems seamlessly integrate mobile devices, ensuring smooth connectivity among remote workers and multiple locations. Moreover, the hardware required for virtual PBX systems boasts a significantly lower upfront cost, providing an affordable maintenance solution.
To implement this solution into their operations, businesses must select applications that align with their unique requirements. In this blog, we will discuss top virtual PBX providers and understand how their solutions cater to these specific business needs.
What is a virtual phone system?
A virtual phone system, also known as a cloud-based VoIP phone system or virtual PBX (Private Branch Exchange), is a communication solution that operates via the Internet instead of relying on a physical landline. It enables businesses to manage their phone calls and other communication features virtually on a desktop app, mobile phone, or desk phone, without the need for on-site hardware or infrastructure.
The working of a virtual phone system
Traditional phone lines' biggest drawback was their limited accessibility whereas a virtual phone system gives your employees the freedom to connect from anywhere. Here is a detailed explanation of how this system works. 
#1. Virtual setup: Businesses sign up for a virtual phone system service with a provider. They typically choose a subscription plan based on the number of users, required features, and expected call volume.                                               
#2. Phone number acquisition: The business can either choose to obtain new virtual phone numbers or port existing numbers to the virtual phone system. Virtual phone numbers can be local, toll-free, or international, depending on the business's needs.           
#3. Call routing: When someone dials the virtual phone number, the call is first directed to the virtual phone system's server or cloud platform. The system then uses predetermined rules to route the call to the appropriate destination.
#4. Call handling: Depending on the configured settings, the call can be forwarded to a specific extension, a group of extensions, or an auto-attendant. The auto-attendant can play a recorded greeting and provide a menu of options for the caller to choose from, such as pressing a number to reach a particular department or employee.
#5. Extension dialing: Within the virtual phone system, businesses can set up extensions for employees or departments. Callers can reach specific extensions by dialing the corresponding numbers. The system can forward calls to the designated extensions, either to physical phones, VoIP softphones, or other devices connected to the system.
#6. Voicemail and message handling: If a call is not answered or if the caller chooses to leave a message, the system records and stores the voicemail. Users can access their voicemails through their phones, email, or an online portal. Some systems also provide voicemail transcription for easy review and management.
Note: Using virtual phone systems prevents your business from maintaining the lines or switchboard as the virtual phone system provider does that for you. 
Why use a virtual phone system?
The communication needs of every business are unique, and therefore, tailored solutions are necessary to address them. Virtual phone systems offer such unique solutions. Not yet convinced? Here's why you should be.
Traditional phone systems are cumbersome to configure. The installation process involves waiting for technicians to install wires and make modifications to your office infrastructure. This downtime can disrupt your team's ability to communicate effectively.  Can you afford such a business interruption?
With a virtual phone system, all you need is a reliable high-speed internet connection. The need for physical phone hardware is optional, allowing for immediate setup. And when you do acquire VoIP phones, the process is as straightforward as plugging them in. It's that simple.
Never exceeding your budget
Many businesses end up wasting money by investing in solutions they don't fully utilize. This is where a virtual phone system proves its worth, allowing you to customize the features that align with your specific needs. This makes it a budget-friendly choice for businesses. 
Need for on-demand phone numbers
When managing a remote team, communication can be a challenge when everyone has different area codes and inconsistent prefixes for their phone numbers. This inconsistency not only creates confusion internally but also hinders effective communication with customers.
With a virtual phone system, you can provide your team with a professional identity that enhances their conversations. You have the flexibility to choose a toll-free number, a local number, or even eliminate direct-dial numbers, tailoring them to your specific needs.
Traditional phone systems limit your team to using desk phones for taking calls. However, with a VoIP solution, your team gains the flexibility to communicate using various devices. Virtual phone systems embrace open and universal standards, enabling you to receive calls on any IP-based device, not just a desk phone. Some examples of these devices include desktop or laptop softphones, iPads and tablets, conference phones, and wireless VoIP phones.
These standards allow you to mix and match the appropriate hardware for each individual's needs. Executives may require different features and capabilities compared to support representatives. These devices rely on the Session Initiation Protocol (SIP) to ensure reliable business calling.
Seamless team collaboration
Your remote team must respond to inquiries promptly. Avoid project delays caused by communication breakdowns. Virtual phone systems offer the convenience of a unified platform, eliminating the need to juggle multiple messaging and communication apps simultaneously. 
Instead of calling a colleague, you can swiftly send them a text message. It's less formal than an email and quicker as well. You can even establish a dedicated conference line for your clients, enabling them to have interactive involvement. These virtual workspaces encourage a collaborative approach to business communication.
The 5 best apps to roll your phone business to the cloud
| | | |
| --- | --- | --- |
| App | Top feature  | Supported Platform |
| Tragofone | Inbuilt SIP, WebRTC, auto-provisioning & Push notification.  | iOS, Windows, Mac, Android & Linux |
| Dialpad | Best for transcribing conversations.  | iOS, Windows, Mac &Android |
| Vonage Business | Supports Voicemail-to-email and integrations with popular business tools. | Windows, Mac, iOS, Android |
| Aircall | Best for support and sales teams. | Android, iOS, Windows, Mac |
| 8×8 | A unified communication platform with voice, video, chat & contact center solutions.  | Android, iOS, Windows, Mac |
#1. Tragofone
Tragofone's cloud-based VoIP softphone app is free to download and use, and there are no monthly or annual subscription fees. You only pay for the minutes and texts that you use. The app is affordable, easy to use, and packed with features that can help you save time and money. Some key features are:
Auto provisioning:

Automatically provisions new users, so you don't have to spend time setting up each device individually.

Supports SIP:

SIP

(Session Initiation Protocol) allows users for initiating, maintaining, modifying, and terminating real-time sessions involving video, voice, messaging, and other communications applications and services.

Push notifications:

Lets users know when they have missed calls, voicemails, or text messages.

WebRTC

: Enables real-time audio and video communication directly in web browsers without the need for additional plugins or software installations.

WhiteLabel:

Empowers businesses to offer the app as their personalized communication solution, delivering a seamless brand experience to their users.

Balance management:

Monitor and manage users' account balances or credits.

Multiple languages and caller IDs support:

Users can use the app in their preferred language, delivering a more personalized experience. 

High-quality audio and video:

High-quality audio and video codecs ensure that your calls and video conferences are crystal clear.

Network handoff:

It facilitates a smooth transition between various network environments, enabling effortless switching between Wi-Fi and cellular data networks while on a call.
#2. DialPad
Dialpad app is a great option for businesses of all sizes that are looking to move their phone systems to the cloud. The app's voice intelligence features automatically transcribe your phone conversations to text in real-time. Finding this feature in an app is rare. Other features of dialpad include:
Unlimited calling and texting:

Dialpad offers unlimited calling and texting in the US and Canada, as well as to over 100 countries worldwide. This means you can stay connected with your customers and colleagues without worrying about running out of minutes or data.

Free video conferencing:

Dialpad's video conferencing is free for up to 10 participants, and it's easy to use. You can start a video call with just a few clicks, and you can share your screen or whiteboard with your colleagues.

Secure:

Dialpad is a secure platform that uses end-to-end encryption to protect your calls and data.

Switch between devices:

Whether you're using a laptop, desk phone, or iOS device, you can easily transfer an ongoing call from one device to another with a single tap. 

Automatic note-taking:

With the Voice Intelligence feature, the app automatically transcribes calls and presents the transcripts to users after they hang up. 
Rich-contact profiles:

Users can access additional information such as shared emails, upcoming events, and details from their customer relationship management (CRM) system.
Coach from anywhere:

With the app's listen-in features, users can monitor and coach calls from a single interface, even if they are not physically present at their desks. 
#3. Vonage Business Communications (VBC) desktop app
The Vonage Business Communications (VBC) desktop app consolidates calling, messaging, video conferencing, and CRM integrations into a single, unified communications platform. Why should you choose it?
Handle calls using your business phone number:

Helps you to take your business calls, initiate outgoing calls, or contact your work associates.

Access your business inbox:

Utilize SMS, MMS, and Facebook Messenger to communicate and collaborate with customers through their preferred channels.

Utilize business SMS & MMS capabilities:

Send text and media messages to any US phone number from your business number directly within the VBC desktop app.

Busy lamp field

: It indicates which phones on the system are in use by displaying a clear status on your phone display. Each BLF key on your phone acts as a speed dial.

Local phone numbers:

Users can obtain local phone numbers in additional markets. This feature enables businesses to establish a local presence in different regions, making it easier for customers or clients in those areas to reach them. 

Call recording:

Offers the ability to record all conversations, including both inbound and outbound calls.

International company number:

By providing an international phone number, businesses can facilitate communication with international clients, removing potential barriers such as long-distance charges or complicated dialing processes.
#4. Aircall 
Aircall supports specific features for sales and service. If these departments dedicate significant time to phone calls and require productivity-enhancing features, Aircall's free trial is a valuable opportunity. Some of its other top features are:
Parallel calling:

Enables you to pause the current call and start another conversation on a separate number. 

Live Feed:

Provides real-time metrics for call answer times, calls waiting, average waiting time, and user availability. 

Third-party integration:

The app supports 60+ integration with CRMs, help desk, eCommerce, chat, and other apps, thereby broadening its connectivity to your business.

International numbers:

Aircall allows businesses to claim local numbers for their operations in over 100 countries, regardless of where their team is located.

Assign and comment on calls:

Users can allocate calls to designated teammates and include contextual comments.

Call transfer:

Users can transfer calls to any teammate with just one click.

Native SMS:

 Businesses can engage in one-to-one communication with customers and prospects through the exchange of SMS messages.
#5. 8×8
8×8 is a great option for businesses of all sizes that are looking to move their phone systems to the cloud. The app also offers unlimited calls, videos, and chat. Its top features are.
8×8 frontdesk

: Answers calls for receptionists and operators who handle high call volumes.

8×8 meet:

Businesses can host and join video conferences with up to 500 participants. 

8×8 for salesforce:

Specifically, designed for sales reps to improve sales and customer service processes. 

Unlimited Calling, SMS, and Fax:

8×8 provides businesses with the advantage of unlimited calling in up to 47 countries. 

Multi-level auto attendant:

Administrators have the ability to set rules within the auto attendant to distribute incoming calls based on time zones, operating hours, or other conditions, improving response times and overall customer experience.

Visual voicemail:

Provides convenient access to voicemail recordings, alerts, and transcriptions. 

Music on hold:

Allows businesses to enhance their customers' experience while they access services by incorporating professional voice-over and music in telephone prompts, voicemail, and auto attendants. 

Overhead paging

: Businesses can deliver real-time announcements and emergency information using the intercom feature of selected phones.
Achieving enhanced scalability with virtual PBX solutions
The need for clunky-hogging wired phones for modern business operations appears impractical. Virtual phone systems have become the new norm for modern businesses aiming to scale their operations and facilitate seamless interactions between customers and agents, as well as among agents themselves. By leveraging VoIP services, it eliminates the limitations of physical hardware and fosters flexibility, driving overall business success.