VoIP Softphone App: Effortlessly Adapting to Business Rhythm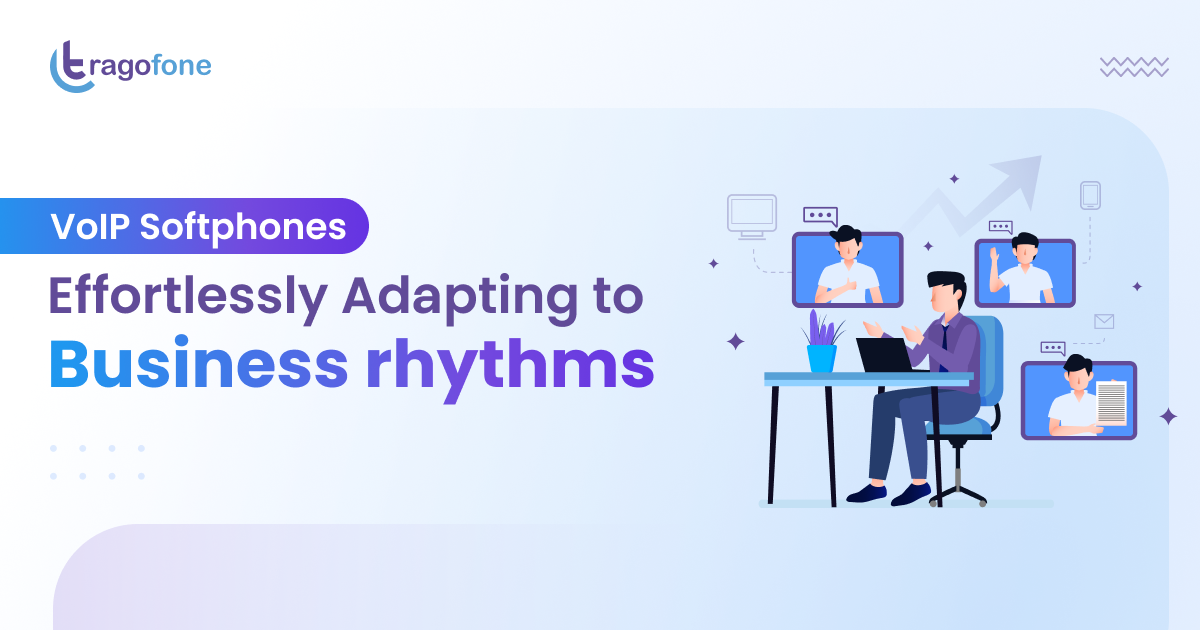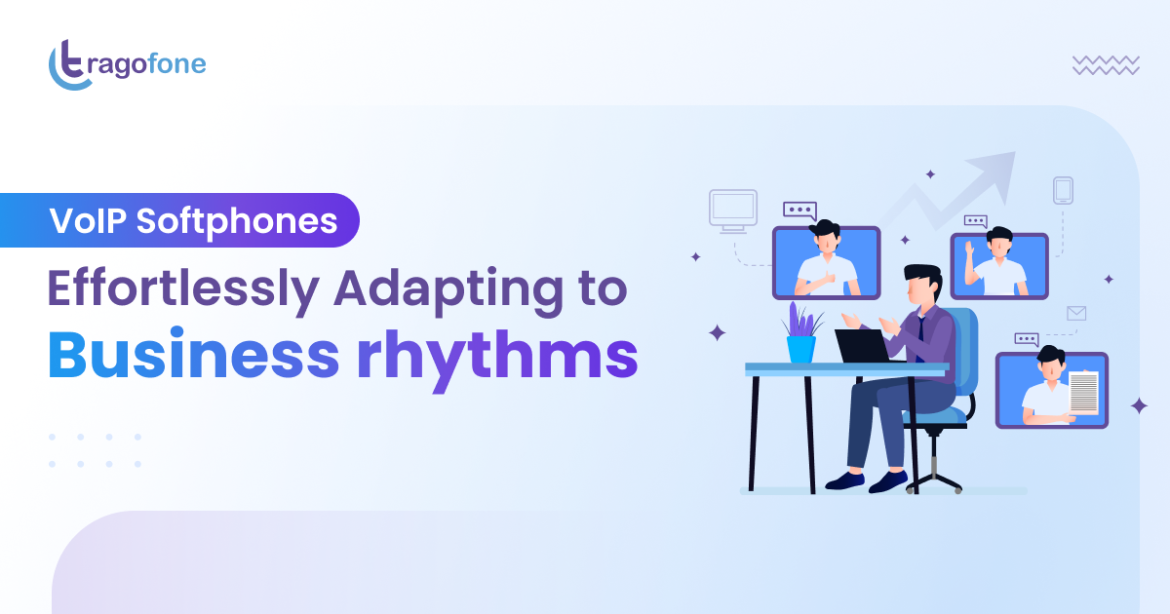 Flexible communications solutions are becoming more and more crucial as the world goes virtual. Fast-changing customer expectations, dynamically shifting demand, and the ongoing remote working transformation are all having an impact on how businesses operate. To meet the needs of a global digital economy, it is vital to adapt to emerging communications technologies. 86% of customers anticipate conversations to flow smoothly between communication channels. It makes sense that organizations are carefully examining their business procedures and analyzing ways to continue offering their customers the finest possible experience. And in the midst of all the turmoil, the use of softphone apps are rising.
Softphones can be adopted for both professional and domestic calling. The difference between a business softphone and a standard audio/video calling application can be distinguished by someone who receives and makes a lot of calls, especially long-distance and nationwide calls. Separate personal and company phone numbers are needed for business owners and entrepreneurs. Switching back and forth between two SIM cards isn't always feasible, and carrying two phones can be cumbersome. These and other factors influenced the development of the softphone.
How do you make a call on a softphone?
You might be wondering, "How do I make an outbound call on a softphone?" The solution is as straightforward as they come. Softphones operate much like regular phones. To use the app, simply launch it, dial a phone number on your computer or mobile device, or choose a contact from your contact list, then wait for a connection.
(The only difference is that you'll be dialing a virtual keypad from an app on your smartphone or computer rather than a physical one.)
Initiating an outbound call
Signup and login into your account. You could opt to do this on your phone's browser or a softphone app if you're using a mobile device.
Launch the softphone by clicking the phone icon in the bottom right corner. It will display a virtual keypad.
Use the drop-down to select which tracking number should be displayed as your outbound caller ID if you have more than one tracking number.
Click Call after entering a number on the softphone dial pad or pasting one.
The softphone app will call the entered number. The entered number will be called as soon as you press the call button.
Use the softphone window as required to take notes, transfer calls, etc.
Softphone free trial available here.
You can still use all of the standard phone features, such as call forwarding, call waiting, and call transfer, with a reliable VoIP calling or softphone service. Additionally, setting these things up is frequently made much simpler by using a softphone. For instance, you can modify all these settings in Tragofone's softphone app directly from your web dashboard without contacting customer support or waiting days (or weeks) for the changes to take effect.
In terms of how to obtain one, VoIP phone systems that you can subscribe to on a monthly or annual basis with a software service provider often provide softphone apps as part of their VoIP calling systems. Here is the cost for the Tragofone phone system as an illustration; even the most basic plan provides unlimited calling along with many other services.
What does the term "Softphone" entail?
Users can make and receive phone calls over the internet by installing a softphone on their PCs, laptops, tablets, and other mobile devices. VoIP (Voice Over Internet Protocol) calling is used to run a softphone application. Voice over IP, which provides the essential foundation that facilitates softphones, is the key translation technology that enables phone calls to be connected over the internet. It is a component of unified communication systems, a more comprehensive branch of telephony technology.
Therefore, the requirement for specialized hardware is removed. Once installed, it functions much like a regular phone, complete with buttons for human input and a display panel for seeing caller ID information. It is also enhanced with a range of additional features, such as seamless connectivity and integration with third-party applications like external support desk, CRM integrations, eCommerce platforms, etc.
The term "softphone" refers to the software used to increase the functionality of VoIP, call servers, and PBX systems. The majority of contemporary business phone systems include both the VoIP service and the softphone, however, some solutions on the market like Tragofone offers the VoIP softphone tool alone to help improve your current telecommunications system.
Step-by-step guidelines for installing a softphone application
A softphone system is simple to set up. Once you've decided on a service provider and plan, all that's left to do is install the required application, set up your device's settings, and start making calls. Following are the guidelines for installing the application:
Step 1: Contact a softphone service provider like Tragofone to access the best plans for your business requirements. 
Step 2: Save the installation file to your device after downloading it.
Step 3: Run the installation like you would any other program.
Step 4: Set the speakers' and microphones' preferences.
Step 5: Start making calls!
Key features of softphone apps
A Softphone provides many of the same features as a conventional phone in addition to a few significant enhancements. Let's explore some of the key features:
#1. Obtain a second phone number without a SIM card
You obtain a virtual phone number from a softphone. You can dial this number from any location in the world and on any device. When installed on a phone, it functions as a second phone number and can be globally routed. This makes it simple for professionals and business users to differentiate between calls made on the same device for commercial and personal use.
#2. Portability
With a softphone, you can answer calls whenever and wherever you want. This liberates you from your desk and is particularly helpful if you're in a lengthy meeting or elsewhere in the building.
This is a huge benefit in a business setting where customers want you to be approachable at all times. There is little chance of disappointing customers, and you don't need to be at your desk all day just in case.
#3. Call forwarding
You can divert incoming calls to an alternate number using a softphone. This enables you to stay in touch while traveling. For a business, this streamlines communication channels. No matter where they are, customers can call someone at the same number. At home, at work, or even in the waiting area at the airport, you could answer a call.
#4. Put on hold
Softphones let you halt a call without cutting it off during a conversation and put it on hold for a while.
When a customer calls and you need to find out the status of an order, you could find this beneficial. There is less chance of them overhearing anything you don't want them to know because they only hear the information they are intended to hear.
#5. Snooze
If you're on a parallel line on the desk phone and using the softphone app, snoozing allows you to postpone the ring. This reduces interruptions and enables you to concentrate on finishing one call at a time.
#6. Click-to-call
Even from a laptop or desktop computer, you can place and receive calls thanks to a softphone. You can call any number using the click-to-call feature from a web browser.
As a result, the cost of operating a call center is minimized due to the decreased requirement for dedicated hardware. In addition to making it simpler for customers to contact you, using a Click to Call button on your website can improve lead conversion rates and lower the likelihood of cart abandonment.
#7. Microphone and speaker settings
Users can adjust the preferences for the microphone and speaker that will be activated during calls using this feature. You can choose which speaker—if there is any—will be used for a call. Similar adjustments can be made to volume and background noise.
Nothing is more aggravating than having background noise interrupt your call while you're on it. You can minimize these inconveniences and improve the clarity and audibility of your voice by tweaking the microphone settings.
#8. Receive voicemails
Despite the fact that softphones make you available from virtually anywhere, there are situations when you might not want to answer the phone. You can let the call go to voicemail in certain circumstances. Your mailbox will be pushed with the audio file. Furthermore, a transcription of the file is available. After that, you can quickly scan this and decide whether to follow up later or immediately return the call if it's urgent.
#9. Mobile softphone app
You can remain reachable on your virtual number from anywhere as you are a mobile application. Even if you're out of the office and on the go, a client dialing your office number will still be able to reach you. This promotes professionalism and can significantly enhance interactions with business partners and customers.
#10. Team presence
Even though your team will always be approachable thanks to a softphone system, there can be occasions when someone doesn't want to be disturbed. They can opt to let their status reflect that they are offline, at a meeting, away, etc. rather than sending a message and waiting for a reply to that effect.
This straightforward feature increases output and enhances communication. You could send an instant message rather than a phone, for instance, if you can see that the person you want to contact is in a meeting.
#11. Detailed call logs
The number of incoming and outgoing calls that were made and received as well as the log-in information for each call is both provided by a softphone system. This contains the caller, time and date, length of the call, etc. This is crucial for monitoring productivity and calling back customers.
#12. Caller ID
A softphone system enables caller ID for both incoming and outgoing calls. The people you call can recognize you by your virtual number and name thanks to the outgoing caller ID. Prior to answering the phone, caller ID lets you know who is calling so that obtrusive calls can be rejected or put on hold.
Building a client's trust with an outgoing caller ID is crucial. Many people refrain from answering calls from ominous numbers. This feature might therefore increase call answer rates and expand your audience.
#13. Integrate third-party tools
Softphone systems can interact with other software programs and tools since they are software themselves. CRM tool integrations with softphone systems are rather popular. Such interconnected systems can improve efficacy and efficiency.
The most common softphone interfaces are for CRM since they increase productivity for the sales staff through click-to-call, automated call logging, contact list synchronization, etc.
#14. Call routing
Instead of making customers wait for their calls to be transferred between departments, the system can be set up to automatically route calls through an IVR.
For example, one can refer a caller's inquiry about the status of their order, to the order fulfillment team.
#15. Instant chat messaging
Without the need for email, instant team chat messaging functionality enables real-time communication and collaboration for finding a resolution for any concerns. For in-depth discussions, teams, skill sets, departments, projects, etc. can be arranged into private or public chat channels. With just one click, users should be able to switch from a chat message to an audio or video call and vice versa.
VoIP softphone apps like Tragofone also offer fundamental collaboration features like file sharing, whiteboarding, user tagging and mentions, and real-time push alerts along with chat messaging.
Tragofone – Your all-in-one solution for VoIP communication
Softphones are the way of the future for business communication since they give dynamic workers additional flexibility and collaboration channels. This VoIP-powered communication software has completely transformed the way people communicate and collaborate by redefining how they make phone calls, video calls, share their screens, acknowledge their presence, or chat over IM. A must-have in every organization's toolkit for communication and collaboration, they are moreover economical, low-maintenance, and very convenient.
Softphones like the Tragofone are swiftly becoming commonplace in small and medium-sized businesses. This is because it can do much more than just make calls. Tragofone's softphone app has a boatload of functions because it is software, including the ability to make video and conference calls, transmit and receive files, manage voicemail, and chat and SMS. Anywhere your device is plugged in, you can open the app and use your softphone. Sign up for a free trial or request a demo today to learn more about Tragofone.