Redefining Financial Services Communications with Business Softphone App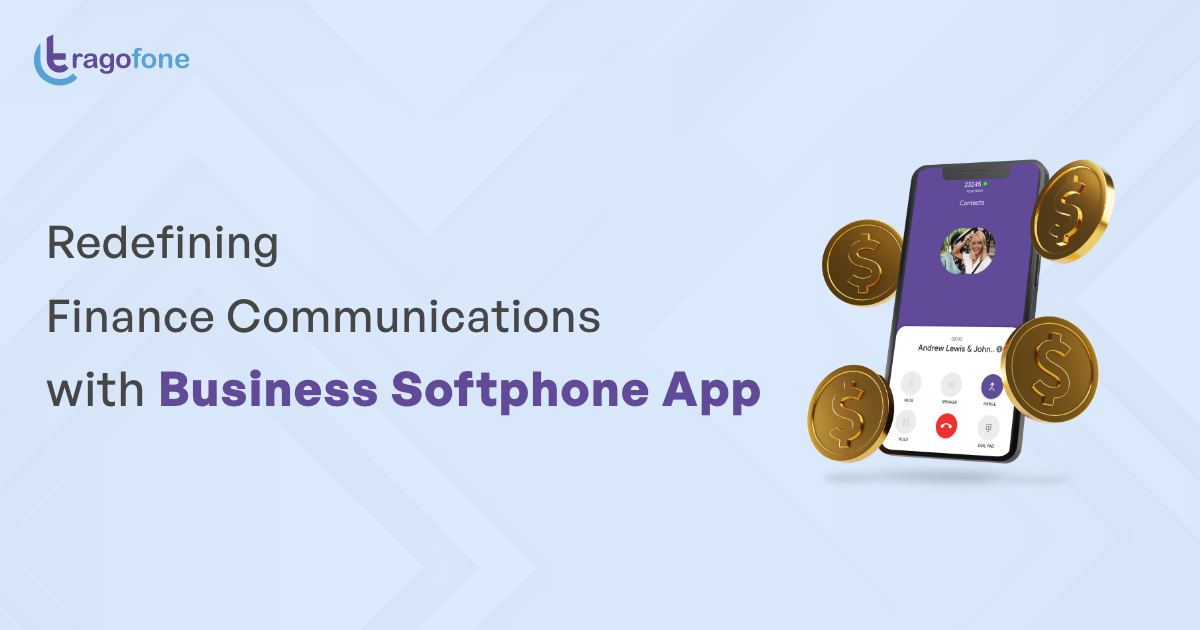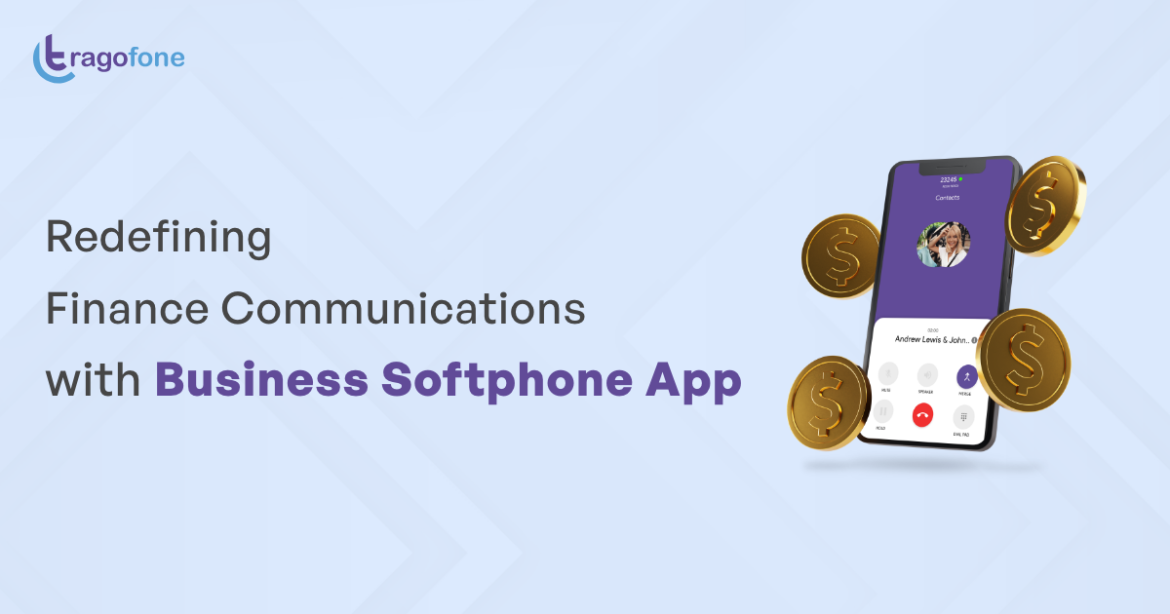 Business communications across industries including financial services were ruled by on-premises telephony. However, with the emergence of the internet the old-world system of on-premises telephony is fast being replaced by telecom technologies such as VoIP and business softphone. The global VoIP market is estimated to be worth $145 billion by 2024, now that's some growth and says a lot about the popularity of new and emerging business communication technologies.
Softphone App and Financial Services
In-person interactions have been integral in nurturing customer relationships for any business and financial services companies are no exception. But over the years physical touchpoints have diminished and gradually disappeared with the advent of the internet, online banking, and consumer preference for self-serve technologies. Business communication technologies of the pre-internet era no longer make the cut. However, amidst all these changes one thing remains constant, the need to maintain accurate records of customer interactions and provide customers an experience that fosters long-term, stress-free, and healthy working relationships with peers, superiors, and subordinates.
Today, customers demand a personalized experience in their virtual interactions as well. Over the top pushy and intrusive engagement strategies don't work anymore. These interactions need to have the right amount of involvement to make customers feel valued and the experience must be channel-agnostic. The solution lies in bringing together human interaction with technology and creating a balance between the two. A business softphone app such as Tragofone can help the financial services industry achieve this.
Rising popularity of 'hybrid' and 'remote' work even in the financial services industry is now possible thanks to business softphones. A VoIP softphone app enables users to receive and make calls from any internet enabled device facilitating remote work, enhancing productivity, and significant cost savings on telecom infrastructure and maintenance. In 2018, as many as 60% companies had switched to VoIP systems from traditional on-premises systems and the number has only increased since. Business softphones are a perfect solution to navigate the new demands of customers, increase efficiency, and accommodate the new normal of remote culture at work.
In focus:
What is a business softphone app
Why business softphone app for financial services
Benefits of business softphone app
Features of a business softphone app that boost efficiency
De-coding a business softphone app
A business softphone app is a phone but not a physical phone like your desk phone or mobile. It is a software application installed on an internet enabled device and uses the internet to make a phone. Users can install softphone apps and software on internet-connected devices such as mobile phones, tablets and computers enabling them to make and receive calls without a traditional desk phone.  Business softphone typically use Voice over Internet Protocol (VoIP) business phone systems and a business needs a subscription with their VoIP service provider to get a softphone app for their teams. Users can install the business softphone app like any other app on their phone. Or they can choose a WebRTC enabled business softphone such as Tragofone which can be directly launched on the browser as well. Business softphone apps have gained immense popularity over the last few years as unified communications systems tools as they deliver advanced calling features and offer flexibility for remote and in-office teams.
A business softphone app delivers voice, text, and video communications over the web via cloud-based VoIP service provider. It is compatible with desktop computers, laptops, smartphones, tablets, and other internet-connected devices that can support a microphone and speaker.  The icing on the cake is the fact that existing business phone numbers can be ported to the new VoIP system when a business migrates from a traditional phone service provider to a VoIP enabled business softphone.
Installing a softphone app
Installing your business softphone app is as easy as installing Instagram on your mobile/laptop and takes only a few minutes to complete. Once the softphone app is installed, a user can create his/her account or login using credentials provided by the VoIP service provider and access a full suite of calling features and tools.  Implementing a comprehensive softphone system will have a few additional steps like configuring call flows for the team, set user groups, integrate existing systems and productivity tools, and customize as per your business preference. Basic installation for making and receiving calls is a quick and simple process. A full company-wide integration will take time depending on your team size, customization requirements, complexity of call routing, and features to be added.
Equipment: In terms of equipment to use a softphone one needs an internet-connected device with an in-built microphone and speaker. A user may add a separate headset if using a device (old school desktops and laptops) which does not have an in-built speaker and microphone. For business softphone users, investing in a headset makes sense even if they have a microphone and speaker enabled device.  Headsets cut outside noise and help in conducting clear and professional phone calls better.
Technology: The Internet is like oxygen for business softphones and VoIP call quality. As humans can't breathe without oxygen, softphones are of no use without a stable internet connection and enough bandwidth. The quality and stability of your internet determines the performance of your business softphone, an unstable internet connection will lead to frequent call drops, choppy audio, and even a possible security threat. If you are a large organization that relies heavily on video conferencing, invest in a business broadband.
Business Communication for Financial Services
Financial service businesses deal with customers day-in day-out, 24×7. A business softphone app gives the team the mobility and flexibility to stay connected with their clients and deliver service par excellence no matter whether they are working in the office or some other location.
With most financial services companies having a national presence with numerous geographical locations, a business softphone app enables the team with out-of-the-box features to offer customized solutions and help teams connect and collaborate better.
Business softphone apps offer solutions for a wide spectrum. financial service businesses such as banks, credit unions, lending institutions, wealth management firms, financial advisors, brokerage firms, insurance companies, and more.
Tragofone advantage
A cloud-based business softphone app like Tragofone helps finance service companies significantly reduce operational expenses, optimize, and improve productivity and efficiency. Being in the business of handling people's money, clients of finance service professionals expect 24×7 availability, instantaneous response, and a great customer experience every time. With features like push-notifications, call forwarding, and intelligent call routing business softphones ensures that you don't miss a clients call or message even during off-business hours. It facilitates finance professionals to up their customer engagement game, nurture long-term relationships, build trust, and deliver customer service par excellence every single time.
From a consumer's perspective financial services have a big impact on their day-to-day lives. This is one area where they expect a prompt response in comparison to other industries. A few key financial services for which clients heavily rely on finance service professionals for advice include personal banking, commercial banking, investments and mortgages, property and casualty insurance, property management, employee compensation and benefits, life and health insurance, commercial insurance, loans (personal/business/home/education) and credit cards. Customers expect support for processing funds, emergency assistance, reporting and resolving fraudulent transactions and more all of which translates to being available for the customer 24×7.
With most companies investing in technology and digitization the competition within financial service companies is high and when clients aren't happy with your service, switching to a competitor is easy. A softphone app enables financial services executives to be available for customers and still have a personal life with a plethora of advanced features a business softphone app offers.
Benefits of business softphone app
Gives concerned team members and departments access to caller information and call history.
Enables businesses to build a mix of onsite and virtual workforce to cater to client needs spread across different geographies and time zones 24x7x365 at significantly low costs.
Seamless transfer of calls across devices with a 360° view of the customer.
Saves substantial costs on equipment, infrastructure, maintenance, and other recurring expenses such as IT support team salaries and more. No upfront investment as business softphones is subscription-based service.
Intelligent call routing and automatic call distribution connects clients with their preferred financial advisor saving time, increasing productivity and efficiency, and ensuring customer delight.
Gives employees flexibility and mobility.
Being a subscription-based service scaling up or scaling down teams to match call volumes and business operations is a breeze with a business softphone app.
Enables businesses to deliver to their customers an omnichannel communication experience as agents can interact with customers on their preferred channel.
Security and privacy are of paramount importance in the financial services industry and end-to-end call encryption in softphones makes sure all your interactions are secure and privacy is not compromised.
Features that help boost efficiency
Tragofone is well versed with the nuances and challenges of financial service business and executives. The softphone comes equipped with features to make sure your executives deliver personalized service that exceeds customer expectations. Some key features available on Tragofone:
Call routing
Call forwarding
Call transfer
Predictive calling
Click-to-dial
IVR and ACD
International and toll-free numbers
Analytics
Call tagging and ticket creation
Call whispering
Conference call
1:1 and team messaging
Business softphones bring more value to the table than you had imagined for both outbound and inbound calling processes for financial service business.
Features to optimize outbound calling
Power-diallers and auto-diallers to save time when making outbound calls.
Seamless integration with CRM and other tools to equip agents with complete information about the customer.
More outbound calling using advanced diallers translates in more opportunities  to upsell, cross-sell, and identify new sales opportunities.
Eliminates duplicity and time consuming repetitive tasks.
Call recording and call whispering helps identify training needs and design relevant training programs.
White-labeling helps you promote your brand when making outbound calls and create a distinct identity for your products and services.
Features to optimize inbound calls
IVR, ACD, and intelligent call routing helps respond to customer calls quickly.
Push notifications and call queueing ensure your agents never miss a call, even when they are not using the app.
Help your organization have a local presence in every geography your customers are present
Business softphone apps give financial service businesses all the tools to nurture current clients, get repeat business, build trust, explore and chase new leads, offer flexibility and mobility to teams, embrace remote work, and make sure business continues as usual even in the most testing, unprecedented and challenging times. Lastly, it enables companies to implement a BYOD (bring your own device) policy which is truly a win-win for both employers and employees. Companies that implement BYOD can save a whopping $350 per employee per year and VoIP can help businesses save their communications costs by almost 75%. Switch to a business softphone app like Tragofone today and take your business communications to the next level.