Maximizing Business Communications with Custom Softphone Apps for Windows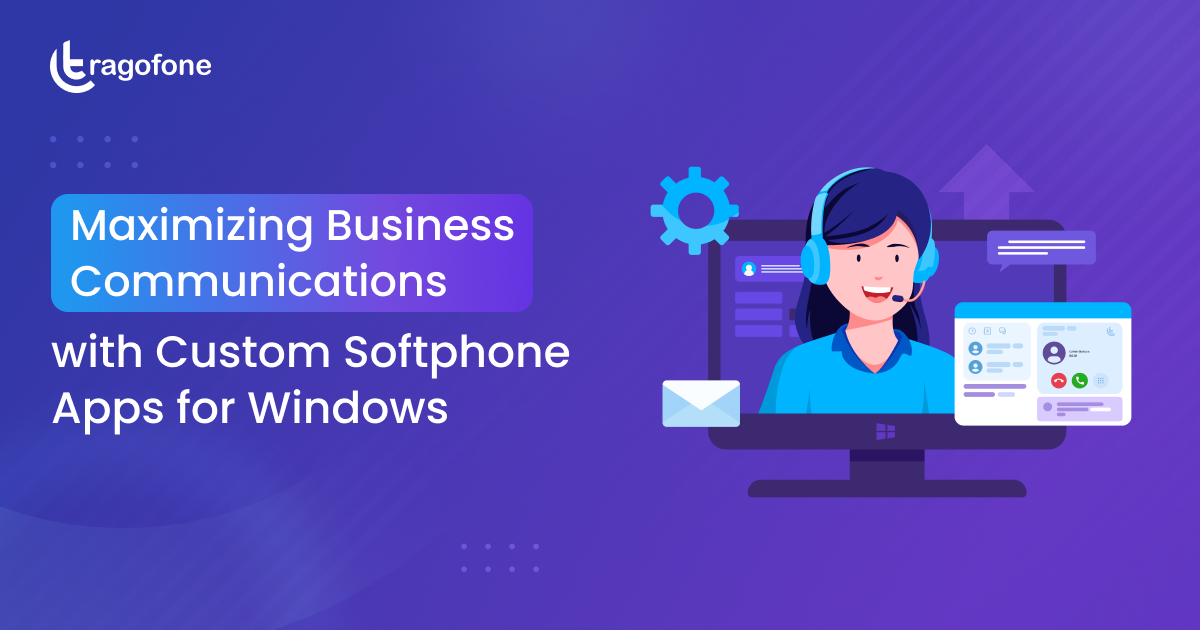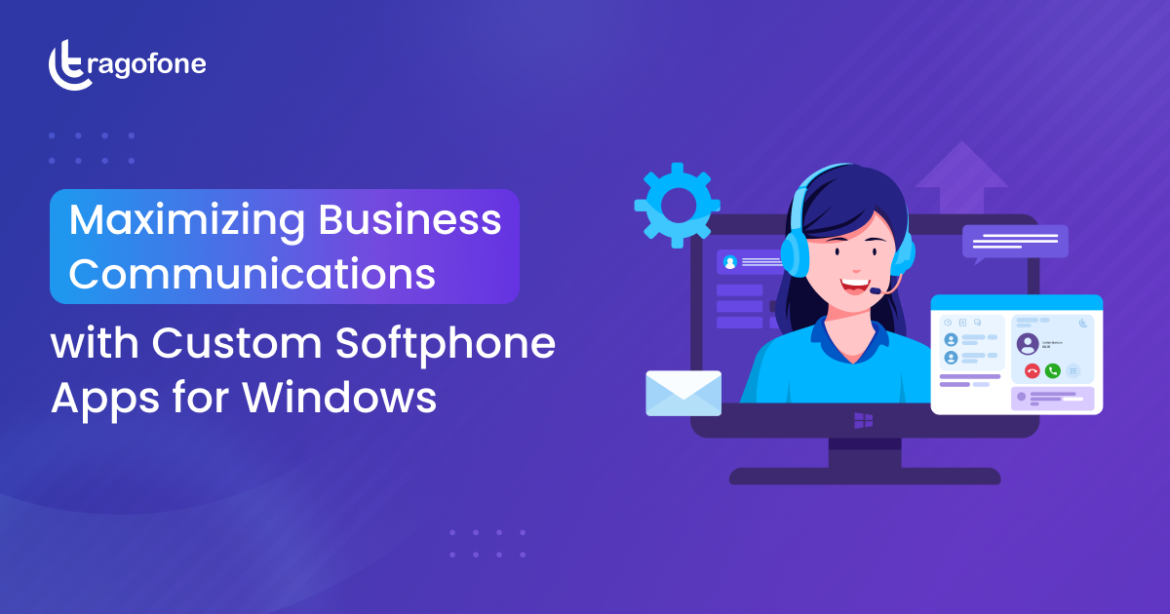 The modern business landscape demands flexibility and mobility, and that's exactly what custom softphone apps for Windows can provide. With the ability to make and receive calls from anywhere, connect with your team no matter where they are, and access a range of features and integrations, softphone apps are changing the way we communicate in business. But that's just the beginning. In this article, we'll highlight the 7 benefits of custom softphone apps that will take your business communication to the next level. Whether you're a small start-up or a large corporation, a custom softphone app will streamline your communication and enhance your overall productivity.
Softphone unraveled 
A softphone is a flexible software solution that can be downloaded to various devices and provides a virtual phone interface. It enables users to make outbound VoIP calls and receive inbound calls from anywhere, at any time. Unlike traditional phone calls that are made over the PSTN network, a softphone system operates through the internet, allowing users to access it on their preferred device, not just on a desktop phone.
However, softphone apps for windows offer a multitude of features and capabilities that surpass those of traditional hard phones, as they are directly linked to the selected VoIP phone system or UCaaS platform. They provide convenient one-click calling options for both internal and external contacts, real-time call notifications with automatic customer data retrieval from integrated CRM tools, call queuing, call forwarding, and much more.
Moreover, softphone systems provide quick and effortless access to other business communication channels that are included in the VoIP service package. This enables users to make and receive video calls, send business SMS messages, engage in instant team chat, and even send and receive virtual faxes.
Working of a softphone application
To use a softphone system, a stable internet connection via wireless or high-speed broadband is necessary. A device with internet access, speaker, and microphone is also required, though some users choose to enhance their setup with additional equipment. The Session Initiation Protocol (SIP) server facilitates real-time voice over IP (VoIP) communication by converting analog voice signals into digital signals via the internet. This makes it possible to do away with an on-site IP PBX and shift towards a cloud-based solution. 
Get the most out of custom softphone app features
When evaluating potential VoIP solutions for your business, there are a number of important features to consider that can enhance remote communication. These critical features include:

User availability indicator
A real-time, organization-wide display of each team member's status, promoting teamwork and quick problem-solving. Common statuses include "Online," "Unavailable," "Do Not Disturb," "On a Call," "Available," "In a Meeting," etc.
With the call waiting feature, agents are informed of incoming calls while they are on another call. This feature helps them avoid missing significant or prioritized calls. If an agent needs to attend to another call, they can put the caller on a brief hold while they transfer the call to another available agent. Callers may also be placed on hold while waiting for an agent to answer. To enhance the experience for callers, consider incorporating automated callbacks or call queueing into the system.
Real-time communication and collaboration are made possible with instant chat messaging tools. These allow for quick resolution of small issues without the need for email. Different chat channels can be organized by team, skillset, department, or project, and users should have the ability to quickly switch from a chat message to an audio or video call. Some chat messaging tools also include added collaboration features such as whiteboarding, file sharing, user tagging/mentions, and real-time notifications.
Audio conferencing and call bridging
Softphone apps for windows  offer audio conferencing services that allow multiple users to participate in a single call without the need for desk phones. On average, 10 to 40 users can join a session through clicking on a link, dialing a phone number, or using the "Call Me" feature where they receive an incoming call on their device that connects them to the conference.
Since softphones are accessible on desktop and mobile devices, attendees can join from anywhere, even if they're away from their regular office space. Call bridging is another option for connecting multiple participants in a conference call from any location. It's a phone line that links the participants together.
Video conferencing and screen sharing
Video conferencing capabilities, which enable real-time face-to-face interaction between internal and external participants, can be achieved through integration with popular video calling tools such as Zoom or Microsoft Teams. This feature provides tools such as screen sharing, virtual whiteboarding, in-meeting chat, and remote screen control, improving collaboration and communication among team members, regardless of their location.
With the call recording and transcription feature, administrators have the option to record voice calls automatically or manually on demand. These recordings, which can also include video conferencing with screen recording, can be shared with other users as needed. The call transcriptions of these recordings can then be easily searched, edited, shared and distilled into concise meeting summaries. It is important to be aware of the call recording laws in your jurisdiction to avoid any legal issues.
Call forwarding feature allows for the seamless transfer of calls to multiple phone numbers. If the first number isn't answered, the call will be automatically forwarded to subsequent numbers. This could be from an agent's desk phone to their cell phone, home phone, and finally, either to their voicemail or to a department queue where an available agent can take the call.
Voicemail transcription is a feature that converts voicemail audio messages into text and displays it within the softphone platform. This eliminates the need for users to listen to each message and saves them time, allowing them to quickly and easily read their voicemails.
The Caller ID feature displays the name and phone number of the person who is calling, enabling agents to screen their calls and respond to important ones efficiently. It also helps in identifying and blocking unwanted spam calls.
Call routing is an essential component in the functioning of a softphone system. It redirects incoming calls to the most suitable agent, based on predetermined rules and call paths. This not only enhances the quality of service provided to callers but also eliminates long wait times and balances call distribution among agents.
There are several call routing methods that are commonly used, such as List-Based Routing, Round Robin Routing, Skills-Based Routing, Relationship-Based Routing, and Time-Based Routing. These methods allow for a customized call routing experience and ensure that calls are redirected to the best suited agent for the job.
The integration of third-party CRM systems with your softphone software provides a unified interface where all important customer information and data from your preferred CRM platform can be easily accessed. The Call Pop feature, which is widely used, automatically displays the inbound caller's customer profile and crucial CRM data in the softphone interface, allowing for instant access without the need to switch between applications.
IVR (Interactive Voice Response) is an automated phone system that directs incoming calls to the correct destination based on the caller's responses. The system presents callers with pre-recorded questions that they can answer by voice or using their phone's keypad. The goal of IVR is to route calls to the appropriate agent or department, streamlining the call handling process and improving caller experience.
Reap the rewards of custom softphone apps
Custom softphone apps for windows offer increased workforce mobility and flexibility when it comes to agent location and preferred devices. These simple tools also increase productivity, improve the customer experience, and lower operating costs.
Let's take a closer look at some of the top softphone benefits below:
Adding a softphone to your Voice over IP (VoIP) plan is cost-effective, especially if you already have a VoIP provider. By making phone calls through the internet, international and long-distance calls become much more affordable compared to traditional landline phones. Many VoIP softphone providers offer free unlimited calls within the United States and Canada, along with a set number of long-distance or toll-free minutes each month as part of their paid plans.
Using a softphone also eliminates the need for costly conference room hardware and add-on features. With the softphone's ability to handle audio conferencing and, in some cases, video conferencing, teams can continue to use their existing devices.
Softphones provide increased mobility and flexibility to users, allowing them to access their business communications from anywhere, anytime. This feature is particularly valuable in today's landscape where remote and hybrid workforces are becoming the norm.
With softphone apps for windows, employees can take calls on their laptop, make outbound calls from a tablet, or send team chats on their smartphone, enhancing productivity by reducing the need for phone tag between coworkers and clients. They can also continue working on other tasks, attend meetings, or step away from their desks without the fear of missing a call.
This level of accessibility improves the customer experience by ensuring that clients feel like a priority and have confidence in the prompt answering of their calls. This is particularly significant in industries such as healthcare, hospitality management, and sales.
The integration of Unified Communications within a softphone application brings forth a convenient and organized approach to business communication by integrating multiple communication channels and collaboration tools into a single, unified platform. With all necessary communication tools in one place, there is no need to switch between applications or open multiple tabs to communicate effectively. Additionally, many softphone applications offer the option for customization, allowing each user to personalize their interface for maximum efficiency.
Efficient team collaboration
With remote work becoming increasingly prevalent, it is important to be aware of the availability of coworkers. Softphone systems provide presence capabilities, allowing users to see whether a colleague is available to answer a question or if the inquiry should be redirected elsewhere. Custom softphone apps also facilitate virtual meetings and video calls, offering features like drag-and-drop call transfers, visual voicemails, voicemail-to-email options, and incoming call alerts, making collaboration more seamless and efficient.
In this day and age, it's common for employees to utilize their personal smartphones and devices for both personal and professional purposes, mainly due to cost savings for employers. However, this can be problematic as it requires employees to provide their personal phone numbers to clients, which could result in non-priority calls at any time. Moreover, some employees might not be comfortable with sharing their personal phone numbers with business contacts. Softphone apps for windows provide a solution by enabling communication through personal smartphones and devices without revealing personal phone numbers. Instead, the business phone number is displayed and shared, thereby ensuring the security of personal information.
The setup and installation process for traditional business communication software can often be complicated and time-consuming. But with softphones, getting started is simple and quick. The elimination of hardware installation requirements makes the process even faster. The interface of softphones also resembles a typical smartphone calling screen, and chat and video call interfaces look similar to popular tools like Slack and Zoom, making it easy for users to get started without delay.
With softphone technology, connecting with coworkers and team members via conference calls on work phones is a breeze. Additionally, custom softphone apps often come equipped with both desktop and mobile applications, allowing for seamless transitions between devices during calls. No need to worry about the costs and hassle of moving and reinstalling hardware, simply download the program onto a new device and continue working.
Endgame
In conclusion, softphone applications for windows have revolutionized the way businesses communicate and collaborate. From providing cost-effective phone services to enabling seamless communication on-the-go, softphones have become an essential tool for businesses looking to stay ahead in today's competitive market.
One softphone provider that stands out in this field is Tragofone. Its custom softphone application offers a wide range of features, including international and long-distance calling, audio and video conferencing, presence capabilities, and customizable interfaces. What's more, its white labeling option means that businesses can fully brand their communication tool, giving them a professional edge in their market.
So if you're looking for a comprehensive, customizable, and cost-effective solution to your business communication needs, consider Tragofone's custom softphone application. Schedule a demo today or avail a free trial.