Unlock Growth for Your SME With a VoIP Systems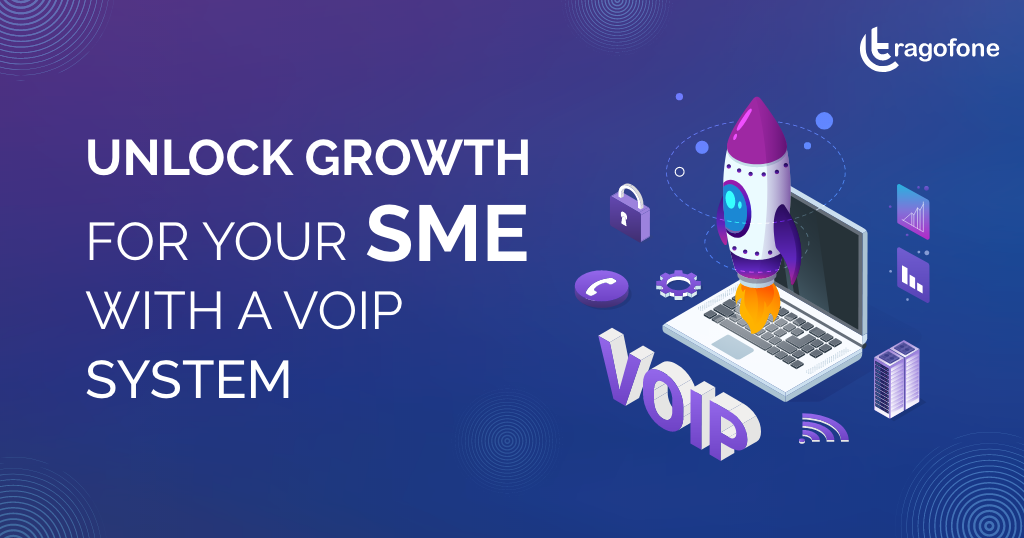 VoIP phone systems are unquestionably becoming the preferred mode of communication for businesses. What began as a cost-effective alternative to expensive phone systems has evolved into a dependable communications suite for businesses of all sizes. It makes no difference whether they run a start-up with a few employees or a large corporation with its very own call center; entrepreneurs are beginning to recognize that VoIP solutions are a superior alternative for the modern workplace.
Choosing a VoIP phone system can give your enterprise an edge over your competitors. VoIP leverages cutting-edge cloud technology to provide subscribers with a robust phone solution to meet their office communication needs and facilitates business communication requirements in the current remote work culture. If you're a small business owner who hasn't yet made the switch to a VoIP system, read on to learn more about the benefits, the top systems available, and why it's probably time to shift to one.
Benefits of VoIP phone systems for medium businesses
Come 2020 (and fueled by the pandemic); we saw a significant shift from outdated technologies towards more modern, mobile, and practical solutions, which means we saw a surge in the demand for cloud-based technologies. According to Forbes, small and medium businesses are increasingly embracing digital and cloud-based solutions.
Let's take a look at some reasons why SMEs (small and medium enterprises) should consider switching to a VoIP system.
#1. Cost-effective
VoIP systems are becoming more appealing to SMEs because of the competitive pricing they offer. Long-distance charges, for instance, are economical when compared to typical long-distance phone calls. The PBX component is hosted over the internet, negating the need for expensive infrastructure like large servers or actual PBX boxes, further reducing costs. With VoIP systems, calls between two or more PCs via the internet are often free. This implies that communication between colleagues and departments will not incur costs as long as it is using your  VoIP service. Calls made from a PC to a landline may incur a fee, although the prices are substantially lower than those of a regular mobile phone or landline phone.
#2. Flexible and mobile
VoIP technology enables users to integrate a broad range of software systems, such as remote conferencing, file sharing, and email, which are valuable assets since they enhance users' flexibility. This flexibility and mobility are beneficial for users who are always on the go, particularly business employees who travel regularly. Long-distance VoIP calls are also significantly less expensive.
#3. Scale up or down subscription as required
It's difficult to predict how many phone lines you'll require if your business is still being built. As you add more employees, offices, or departments, you must ensure that your business communication system is up to date. There is no additional cost involved when adding or deleting users on a VoIP system. A new line can be added to a VoIP system as soon as a new staff member is added. When an employee departs or transfers, you may just as quickly reassign or eliminate the current line. The VoIP app may be readily and conveniently scaled to match your demands.
#4. Easy to set up, use and maintain
Traditional phone lines may be challenging to set up and maintain, not to mention prohibitively costly. On the other hand, VoIP is relatively easy to set up, operate, and maintain – even for folks who aren't highly computer savvy. Web portals also make it quicker and easier to add, move, and change system settings.
#5. It comes packed with features
Traditional phone lines provide a plethora of call services that consumers are comfortable with. But similar features such as call transfer, call hold, call forwarding, call search, auto-attendant phone menus, conference calling, and other functions are also accessible with VoIP systems. Of course, your organization will need to do its research and find the correct VoIP service based on the features and capabilities that it requires. However, the bottom line is that when you switch to a VoIP phone system, you will not be sacrificing anything in terms of modern call features.
While we've attempted to highlight some of the most significant advantages that SMEs are likely to enjoy by switching to  a VoIP system, these advantages only scrape the surface of their actual value. While some believe that these systems are far more stable than regular phone lines, others believe that they boost employee productivity by keeping them so quickly linked at a fraction of the expense of traditional lines. Furthermore, studies have shown that having a seamless communication system in place allows SMEs to compete with large corporations! Whatever it is that piques your interest, the future of communication is calling; will you answer?
What features SMEs should look for in their IP phone system
Not all VoIP systems provide the same functionality. It's important to select a system that has features that your company genuinely needs. You must ensure that you have thoroughly examined various systems, their offerings, and their many elements before making any major decisions.
To make things easier for you, we've already done the research! We're listing here our top 5 features you should look for in a VoIP phone system before deciding on one for your company:
Numerous small businesses are unable to function 24 hours a day. This means that your employees will sometimes be unable to answer the phone. The majority of industry-leading VoIP services enable you to convert phone calls to emails, which may be highly advantageous to your business. Additionally, a reliable VoIP solution will have a voicemail system and a Find me/Follow me feature. This call forwarding feature enables users to accept calls regardless of their location or phone number. Which  makes it easier to contact you and your team members when they are out of the office.
This one, we assure you, is crucial! At some point, you will need to hold a conference call. Certain managers and owners may even make such calls on a regular basis. Apart from conference calls, the top VoIP systems allow users to share files, chat, collaborate on calendars, share presentations, and even remote desktops. Therefore, you'd be wise to ensure that your VoIP phone system has this feature.
Do Not Disturb, or as it's popularly known-DND, is a critical tool for individuals who often interact with customers. When speaking with a customer, the last thing you want is to be interrupted by a phone call since this may give them the impression that you're unprofessional. Numerous VoIP systems have pervasive DND capabilities, such as routing calls to voicemail or transferring them to another colleague who may be able to take the call at the touch of a button.
If your business is in a regulated sector, you may be required to record calls. Alternatively, you may choose to record conversations only to monitor client satisfaction and inquiries, or for internal purposes. Whatever your need may be, a decent VoIP system will enable you to simply record conversations, often with the click of a mouse, and save them in an audio format that can be readily replayed later.
This function enables your business to have several lines in local regions and a menu system similar to that of many giant corporations. This allows you to create a system where a caller may simply connect with several departments or even a live operator.
Some consumers dislike this feature because they believe it obstructs rapid customer assistance. Think about the last time you navigated a menu system on your phone, did you enjoy it? Your final choice boils down to what your company requires.
These are only five of the many features that numerous VoIP solution provider companies already have. If you're in the market for a new telecom solution, ensure that it has these capabilities.
The Top 5 VoIP Phone Systems Ideal for SMEs
Because of its affordability, this is arguably the best VoIP provider for small enterprises with limited resources! They provide SMEs with cost savings, the convenience of usage, and the ability to accept business calls from any location and device. Apart from providing businesses with a basic virtual phone service, they go above and beyond by delivering a unified communications solution that fulfills the majority of the communication demands of organizations of all sizes. RingCentral offers additional communication and collaboration solutions such as online meetings and team chat, apart from a dependable phone system and call management system.
Nextiva is another prominent small business VoIP supplier on the market. One advantage of this organization is that you are not needed to sign an annual contract to utilize their services. Their software has a complete call management system that includes features such as unlimited calling, auto-attendant, and unlimited internet faxing. Additionally, each plan comes with a complimentary toll-free number. The organization also provides numerous automation features. Moreover, their phone system is backward compatible with previously acquired phones, which is great for businesses that want to preserve their work phone numbers. Nextiva is an excellent choice for startups, small businesses, and even medium- to large-sized corporations.
Tragofone is a mobile VoIP softphone solution that enables your staff to communicate unified through their cell phones. It is WebRTC softphone app by using WebRTC technology, which enables secure, high-quality voice and video conversations. The software is compatible with both Apple's iOS and Google's Android operating systems. Tragofone has several powerful softphone features, such as hold/call transfer, rapid directory search, real-time presence status, and chat on the move. Additionally, it has customization, enabling you to tailor the app to your business's demands and identity.
Tragofone is designed to interface seamlessly with your current hosted/on-premise phone system, enabling you to expand its capabilities without requiring any infrastructure modifications. It even supports classic SIP (Session Initiation Protocol) servers, which WebRTC very rarely supports. Tragofone also offers organizations major benefits such as multi-lingual support, enabling users to converse in their preferred language. Additionally, this mobile dialer software may be implemented as a white-label solution, allowing companies to show their logo and brand name on the welcome screen. They may modify the colors, fonts, and even the user interface if they like.
Tragofone is compatible with third-party applications, such as CRMs. This feature is quite handy for VoIP based call centres. Tragofone encrypts business communications utilizing the Transport Layer Security (TLS) and Secure RTP (SRTP) protocols, removing eavesdropping and VoIP hacking risks. This system is easy to install, needs little maintenance, and provides users with a plethora of alternatives. Additionally, it enables the use of a single phone system across several locations, as well as scalability to meet your business's needs.
GoToConnect is a popular small business VoIP service. They provide unlimited calls and extensions, as well as a free local or toll-free business phone number. Their business phone service includes over 100 strong features: conference calling, voicemail transcription, international calling, team messaging, auto-attendant, call forwarding, audio conferencing, call analytics, music on wait, and unlimited call queues. Because GoToConnect is part of the greater GoTo family of businesses, it has smooth connectors with their webinar software, GoToWebinar, and hundreds of other integrations like G Suite Microsoft Outlook, Salesforce, and more.

CallHippo is another excellent virtual phone solution on our list. It includes common functions like call hold, contact management, a welcome message, a call reminder, and more.
It has a free plan with limited features that is appropriate for entrepreneurs and startups. However, you may always subscribe to their higher plan to get the premium features.
You can also integrate CallHippo with several other services such as Pipedrive, Slack, Zoho CRM, Hubspot, Zapier, and Zendesk to extend its capabilities with CRM integration or other online applications.
Final thoughts
As we conclude our article, we hope you are one step closer to understanding why you need to switch to a VoIP phone system and which one would be the best choice. Bear in mind that selecting the appropriate solution has a significant impact on the communication experience of an organization's workers and customers. While there are numerous options available in the market today, not all of them provide high-quality features. Make sure you thoroughly explore all available possibilities before making a final selection!