Best Practices to Enhance Team Collaboration through Video Meetings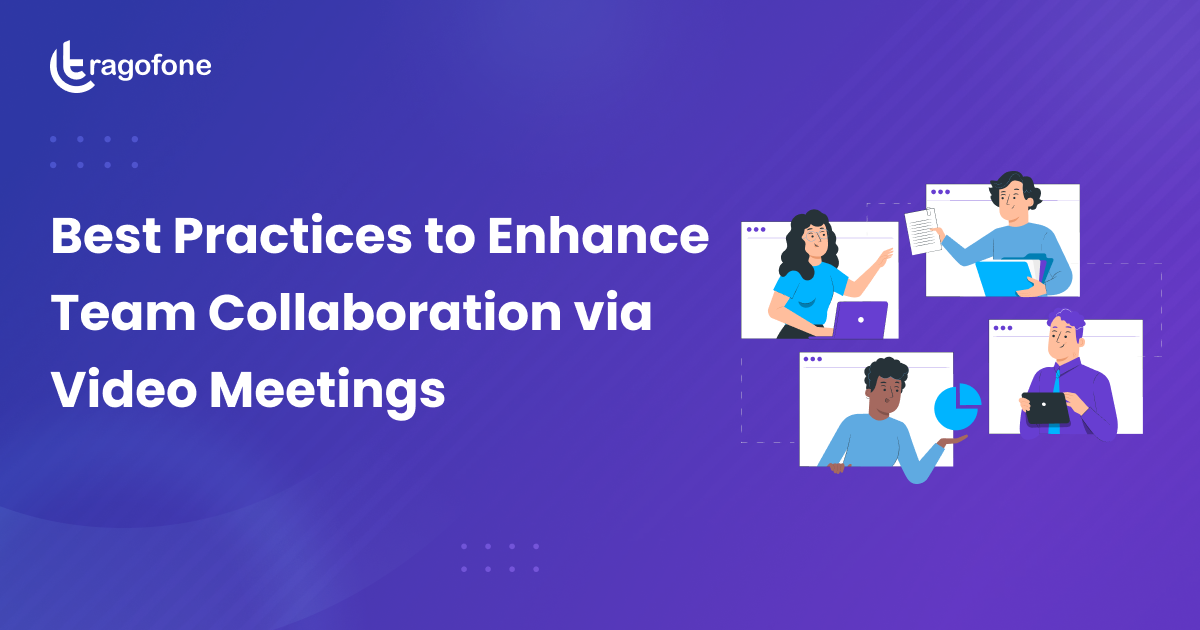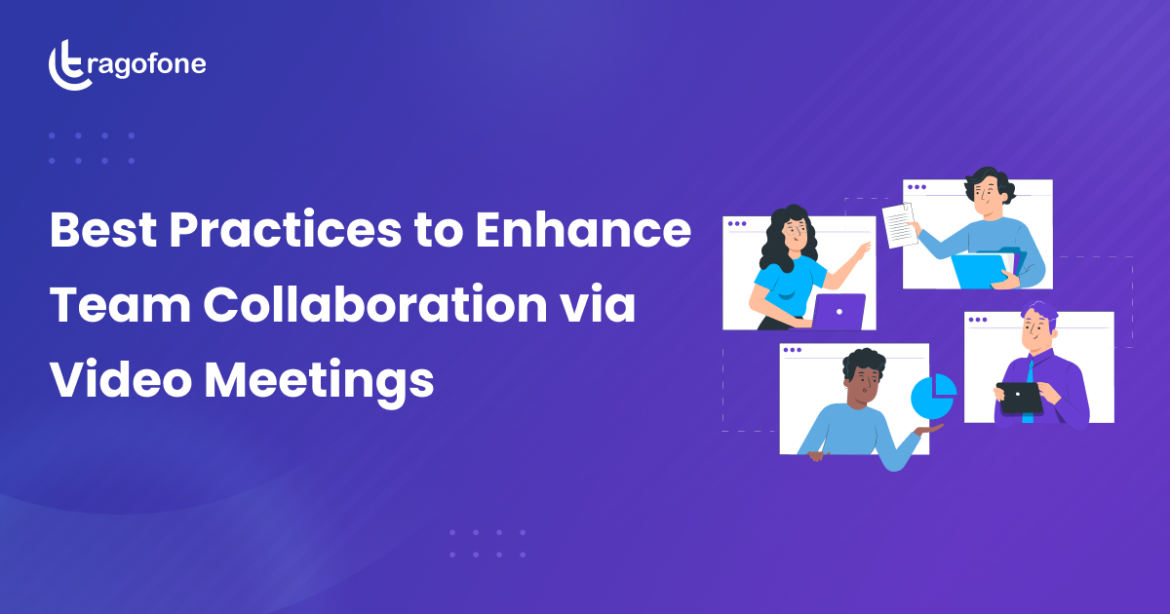 The remote work trend is fast gaining popularity globally. As on date 16% companies in the world have switched to 100% remote work mode. This new trend makes a strong case for technologies that support remote team communication. One of the most popular collaboration tools that has emerged for companies across the board is video meetings. 
A look at the below numbers and it's clear that video meetings play a vital role in remote team communication in this new era of a digitally connected world.
Video meetings help

90%

remote employees feel more connected to their teammates. 

A whopping

96%

business leaders believe that video meetings help break cultural barriers and are the next best thing to in-person meetings.
However, one also can't ignore the fact that too much of anything can become overbearing, video meetings included. Though the upward rise of video meetings was born out of necessity during the COVID lockdowns, many people did experience what was popularly termed as "zoom fatigue". 
Though video meetings are a great way for remote team communication and certainly one of the best collaboration tools, certain best practices and a little bit of creativity can go a long way in ensuring a fruitful collaboration between team members. 
Best Video Meeting Practices to enhance Remote Team Communication
The recent series of events, technological advancements, and a shift in the business landscape have led most organizations to have a distributed workforce. Video meetings of course emerged as one of the most preferred tools for these distributed team mates to collaborate. However, this also meant people had to push out of their comfort zone and learn and adapt to new technologies. But following certain best practices can make this transition a lot easier and ensure a smooth collaboration and a seamless user experience. Without further ado let's deep dive into these.
#1. Choose a video communication tool that fulfills your requirements
Any good video conferencing solution for business communications must enable your team members to:
Communicate – Chat and message while on a video call, integrate with any existing chat or messaging channel you may be using.

Collaborate – This includes screen sharing, file sharing, etc.

Provide feedback 
Your video calling software needs to fulfill these basic criteria and more. Very few players in the market offer such capabilities so make sure to choose one that fits the bill. Choosing the right software is the first part, the next is to choose appropriate hardware like a high-quality microphone, headsets, and speakers for good sound quality. While most new-age computers and phones have these already built-in, investing in a high-quality headphone still makes sense for a distraction free and noise free call experience.
#2. Train your employees to use the video conferencing software and hardware
It would be a first for many of your employees to interact on a video call with their teammates, share information (screen, documents, etc.) on a call. In a professional environment sharing personal information accidently or forgetting to mute or unmute your call at the right time can lead to a lot of embarrassment and at times losing out on an important client. We have all had days where our seniors had to repeatedly remind us to mute ourselves or switch off our videos during morning meetings and group training. 
Make sure to train your employees on the video conferencing software and any hardware involved. Whether a presenter or a participant, your employees should know the minutest of features with regards to the tool to extract the full potential and effective collaboration. Not only this, but they should also be trained on how to resolve minor glitches or any technical snags. Remember, today video meetings are not just restricted to internal meetings.
A myriad of client meetings also happens via video conferencing. The way your employees handle video calls and their basic video call etiquettes speaks volumes about your organization culture and professionalism. Training your staff on the video conferencing tool is therefore a non-negotiable in today's work culture.
#3. Record your meetings and share highlights with the team
Having a distributed workforce at times also implies having team members working in different time zones. Even if that is not the case, there could be several scenarios where all the concerned participants may not be able to attend a call. This could specially be the case where you may have organized a training session or a webinar for a large group. Even in cases where all participants are present, they may not necessarily register all the information pertaining to the meeting later.
It is always a good practice to record your video meetings and share them with the intended participants. One, people who missed out on an important session can always catch up and in case of any future disputes or disagreements regarding a project, people can always go back to the recording and refer to what was discussed.
In addition, always share minutes of meeting (MOM) after your video meetings as was traditionally done when offline in-person meetings were a thing. Marrying old ideas with new ones can at times yield the best results.
#4. Engaging and interactive video meetings
This one should top the list.  Whether a participant or a presenter, video meetings should always be engaging and interactive. Attending a video call with your videos off dissolves the purpose and significantly impacts the engagement levels of the participant. In most scenarios it is advisable to keep your videos on when doing a video call. Also make sure your background is devoid of any clutter and distractions.
Plan the session such that there are ample opportunities for participants to interact with each other. For example, in a long training session it can be a good idea to break it up into small modules of 20 minutes each and have a quiz after every module. This will ensure participation and engagement.
#5. Seamless transition between varied communication channels
For a  video meeting to be productive and achieve the desired outcomes, it is important to enable participants to multitask without compromising the quality of what they are presenting in the meeting. Like we iterated in the first point, choosing a software or a tool that lets them truly collaborate is the key.
And, how do they collaborate? By giving them access to tools that are easily within their reach during online meetings. This includes chat. Windows, an option to share their screen and important files, so that all participants can refer to the common data points, exchange their thoughts, come up with an action plan or a solution for the point of discussion at hand.  
Online meetings take as much time as in-person meetings. The only time and money you save is on the travel. There may be days when you are in video calls all day long, however, it should not impair you from doing other routine tasks like sending out important emails and approvals. A great tool lets you perform these unavoidable tasks in the background without making an impact on your presence.
Tragofone, a one-stop solution for your video conferencing needs
Tragofone is a softphone app which lets you do more than just calling. Based on WebRTC, Tragofone can be downloaded on your PC or laptop or even your smartphone. Connect with your team members on a video call anytime and anywhere, share screens, exchange files, chat with your team members on the go.
The push notifications feature makes sure you do not miss any calls or messages and eliminates the need to keep the app running in the background. Think of implementing our suggested video calling practices, all of it is possible with Tragofone.
Benefits of Video Meetings
Now that we have discussed how to make the most out of your video meeting tools, let's walk through the benefits of video meetings.
#1. Improves Communication
The workplace and people's preferences have undergone a seismic shift. Mobility, flexibility and clarity is of utmost importance which also has been a key driver in the popularity of a remote and hybrid work culture. Video meetings bring both remote workers and in-office employees at one place and enables them to communicate with each other directly leaving no room for any ambiguity.  It enables business leaders to address a large audience without any chaos, long travel schedules, and hefty costs.
#2. Streamlines collaboration and solves problems in real-time
Video conferencing apps come with collaborative features such ad one-click content sharing, AI transcript, etc. enabling participants to seamlessly share resources during a call and easily resolve the problem at hand in real-time with face-to-face video conversations. It empowers  team members to brainstorm and make decisions on the spot. No more delaying important decisions and communicating on long emails.
#3. Record-keeping for future reference
Most new-age video conferencing tools auto-record or give the presenter an option to record video meetings. Team members who missed the meeting, or employees who had to attend to other important tasks in the middle of the meeting like checking on an important email can always go back to these meetings to refer to any important discussion point. Highlights of these recorded meetings can also be used to design training programs.
If you have a workforce distributed across disparate time-zones, getting them in the same virtual room can be a challenge, this is where recorded sessions come in as a savior.
4. Participation of a larger audience
Getting people based in different locations , people who can't travel to attend a meeting is possible with video conferencing. Equipping your staff with the right tools such as a video conferencing software ensures they participate in all the discussions and activities they are expected to participate in. 
5. Ease of scheduling and managing meetings
A simple to use and easy to navigate video calling solution that is  centrally managed, makes it extremely easy for your teams to schedule and conduct meetings. No more booking conference rooms, setting up a bridge, arranging for a projector, and complex audio-visual equipment for meetings. All one needs to do is create a meeting link and send it to the intended participants. 
Closing thoughts
Face-to-face interactions bring in an element of personal touch, warmth, and a higher level of engagement in any conversation. Though nothing can match up to the experience of in-person interactions, technology has afforded us ways to connect face-to-face without being necessarily physically present. In today's fast-paced environment where everyone is pressed for time, video-meetings enable people to effectively collaborate, save time, and for businesses it means getting more done in less time.