10 Call Center Employee Retention Strategies for 2022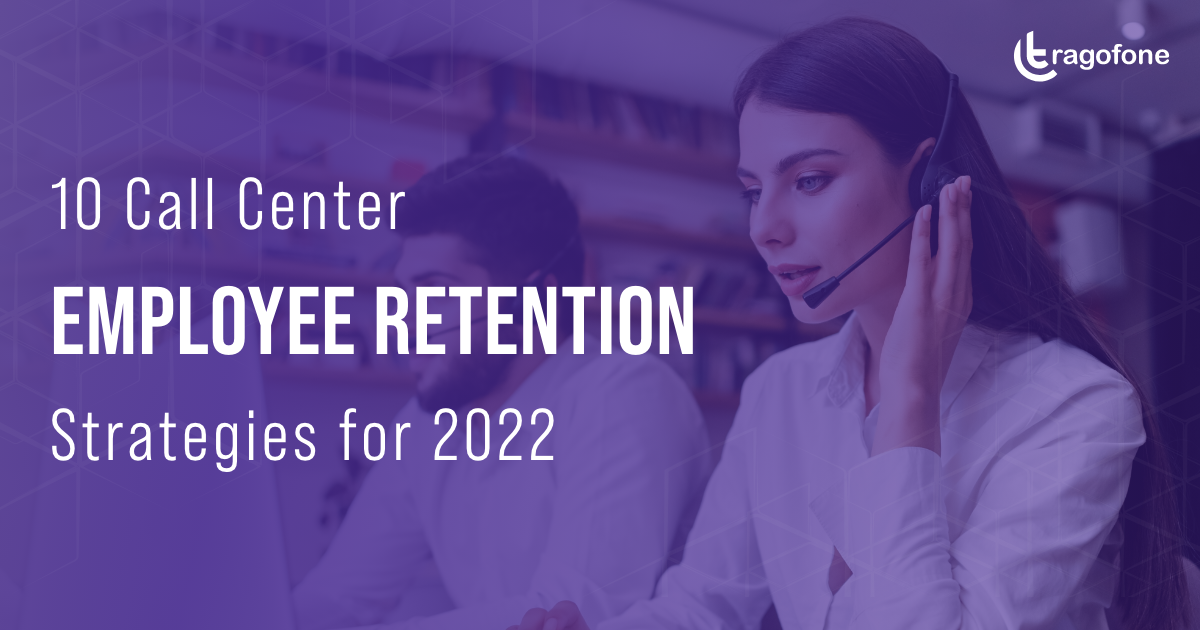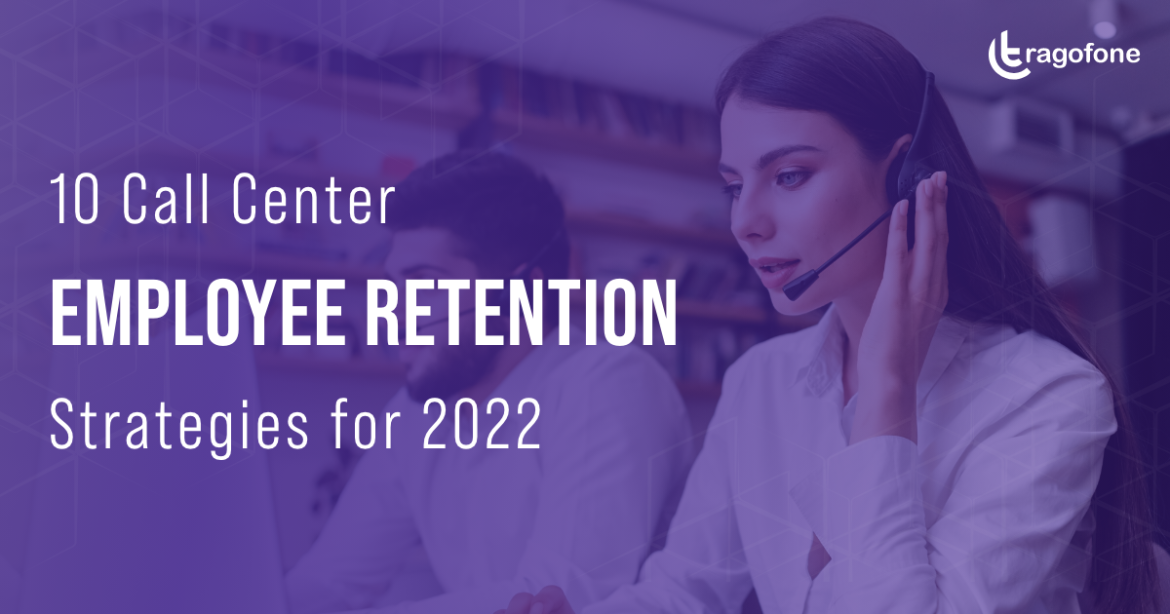 For a long time, call centers have struggled with call center employee engagement and retention. This problem is difficult to ignore because the high annual turnover is significantly higher than that of other businesses.
According to a recent ICMI survey, the average agent turnover rate for contact centers was  58% year on year. The problem of increased employee turnover gets nearly unbearable when you take into account the other expenditures, such as those linked to hiring and recruiting new agents. The costs can go much beyond the short-term operating costs if you take into account the extra impact on staff satisfaction, the continued loss of intellectual property, and the long-term effects on the customer experience.
Then why are call and contact centers known for having significant staff turnover? There are several causes. The main causes of this turnover, according to a report by research-driven AI business ASAPP, are:
Poor communication
Negative comments from managers
Metric norms that are illogical
Underdeveloped technology
Aggressive clients
Employee turnover is a serious issue, irrespective of whether you're a small business or a giant corporation. Below are 10 tips and strategies organizations can follow to increase call center retention rate.
1. Provide agents with training that prepares them for success
A robust and effective training program is imperative for enabling employees to confidently and quickly resolve clients' difficulties. You can clearly define company objectives and aspirations while giving your agents the confidence to take on any project by holding in-depth workshops and seminars on each of the technologies your call/contact center has and also the best practices for managing discussions.  Providing agents with a well written training manual is a good idea to reinforce the basics and an effective tool for an impactful training program. As per the ASAPP poll, 77% of agents believe observing and having hands-on experience is way more effective than reading printed documents. However, having a ready reckoner always comes in handy.
2. Show appreciation for top performers
Call center retention can be significantly increased by showing your gratitude to agents who are performing well. According to data, employees who aren't appreciated enough or fairly rewarded are twice as likely to indicate they want to quit their positions within the coming year. Incentives, public acclaim, one-on-one compliments, and promotions can all be used in conjunction to foster a positive work atmosphere to make agents feel valued and appreciated. Although it shouldn't be the only way to assess agent performance and efforts, friendly competition among peers is also a terrific way to boost productivity.
3. Look beyond metrics to provide personalized coaching
Finding potential to grow requires closely observing operator performance data, which includes the level of service, agent schedule adherence, call settlement, average response time, and customer happiness. But, you shouldn't use these data points as your only means of assessing a potential employee's skills and talents. Many call center personnel discover that keeping such standards makes them stressed out and has a bad effect on their performance.
Supervisors need to understand that an agent's performance is influenced by many other factors that meet the eye or can be quantified. Therefore, it's important to get in touch with each team member to discuss what is and isn't working, irrespective of where each person sits on the performance scale. Getting access to useful information will enable you to face these talks with greater empathy. Utilize sophisticated speech analytics to pinpoint key points in customer-agent interactions, highlight each agent's areas for improvement, and provide coaching as and when necessary.
It's a good idea to put yourself in your agents' position. Of course, empathic employees may enhance the customer experience, but the same strategy also works well to make sure all of your agents feel heard and understood.
4. Establish promising growth opportunities
Most workers seek chances to advance their careers and expand their knowledge and skill set. According to The Work Institute's 2021 Retention Report, the most common reason for employees to leave their jobs is dearth of professional development possibilities.  In order to increase your call center retention, as a superior, you must openly promote and provide possibilities for promotion.
You could think about providing your agents with a variety of alternatives, including learning stipends, periodic career planning sessions, skill training sessions, and mentorship programs. Additionally, make certain that agents are informed of development possibilities on a regular basis. They will be inspired to stick with your firm while making an effort to pursue those better opportunities.
5. Provide agents with technology to ease their workload 
Introducing systems like voice-enabled self-service that can handle repetitive labor-intensive work, helps free up call center agents to handle more complicated tasks that really demand their attention. Complicated problems are more challenging to resolve. How can you then make sure your first call solution rates are maintained or increased?
CRM integration with your call center software solution seamlessly interacts with your system and helps agents quickly access all the customer records and past interactions.
To match consumers with the best-qualified agents for their particular problem, use interactive voice response (IVR).
Use automation for agent tasks, recordings, transcriptions, and other tasks to enable staff to effectively respond to client demands and raise their level of satisfaction with their work in general.
6. Allow your agents to work from anywhere
More and more contact centers are switching from on-premise to totally remote operations. If you engage the proper agents and provide them with the technology that enables them to carry out every part of their work on a unified platform, this shift to a distant call/contact center can improve the customer experience. Agents too can benefit from flexibility provided you give them the resources they need to do their duties well. A feature rich VoIP softphone like Tragofone can help you achieve this.
7. Promote a work culture that fosters work-life balance
Giving agents the flexibility to enjoy their life outside of work may be the clearest indication to them that you value their contributions. Some call centers are starting to adapt to the situation. According to a recent poll by Call Center Helper, flexible shifts and unpaid leave both rose by 5% in the past year. A friendly, open workplace environment that people desire to be a part of can be fostered in large part by conversations and events that take place during the workday. Think about how you can promote cooperation and execute team-building activities that help with call center employee engagement and community spirit.
8. Avoid employee churn rate
A higher staff churn rate will have an adverse impact on a company. You might suffer huge costs by failing to quickly and correctly address high employee churn rates.
Average Employee Churn Rates
The average employee attrition rate varies from industry to industry. For instance, the average annual dropout rate in the US throughout all sectors in 2021 was 32.7%, as reported by the Department of Labor.
Agent turnover rates at call centers often vary from 30% to 45%, which means these companies regularly lose more than one-third of their employees. Additionally, it may take new agents 8 to 12 months to become proficient. Employee churn rates should be kept at or below 10%, which is optimal and generally regarded as good. A lower figure is always better.
The rate of voluntary employee turnover keeps rising. The Work Institute's 2020 Retention Report indicates that turnover rates have increased by 8% since 2018. There is little doubt that the current health crisis has contributed to these premium rises.
How To Avoid Employee Churn Rate
Employees nowadays have a greater expectation of and need for flexibility in their work schedules. Greater adaptability at the workplace can help you more successfully maintain your personnel, whether that means giving employees the option to work remotely, take on different shifts, or schedule certain days of the week as their workdays.
This has been the case in the post-pandemic work environment. A better work-life balance is becoming more and more important to employees, who are looking for positions that let them do so.  They're ready to leave their existing positions if they don't get what they need.
According to a survey conducted by HubSpot Blog researchers, 37.6% of employers claim high turnover rates as a result of the inflexibility of their work schedules. By giving your employees more flexible work schedules and working with them one-on-one to develop a plan that works for both of you, you may be able to prevent this dilemma.
Moreover, it's essential to provide employees with thorough training to guarantee they are fully prepared to give their best efforts on the job. Customers may become dissatisfied and your operations may suffer if the workers are not trained from the beginning. Employees may also feel useless and unsatisfied with their jobs if they feel they can't complete their tasks to a satisfactory level. In order to foster a safe and secure workplace and maintain healthy call center retention rates, it helps to have a team of motivated and empowered employees.
9. Encourage open and dynamic communication
Many businesses have an enforced, "happy" culture that promotes "open communication" as a core principle while deliberately and/or subtly discouraging opposing viewpoints. As a result, employees will refrain from raising issues with management and would prefer to carry on with the tasks at hand even when they believe (or know there is) a better approach.
When workers feel valued, they are much more likely to stay in their jobs. Open a variety of communication channels, such as informal discussions, message services, or more regular questions, while adding procedures that provide anonymous feedback to assure the greatest possible feedback. It's important to remember that a positive work atmosphere promotes call center employee engagement between agents as well as supervisors.
10. Don't be rigid
The average age of employees in contact/call centers is between 18 and 35 years old. This group not only benefits from a more lively and enjoyable work atmosphere, but they also anticipate and appreciate flexible management methods. The scheduling aspect of this is what we clearly need to look at. Call center employee engagement can be boosted by using self-scheduling, including shift changing, etc. which improves the feeling of control that employees have over their work.
The Key Takeaway
High employee turnover may well be eliminated from your call center with the use of the right techniques. You don't have to necessarily go all in or do nothing. One or two of the above-mentioned techniques can be used as a starting point. You can make use of it as more support becomes necessary over a period of time.
Your focus may now be directed toward other concerns, like digital transformation, now that you are more knowledgeable about how to increase your call center employee.