New ISP Trends & their Impact on Customer Experience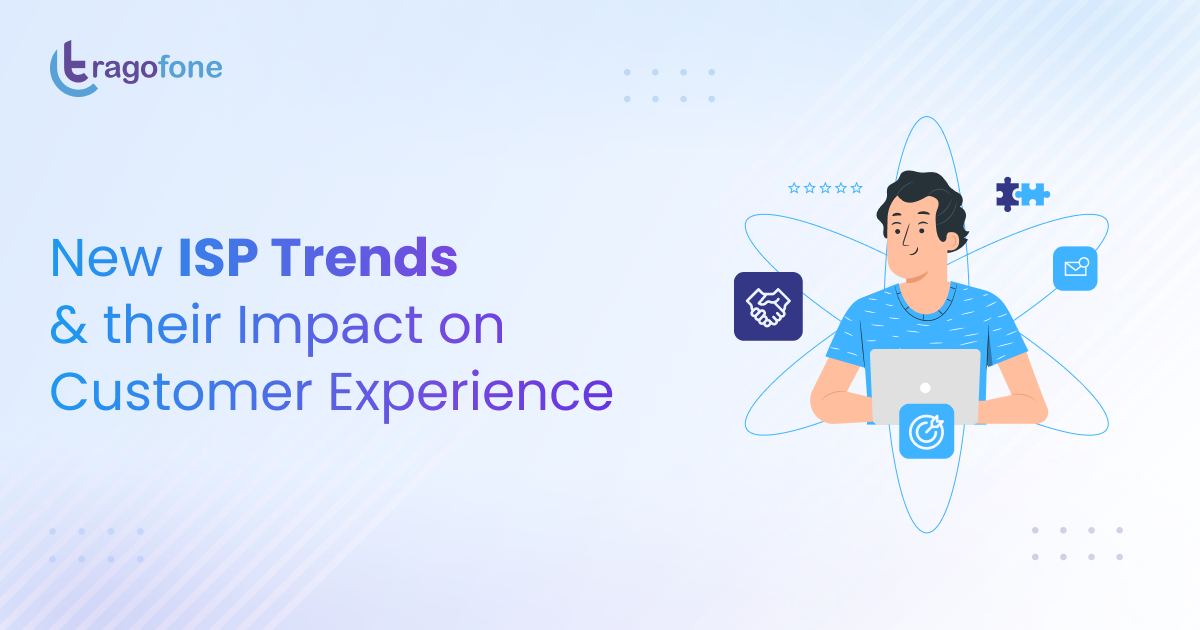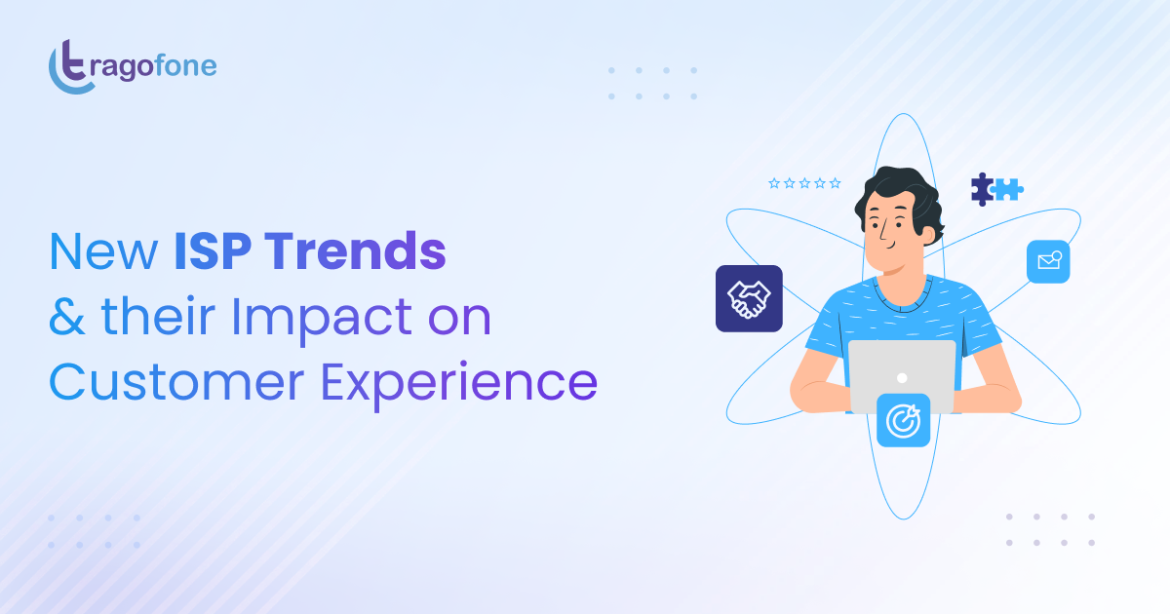 Digital transformations have redefined customer expectations. By prioritizing customer-centric strategies and enhancing the overall customer experience, telecommunications companies can successfully navigate this changing landscape.
For instance, ISPs (Internet Service Providers) are telecommunication companies that provide services enabling individuals to access, utilize, or engage with the Internet. They connect their customers to the Internet through different technologies, including digital subscriber lines (DSL), cable modems, fiber optics, and satellites. With the increased frequency of bandwidth-intensive activities(such as video, streaming, online gaming, and more), the demand for high-speed Internet is shaping the present landscape for ISPs. To fulfill these changing customer expectations ISPs are working on advancing their technologies; the roll-out of 5G is the best example, with more than 32% of companies understanding its importance in redesigning the customer experience. 
Looking ahead, the impact of trends like 5G on customer experience will be a key focus. It's interesting to explore which technological shifts will play significant roles in helping ISPs exceed customer expectations and deliver a superior experience in the future.
Top 5 Trends in Internet Service Provider Industry
Trend #1 Increased adoption of VoIP services 
The increased adoption of Voice over Internet Protocol (VoIP) services has emerged as a significant ISP trend in recent years. The utilization of packet-switched protocols enables conventional telephony services to function over computer networks. With packet-switched VoIP, voice signals are encapsulated within packets, similar to electronic envelopes, enabling their transmission across any network that supports VoIP, such as local area networks (LANs).
VoIP eliminates the need for maintaining separate networks for voice and data communication. This consolidation of services reduces infrastructure costs and long-distance calling expenses, particularly for international calls. VoIP services often include attractive pricing plans and competitive calling rates, making them a cost-effective choice for residential and business customers. The improved communication quality and affordable pricing plans together contribute to a greater CX.
Trend #2  Enhanced connectivity with IoT
The proliferation of IoT devices, such as smart home devices, wearables, and connected appliances, has created a demand for reliable and secure internet connectivity. ISPs are adapting to this trend by offering specialized IoT plans and services. For instance, smart modems can initiate an in-app message when they detect inconsistent home WiFi. This message can direct customers to a brief self-help video lasting 60 seconds or provide the option for a scheduled call-back from a support technician. All of this can happen before the customer even notices the occasional disruptions in service.
These plans prioritize device management, security, and seamless integration with IoT ecosystems. Customers benefit from enhanced control and automation of their connected devices, increasing convenience and efficiency in their daily lives. ISPs that excel in IoT connectivity provide a seamless customer experience by ensuring stable connections and robust security measures.
Trend #3 Data cap transition in companies
Data caps refer to a limit on the amount of data a user can transfer over the network in a given period, usually a month. Once you hit your data cap, your service provider might slow down your speeds, charge you extra, or even cut off your service until the next billing cycle. They have long been a contentious topic in the ISP industry. However, recent trends indicate a shift towards unlimited data plans. ISPs are recognizing the increasing data needs of customers, especially with the rise of video streaming, online gaming, and cloud-based applications. Even during the pandemic, Comcast suspended its internet data cap policies to increase customers' productivity.
Unlimited data plans remove the worry of exceeding data limits and allow customers to explore the internet without restrictions. This trend positively impacts customer experience by eliminating the fear of overage charges and enabling uninterrupted access to online content.
Trend #4 Escalating number of FTTH users
Fiber-to-the-Home (FTTH) uses fiber-optic cables to deliver high-speed internet directly to residential homes. Statista forecasts that almost 79 percent of European households will use FTTH by the end of 2026. Its potential to meet even higher data requirements sets this technology apart. Experts envision that FTTH will support data speeds of up to 1 Gbps (gigabit per second) or even more. This level of bandwidth is crucial for emerging technologies and applications that rely on massive data transfer, such as augmented reality, virtual reality, and IoT devices.
The current capabilities of FTTH already enable users to simultaneously fulfill their IPTV (Internet Protocol Television), VoIP (Voice over Internet Protocol), and WiFi requirements. This means that users can enjoy high-quality streaming of television content, make crystal-clear voice calls over the internet, and connect multiple devices to WiFi without compromising on speed or performance.
Trend # 5 Companies moving towards WiFi bundling 
WiFi bundling refers to combining internet services with WiFi equipment and management tools to deliver customers a comprehensive and optimized WiFi experience. ISPs are offering WiFi bundling as an add-on to volume-based plans. They understand that users often rely on WiFi connectivity, especially at home, in public places, or designated WiFi hotspot areas. By providing WiFi as an additional service, ISPs aim to cater to the increasing demand for seamless and uninterrupted internet access. 
A notable example of this trend is Google's Project Fi. When a Project Fi subscriber is in an area with WiFi coverage, the service automatically connects the device to an available WiFi network. This switch happens seamlessly without any user intervention. The device prioritizes WiFi networks for data connectivity, ensuring faster speeds and potentially reducing data usage from the cellular network.
This WiFi bundling trend enhances the internet experience for users by providing a more robust and reliable connection when they are within the range of WiFi hotspots. The automatic transition to WiFi demonstrates ISPs' commitment to improving customer satisfaction by leveraging technology to boost the internet experience. 
Impact of ISP Trends on Customer Experience
No matter what trends ISPs implement, they will impact the vast user base of 5.18 billion internet users worldwide. It is interesting to see how these trends positively influence their experience and make it better.
Prioritizing customer support 
By implementing various support channels and strategies, ISPs aim to provide quick and efficient assistance to their customers, ensuring their needs are met, and issues are resolved promptly. The implementation of live chat support features enables customers to engage in real-time conversations with support agents, allowing for immediate assistance and reducing wait times. Customers appreciate the convenience of live chat, as it provides a direct and efficient means of resolving their queries or concerns. 
Furthermore, the increasing use of 24/7 helplines aims to deliver round-the-clock service to customers. They can reach out at any time, knowing that there will be someone to address their issues promptly. This 24/7 support demonstrates the ISP's commitment to providing timely assistance, enhancing CX by minimizing frustration and downtime.
Other channels, such as self-service portals, empower customers to find solutions to common issues through comprehensive knowledge bases, FAQs, and troubleshooting guides. 81% of customers today prefer the self-service option for greater speed and convenience.
By offering self-help resources, ISPs improve customer satisfaction and reduce the need for customers to contact support, leading to time and cost savings for both parties. 
Focusing more on personalized support 
ISPs are leveraging customer data to deliver tailored assistance. By capturing and effectively utilizing this data, they can gain insights into customer history, preferences, and previous interactions, allowing support agents to deliver personalized and efficient support. 
Access to customer data enables support agents to better understand each customer's unique needs. When a customer seeks assistance, support agents can review their history and previous interactions, providing a contextually relevant support experience. This personalized approach demonstrates that the ISP values its customers and is committed to addressing their specific concerns. Customers now feel more valued and understood as their specific needs are considered. This increases customer satisfaction, loyalty, and positive word-of-mouth referrals.
Furthermore, to meet varied customer needs, ISPs propose adaptable plans, allowing customers to select their internet speeds and extending additional services such as parental controls, ad-blockers, and customized content suggestions.
Delivering cost-effective solution 
ISP trends are aimed at providing improved internet services at cost-effective solutions to their customers. They offer a range of pricing and plan options to cater to different customer needs and budgets. Flexible plans with varying speeds and data limits, allow customers to choose a package that aligns with their requirements. By providing options, ISPs ensure customers pay for their needs, avoiding unnecessary expenses.
The bundling of internet services with other offerings, such as TV subscriptions, phone services, or streaming platforms, can now be enjoyed by users at discounted rates. Customers aren't required to purchase each service separately. This proves to be useful for those who require multiple services. 
ISPs are also implementing cost-saving measures such as data management tools and caps (as discussed earlier). These tools help customers track and manage their data usage, avoiding excessive charges for exceeding data limits. 
Proactive communication strategies 
ISPs are adopting proactive communication methods to inform customers about network updates, maintenance schedules, and service disruptions. By sending notifications through various channels such as email, SMS, or mobile apps, ISPs can effectively manage customer expectations, reduce frustration, and ensure transparency.
Real-time alerts inform customers about unexpected network issues or outages, the progress of issue resolution, and provide estimated time frames for service restoration. This fosters transparency and reduces customer frustration. 
Moreover, they proactively communicate with customers about new features, service enhancements, or special offers. By keeping customers in the loop, ISPs guarantee they stay informed about value-added benefits or opportunities. 
Content streaming partnerships 
The collaboration between ISPs and content streaming platforms allows ISPs to utilize content delivery networks (CDNs) and caching techniques, amplifying their users' streaming speed and quality.
CDNs are networks of servers strategically located across different regions, allowing content to be distributed and delivered efficiently to end users. By partnering with content streaming platforms, ISPs can deploy CDNs within their network infrastructure, reducing the distance and latency between the streaming server and the customer's device. This results in faster content delivery and reduced buffering, assuring a smooth and uninterrupted streaming experience.
Additionally, implementing caching mechanisms that store popular or frequently requested content closer to the customers reduces the need for repeated requests to the streaming platform's servers. It facilitates faster access to the content and minimizes bandwidth usage, delivering content more efficiently.  
To sum up!
New technologies are emerging and shaping the mode of operations in the ISP industry. As a result, companies within the industry are placing a greater emphasis on enhancing customer experience than ever before. By adopting user-centric approaches, ISPs are leveraging technology to streamline the ordering process, making it easier and more convenient for customers to sign up for services or upgrade their existing plans. User-friendly interfaces, intuitive self-service portals, and simplified purchasing processes ensure a smoother customer journey and contribute to an enhanced CX.
Tragofone, a softphone with features like WebRTC and VoIP conferencing, empower ISPs to enhance their operations and deliver uninterrupted customer services. By leveraging these technologies, ISPs can create a seamless and unified communication experience, streamline collaboration, and differentiate themselves in a competitive market.