12 Essential Softphone Features for Business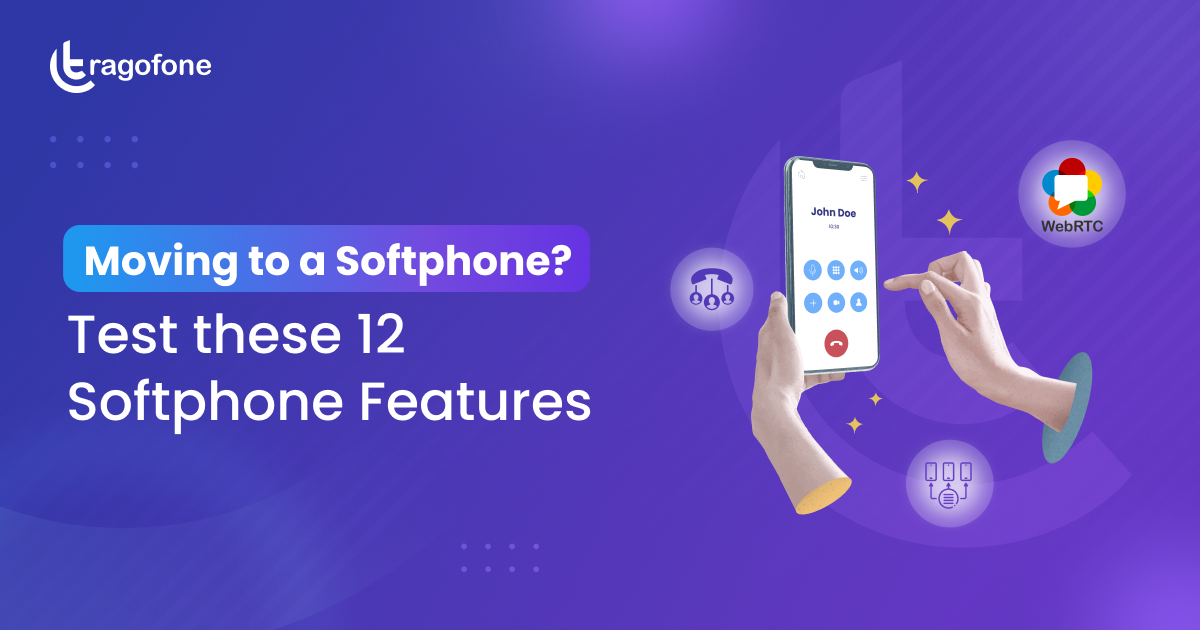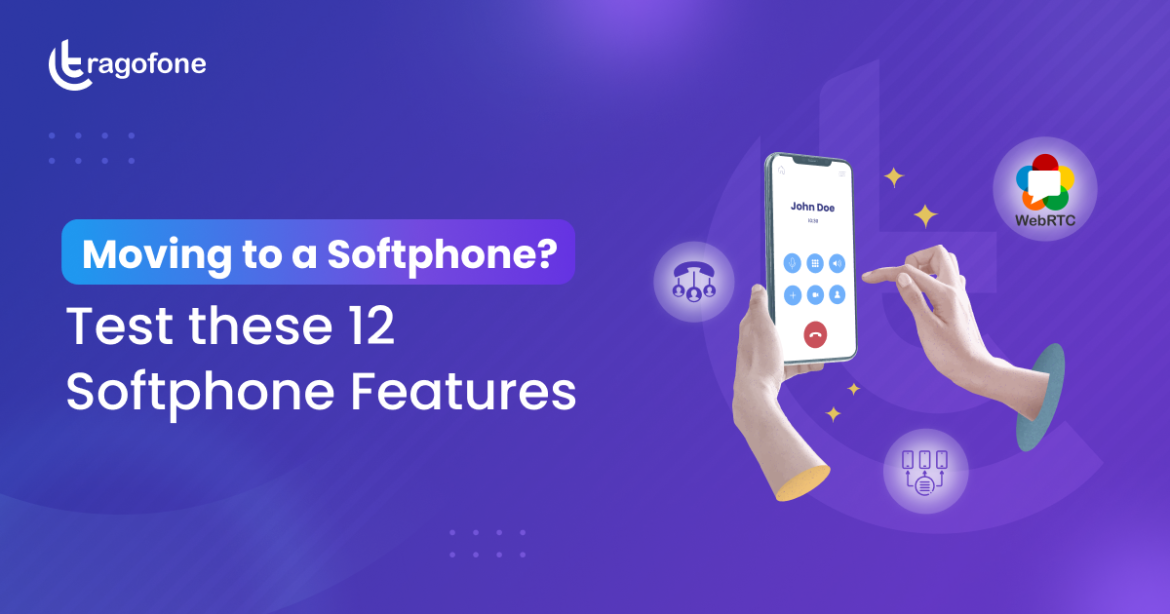 Building a unified communication ecosystem creates value but can be complex and demanding. The right approach centers around meticulous planning, effective implementation, and a progressive management team. Integrating a softphone streamlines the process of achieving these objectives.
A softphone serves as a centralized platform in the unified communication framework, fulfilling various business communication requirements. It enables seamless call management using existing devices like computers, smartphones, or tablets. This flexibility enables employees to stay connected and accessible regardless of location, enhancing productivity in remote and hybrid work environments.
With that being said, it's imperative for leaders to wisely choose a softphone service for their business communication operations. In this blog, we will cover the key features and factors to consider while opting for a softphone service.
What is a softphone?
A softphone is a software application that can be installed on an internet-connected device to manage communication operations without using traditional phone lines. It essentially turns a device into a virtual phone, enabling voice and video communication through Voice over Internet Protocol (VoIP) technology.
An example of a softphone is Tragofone's softphone app, which can be seamlessly installed on any device. It gives users advantages beyond conventional calling, including instant messaging, file sharing, and much more.
12 standard features every softphone should include
With a softphone, users can access a wide range of feature options. Common telephony features like mute, hold, transfer, and flash are standard in most softphones. 
Here are a few examples of the popular features provided by the Tragofone SIP softphone app:
#1. WebRTC
WebRTC, an open-source initiative, offers web browsers and mobile apps the ability to engage in real-time communication using simple APIs. This technology enables seamless audio and video interaction within web pages by facilitating direct peer-to-peer connectivity.
How to test this feature?
Make a call directly from the browser without the need for any plug-ins or add-ons. If the call goes through successfully and the audio and video quality is good, your softphone apps' WebRTC is working properly.
Why is it important?
It eliminates the need for any downloads or installations for real-time communication. This makes it easier and more convenient for your employees to communicate.
#2. Auto-provisioning 
This feature enables a softphone to self-configure to the network, making the setup process simpler.
How to test this feature?
Download any softphone app and see if it connects to the network and configures itself automatically. You should be able to use the app without manually setting network parameters.
Why is it important?
It reduces the time and effort involved in setup, making the process seamless for your employees. 
#3. VoIP Conferencing
Using this feature, multiple people can participate in a voice or video conference call over the Internet.
How to test this feature?
Start a conference call and invite multiple participants. If all participants can talk and hear each other, the feature is working.
Why is it important?
It enables group discussions and collaborations, which is crucial for your business meetings, group chats, and more.
#4. White label
A white label softphone is created by one company but sold under another company's brand name. For softphones, this would allow a company to sell the softphone as their own product.
How to test this feature?
If your softphone can customize its branding and appearance, then it's a white-label product. If you are able to change the logo, colors and other branding elements accordingly, then the feature is working fine. 
Why is it important?
It allows you to build your brand recognition by selling the product under your own brand name.
#5. Push notifications
They allow the softphone to alert the user about important events, like incoming calls or messages, even when the app isn't actively in use.
How to test this feature?
Send a call or message to the softphone while it's not in use. If a notification appears alerting the user, push notifications are working.
Why is it important?
It ensures that users don't miss important calls or messages, improving your business communication efficiency.
#6. Caller ID
It shows the number or name of the person calling, allowing the recipient to know who is calling before answering.
How to test this feature?
Make a call to another device. If the device receiving the call correctly displays the caller's number or name, the caller ID is functioning correctly.
Why is it important?
By knowing who's calling, your employee can decide whether it's a call that needs immediate attention or one that can be returned later, enabling them to effectively prioritize their tasks.
#7. Call waiting
The user is alerted to an incoming call when they are already on a call, providing them with the option to put the first call on hold and answer the second.
How to test this feature?
While on a call, have another device calling the softphone. Call waiting is functioning properly if an alert appears for the second incoming call.
Why is it important?
It is particularly beneficial for your customer service or sales roles teams, where missing a call could mean missing a potential lead or providing poor service to a customer.
#8. Voicemail
It records and stores voice messages, allowing telephone users to retrieve messages left for them when they are unable to answer the phone.
How to test this feature?
Call the softphone from another device and don't answer. Leave a message. If the softphone records the message and notifies the user, voicemail is working properly.
Why is it important?
The feature ensures that your employees can receive messages from customers, partners, or other employees 24/7, even outside of office hours or when all lines are busy. This means no missed opportunities for communication. 
#9. Call forwarding 
A call can be redirected to another destination using the call forwarding feature. The destination could be another number or voicemail.
How to test this feature?
Set up call forwarding to another number. Call the original number, which should be forwarded to the specified number. If yes, then the feature is working fine. 
Why is it important?
In situations like network issues, power outages, or natural disasters at a physical office location, call forwarding allows your business communications to continue uninterrupted by routing calls to alternative locations or numbers.
#10. Caller and calling line information
It provides detailed information about both the caller and the person being called, such as their names and numbers.
How to test this feature?
During a call, check the softphone's interface for information about the caller and the recipient. It should display names, numbers, and possibly more. 
Why is it important?
When your employees have immediate access to caller information, they can personalize the conversation, increasing customer satisfaction. They can greet the customer by name and quickly access their history with the company, which can provide better context for the call.
#11. Call log
This softphone feature records all calls made, received, and missed on the softphone, often including details such as the duration of the ring, time, and date.
How to test this feature?
Make, receive, and miss a few calls. Check the call log to see if these calls have been recorded correctly.
Why is it important?
A call log records all inbound and outbound calls, including missed calls. This record can be useful for your business's future reference, dispute resolution, or examining the context of a client or customer relationship.
#12. Call hold/Resume
The user can put an active call on hold, freeing the line without ending it, and then resume when ready.
How to test this feature?
Look for a button or option to hold the call during a call. After placing the call on hold, check for an option to resume the call.
Why is it important?
In a business environment, it's common to receive multiple calls at once. The ability to put a call on hold allows your employee to manage multiple calls without ending a conversation prematurely. 
Why are businesses adopting softphones?
Research by DataIntelo indicates that the VoIP softphone market is forecasted to grow from USD 1.02 billion in 2022 to USD 2.48 billion by 2030 at a CAGR of 10.5%, reflecting the increasing demand for softphones among businesses. Here are a few more reasons showcasing why modern businesses prefer softphones.
Switching to VoIP phone solutions can result in 45% monthly savings for businesses compared to traditional phone services. Softphones help businesses reduce costs by replacing traditional phone lines and hardware with internet-based communication. There are no physical infrastructure expenses, lowering setup and maintenance fees. Also, VoIP significantly cuts down the cost of calls. This particularly impacts businesses making frequent long-distance or international calls, as VoIP is much cheaper than traditional telephony. 
Facilitates remote and hybrid work 
Gartner forecasts that by 2024, only 25% of business meetings will be held in person. This change is driven by remote work becoming more common and the shifting workforce demographics. Softphones can be a potent tool in this shift, allowing users to manage calls from any location with an internet connection. Furthermore, softphones align with many companies' "bring your own device" (BYOD) approach, meaning employees can use their personal devices for work-related communications. This adaptability can enhance productivity and satisfaction by letting employees work in ways that suit them best while reducing the need for company-supplied hardware.
Scalable approach to businesses 
Businesses can effortlessly add or remove users as their needs change, allowing for flexible adjustments in the scale of communications. This is particularly beneficial in dynamic business environments that experience fluctuations in staffing levels or workload. For instance, seasonal businesses or companies undergoing rapid growth or downsizing can conveniently and cost-effectively manage their communication needs. As such, softphones provide a communications solution that can evolve alongside the business, facilitating seamless operational continuity and growth.
Centralized administration for IT teams
Centralized administration in softphone systems refers to the presence of a centralized interface or control panel. IT teams can easily configure user settings, permissions, and updates using this interface. This streamlined approach saves time and effort by allowing administrators to handle these tasks from a single control point. They can customize call forwarding, voicemail, and presence settings for individual users or groups, define access levels, and efficiently deploy updates. 
Improves customer satisfaction rates
A softphone improves customer satisfaction rates by enabling faster and more effective communication. For instance, with a softphone, customer support agents can easily access customer information, call logs, and relevant data in real time. They can quickly address customer inquiries, provide personalized assistance, and efficiently resolve issues. The ability to handle customer requests promptly and professionally contributes to higher customer satisfaction rates, leading to increased loyalty and positive brand perception.
Is your business using a softphone for crystal-clear business calling?
Softphones have revolutionized business communication by providing internet-based calling that is both scalable and flexible. With softphones, your business can enjoy the advantages of fluid communication from any location. They offer a comprehensive set of features compared to traditional telephone devices, but with additional benefits that take communication to the next level. 
Tragofone provides a customized VoIP SIP softphone app to meet unique business needs across various sectors. Whether operating in the financial sector, the hospitality industry, retail, or healthcare, Tragofone's solution adapts to your unique business needs. Its flexibility enhances communication efficiency and streamlines business operations, improving customer interactions, driving growth and success.