What is the Future of Landlines?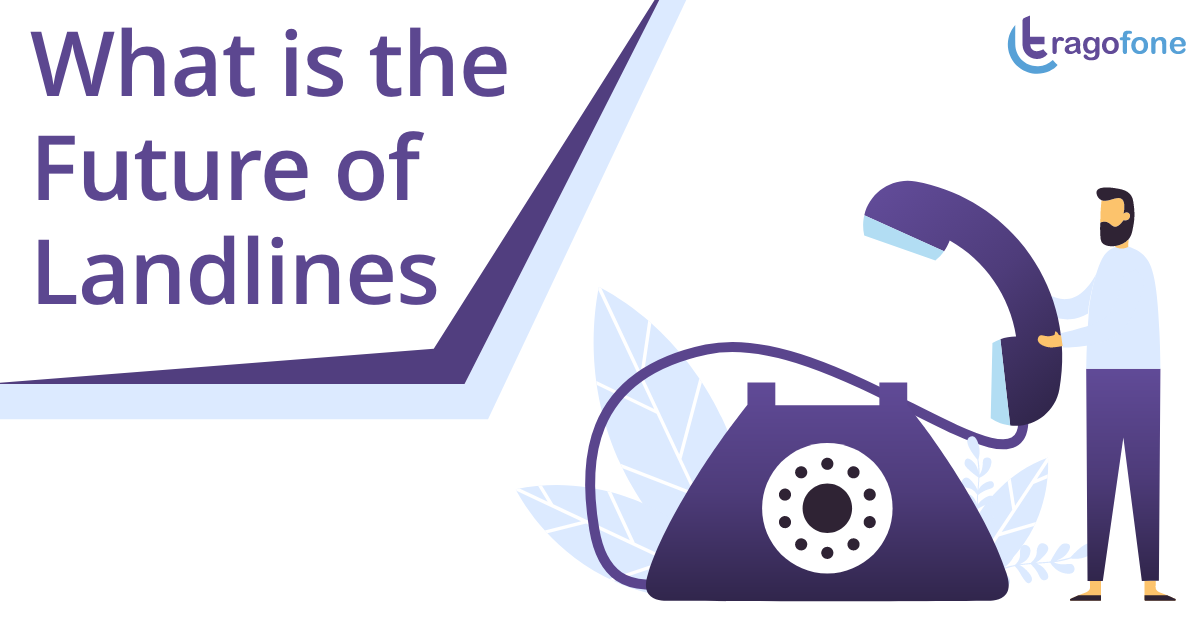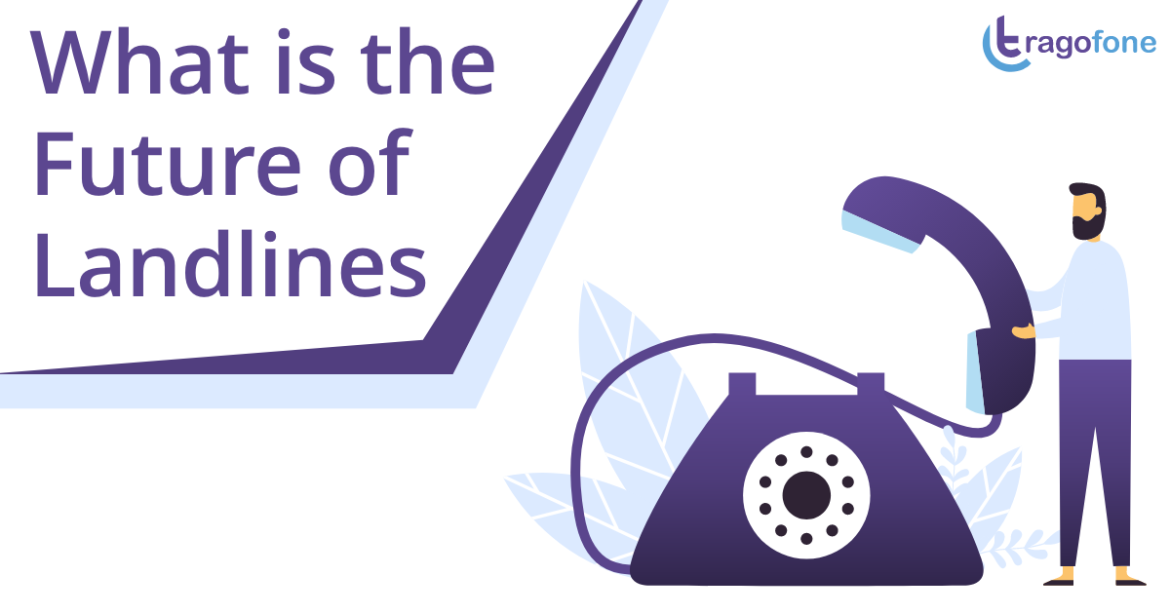 It's always difficult to predict the future. But predicting the future of technology and gadgets is possible. The current market trends make it easy to predict which gadgets or technology will stay and which will become obsolete. Most of us have seen Video Cassette Recorders (VCR) replaced by DVD players and then with OTT entertainment platforms. 
When we look at the tech transformations in telephony, cordless landline handsets were all the rage some years ago, but have turned obsolete today. Landline technology is fast losing relevance. A survey conducted by the Centers for Disease Control and Prevention reveals that operational landline usage dropped from 90% in 2004 to below 40% in the US alone. Smartphones are fast becoming a constant companion of people around the globe. Also, businesses are rapidly shifting to internet phones, more popularly known as VoIP or softphones. 
Landlines: A Dying Breed
For more than a century landline phones have been the standard and most effective method of communication between people across the globe. Individuals and businesses alike adopted landlines as it was much faster and accurate compared to mails and telegrams for day-to-day communication. But this technology is fast becoming obsolete and irrelevant in the internet age.
With the advent of the digital era came a plethora of hardware, software, and the most miraculous blessing of the modern world: the internet. Software backed by the internet soon took over the world of modern communication and drives modern communication systems.
Mobile phones have made deep inroads over the last few years, with the penetration rate being more than 100% in the U.S., Europe, and other emerging markets (Asian countries and third-world economies), with more than 7.3 billion connections globally. Individual consumers, as well as businesses, have adapted well to this new method of communication to stay in tune with today's globalized world. Today waiting to reach home or the office to make a call to someone is no longer the norm. Mobiles and softphones have made 24×7 connectivity a reality.
Most households in the U.S. have bid adieu to their landline phones in 2021, and there is a steady decline in the number of landline users. Bigwigs such as PwC and Ford's have done away with landlines in their offices and moved to VoIP phones or personal mobile phones. 
The telecom equipment manufacturers have been smart to identify this shift of preference and have gradually stopped manufacturing legacy landline handsets and other related infrastructure that are no longer in demand. Manufacturers are now putting efforts and focusing on the technology that's new and in demand, the VoIP softphone or VoIP phone system. 
The landline segment of the telecom industry is going through what mobile handset manufacturers have been doing for a decade. Killing the older version of an iPhone or Android handset with every new software update. Telecom companies are transitioning from old technologies to new ones, marketing them well, and ensuring that a larger population is using the new technology by showing them its value add and relevance in current times.   
Alternatives to Landline
Mobile or cell phones and VoIP phones are the best alternatives to landline phones and fast replacing landlines all across. Though having a reliable internet connection in remote areas in any country is still a challenge, it is still more reliable than cellular services in most rural parts. 
Telecom giants like AT&T have gradually converted their users to wireless phones in the last few years and are not bogged down by the decline in the use of landline phones. A report suggests that in the UK, landlines will completely disappear by 2025. This means everyone in the UK will need an internet connection to make phone calls. With the advent of the internet, more and more people have made a switch to fiber-optic cables primarily because:
It is both easy and cheap to replace fiber-optic cables when compared to the copper wire system used by traditional landlines.

Internet phones in most cases do not need any physical hardware, so no hassle of changing handsets like landlines.

Number portability is possible with VoIP phones, the same however does not hold true for landlines.
Telecom companies that are still in the landline business, have been facing competition from companies that have adapted to new technologies with time and are creating value for customers with internet-based communication offerings. Even companies that are in the transition phase from landline to VoIP technology have to invest billions of dollars year on year to maintain the old landline networks for the small user base still loyal to old technology. These companies who are still focusing on both the old and new will eventually perish in front of companies focused on what is new and are more adaptable with changing times. Companies providing only VoIP services are focusing on providing what a majority of consumers want and flourishing. 
Sarah Briggs, director of public affairs of AT&T re-affirms the importance of telecom companies to adapt to changing technology. As per Ms Briggs, one of the key motivators for AT&T to adapt to new technologies has been the increase in demand by both end-user consumers and businesses for wireless and voice-over-internet phones. In the last decade, AT&T has witnessed a 70% decrease in traditional landlines backed by copper lines. The key driver of this major evolution in telecommunication technology has been the change in customer expectations and behavior. The internet changed the way we think and communicate both personally and professionally and the global pandemic that hit in 2020, only accelerated the process. 
Even till 2010-12 people used land phones to call their friends and family. Then came video conferencing apps such as Facetime and Skype, and today we have so many online chat platforms like WhatsApp which enable users to connect on audio and video calls as well. This fast-evolving, better than before communication technology backed by the internet is making phone companies' `talk unlimited' offers irrelevant. It's data that makes sense and matters to the new-age consumer.  
Landlines do not make sense even in the current business environment. Today's modern businesses operate in a digital environment, more so in the last two years. Most jobs are being done remotely and people in sales, business development, and senior management roles are always on the move (hear extensive travel). A landline phone system cannot support such a dynamic work culture, which is why more and more companies, be it start-ups or old school companies are ditching landlines and making a shift towards VoIP telephony.  
Benefits of VoIP
Ease of accessibility:

VoIP phones work on any device that can work on the internet such as a phone, tablet, laptop, desktop, or even smart TVs. Even if your cellular service provider does not have good coverage or signal in a particular area, you can still make calls using a VoIP phone if you have a  WiFi or internet connection. If your own WiFi is not working due to some reason, you could always connect using your next-door neighbor's WiFi using their credentials with due permission of course! VoIP phones like

Tragofone

are fully customizable, and you can tailor them to suit your requirements. 

Cost-savings:

Money is the lifeline for any business be it big or small. A move to a VoIP communication system means cost savings as there is no elaborate installation involved and there are no elaborate hardware requirements as in the case of PBX systems or traditional landlines. International calls are much cheaper and intra-office connectivity is practically free across locations. Additional features like group calls, call forwarding are mostly part of the subscription plan of your VoIP service. Traditional landlines have an extra cost added for each feature except the basic call feature.

Easy to scale:

Downsizing or expanding your team? Imagine the hassle involved in getting new phone lines installed, getting new handsets, and a whole lot of paraphilia. But not so, if you have already made a switch to VoIP. Scaling your communication system is a breeze with VoIP, whether it is opening a new office or downsizing your team in the lean season. All you need to do is change your subscription plan, no hardware purchase and wiring required.

Flexibility:

Unlike a traditional phone, VoIP phones are not hardware devices. They are software installed on your existing mobile phone or laptop/desktop enabling a user to free up desk space, take calls on the go, support remote work, collaborate in a hybrid work environment, and a team that's always connected.

Multi-task:

VoIP phones not only enable teams to make calls but also enable them to share important documents and files, enable customer support teams to access customer information, connect with the concerned team for problem resolution while still on call with customers and provide instant solutions to customer queries.
Some other benefits include easy portability, better voice quality, optimum utilization of manpower and finances, and a lot more.
Future of Landlines
VoIP technology has created quite a disruption in the telecom world and is fast acquiring the traditional telephone market share. The move to VoIP softphones from traditional PBX systems or landlines has been evident across the globe including Asian countries such as Japan, South Korea as well as the western world comprising the U.S. and European countries both for domestic and business use.
VoIP uses broadband internet service for data transmission as opposed to copper wires as in the case of traditional landlines. VoIP or internet phones as they are popularly known have also been able to compete and acquire the mobile phone network market by offering low-cost services and in some cases free service via the internet. However, with 5G on the horizon, one can expect a fruitful partnership between VoIP service providers and cellular service providers and a win-win situation for both.
The demise of landlines is certain. The day is not far when landlines will become obsolete and a thing of the past. Many pieces of research done in recent times claim how shocking "Generation Z" is about cassette tape answering machines for landlines or handsets with cords used in the last century. Millennials too though born and raised in the '80s and '90s are as much in doubt about the relevance of technologies they used growing up in today's scenario. "Generation Z" makes up for 1/4th of the world population with 1.8 billion people. This is a generation that does not identify and relate to old technologies like landlines, audio cassettes, and VCRs or DVD players. They are the internet generation, who depend on apps for all the basic and essential needs of day-to-day life. No wonder, VoIP phones make so much sense to them.
Closing Thoughts
To stay relevant and in business, telecom companies have to constantly evolve to create value for customers by adopting new technologies. However, they need to tread on the evolution path carefully, because the world around us is changing at a much faster pace than any one of us had anticipated and new technologies keep coming on the scene all the time. Only those willing to adapt and stay in tune with time will survive and emerge as winners in this age of unified communication.