How Softphones Can Contact Centers Get The Most Out Of?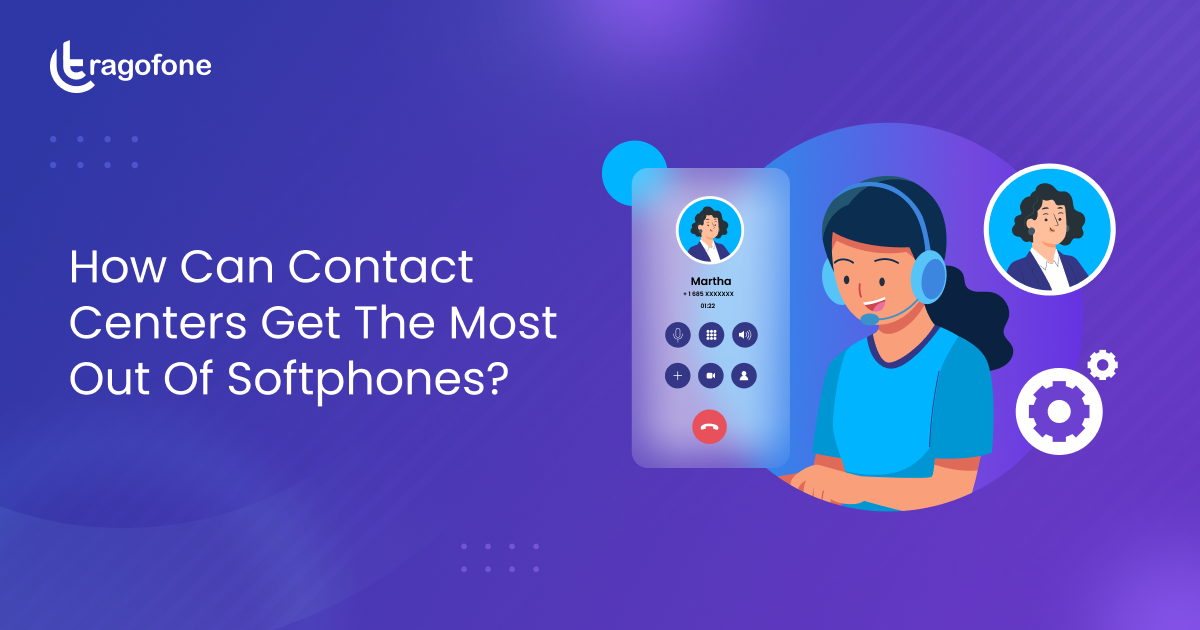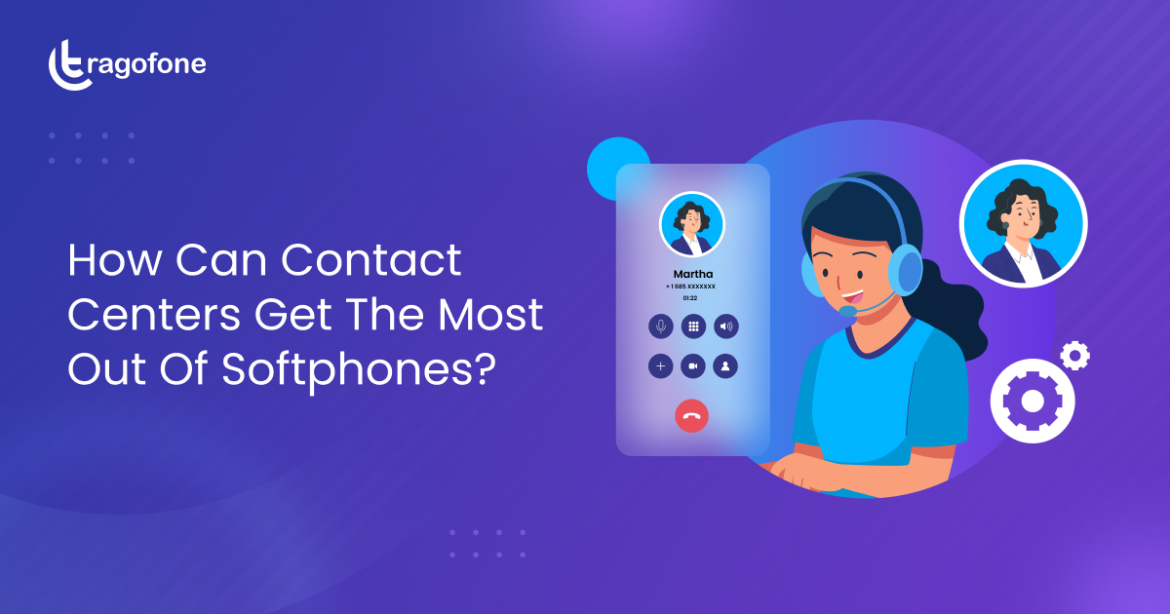 If you run a contact center, you know first-hand the importance of choosing the right technology to keep your team connected and your customers satisfied. In today's mobile era, contact centers can't afford to be chained to legacy telephony systems. The virtual contact center now depends on agile solutions that offer the freedom to adapt at the pace of business. This is where softphones for contact centers truly shine. 
Contact center softphones provide unmatched versatility and seamless integration to elevate your agents' productivity and customer experiences. Whether your team is distributed across multiple locations or entirely remote, softphones empower them to handle customer interactions smoothly while on the go. With CRM integrations, omnichannel capabilities, and artificial intelligence features built-in, modern contact center softphones offer so much more than just calling. They are complete productivity and CX powerhouses!
In this post, you'll get actionable insights into how leading contact centers use softphones to gain a competitive advantage and why you should make the most of them. Let's get started!
Key benefits of softphones for contact centers
When it comes to keeping your agents connected and customers satisfied, contact center softphones pack a powerful punch. Here are some of the top ways they can optimize your operations:
#1. Mobility and flexibility
Softphones liberate your contact center from physical locations. Agents can handle calls, texts, chats, etc from anywhere using their laptop or smartphone. This mobility and flexibility supports business continuity too. If there's an office disruption, agents simply shift to working-from-home seamlessly. 
#2. Scalability on demand
Scaling your team to manage higher call or contact volumes is hassle-free with softphones. You can instantly add agents, numbers, and channels as needed, with no cumbersome hardware installations. The cloud-based systems easily flex to accommodate your dynamic requirements.
#3. Enhanced customer experiences 
Contact center softphones integrate directly with your CRM platform for screen pops with customer data. This provides agents with context for more personalized, satisfying interactions. Omnichannel support and contact center AI also boost CX.
#4. Cost savings
Migrating from legacy on-premise telephony to softphones reduces infrastructure, maintenance, and configuration costs drastically. The total cost of ownership is much lower over time without physical handsets and PBX systems.
#5. Increased productivity and business continuity
Contact center softphones unify communication channels like voice, video, messaging, and screen sharing onto one interface. This allows agents to seamlessly engage customers across media for faster resolution.
Optimizing softphone capabilities
The real magic happens when you maximize the capabilities of your contact center softphone solution. Here are some best practices to optimize performance:
#1. Choose reliability first
When selecting a contact center softphone solution, the platform itself is key. Be sure to evaluate call quality, reliability, security, and scalability. Check that the provider offers comprehensive support and regular updates. 
#2. Customization
Look for softphones that enable white-labeling and custom workflows tailored to your business needs. You should be able to configure elements like dashboards, self-service menus, agent statuses, routing logic, and more. Best-in-class choices such as Tragofone allows this level of modification for a personalized solution.
#3. Omnichannel support
The ability to handle customer conversations across channels is essential. Your softphones should integrate calling, live chat, SMS, email, social media, and other engagement mediums into a unified desktop. Tragofone provides omnichannel support with consistency across touchpoints.
#4. Contact center intelligence
Leverage smart routing algorithms to get customers to the optimal agents. AI can factor in language skills, specialization, availability, and other variables for efficiency. 
Let AI analyze call sentiment and transcripts to detect customer satisfaction, concerns, and needs. This allows for proactively addressing issues.
#5. Actionable analytics
Make sure your softphone solution provides robust analytics and reports on KPIs like CSAT, first call resolution, talk time, and more. Easy access to actionable data helps continuously refine operations. 
Boosting productivity with UC integration
#1. Presence and availability
Having visibility into the real-time presence and availability of peers is invaluable for contact center agents. Softphones with integrated presence capabilities allow agents to see at a glance if their colleagues are online, in a meeting, on a call, away from their desk, or offline.
With this information, agents can efficiently collaborate and share information with the right team members. They don't waste time trying to contact an unavailable agent. Presence also enables faster internal escalations when needed to resolve customer issues promptly.
#2. Screen sharing   
Embedded screen sharing is a game-changer for contact center productivity. Instead of lengthy explanations, agents can simply share their desktop screens with colleagues to visually troubleshoot problems together. This allows much faster collaboration to solve customer issues.
Screen sharing also helps with training newer agents. Experienced agents can share their screens to demonstrate processes and workflows hands-on. This ability to "show rather than tell" enhances knowledge sharing dramatically.
#3. Video conferencing 
The power of video can't be understated, even in contact center environments. HD video conferencing capabilities within softphones foster stronger internal relationships between agents and supervisors. Being able to see body language and facial cues while conversing builds more trust and rapport.
Externally, customers appreciate face-to-face video engagement for enhanced support experiences. Especially for complex or sensitive issues, the human touch of video interactions can make a big difference in satisfaction.
#4. Team collaboration apps
Integrations with popular team chat apps like Slack within the softphone keep agents connected and aligned. This facilitates seamless collaboration, knowledge sharing, and oversight by supervisors through chat channels.
When contact center agents can quickly tap into the collective knowledge and expertise of the team through chat, it empowers them to resolve customer issues faster and more thoroughly. Collaboration apps unite everyone to deliver excellence.
Adopting best practices
#1. Phased rollout
A phased rollout is highly recommended when deploying new softphone technology. Rather than a full-scale company-wide rollout from day one. First, pilot the softphones with a small team. Start with around 10-20 agents representing different roles.
This pilot group can test out the new workflows using the softphones in a low-risk environment. They can identify any process breakdowns or gaps that need refinement before expanding the rollout. Beginning with a pilot minimizes disruption while allowing contact centers to smooth out any issues at a smaller scale first.
#2. Training
Proper training is crucial prior to softphone adoption. Conduct hands-on workshops and simulations for both agents and team leads to get comfortable using the new system. Cover core features, key workflows, troubleshooting basics, and frequently asked questions.
Familiarity with the softphone capabilities will give agents confidence to fully leverage the technology. Training also sets clear expectations for any process changes tied to the new system. Thorough training paves the way for a smooth adoption.
#3. Change management
A transition to softphones requires a thoughtful change management strategy. Proactively identify concerns team members may have about the new system and address them transparently. Provide forums for giving open feedback to uncover potential challenges early.
Frequently communicate timelines, processes, benefits, and changes associated with the rollout. Get buy-in at all levels by making agents and leadership feel involved in the transition plan. This drives engagement and eagerness to adopt the softphones.
#4. Regular tech reviews
Post-implementation, it is important to continue optimizing adoption. Conduct periodic reviews of system data and usage trends. Look at metrics like call volumes, talk times, wait times, agent logging hours, and other KPIs.
Also continuously explore new features and functionality in the softphones that could further enhance operations. Drive regular conversations around maximizing the technology for business results. Sustained training and tech reviews ensure the softphones deliver maximum value.
Tragofone's softphone solution for contact centers 
#1. White-label customization
Tragofone enables deep customization of the softphone experience through white-labeling. The interface can be configured with your brand logo, colors, terminology, and graphics for a customized look and feel.
Workflows and user settings can also be tailored to match your contact center environment. For example, routing logic, self-service menus, agent statuses, dashboards, and reporting can all be adapted to align with your processes. This creates a personalized softphone solution.
#2. Built-in UC capabilities 
Tragofone brings unified communications capabilities like video conferencing, screen sharing, and chat natively into the softphone experience. This means agents don't have to toggle between multiple apps to collaborate or interact over video.
Having UC tightly integrated boosts agent engagement, collaboration, training, and ultimately productivity. It becomes easier to deliver excellent omnichannel customer experiences.
#3. CRM integrations
The softphone platform offers deep integrations with leading CRM systems like Salesforce, Zoho, and others out-of-the-box. This means easy configuration of screen pops based on incoming calls, automatic logging of call details, and more workflow triggers.
By embedding the CRM capabilities agents need directly within the softphone, they can access customer information faster and deliver more personalized service.
#4. Omnichannel support
Tragofone enables managing customer conversations across channels like voice, email, live web chat, SMS/text messaging, WhatsApp messaging, and social media feeds. Agents can seamlessly engage customers through their preferred contact method.
This unified omnichannel experience also provides continuity. A conversation can start on chat and switch to voice within the same interface. Omnichannel connectivity caters to customer expectations.
#5. Push notifications
With Tragofone's push notifications capability, agents can receive ongoing alerts about incoming calls and messages even when the softphone app is not actively running.
For example, agents working remotely can minimize the softphone app and focus on other tasks. When a new call comes in, Tragofone automatically sends a push notification to their desktop or mobile device alerting the agent to the new interaction.
This allows agents to stay productive on other workflows while never missing an important customer engagement. Push notifications enable efficient multitasking and flexibility for agents by removing the need to have the softphone open at all times.
#6. WebRTC support
Tragofone leverages WebRTC technology to enable browser-based calling directly within the web app, without any plugins or app installs required. WebRTC allows delivering HD quality audio/video, ideal for contact center engagements.
With WebRTC powering calling capabilities, agents simply access Tragofone's softphone through their web browser on any device. There is no constraint on operating systems. WebRTC also facilitates quick onboarding of new agents without needing to configure desk phones.
This flexible access backed by enhanced media quality through WebRTC standards gives agents and supervisors the ultimate in mobility, convenience, and reliability.
#7. Contact center AI features
Intelligent capabilities take the softphone solution to the next level. Sentiment analysis detects customer moods and needs from conversations. Predictive behavioral routing gets callers to the right agents. Chatbots handle common inquiries to reduce volume.
These AI features optimize contact center operations and allow delivering smarter, more customized experiences based on advanced analytics.
#8. Cloud-based redundancy
Tragofone offers carrier-grade reliability and uptime leveraging cloud contact center infrastructure. There is built-in failover with backup call routing capabilities to ensure continuity. Custom redundancy options can also be configured.
By removing single points of failure in the cloud, Tragofone provides peace of mind that agents will stay connected to deliver excellent service even in the event of disruptions.
#9. Automated call distribution (ACD) 
Tragofone provides robust ACD capabilities to route calls intelligently. Incoming calls can be assigned to agents based on configurable criteria like skillset, availability, time on prior calls, and priority levels. Supervisors have access to real-time ACD dashboard and reports to monitor performance. Prioritization and skills-based routing ensure customers get to the right agents quickly.
#10. Real-time dashboards
With Tragofone, agents, and supervisors can customize and access wallboard dashboards reflecting key metrics like the speed of answer, abandonment rate, agent status, queues, and more. These visual dashboards enable monitoring contact center operations in real-time to catch any issues proactively or assess staffing needs. Drill-down reporting adds insights.
#11. CRM screen pops
The platform offers out-of-the-box integrations with top CRM systems. When an incoming call arrives, the customer record from the CRM automatically pops up on the agent's screen. This provides immediate access to relevant context – past service tickets, purchases, communications, etc. Screen pops personalize engagements and speed issue resolution.
#12. Call recording
Interactions can be recorded, archived, and accessed based on configurable permissions for training, compliance, and quality analysis use cases. Supervisors can playback calls with agents and provide feedback. Search tools allow finding interactions by date, agent, keywords, etc. Secure encryption protects sensitive data.
#13. Custom report builder
Tragofone offers an intuitive custom report builder module. Users can easily generate historical reports filtered by various parameters. This provides actionable insights into aspects like service levels, call volumes, wait times, containment rates, and more. Data-driven reports help to optimize operations.
#14. IVR capabilities
Visual drag-and-drop tools allow configuring IVR menus and call flows quickly. Options like dial-by-name directories, automated self-service applications, and contextual text-to-speech can be set up. IVR provides customer service automation while routing calls using business rules.
Postscript
The contact center landscape continues evolving rapidly, making agile solutions like softphones indispensable. As virtual engagements and remote work rise, legacy systems can't keep pace with flexibility demands. Softphones deliver mobility, robust features, and carrier-grade reliability to empower contact centers.
The time is now to level up your contact center with an advanced softphone like Tragofone. The benefits extend from your agents to customers and the bottom line. Agents can handle interactions smoothly regardless of their location while managers gain data-driven insights to guide improvements. With strategic adoption, softphones become a competitive advantage that positions your business for the future. 
Ready to transform your customer experiences? Schedule a free demo today or avail a free trial to see Tragofone's enterprise softphone solution in action. The future of your contact center is waiting.