How VoIP is Transforming Enterprise Communications for the Better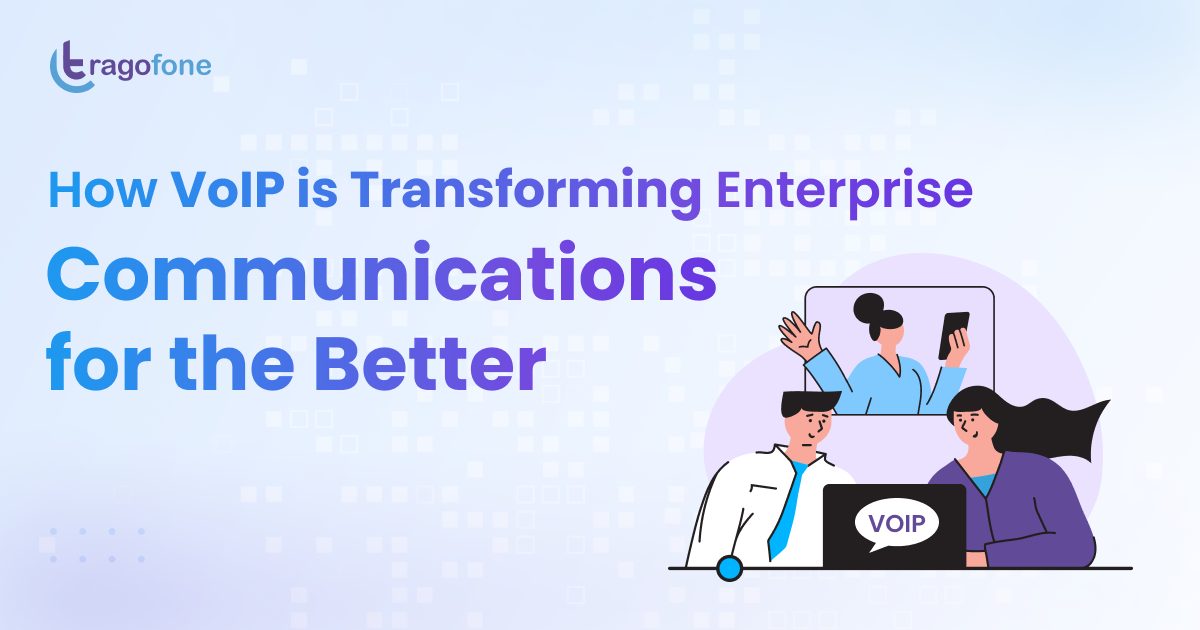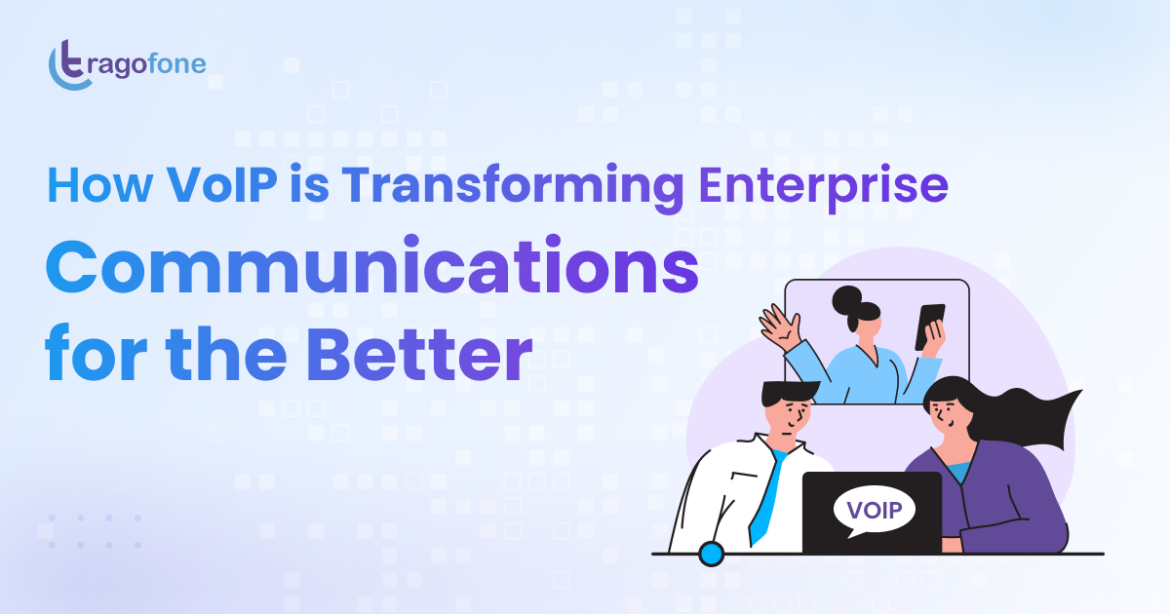 Today, making future predictions is a dangerous endeavor. Who, after all, could have foretold the course that the past few years have taken? The effects of the COVID-19 pandemic have inexplicably changed the ways we communicate and opened up new realms of possibilities for personal and professional conversations. The past three years have shown us that effective enterprise communication is essential to the success of any business, irrespective of the industry.
The VOIP software market continues to grow as more businesses embrace it. Owing to more recent advances, it will even have a greater impact on customer communication. The industry continues to expand thanks to continued technological innovations, government support, and commercial applications. It seems to be developing more swiftly than ever in terms of consumption, market share, and revenue. Since enterprise communication is increasingly going digital, it is predicted that the VoIP industry will be worth $55 billion by 2025. Despite the risks the pandemic offers, the expansion of remote work will propel the VoIP business in the coming years.
Everything is now readily available on demand thanks to the digital era. Businesses now need more than ever to be able to enable organizational mobility with affordable enterprise communication solutions. This is where VoIP plays a key role. Businesses require ways to enhance collaboration and communication with their remote workforce as they expand internationally. Due to this, there is a higher demand for VoIP products like IP phones, softphones, and affordable calling packages. However, we must first comprehend VoIP innovations in order to benefit from them. Devoid of further ado, the following lists the VoIP trends for 2023 and beyond.
9 Enterprise Communication Trends for 2023 and Beyond
The ever-evolving communication with our employees and colleagues never halts. The following are the trends that will take enterprise communications to new heights in 2023 and beyond:
#1. The rapid shift towards hosted VoIP/cloud PBX
Due to their affordable cost and need for less maintenance, hosted VoIP services are becoming more and more favored by businesses. Businesses that are in the process of switching from conventional business lines to IP enabled technologies can benefit from this scenario.
Cloud PBX is more prevalent as it is offered with a vast degree of customization. This is one of the major VoIP market trends that is beginning to make more sense as the Internet becomes faster and many costs associated with VoIP technology diminish.
#2. The prominent growth of UCaaS
Cloud-based enterprise unified communication infrastructures are the wave of the future. Cloud phone systems are simply a more economical choice for organizations than maintaining internal networks given the availability of the internet. Businesses can concentrate on their most important tasks thanks to UCaaS, and they can easily access their data and enterprise communication software from any internet-capable device. 
Cloud-based UC technologies are also less prone to become outdated more quickly. They are more scalable because manufacturers can frequently upgrade them. Additionally, business continuity and disaster recovery are significantly simpler because everything is kept in the cloud.
#3. Mobile unified communications are taking over
The substantial rise in remote labor, which was sparked by the 2020 Covid lockdowns, has resulted in cost savings and process improvements for both employees and businesses. The ability to move around has changed how people live their everyday lives. Mobility has created new possibilities for businesses in terms of maximizing productivity and efficiency. Teams are able to communicate with one another more easily as a result. Mobile enterprise communication solutions' flexibility has also proved useful during the pandemic when most employees were required to work remotely.
As a result, more businesses are realizing that success in their given industry depends on mobility. As more VoIP service providers now provide embedded app support systems, we can anticipate that more organizations will use this mobile setup. In other words, more professionals will soon use app-based virtual numbers for VoIP conference calls, team meetings, and business calls.
#4. Blending VoIP and IoT
VoIP devices are developing and doing more than just transferring data packets. Therefore, we can foresee that VoIP will remain crucial in the future by making sure all of its endpoints, including cameras and microphones, can connect to other devices. This is where VoIP and IoT converge.
IoT integrates all internet-enabled devices to streamline data transfer. VoIP will be essential to the levels of IoT data collection and transmission as this technology develops. VoIP and IoT can completely transform how businesses run when implemented together.
#5. The inevitable demise of analog telephone systems
The conventional landline phone system has been slowly fading off for quite a while now. And it appears that there will be no quick end to it. There are many ways to communicate today, given that the internet is accessible and that smartphones are becoming more intelligent. As a result, businesses are making an effort to keep up by serving customers through several channels. 
More advanced VoIP platforms are now possible thanks to the demand for a more comprehensive method of enterprise communication. We can therefore anticipate that more businesses will invest in these systems that can support chat, SMS, email, video calls, phone calls, and social media in the upcoming years.
#6. Fusion of VoIP and WebRTC
At first, WebRTC was positioned as a harmful disruptor of the VoIP sector. There were those who at one time thought that the former might eventually replace the latter. But it appears that things have now flipped.
 A framework called WebRTC was developed to enable real-time communication using straightforward APIs in a browser. To put it simply, it is more adaptable than VoIP systems, which is why many businesses choose it over other enterprise communication infrastructures. Yet another open-source standard is WebRTC. In other words, VoIP systems can be easily integrated with them.
First off, WebRTC improves VoIP by supporting live video and quick calls. Peer-to-peer file sharing and direct calls from the web browser can both benefit from it. Simply said, you can transform the way you manage enterprise communications by fusing the features of a WebRTC platform and a VoIP platform. In addition, users no longer require extensive plugins and widgets for a range of enterprise communication tasks.
#7. VoIP marking its territory with AI capabilities
The business world's various facets, including sales and support, have been taken over by AI (artificial intelligence). Customer support with artificial intelligence is already ubiquitous. Real-time sentiment analysis and situational suggestions can be provided by AI solutions to agents, aiding them in directing their customer contact strategy while the interaction is taking place. 
Smarter digital voice assistants driven by AI will change how companies interact with their customers. It enables real-time sentiment analysis to inform agents whether a customer is happy, dissatisfied, or perplexed before they even establish contact with them.
Thanks to the convergence of VoIP and AI technology, businesses can configure sophisticated call routing or make use of auto attendants to manage incoming calls swiftly and effectively. AI also enhances VoIP capabilities for call routing that is intelligent or skill-based. These services help to improve call handling while accelerating all aspects of enterprise communication.
#8. Intelligent call routing by leveraging language recognition
VoIP solutions with language recognition capabilities are already progressively being used by businesses. Thanks to developments in the combination of AI and machine learning characteristics, a VoIP system with language recognition capabilities can help businesses engage more efficiently with clients from all over the world. No matter where the customer is located, you will be able to provide a superior customer experience.
#9. Rise of mobile applications
Many organizations already employ mobile applications for the Android and iOS platforms in addition to desktop softphone applications. Thanks to this, users can now connect with any enterprise at any time, from anywhere. In 2023, a growing number of businesses will use mobile technologies. Thanks to the advent of cutting-edge technology and mobile applications, businesses can instantly reach more consumers and gain deeper insights into how the staff is engaging with their clients and potential customers via mobile devices.
The Bright Future of VoIP Phone System for Business
Looking ahead to the integration of VoIP with emerging technologies is one thing; understanding how this will impact business is another.
Future VoIP industry advancements will provide vastly better call quality and considerably greater interaction with the entire range of enterprise communication tools. Future VoIP will scale up and down and provide tailored alternatives for diverse organizational segments. The device will also be flexible, allowing calls to be instantly routed to the intended recipient whether they are made from smartphones, computers, tablets, or even future platforms like smart glasses.
VoIP has always helped businesses reduce expenses by necessitating next to no maintenance, equipment, and service charges (as well as additional fees for premium services). However, the future VoIP's scalability, connectivity, and improved quality bring new efficiencies and cost savings to the organization at large. Furthermore, the enhanced security of next-generation VoIP will aid in shielding the business from pricey intrusions.
Future innovations will most likely catapult VoIP into a central role in the communication and business plans of enterprises of all sizes. 
Postscript
VoIP offers observable and unparalleled benefits to businesses and their enterprise communication requirements. When compared to conventional phone systems, VoIP phone systems provide unmatched flexibility and scalability. VoIP will undoubtedly redefine the playing field in a few years, along with other disruptive technologies like 5G networks, UCaaS, AI, and WebRTC. Meanwhile, a growing number of businesses have already begun experimenting with novel communication techniques like smartphones, intelligent assistants, and video chat services. It is essential that you adopt a forward-thinking mindset while purchasing capital and equipment if you want to future-proof your business. 
Check out how Tragofone is revolutionizing the security, usability, and quality of VoIP communications. Request a demo or start a free trial to discover how it streamlines, expedites, secures, and scales communication with teams of any size.